When I see the masses and Wall Street clamoring around Amazon (NASDAQ:AMZN), and saying it is a disruptor, I get a big kick out of it. The disruption phase is over.
It does not surprise me that both have incorrectly classified Tesla's (NASDAQ:TSLA) innovation. It is not disruptive innovation as the uneducated crowd believes. (Wall Street I am looking at you. You are supposed to be geniuses. What kind of geniuses get such a grade-school concept wrong?)
Let me spell out the differences between product innovation and business model disruption.
Product innovation is basically an advancement of a prior technology. The consumer behavior has not changed. This is not a new mode of transportation. The electric car that Tesla is pushing out is nothing more than an upgrade of previous technology.
Now their automated car that they are creating is innovation, but it is too early to tell whether or not it will be a disruptive business model. That is not the focus of this article. However, it lends itself to the discussion what constitutes a disruptive business model.
Business model disruption is bigger than corporate strategy and business strategy combined. You really have to look at the context of the situation.
According to Afuah, there are a couple of characteristics to focus on when analyzing a business model.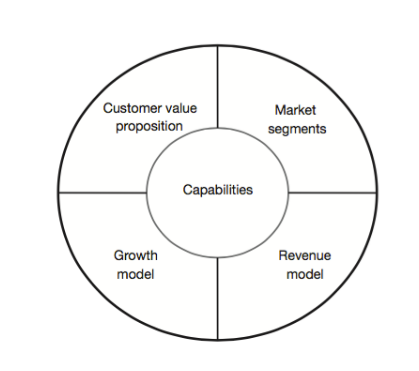 (Source: intopreneur.com)
In terms of customer value proposition, what is Tesla doing differently than other car manufacturers? If you are focusing on features such as battery and the environment, you are not thinking correctly. The value proposition is the same. You drive a car from point A to point B.
Growth, revenue and capabilities are all self-explanatory. The interesting segment is the market segment of the graph. I am sure you are all aware of the strategy of getting the wealthy to buy the cars first before releasing an affordable one to the masses. What Tesla is trying to accomplish is a strategy known as position-building. In that position building it is innovating the internal and external specifications with the less-is-more innovation. It is attempting to give the masses just what they need compared to the other car companies that have the traditional mindset that innovating means adding more features. It is a bit of a risky strategy, but the payoff is handsome when it works.
Keep in mind that I am not focusing on industry impacts. That has been proven by Shamalensee's 1985 paper that the industry has a stable impact of 20% on firm performance. This is an irrelevant measure to evaluate Tesla unless the entire industry suffers like in 2008.
Not the right kind of innovation
What does this mean for you Tesla bulls? Well, I have some bad news for you. Typically, product innovations do not result in a astronomical increase in stock price. Only a disruptive business model does. Take a look at the charts below.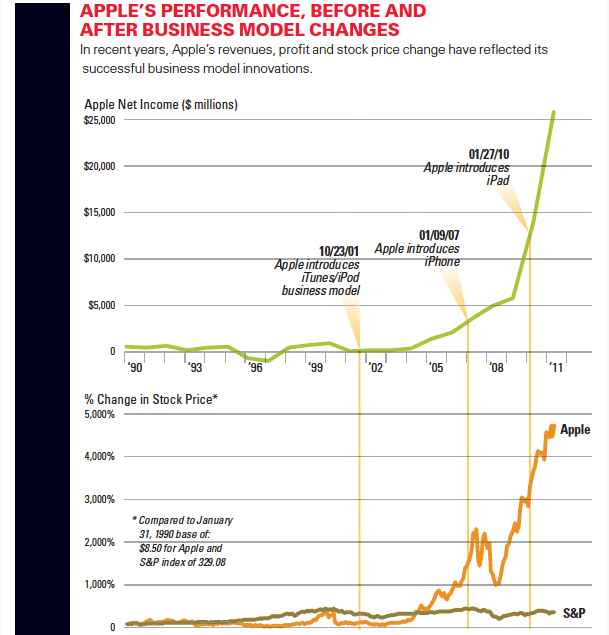 (Source: MIT Sloan Management Review)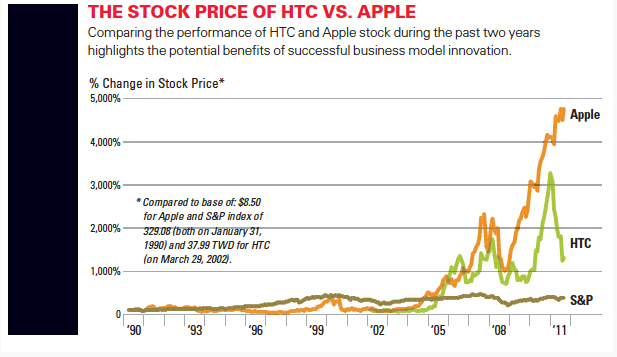 (Source: MIT Sloan Management Review)
As you can clearly see, product innovation does not result in an increase in stock performance. Look at the difference in Apple (NASDAQ:AAPL) and its competitors. Its competitors did not innovate the business model and the stock performance was mediocre.
Keep in mind that Apple's innovation was disruptive which caused the major surge in the stock price. Business model innovation will have an impact on stock price but the degree depends on whether or not it is disruptive.
However, the same cannot be said of product innovation. If the innovation is enough to make a majority of consumers use the product, then there might be a potential for a rising stock price. I would not focus on the stock price as much as how the firm would be position building.
Disclosure: I/we have no positions in any stocks mentioned, and no plans to initiate any positions within the next 72 hours.
I wrote this article myself, and it expresses my own opinions. I am not receiving compensation for it (other than from Seeking Alpha). I have no business relationship with any company whose stock is mentioned in this article.