Performance and Valuation Prime Chart
For context, the PVP chart below reflects the real, economic performance and valuation measures of Tesla Motors, Inc. (NASDAQ:TSLA) after making many major adjustments to the as-reported financials. This chart, along with all of the charts included in this article, as well as the detail behind the graphics, can be found here.
The four panels explain the company's historical corporate performance and valuation levels plus consensus estimates for forecast years as well as what the market is currently pricing in in terms of expectations for profitability and growth.
The apostrophe after ROA', Asset', V/A' and V/E' is the symbol for "prime" which means "adjusted." These calculations have been modified with comprehensive adjustments to remove as-reported earnings, asset, liability, and cash flow statement inconsistencies and distortions. To better understand the PVP chart and the following discussion, please refer to our guide here.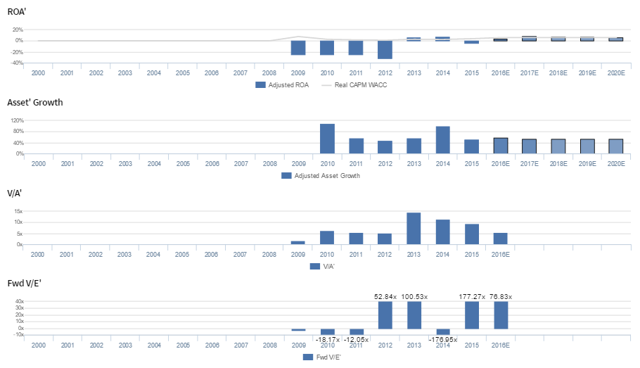 Click to enlarge
As a start-up company, TSLA has struggled to drive Adjusted ROA (ROA') levels into positive territory. From 2009-2012 ROA' ranged from -33% to -25%, as the firm sold over 2000 Tesla Roadsters, but continued to invest heavily in R&D and production expansion. After beginning deliveries of their Model S in mid-2012, the firm was able drive ROA' into positive territory for the first time in 2013, with ROA' reaching 6%, and continue the momentum, with ROA' peaking at 7% in 2014. However, in 2015 slowing sales growth coupled with substantial COGS and SG&A increases partially related to the firm's Supercharger facility, caused ROA' to drop back to -5%. Meanwhile, as one would expect from an early life-cycle company, Adjusted Asset (Asset') growth has been incredibly aggressive, ranging from 46%-109% as the company has been investing to build scale.
Performance Drivers - Sales, Margins, and Turns
It can be helpful to break down ROA' into its DuPont formula parts, Adjusted Earnings Margin (Earnings' Margin) and Adjusted Asset Turnover (Asset' Turns), which are the cleaned up margins and turns metrics used to calculate ROA'. The chart below details both Earnings' Margin and Asset' Turns historically, to help us better understand the drivers of the firm's profitability and performance.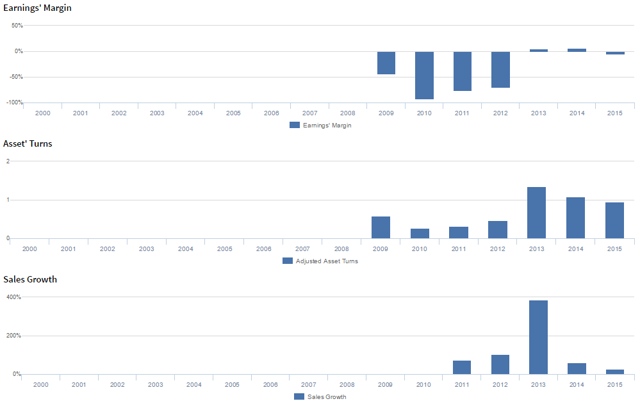 Click to enlarge
Trends in ROA' have been driven by weakness in Earnings' Margins and volatility in Asset' Turns. Earnings' Margins ranged from -44% to -93% from 2009-2012, before inflecting to 4%-7% levels in 2013 and 2014. However, in 2015, increasing input costs and SG&A expenses, as well as FX headwinds, drove Earnings' Margins to decline to -5%.
Meanwhile, Asset' Turns ranged from 0.3x-0.6x from 2009-2012 before jumping to 1.3x in 2013 and fading to 1.0x in 2015. That major inflection in turn represented the company's inflection from being a pure start-up to an actual production company with real operations, as sales growth was almost 400% in that year. A great deal of the company's Earnings' Margin improvement has been because of contribution margin issues solved with this growth. As such, it is telling that profitability has fallen back after this move higher, as it means that again Tesla will likely need a big jump forward in asset utilization to also drive margins higher.
Embedded Expectations Analysis
As investors, understanding what the market is embedding in the stock price in terms of expectations is paramount to making good decisions. Without understanding what the market is pricing in, it is impossible to claim that the market is wrong. We derive market expectations for the firm from valuations and historical performance trends to give a clearer picture into what the market is projecting for the firm.
TSLA is trading at a 6.3x V/A', near historical averages. At these levels, the market is pricing in expectations for ROA' to see a positive inflection, from -5% in 2015 to 7% in 2020, accompanied by continued 56% Asset' growth. The market is expecting TSLA to return to the profitability they had the last two years while continuing to be able to double the size of the firm roughly every 1.5 years.
Analyst and Management Expectations and Alignment
Analysts have bullish expectations relative to the market, projecting ROA' to increase to 14% by 2017, accompanied by 44% Asset' growth.
However, our qualitative analysis of the firm's Q2 2016 earnings call highlights that while management is excited about the potential to do inverters with solar like they do with vehicles, they may lack confidence in their ability to reach full production by July 1st. Moreover, they appear concerned about the margins on their 60 kilowatt hour models and about the sustainability of production efficiency improvements. They also appear concerned about increased R&D expenses as they approach the Model 3 launch.
Peer Analysis - Auto Industry
A major benefit of adjusting as-reported financial statements is to clear away accounting distortions to allow for more accurate peer-to-peer comparisons. To this end we have included a scatter chart below that plots TSLA against its peers based on their Adjusted Value-to-Assets ratio (V/A') and ROA'.
Looking across industries, markets and time, there has been a very strong relationship between a company's ROA' relative to the corporate average (6%), and the multiple the market will pay above the value of company's adjusted Asset' base, in terms of Adjusted Enterprise Value relative to Assets (V/A' or Value to Assets'). A company that generates a 6% ROA' will tend to trade at a 1.0x V/A', and the company that generates a 18% ROA' will tend to trade at a 3.0x V/A', etc.

Click to enlarge
As we can see above, TSLA appears extremely overvalued when compared to its peers within the automotive manufacturing industry. While more profitable peers Ford Motor Co. (NYSE:F) and General Motors Company (NYSE:GM) trade at 1.1x and 1.5x V/A' respectively, while generating 7% ROA's, TSLA trades at a 6.3x V/A' while generating a -4% ROA.
Peer Analysis - Tech Leaders
Many of TSLA's most bullish investors will say this valuation is reasonable because TSLA is not just an auto manufacturer. They are a pioneer of machine learning, AI and other technology innovations. However, even compared to other leaders in the technology space, TSLA again appears extremely overvalued.

Click to enlarge
As we can see above, TSLA appears significantly overvalued when compared to tech leaders. At its 6.3x V/A', TSLA is more expensive than more profitable, and surely more advanced competitors. International Business Machines Corporation (NYSE:IBM), considered a leader in AI, trades at a 5.0x V/A' while generating a 32% ROA'. Moreover, Alphabet Inc. (NASDAQ:GOOG) (NASDAQ:GOOGL), another leader in AI, trades at a 5.0x V/A' as well while generating a 24% ROA'. The only tech leaders trading at more expensive valuations than TSLA are Apple Inc. (NASDAQ:AAPL) and Facebook Inc. (NASDAQ:FB), which trade at 8.9x V/A' and 11.4x V/A' respectively. However these companies both generate significant profits, with FB generating an almost 50% ROA' and AAPL generating an ROA' close to 100%, while both continue to grow aggressively.
Peer Analysis - Tech Startups
It is only if we give TSLA the benefit of the doubt and consider them to be an early stage aggressive growth startup that they might appear to be almost fairly valued, but when profitability is taken into account this argument is still challenging to make.

Click to enlarge
While firms like 2U Inc. (NASDAQ:TWOU) and Mobileye (NYSE:MBLY) trade at richer 21.3x V/A' and 23.2x V/A' respectively, even they generate ROA' of 19% and 51% respectively. By contrast, the only negative ROA' firm in the scatter, FireEye Inc. (NASDAQ:FEYE), trades at a much cheaper 2.1x V/A' while it generates a -13% ROA'. In this view, even if TSLA is an early-stage, aggressive growth start-up, with massive growth potential, they still appear to be fairly valued at best.
Acquisition Analysis - SCTY
Recently, substantial interest has been generated around TSLA's proposed acquisition of SolarCity (NASDAQ:SCTY). To address investor concerns about the implications of this transaction, we have included a PVP chart for SCTY below.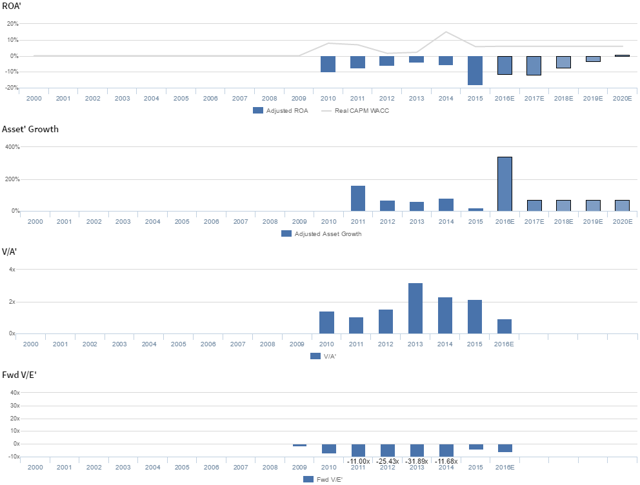 Click to enlarge
As the chart above shows, SCTY has consistently seen negative ROA', ranging from -4% to -18%. While some of this weakness can be attributed to aggressive Asset' growth, which has ranged from 15-159%, ROA' has also been pressured by increasing competition within the space, declining government subsidies, and capital structure issues.
While Elon Musk has touted the substantial synergies promised by the deal, including greater economies of scale in electrical energy management systems and battery production, as well as reduced cost-of-capital for SCTY, investors are right to be skeptical. Not only have both companies struggled to achieve (or sustain) profitability, but they will now be faced with managing a high-risk ramp-up of vehicle production and simultaneous merger. Moreover, both companies are highly-leveraged and continue to burn through incredible amounts of cash. All considered, benefits from the merger appear minimal and risks appear weighted to the downside.
Valuation Matrix - ROA' and Asset' Growth as Drivers of Valuation
When valuing a company, it is important to consider more than a singular target price and instead the potential value of a firm at various levels of performance. The below matrix highlights potential prices for TSLA at various levels of profitability (in terms of ROA') and growth (Asset' growth). Prices that are in excess of 10% equity upside are highlighted in black and prices representing an excess of 10% equity downside are highlighted in red.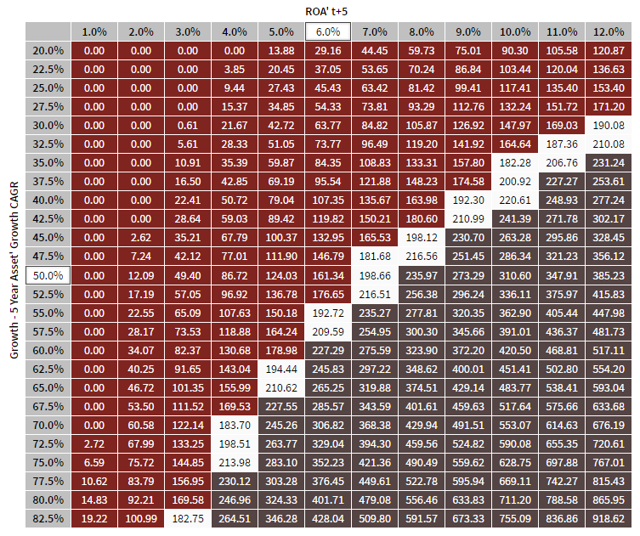 Click to enlarge
To justify current prices, TSLA would need to see ROA' rise to historically high 7% levels, while maintaining 50% Asset' growth. Additionally, even if the firm is able to see ROA' expansion in-line with analyst estimates, they would still need to continue growing the business at 20-30% levels for the foreseeable future, implying expectations for the firm to triple its Asset' base in the near-term.
The above matrix, and the fact that TSLA is trading at such substantial premiums to peers, both in the auto industry, and in the tech sector, indicates that the bar is awfully high for the firm, and they would need to see nearly zero hiccups in terms of execution to justify current valuations. Considering management's concerns about the sustainability of production efficiency improvements, production and margins, this appears highly unlikely, and equity downside for TSLA may be warranted.
To find out more about Tesla Motors, Inc. and how their performance and market expectations compare to peers, click here to access the open beta of the Valens Research database.
Our Chief Investment Strategist, Joel Litman, chairs the Valens Equities and Credit Research Committees, which are responsible for this article along with the lead analyst, Cheska Pablico. Professor Litman is regarded around the world for his expertise in forensic accounting and "forensic fundamental" analysis, particularly in corporate performance and valuation.
Disclosure: I/we have no positions in any stocks mentioned, and no plans to initiate any positions within the next 72 hours.
I wrote this article myself, and it expresses my own opinions. I am not receiving compensation for it (other than from Seeking Alpha). I have no business relationship with any company whose stock is mentioned in this article.