The third quarter was relatively mild in terms of headlines stemming from the economies of China, India, and Japan, the third-, eighth-, and fourth-largest economies in the world, respectively, ranked by GDP. China and India, sometimes collectively referred to as "Chindia" (NYSEARCA:FNI), are still considered emerging markets (NYSEARCA:EEM), while Japan has established itself as consistently the slowest growing developed economy in the world. Financial markets have seen little volatility in the region and macro trends in these economies are relatively unchanged compared to the end of Q2. Credit growth, nonetheless, remains at a worrisome level in China and Japan vis-á-vis GDP growth as a result of incentives stemming from record-low interest rates.
China
In China, growth held steady at 6.7% year-over-year for the third straight quarter. The yuan was entered into the IMF's Special Drawing Rights ("SDR"), constituting 10.92% of the overall currency basket. This effectively established the yuan as a reserve currency and helps any IMF country meet balance of payments needs through the ability to convert the SDR into any currency contained within (US dollar, euro, yen, pound, and yuan). The yuan's placement in the SDR also helps legitimize China's ongoing conversion to a consumption-based economy and encourages migration of foreign reserves to yuan-denominated assets and securities to benefit capital inflows into the country. China's capital account nonetheless remains closely scrutinized given China's history of currency manipulation to enhance the global competitiveness of its exports, with occasionally large foreign reserve drawdowns and sporadic increases in outflows. At the moment, reserve accumulation relative to capital outflows appear normal and the yuan's depreciation against the US dollar -- recently to a new six-year low (see below) -- has not been the direct result of manipulative behavior on the behalf of Chinese policymakers.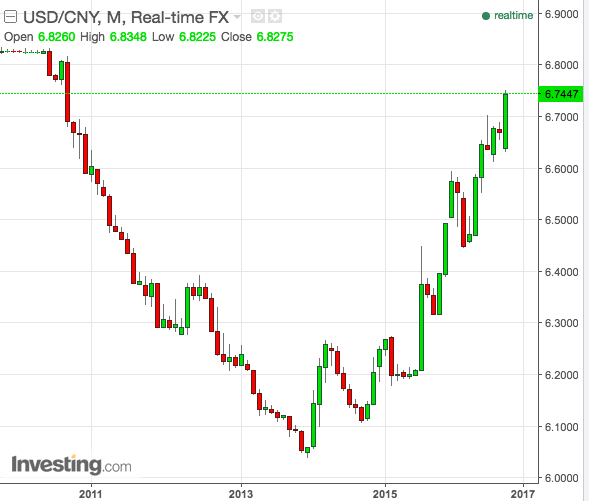 (Source: investing.com)
With the yuan's badge of honor from the IMF, it also gives incentive for China to be more open to letting the currency trade organically in response to economic events rather than something closer to a wholly managed entity as it has been in the past.
In a previous post, I went into a little bit of detail regarding how China's current trajectory of credit expansion relative to its GDP growth is unsustainable. At the moment, Chinese policymakers seem to be doing little to combat the phenomenon, whether that means reining in unproductive credit growth, recapitalizing the country's financial institutions, authorizing higher amounts of off-balance sheet risk offloading, facilitating more in the way of pro-business practices (such as fairer rules to market entry), proactively identifying struggling companies, and/or engaging in governance reform and increasing privatization of state-owned enterprises. The current pace of credit growth, I estimated (within the previously mentioned article) will begin to strain its financial sector anywhere from very soon to Q3/Q4 2019 if not tapered. Given that globalization has increased over time, China's debt situation can increasingly become a source of systemic risk for the entire world economy. Currently, we're in wait-and-see mode and any initiatives to combat the problem will likely be formally discussed in the Party Congress and related political gatherings later this year and into 2017.
India
India is also in the midst of its own credit-fueled expansion, though to a lesser extent than China. Central government debt as a percentage of GDP has decreased over the years; however, household debt has slowly risen to a bit over 10% of GDP (see graph below) and corporate debt has risen to 50% of GDP.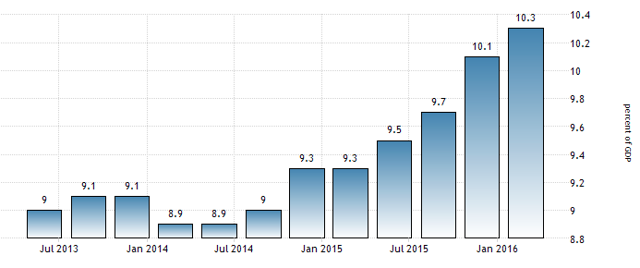 Click to enlarge
(Source: Bank for International Settlements; modeled by tradingeconomics.com)
In China, the proportions of household and corporate debt as a percentage of GDP are 40% and 130%, respectively, according to the IMF. In terms of debt-to-equity ratios, Indian corporations have also proportionally de-levered.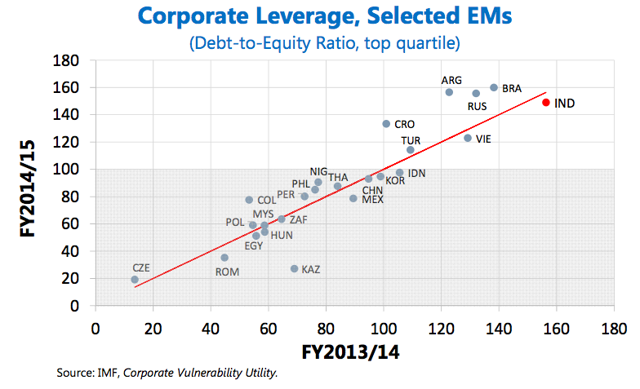 Click to enlarge
Unlike China, India's GDP may actually accelerate in future years, from its current 7.1% level measured year-over-year to around 8%. India is developing an increasing population of middle-class citizens in its transition to a consumer-focused economy. Credit expansion can also moderate as consumption and services take economic precedence over manufacturing and other credit-intensive industrial processes. As time goes on, the cyclically adjusted trend in credit expansion should increasingly point downward for other emerging Asian-Pacific economies as well.
India also passed a long-anticipated goods and services tax ("GST") that repeals and replaces a pre-existing system that levies numerous forms of taxation on Indian business. The GST represents a national sales tax system designed to increase tax efficiency and boost growth prospects by reducing compliance costs and increasing the ease at which goods can be transferred across state lines.
Japan
Japan's GDP has been on a sub-1% growth trajectory ever since it emerged from a four-quarter recession from Q2 2014 to Q1 2015. Overall, from 1980 to 2016, the country's annualized GDP growth has averaged 0.48%. In September, Japan announced a series of initiatives to ideally rid itself of the nightmare of deflation. It announced a policy of "yield curve control." Normally central banks control short-term interest rates only, while letting the rest of the curve play out as a function of where the overnight rates are set at. However, to the BOJ's dismay, the rate curve has flattened over the course of the year, which constricts the profitability of the financial sector and the conduit by which monetary policy is put into effect.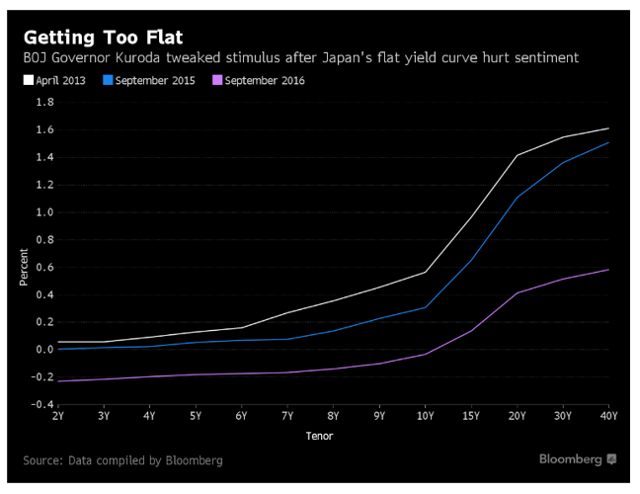 Click to enlarge
Now, the BOJ is not only controlling overnight rates, or the very front of the curve, but the middle of the curve by attempting to keep the country's 10-year yields at no less than 0%. Governor Kuroda also announced that the BOJ is willing to influence other parts of the yield curve as necessary by buying and selling bonds as it sees fit. Looking ahead, the maturity composition of the BOJ's bond portfolio is likely to change. Curve steepening initiatives generally entail buying the front end of the curve while selling the back end. It also helps guide public expectations of higher inflation and growth in the future, as bond investors will normally expect to be compensated for any uptick in inflation or growth going forward when buying longer-term maturities.
Economic Forecasts
China is cruising along at 6.7% year-over-year GDP growth and has been for three straight quarters, but is likely to fall to 6.5% in 2017 and 6.0% by 2018 as part of China's current growth is facilitated by an unsustainable credit binge. Out to 2020, my own GARCH model suggests somewhere in the low 5% range at the median, but could be revised higher on the back of policymakers' indulgence in this excessive credit growth (i.e, because it fuels a fraction of the growth in the first place).
One positive is that consumption is increasingly taking up a greater fraction of Chinese GDP, which should help moderate credit growth over time. Moreover, inflationary pressures remain modest at about 2% year-over-year, which suggests that interest rates are appropriately settled right in the 4.00%-4.50% range (currently 4.35%).
India has the potential to grow GDP ahead for a few main reasons. For one, the country's large investment spending has yet to boost GDP, which should change moving ahead. Like in China, consumption spending is expanding and constitutes a higher-growth component of overall GDP. As this takes up a larger slice of the GDP calculation, the aggregate figure is likely to expand accordingly. A strong monsoon season is also limiting pressure on food prices, which will help keep inflation steady at 4.5%-5.0%. The passage of the GST (i.e., new sales tax), should increase inter-state commerce in the country even while the details remain to be fleshed out entirely. Even with the positive structural changes occurring in the Indian economy, it remains a story with plenty of upside moving ahead. Per capita GDP is still only ~30% of the size of China's. India could conceivably expand its growth from 7.1% Y/Y to closer to 8% in the next few years.
Japan is set to finish 2016 with another year of sub-1% growth and inflation around -0.5%. Personal GARCH model forecasts place growth expectations over the next four years at around 0.5% annualized. The BOJ's yield curve control policy has the chance to get inflation back to breakeven or slightly positive but will require significant central bank intervention. Consumer spending is erratic and wages have remained flat going back several years. Fiscal and monetary policies have also been in direct conflict with each other in recent years. The Japanese government's value-added-tax ("VAT") increase in April 2014 hit consumption and sunk an already fragile economy into a mild two-quarter recession. The government has agreed to hold off on the second VAT hike to better align the government's and central bank's policies.
The BOJ has also had issues establishing public credibility in its failure to achieve its policy objectives by a given point in time. Ideally, central bankers can attend to forward guidance matters exclusively with respect to communicating their economic aims rather than tying these initiatives to specific timetables.
Trade Ideas
- China
With respect to China (NYSEARCA:GXC), it is my opinion that investment opportunties are riskier than elsewhere due to the country's growing debt burden. Chinese financial institutions (NYSEARCA:CHIQ), infrastructure (NYSEARCA:KFYP), and industrials (NYSEARCA:CHII) are fairly unattractive industries as a consequence of excessive credit expansion and an ongoing process of economic rebalancing from industrialization to consumption and services. With that said, the Chinese economy is still growing at nearly a 7% clip with 1.9% inflation, which makes it one of the world's best locomotives of growth. Therefore, the Chinese economy is probably not one to be bearish on, but could be so within the next couple years should credit growth continue nearly linearly to the point where the risk/reward in asset prices (or in certain segments, such as the banking sector) becomes asymmetrically skewed downward with a limited sustainability horizon.
- India
New India Reserve Bank Governor Urjit Patel, a former Yale economist known for his hawkish policy bent, took over in late August and cut rates in the first meeting he chaired in response to lower inflation figures, hovering around 4.31%. (In Q1 2016, inflation stood at 6.07%.) If the trend persists, more rate cuts could follow ahead. I am currently long 10-year Indian bonds and rate cuts naturally help for capital appreciation purposes. I consider 10-year Indian bonds among the safest near-7% yields in fixed income currently.
- Japan
Regarding Japan, I have been short an index of Japanese financial institutions (NYSEARCA:DXJF) since May 2015 in anticipation that the BOJ would continue to slash interest rates in response to an ongoing recession and deflation. Central bank policy was already loose but bound to become even looser with negative interest rates on the table. The BOJ's only other policy tool was quantitative easing. Once rates were cut, the yield spread that banks rely on to derive a meaningful sum of their profits would constrict. Moreover, dampened growth and deflation prospects ahead would likely compress the yield spread further and squeeze bank profitability. The idea started working in August 2015 and has made a good move. The index increased about 6% in one day after the BOJ announced its yield curve control initiative, but has receded some 2.5% since.
The yen has been bullish against the US dollar for most of the year moving from a peak price point above 120 per dollar to one hovering just above 100. Part of it can be attributed to a diminished impression on the extent to which the US will tighten its monetary policy and due to safe haven inflows to the yen amid other global risks and uncertainties. This has reduced the competitiveness of Japan's exports and runs at odds with the loosening initiatives the BOJ has on order. The US Federal Reserve is likely to increase rates by 25 bps in December, but not much more following, which is currently slightly helping the US dollar. Japan will not be tightening anytime soon, which remains bearish for the yen. I have been personally long the USD/JPY since around the 100 level.
Disclosure: I am/we are short DXJF.
I wrote this article myself, and it expresses my own opinions. I am not receiving compensation for it (other than from Seeking Alpha). I have no business relationship with any company whose stock is mentioned in this article.
Additional disclosure: I am long USD/JPY and 10-year India bonds.