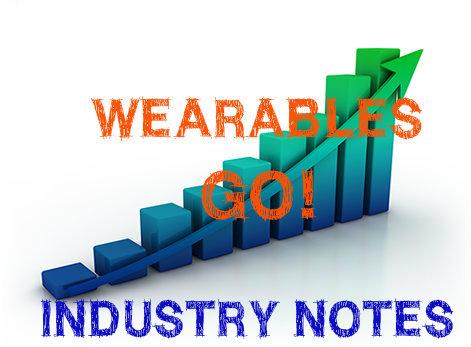 Welcome to the AWE (Augmented World Expo) issue of Wearables Go! Industry Notes.
Note: To get these Wearables Go! Industry Notes as soon as they are published: just click on my profile above, press the big, orange "Follow" button, and choose the real-time alerts option.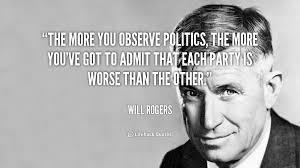 If ever there was a time for a legitimate candidate to arise as an Independent in American politics, this would be that time. Will Rogers didn't say it many years ago, viewers who watched the final presidential debate felt it.

A growing number of publicly traded companies are now beginning to benefit from the emergence of the wearables technology revolution in augmented reality, virtual reality and mHealth wearables.
Too numerous to list in this article are the publicly traded companies that are in the ecosystem for the emerging AR, VR and wearables industries. This ecosystem is comprised of the supply chain companies, connectivity companies, hardware manufacturers, service companies, and app developers.
Companies now benefiting from the emergence of this new technology revolution are a broad range of US and foreign tech companies. This article acknowledges the most visible publicly-traded beneficiaries of what is likely to become a multi-year technology event, the hardware manufacturers. A few of these hardware companies include: Microsoft (NASDAQ: MSFT), Google (NASDAQ: GOOG) (NASDAQ: GOOGL), Sony (NYSE: SNE), Epson (OTC: OTCPK:SEKEF), and Vuzix (NASDAQ: VUZI).

Who doesn't want real superpowers? The 7th Annual Augmented World Expo 2016 promises that augmented reality, virtual reality and wearables technologies will grant each of us real superpowers. Should we believe in the promises being given to us for the future of these technologies and should we begin preparing to acquire our own personal superpowers immediately? The surprising answer to this extraordinary question is a qualified yes.
Most of us won't be using these newly bestowed superpowers to fight crime, although the law enforcement industry certainly will seek to make our cities safer by implementing AR, VR and wearables tech. Most of us will first become more super and more powerful on the enterprise level before attaining Silver Surfer status in our personal lives. It is not uncommon for the early adoption of tech in the workplace prior to uptake by the consumer. There are already a growing number of wearables devices in the marketplace that have been assisting both the enterprise and retail consumer for a number of years.
The 7th Annual AWE 2016 that took place in Santa Clara this June drew almost 4,000 attendees from more than 40 nations. With 200 speakers and 200 exhibitors it was billed as the world's largest event dedicated to AR, VR and wearables technology.
AWE 2016 also had an Asian expo that took place September 23-29. The European expo completed on October 18-19 in Berlin. This early global reach for wearables technology is helpful for the rate of uptake and product distribution for both current and future products.
This graphic from AWE 2016 USA illustrates the scope of the ecosystem that is now developing to build the next computing and communications platforms known as AR/VR: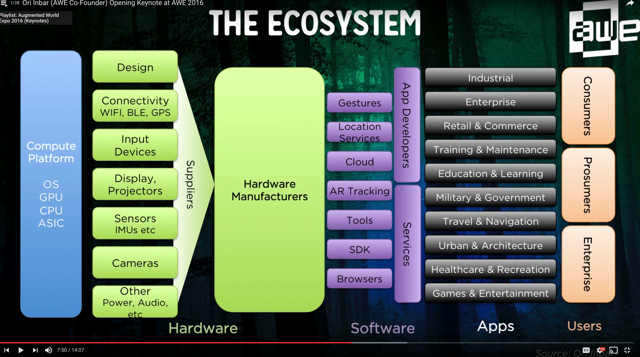 We often hear that the future for AR is revolutionary. But AR already is very much alive and kicking in its early days right now. The following graphic showcases a dozen state of the art smart glasses for 2016: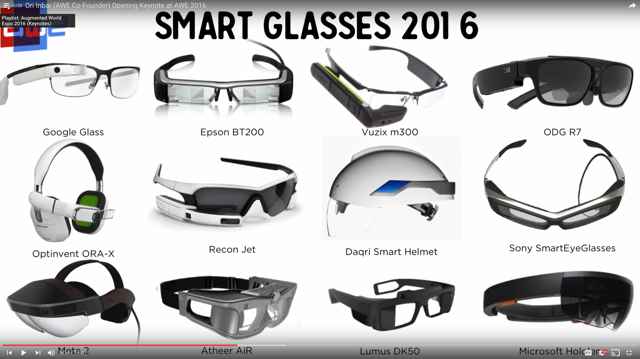 Investors who experienced the personal computer revolution of the 1980s or the Internet revolution of the 1990s may find current events in the wearables revolution to be reminiscent of prior tech bull markets. The ecosystems that were built to support the development of those prior revolutions changed the business and investment landscapes. The bull markets in stocks that were launched by each of those world-changing events occurred over multi-year periods. A great many investors built significant wealth during those tech bulls. This type of a classic bull market in wearables technology stocks may be happening again today. In fact, it may have already begun.
The current wearables technology revolution may be launching a new multi-year bull market that will impact both the investment and business landscapes. Investors will be afforded great opportunities in this current technology revolution, but wearables will also be very disruptive for other companies. Understanding which companies are on the right side of the cutting edge of this technology revolution is crucial.
This keynote from AWE 2016 USA touches upon a number of valid points as to why AR, VR and wearables technologies will become the next computing and communications platforms.
The following graphic speaks to the intuitiveness of adopting smart glasses over the use of a handheld device. And how there will be an inflection point in the future where sales of smartglasses surpass the smartphone. These conclusions are not unreasonable.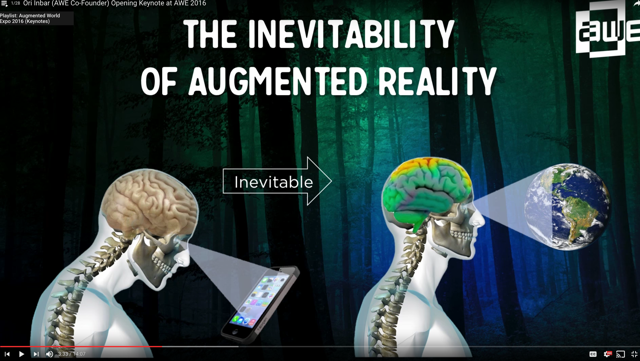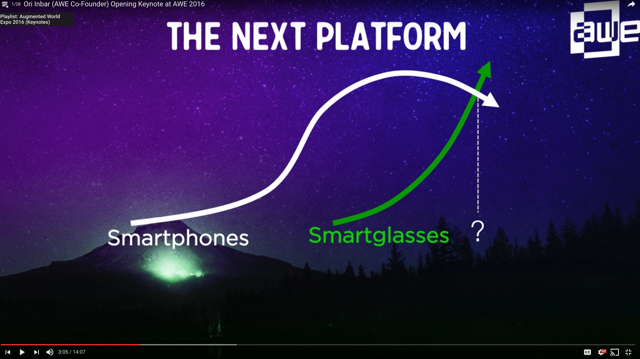 Industry insiders predict a more rapid uptake for AR, VR and wearables than outside observers of this tech revolution. Only time will tell who is correct. Goldman Sachs has issued their thoughts on the matter as represented in the following graphics: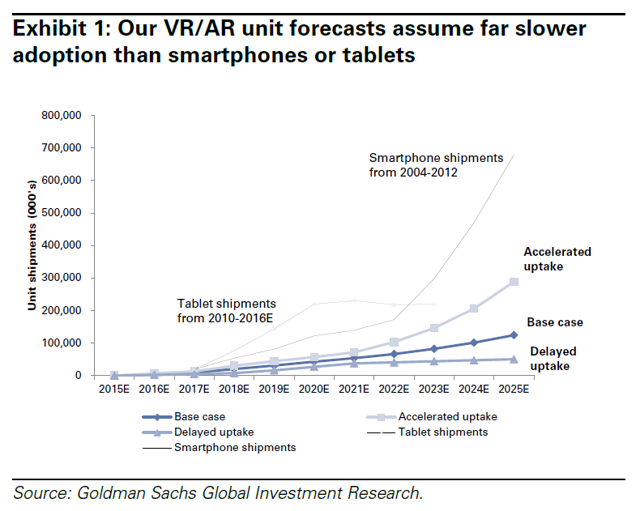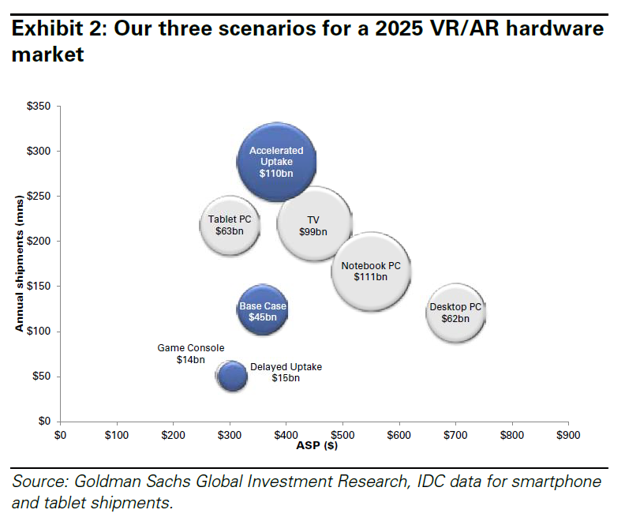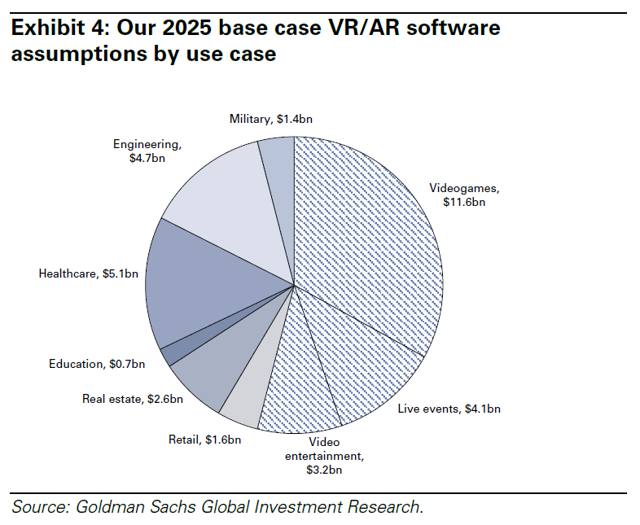 Whether it is the industry insiders or the outside observers who are correct about the rate of uptake for these new technologies, it is likely that well-informed investors will be the winners in either outcome.

STMicroelectronics (NYSE: STM): Announced the advancement of supply chain technologies for the Internet of Things and smart devices everywhere. The wearables revolution marches on with continuing innovations of the integral components in devices.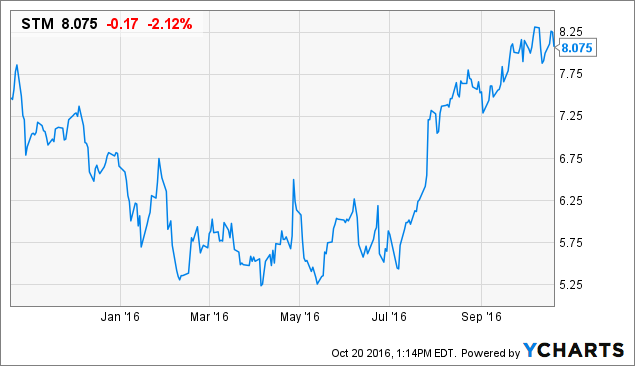 STM data by YCharts
Under Armour (NYSE: UA): mHealth wearables devices have taken another step forward with the collaboration on headphones by Under Armour and HARMAN International (NYSE: HAR). This new wearable contains an in-ear heart monitoring device. This all-in-one solution plays music and also provides real-time audio stats and heart rate zone coaching. The UA ecosystem's app is called UA Record. This innovation sparks the imagination for future applications of this technology. Today's early fitness ecosystems are becoming more integral with healthcare.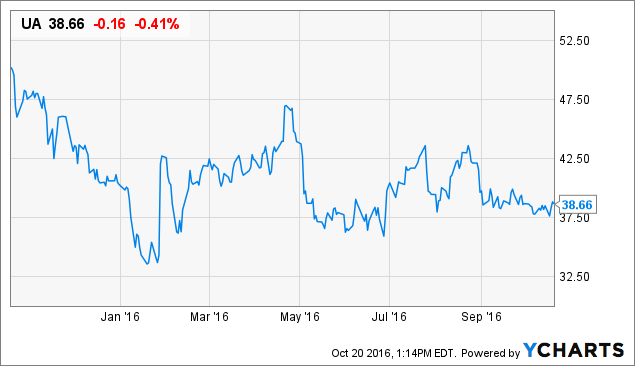 UA data by YCharts
BioTelemetry (NASDAQ: BEAT): Has had a stellar run in its stock price over the last few years. Currently growing revenues at over 17%, this mHealth wearables device maker has recently received a boost from Blue Cross Blue Shield's coverage of the company's products.
BEAT data by YCharts
Fitbit (NYSE: FIT): The global rollout of Fitbit's products have taken another step forward. The British military is giving soldiers Fitbit devices so that they can employ the ecosystem for improved fitness. This notable European customer announcement follows a similar purchase by the U.S. Army in 2015. Fitbit is the leader in the category of wrist wearables.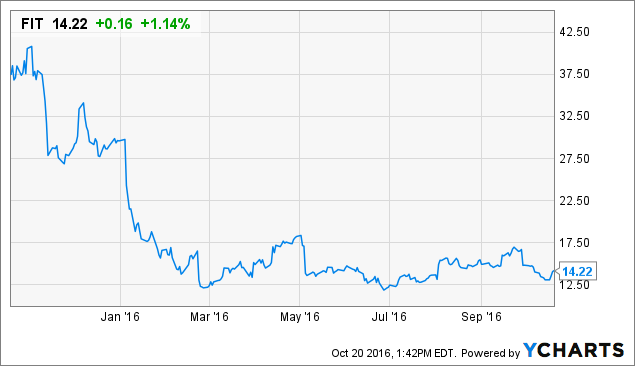 FIT data by YCharts

iRhythm Technologies (NASDAQ: IRTC): The rapidly growing mHealth wearables category celebrates another new IPO for October 20, 2016. iRhythm priced its IPO at $17 above the expected range of $13 to $15. Combining wearable biosensors with cloud-based data and AI capabilities, this healthcare company has innovated the diagnosis of cardiac arrhythmias. Trailing 12-month revenue growth has been 78% for this small-cap stock. The chart below reflects the lack of trading history as today is IPO day.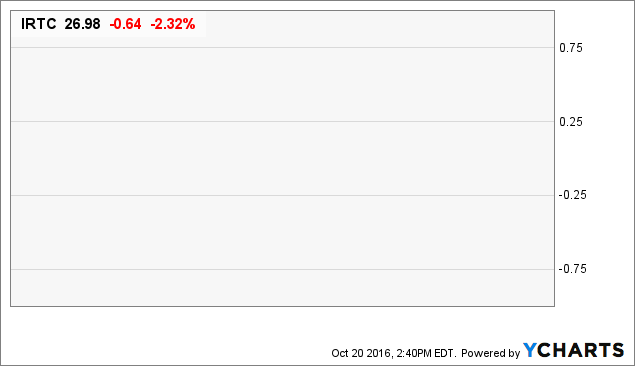 IRTC data by YCharts
GoPro (NASDAQ:GPRO): Oppenheimer's analyst recognized the quality of upgrades to the Hero5 Black and Hero5 Session cameras. He stated these upgrades were a part of "the strongest product portfolio it's ever had." This positive review was checked by the analyst's concerns of declines for GoPro's overall addressable market.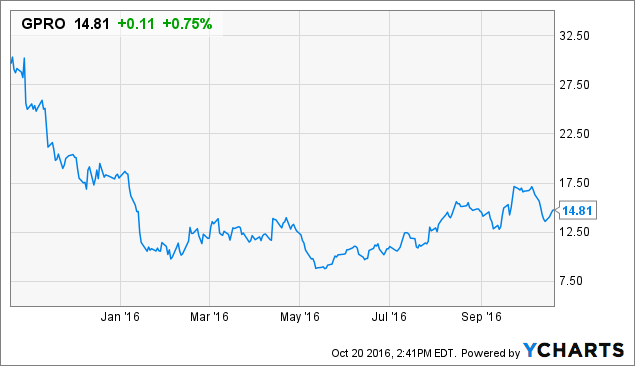 GPRO data by YCharts
InvenSense (NASDAQ: INVN): Pacific Crest's recent upgrade of this supply chain company is based upon its increasing focus of providing components for the wearables VR industry. The stock is trading below its 2011 IPO price.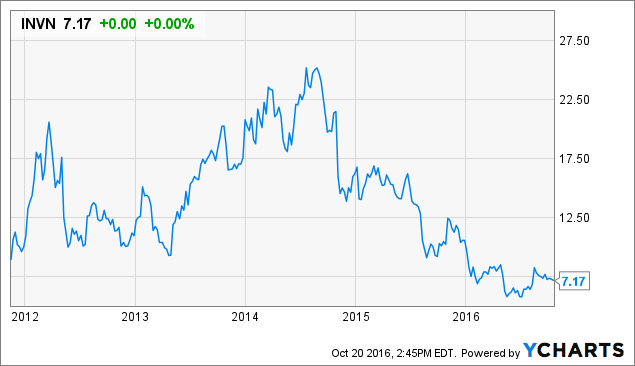 INVN data by YCharts
The number of publicly traded wearables stocks will continue to grow via IPOs, M&A and the innovation of new technology by existing public companies. This is a fascinating category that is still in its early days. Prescient investors are watching wearables closely for opportunities in both new applications of innovative technologies and also for the disruption of traditional industries by these new technologies.
There is a seismic shift underway in the business and investment landscapes, and the wearables technology revolution is the driver of this event. No investor can afford to be unaware of the wearables revolution or its rapidly moving developments. Please use the follow button at the top of the page to receive Wearables Go! Industry Notes and also wearables-related articles by Bull & Bear Trading.
Thank you for reviewing Wearables Go! Industry Notes. Free trial our Wearables Go! service in the Seeking Alpha Marketplace for two weeks. No commitment necessary and zero cost to you.
I read my first Bull & Bear Trading article on Fitbit in May and began tracking FIT based upon your recommendations. My cost averaged position was about $12 and I just sold above $16 for a nice gain this week. Your research was very helpful and I look forward to Wearables Go! becoming a valuable resource for my short-term trading and long-term investing. Thanks Bull & Bear Trading! Looking forward to reading your next BIG ideas!!
The wearables and mHealth categories are in the early days of a classic technology bull market. Ready? Go!
Best,
Michael Patrick
Editor
Bull & Bear Trading / Wearables Go!
Disclosure: I am/we are long FIT.
I wrote this article myself, and it expresses my own opinions. I am not receiving compensation for it (other than from Seeking Alpha). I have no business relationship with any company whose stock is mentioned in this article.