So Walgreens Boots Alliance (NASDAQ:WBA) climbed after its latest earnings report saw earnings surpass estimates as overall operational efficiency improved. However I don't believe the WBA surge was solely cheered on by healthy earnings. The Rite Aid (NYSE:RAD) merger had a lot to do with it as well and I believe another price surge is on its way.
First of all, let's not completely downplay the effect of the earnings report. Even though revenues were flat Walgreens Boots Alliance managed to squeeze out more profits as it improved its operating margin to 3.9% in the fourth quarter of fiscal 2016 from 2.93% in the same period last year. However for a company desperately trying to increase its customer base the fact that revenues were pretty much flat in the fourth quarter is not something to be proud of. More importantly the company's historic trend of its earnings surprise in correlation with its stock price movement simply does not add up. There seems to be something else boosting WBA.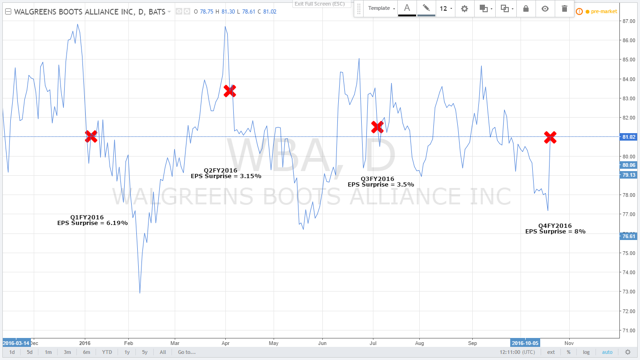 (Source: TradingView.com)
I believe the earnings report were hyped up by news that the $ 9.4 billion RAD merger was still on the cards and headed well on its way for approval from the Federal Trade Commission. The deal was announced a year ago and after a series of high-profile mergers were shot down by the Commission investors were rather wary that the WBA-RAD merger would get the go ahead. Now when information isn't clearly available you tend to look at other hints and clues to figure out whether or not there is any chance of the event unfolding. This where you have to understand that Walgreens Boots Alliance is considering RAD in its 2017 guidance, which is the closest thing to an official approval for the merger we can get right now.
Once the merger does go through in early 2017 I believe WBA will capitalize on it immediately by revitalizing RAD's stores and getting rid of inefficient parts, while at the same time expanding its own pharmacy benefit management business, EnvisionRX, on a whole new larger scale. And there's no shortage of resources in WBA's financials which might prevent it from going through with such a merger.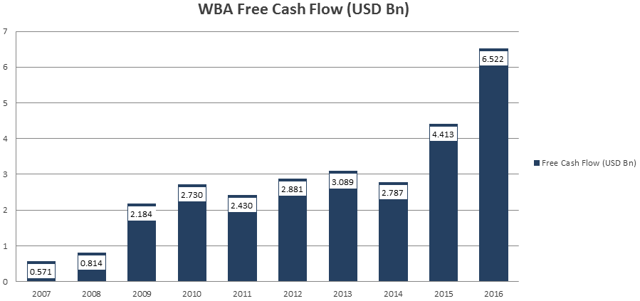 (Data: WBA Quarterly Reports Chart by Author)
Over the past few years their free cash flow position has gradually ballooned, currently standing at $6.5 billion having grown by approximately 125% over the last five years. That puts it in a good enough position to not only carry out its merger efficiently but also continue growing dividends, making WBA a wonderful choice for those looking at the healthcare industry for long term investments.
A look at the company's 50 and 200 day moving averages shows that it is still in bullish territory, and while the RSI might seem like it is about to reach its upper limit of 70 it actually is proving my point here. The fact that investors reacted to the news of the merger with such fervor saw the RSI shoot up from borderline 30 to well above 50 in a matter of a day.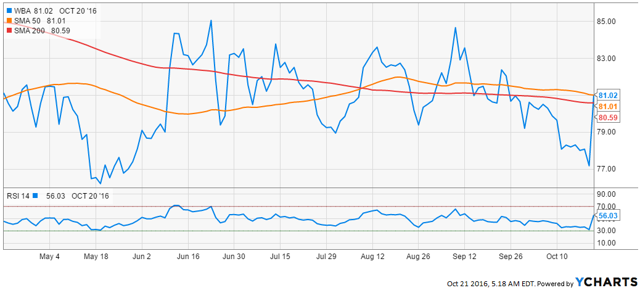 (Source: YChart)
Keeping all these details in mind I believe that once the merger is finalized by early 2017 WBA will sharply climb again giving investors a chance to make another quick buck. But at the same time if they are looking for another long term investment with a steady dividend stream then WBA is not a long shot. Walgreens Boots Alliance is very confident about this stock, and as long as the Federal Trade Commission does not flip the merger on its head I believe the stock could easily meet the needs of short and long term investors.
Disclosure: I/we have no positions in any stocks mentioned, and no plans to initiate any positions within the next 72 hours.
I wrote this article myself, and it expresses my own opinions. I am not receiving compensation for it (other than from Seeking Alpha). I have no business relationship with any company whose stock is mentioned in this article.