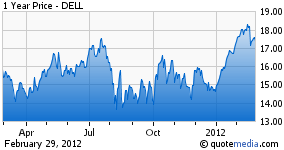 For as much praise that tech giant Apple (NASDAQ:AAPL) gets in the stock market because it is ... well ... Apple, there are companies such as computer giant Dell (NASDAQ:DELL) that get beaten up because it is not. So it goes without saying that skepticism runs about for any company not named Apple and with whom Apple competes. And unfortunately, this is the predicament that Dell is in. The company's perceived inability to compete only adds to the weight it carries as it tries to do just that. But I think for investors who are willing to dissect the value that Dell has, it is important to also consider the current valuation and examine what might already be factored in.
As noted, it competes with Apple, and the "death of the PC" has been the subject of much debate, but don't discount that the company appreciates what it must deal with for the sake of its own survival. To that end, Dell continues to trim unprofitable parts of its business as a way to increase its margins and generate value. This is something that has worked extremely well for Cisco (NASDAQ:CSCO) and I have reason to believe that it will work for Dell as well.
The Recent Quarter
As much optimism as I have for the company, however, Wall Street did not appear particularly impressed by its recent performance. The company reported Q4 earnings that arrived with little fanfare as it missed several analyst estimates. Although the company did show considerably better numbers from its corporate business unit, those numbers were offset by weakness in the division that caters to public businesses. Net income for the quarter fell 18%, to $764 million, or 43 cents a share, compared with $927 million, or 48 cents a share, in the year-ago period. Excluding one-time items, it earned 51 cents a share, 1 cent short of the 52 cents analysts were expecting. Revenue rose 2%, to $16 billion, in line with the average analyst estimate of $15.96 billion.
Enterprise business held up well, increasing sales 5% in the quarter, to $4.9 billion, as corporations continued to upgrade aging hardware. Dell's gross margin rose to 21.1%, from 20% a year earlier. The company's CFO, Brian T. Gladden, said profit margins for the quarter were hurt by a combination of weakness in public spending in the United States, discounting of the leftover inventory of its previous generation phones and the lingering impact of the Thailand flood on its product mix - similar effects expressed by rival Hewlett Packard (NYSE:HPQ).
Moving Forward
The numbers were disappointing, no doubt. However, it is clear that the company is making progress in the area of service - the same businesses that have worked extremely well for rivals IBM (NYSE:IBM) as well as the aforementioned Hewlett Packard. But analysts continue to question, just how far and by how much can it grow? The company clearly has a desire to grow its server business but that market is saturated with competition now that Cisco has also entered the space and has surged to the top three in the market in less than two years. So other than price, the question is how can Dell distinguish itself to capture and grow its share in that market?
As far as guidance goes, the company did not offer a lot to be excited about. It offered an outlook that for Q1 revenue that was below Wall Street's expectations. This has caused many to worry that its PC business and the PC industry as a whole had not fully emerged from its downturn. The company's projected sales would be down 7% during the current quarter when compared to the quarter that just ended when it posted revenue of $16 billion. That translates into about $14.9 billion, below the average forecast for about $15.2 billion.
During the conference call, the company's CFO, Brian T. Gladden, suggested that he expected the disk drive issues that the company experienced to continue throughout the rest of the year, while he also went on to note that he expected business spending in the company's enterprise unit to continue to be strong this quarter. The company's public business generated revenue of $3.9 billion, which was down 1% from a year ago because of weakness in the United States and Western Europe, while its sales to consumers also fell 2%.
Summary
Let's be real, Dell is not going to be Apple so it is unfair for it to be judged on such expectations. But the company is far from the laggard that Wall Street seems to treat it as. In the long run, as it is inevitable that PCs will indeed fall off a cliff, I see Dell adopting the IBM model and focusing solely on services and other high margin-low cost businesses. I think we can agree that IBM is going pretty well. For now, investors will require a great deal of patience for Dell to transform and/or re-invent itself in a way that generates value.