By Parke Shall
News in the world of streaming video has us more confident than ever in our bullish Twitter (NYSE:TWTR) thesis and more concerned that Netflix (NASDAQ:NFLX) is going to have a serious compeititive landscape ahead of it. One normally wouldn't think that Google (NASDAQ:GOOG) (NASDAQ:GOOGL) going out and securing a partnership with CBS would be good for, or have any affect on, Twitter. Today we wanted to write and present to readers how we connect the dots and think this is a positive.
Yesterday, the news broke that Google was engaging CBS for a partnership in streaming video. A write up by Reuters stated,
Alphabet Inc's Google has reached an agreement with CBS Corp to carry the network on its planned web TV service and is in advanced talks with 21st Century Fox, Walt Disney Co and Viacom Inc to distribute their channels, people with knowledge of the talks told Reuters on Wednesday.

The service, which will be part of Google's YouTube platform, is expected to launch in the first quarter and will include all of CBS's content, including live NFL games, one of the sources said.

Google's offering, known as a "skinny bundle" because it will have fewer channels than a typical cable subscription, will cost $30 to $40 a month, the source said. It was unclear which Fox and Viacom networks would be part of the Google service, two of the sources said.
We saw Netflix stock dip slightly intraday when the news was announced, and for good reason. Netflix right now is, in terms of brand-name and recognition, the number one streaming content provider in the world. They're growing at an incredible rate, they recently just beat subscriber expectations, and arguably have the most to lose out of all companies dealing in content right now, especially when considering valuation of its stock. Netflix remains a company that isn't profitable and will probably wind up spending too much on content in the future. Obviously, we see this partnership and Google entering the fray as a negative for Netflix. We pointed out concerns about Netflix's competitive landscape in a previous Netflix article we wrote just days ago,
If Netflix was the only player in the "cutting the cable" sector, we would be inclined to believe that it may very well have an extremely long runway of growth ahead of it. However, with the environment now shifting to one where there is significant competition, we are not sure that Netflix is the crown jewel that it once was a few years ago.

Yes, cutting the cable still has a long way to go. We are anticipating an enormous secular move away from traditional cable and traditional cable companies and we are predicting that a majority of this business will go to individual online streaming subscriptions for packages of online streaming subscriptions. Netflix used to have the advantage of being extremely cheap and being one of the only services available. Now, it touts that 75% of its user base is subject to price hikes and it has intense competition from Apple (NASDAQ:AAPL), Amazon (NASDAQ:AMZN), Hulu, and all of the major networks that are providing their content through various streaming services. Even Twitter (NYSE:TWTR) has now gotten into the streaming video sector.
How does this Google/CBS news affect Twitter, you might ask?
As many of you know, part of Twitter's new initiative to grow organic users is to bring on content that could helpfully stoke both future engagements and sign-ups. For example, just over the last couple of weeks, there have been numerous NFL football games, as well as the presidential debates, both aired live on Twitter as they happened.
On top of this, Twitter has come out and made several public statements that they are continuing to look at options for purchasing content and this is a strategy that we have stated in previous articles will be a nice game changer for the social network.
Twitter has really spun its wheels over the last year or two while Netflix has risen, there is no doubt about that. We now think it's time these two % changes start to diverge toward each other.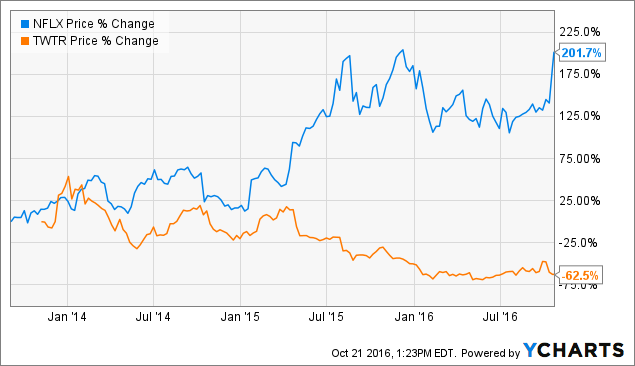 Twitter does have pathways for future plans in products like Periscope and through securing streaming content. We believe that content is actually an area where they can benefit the most. As you probably know, Facebook (NASDAQ:FB) has already introduced a live video option that rivals Periscope. Facebook could also go out and buy content if they wanted to, but they are not doing this.
And so Twitter has a small window where having some content could actually help them stoke the fire a bit. What does this have to do with Google? It furthers our argument that content is going to be the driver of growth going forward.
Google would not be going out in partnering with CBS and launching Web TV if there wasn't a serious secular shift from cable to streaming that is in the midst of happening. This is one reason that the bull case for Netflix can be so appealing, before one looks at the financials. Google making this type of statement only goes on to further what they have cultivated in YouTube already, an environment of streaming video and the introduction of live streaming video, which will likely soon be the primary source of most video that we see.
This affirmation that content is going to be a commodity going forward should give Twitter investors who are bullish on their case for buying content a fair amount of confidence. Twitter was certainly the first thing we thought of when we saw the news break yesterday. We did not see a dip in Twitter shares the same way that we saw a dip in Netflix shares because Twitter is just using content to simply try and stoke a user growth fire. They are not committing an extraordinary use of capital to securing content and the social media platform has significantly more value than that of just a content provider. As we have said in the past, we think the company's value as a real time news service for the people is significant.
Netflix dipped not only because they are probably Google's primary target, but because their entire business revolves around content, and content is costly. Takeover rumors of Google for Netflix swirled briefly on Monday before being debunked. We think Google is out to cripple Netflix, not buy it.
Meanwhile, during last night's football game, they spent a fair amount of time looking back at other NFL players' Twitter accounts to get their commentary on the game. Look no further for proof that Twitter remains a perfect medium for short quips and soundbites for the media due to its 140 character limit.
If you love watching Netflix and YouTube and want to invest in a business that is more than just a content provider, Twitter may fit what you're looking for. For us, as longer-term long oriented investors in Twitter that believe in the value of the platform, we see this news as a positive and we continue to be bullish on the effect of Twitter making investments in coveted content. We think Netflix will clearly get the worst from the GOOG/CBS partnership. We remain bullish on Twitter and bearish on Netflix.
Disclosure: I/we have no positions in any stocks mentioned, and no plans to initiate any positions within the next 72 hours.
I wrote this article myself, and it expresses my own opinions. I am not receiving compensation for it (other than from Seeking Alpha). I have no business relationship with any company whose stock is mentioned in this article.