We realize that when companies come out with earnings that don't meet expectations there will be a sell-off in the shares.
This now happened three times at Skechers (NYSE:SKX) in the last six quarters, and together they have decimated the stock from a high of over $50 a little more than a year ago to roughly $19 now at the time of writing.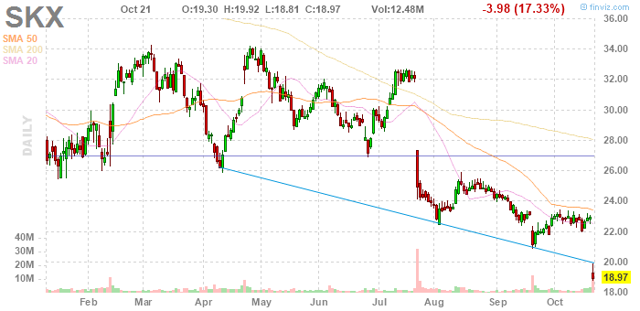 Click to enlarge
Yes, growth is decelerating, especially in its most important market, the US. In fact, US wholesale business has declined two quarters in a row.
While the negative surprise in the previous (Q2) quarter could still largely be ascribed to one-off factors (a particularly unfavorable comparison with Q2 2015 due to pull forward of sales), this time there isn't anything to hide from.
In Q3, US wholesale business declined by 3.2% where a growth of 4-5% was guided. Before we're writing off this company completely though, it is worth our while to point out a few data points (from the Q3CC):
Overall revenue is still growing at 10%.
In the quarter, domestic retail sales increased by 8.1% and international retail sales by 45.3%.
International wholesale business increased by 18.3%.
US wholesale business declined by 3.4%.
At September 30, 2016, the company has $665.3 million in cash and cash equivalents or $4.29 per diluted share (that is, it still added $36M to cash in the quarter).
Long-term debt was $67.6 million compared to $70.1 million at September 30, 2015.
Capital expenditures for the third quarter were approximately $25.8 million, of which $12.9 million was primarily related to 11 new company-owned domestic and international store openings and several store remodels, and $5.5 million for equipment upgrades and automation of our European distribution center. We expect our capital expenditures for the remainder of 2016 to be approximately $5 million to $10 million, which includes an additional 15 to 20 retail store openings and the completion of our European distribution automation system later this year.
With over 1,710 retail stores worldwide and a planned 1,850 to 1,875 by year end, we believe they are powerful brand building tools.
Diluted earnings per share were $1.53 on approximately 155 million average shares outstanding compared to diluted earnings per share of $1.31 on approximately 154.1 million shares last year.
Exchange losses of approximately $8.1 million or $0.04 per diluted share.
The latter means that the company will have a 2016 EPS of roughly $1.70-1.80 which means that the shares are trading just over 10 times earnings. Net cash is $4 per share. It has a very clean balance sheet and operations are still generating plenty of cash.
Unless the company comes to a screeching halt in terms of growth, this is very cheap indeed. The only part that isn't performing is the US wholesale business.
Other parts are still growing and expanding. Now, we also realize that the share price is unlikely to rebound decisively unless we have tangible evidence that the rot has stopped.
And this might take some time, especially as visibility is somewhat hampered by:
Our international distributor net sales decreased by 18.6% in the third quarter and 4.6% for the first nine months. The decline is the result of several factors; The conversion of Latin America and Central Eastern Europe from distributors to subsidiaries and the transition of Israel to a joint venture in the third quarter, A difficult comparison with 72.2% growth in the third quarter of 2015, The current transition of South Korea to a joint venture from a distributor, Political unrest in several markets primarily in the Middle East and timing shifts within several distributors.
It's also worthwhile to see some other developments:
Our joint ventures grew by 51.2% for the quarter, led by more than 50% gains in China and triple-digit gains in India. China shipped more than 2.8 million pairs in the quarter and opened 82 freestanding Skechers retail stores, primarily though franchisees bringing their total Skechers store count to 341. We now have approximately 1,860 points of sale in China and an extremely strong e-commerce business with high double-digit growth. We believe there is still tremendous opportunity across the country to further build the brand.
But when the smoke clears it is still likely that Skechers is a growing company, generating significant amounts of cash, enjoying a very healthy balance sheet with net cash over $600M and a valuation that is simply too low for these metrics.
Disclosure: I/we have no positions in any stocks mentioned, but may initiate a long position in SKX over the next 72 hours.
I wrote this article myself, and it expresses my own opinions. I am not receiving compensation for it (other than from Seeking Alpha). I have no business relationship with any company whose stock is mentioned in this article.