McDonald's (NYSE:MCD) earnings release this morning shows, once more, the type of financial engineering and "one-shots" that has propelled the top-line EPS that has, in turn, boosted MCD's stock price. This has been a consistent theme with MCD for several quarters now.
It is not sustainable.
The Facts Behind the "Good" Numbers
2016Q3 will be the last full quarter that shows the benefit of SSS comps from All Day Breakfast ("ADB") that was introduced in 2015Q4. 2017Q1 will be the first fully comparable QtoQ of two quarters that both had ADB. I don't expect to see the kind of SSS comps increases that MCD has boasted in the last several quarters in that coming first quarter of 2017.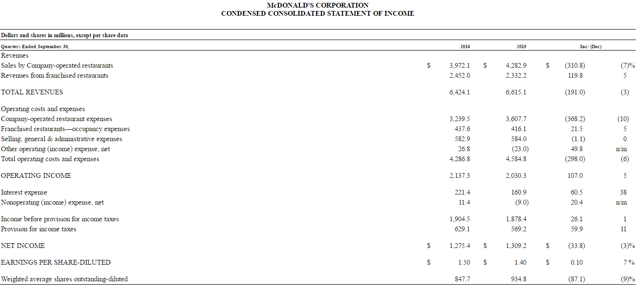 Click to enlarge
That said, even ADB could not rescue MCD's declining store traffic. For the nine months ended September 30th, store transactions decreased by 0.1%, compared to a decline of 3.1% for the comparable nine months ended September 30, 2015, before ADB was introduced. In my view, that shows a company that is simply being successful at bailing water from a sinking boat. It's doing nothing to patch the holes in its boat.
For the quarter, total operating costs decreased by $298 million compared to last year, but operating income increased only $107 million. That's because revenue decreased by $191 million from the comparable quarter last year. MCD's income actually decreased by 3% from $1,309.2 billion in 2015Q3 to $1,275.4 in 2016Q3. EPS, though, was boosted by an additional stock buyback of an additional 87 million shares for the comparable quarters. Had the share buyback not occurred, and the number of shares had remained steady, EPS would have been just $1.36, a decrease from the $1.40 in 2015Q3. Granted, that EPS is also affected by special charges and currency fluctuations, but the decline in transactions cited in the previous paragraph speaks volumes.
MCD's Foundational Markets & Corporate (FM&C) segment had a great quarter, and benefited greatly from Japan. But during 2014 and 2015, Japan was suffering a number of food safety and food purity issues, so the 17.7% same-store sales growth in Japan cited this morning by CEO Steve Easterbrook in the earnings call is highly distortive. It reflects more of a return to normalcy in Japan than "growth", per se. The distortion from Japan's return to normalcy are reflected in the 10.1% growth in the FM&C segment.
McDonald's is also weak on revenue. If one extrapolates the nine-month revenue reported today to a full 12 months, it works out to just $23 billion, the weakest MCD revenue since 2009 when the shares were selling at around $60.
The Outlook
In addition to McDonald's weakening future profit picture, the company also faces potential substantial tax headwinds in the European Union. Its arrangement with Luxembourg allows its Luxembourg company to pay veritably no tax while collecting royalties from McDonald's franchisees in Russia and the rest of Europe. So, while McDonald's franchisees in Europe and Russia reduce their taxable income by the franchise fees and royalties they pay to the Luxembourg company, the Luxembourg company pays virtually no tax. Europe could have a strong case here because Americans have largely put an end to a similar US tax avoidance scheme at the US state level. In the US, many of the Fortune 100 created Delaware holding companies that operated for several years in the United States. Companies like Toys R Us, for example, would pay royalties and franchise fees for the use of its Geoffrey Giraffe logo to a Delaware holding company, where the profits were exempt from tax under Delaware law. The royalties were deducted against Toys R Us taxable income in other states. The scheme has mostly been arrested by changes in US tax laws over the last 20 years or so. It never had an effect for Federal Income Tax purposes because most of the Fortune 100 file consolidated tax returns.
Some published reports say that McDonald's is second on the list of US multinationals to be targeted by the EU and its member nations' tax authorities. If so, McDonald's could be looking at a very large tax liability for European taxes which it has not accrued.
Mostly though, McDonald's continues to face a tremendous uphill challenge against demographics. It has been reported that less than one in five Millennials have ever tasted a Big Mac. The health conscience "helicopter parents" of the late 1980s and 1990s (and I count myself in that category) viewed McDonald's as a veritable toxin for their children. Sure, we took our children there, but only rarely and only when there were no better alternatives nearby. Our children's children are even less likely to eat the McDonald's that we children of the 1960s and 1970s ate joyously.
Franchisees are aging as well, and, in many instances, have passed their franchises on to their heirs, very often in partial interests shared among siblings. Those heirs have less direct involvement in the operation of the restaurant then their parents managed as owner-operators and view their franchises as a passive investments akin to real estate. Quality suffers as a result.
McDonald's is also facing tremendous competitive challenges in venues where other QSR alternatives are available. Given a choice, teenagers and most adults would prefer a burger at Five Guys, Shake Shack, or In and Out Burger than one from McDonald's. As a friend put it, "Sometimes, you have to eat at McDonald's. But sometimes you want to eat at Five Guys, etc." That's because McDonald's hasn't changed its stale daily menu in at least 30 years, save for the addition of salads. The cliché "It is what it is" applies nowhere better than when one references "McDonald's," now eponymous with cheap, low-quality, QSR food.
Summary
I have said for quite some time that Easterbrook and his management team are riding a three-trick pony: ADB, cost-cutting, and stock buy-backs. That pony has pretty much run the course and is soon to be packed off for the glue factory.
ADB won't boost SSS comps after 2017Q1.
The CFO said today that the company had pretty much wringed out the last of cost-cutting that has saved earnings this quarter.
MCD's stock buy-backs have been financed by borrowings and has even driven down the company's credit rating, so it's unlikely it will buy back more.
MCD has been a great dividend payer over the years, and I get that from long-term shareholders who love the stock. But there is little in the way of capital appreciation that one can expect in the future and, eventually - maybe over three years? - dividends are likely to plateau and then decline. This is not a stock you want to leave in your estate plan unless you're well into your eighties or in hospice care.
Actual, sustainable, Q-on-Q growth could come from an entirely changed MCD dining experience. But that would mean menu innovation by MCD itself and/or by MCD stepping back and becoming a holding company/merchant bank to boost rapid growth in a portfolio of smaller, lesser-known, QSRs in regional and ethnic food specialties that could benefit tremendously from MCDs real expertise: QSR franchising, real estate management, branding, food logistics, marketing and the like.
MCD investors - and large activist investors - could and should demand those kind of strategies; they would send the stock to the moon. But, failing that, I fear that a board and management that is so deeply committed to its silly (and even stupid) "modern, progressive, burger company" meme that it sold off the Chipotle Golden Goose in its early days simply cannot extricate itself from a long-term "strategy" that is doomed to fail.
Author note: My commentaries most often tend to be event-driven. I also write mostly from a management consulting perspective for companies that I believe are underperforming; that is, I sometimes lay out strategies that I would recommend to the company to improve its business and strategy were they my clients. I think this approach lends special value to contrarian investors who see the opportunities that I do in companies that are otherwise in downturn. My opinions with respect to the company here, however, assume the company will not change. If you like my perspective, you might consider following me by clicking the "Follow" link below.
Disclaimer: The views expressed, including the outcome of future events, are the opinions of the writer and do not represent, and should not be considered to be, investment advice. You should not use this article for that purpose. Events may or may not develop as the writer opines. Before making any investment decision you should consult your own investment, business, legal, tax, and financial advisers.
Disclosure: I/we have no positions in any stocks mentioned, and no plans to initiate any positions within the next 72 hours.
I wrote this article myself, and it expresses my own opinions. I am not receiving compensation for it (other than from Seeking Alpha). I have no business relationship with any company whose stock is mentioned in this article.