The EIA reported a +77 Bcf injection figure yesterday, which was right in line with our expectation of +77 Bcf. Be sure to read our summary of the storage figures here.
We anticipate an injection figure around +73 Bcf for the week ending Oct. 21.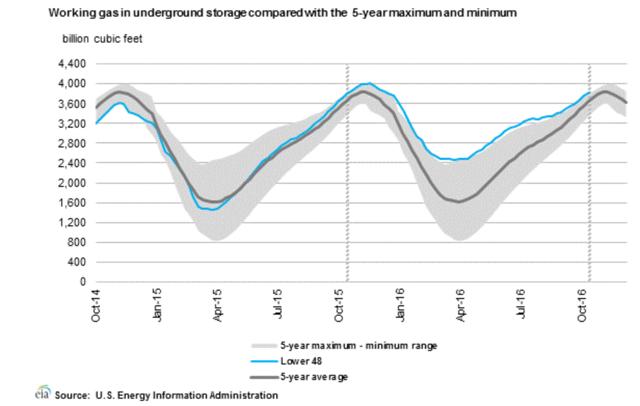 Click to enlarge
Looking at power burn demand this week, it was meaningfully higher than the previous week. US gas production averaged right around 70 Bcf/d and Canadian gas imports averaged 5.2 Bcf/d for most of this week's report and recovered to 6.3 Bcf/d yesterday and reaching 6.8 Bcf/d today.
If the injection figure comes in around our estimate, it will be another sub five-year average injection report, but this report will be higher than last year's injection. Looking at the current weather forecasts, the forecasting firms we follow are calling for slightly warmer temperatures for the first half of November with one of our forecasters, Corey Lefkof, calling for a very mild November. The price action we saw in natural gas (NYSEARCA:UNG) today was likely a result of these higher forecasts, and our November injection forecasts have been trending higher.
Despite the recent sell-off in natural gas prices, many of the Canadian natural gas producers we own saw their stock prices increase. Recent M&A transaction by Tourmaline (OTCPK:TRMLF) has lifted the sentiment around Canadian gas assets, and we suspect the optimism will return when the market realizes that Canadian gas imports will be needed in the US for the next 24 months. We wrote in detail in last week's Big Picture Outlook on why Canadian natural gas producers will benefit the most from the next leg up in price, and as AECO basis differential continues to narrow, we expect them to continue to outperform.
Looking at US gas producers, the underperformance we have seen from the likes of Cabot Oil & Gas (NYSE:COG) and Southwestern Energy (NYSE:SWN) is worrisome. Investors hoping to see a similar price jump in Marcellus gas producers might be disappointed as a lack of takeaway capacity continues to depress local prices. Q4 could continue to prove difficult for those producers.
We will be writing an update this weekend on our thoughts on the current producer landscape. We have given our premium subscribers our picks on who we think will outperform, and will be updating them again this weekend on the outlook. If you are interested in reading our write-ups, please consider signing up here. Thank you for reading Natural Gas Daily.
8-14-Day Outlook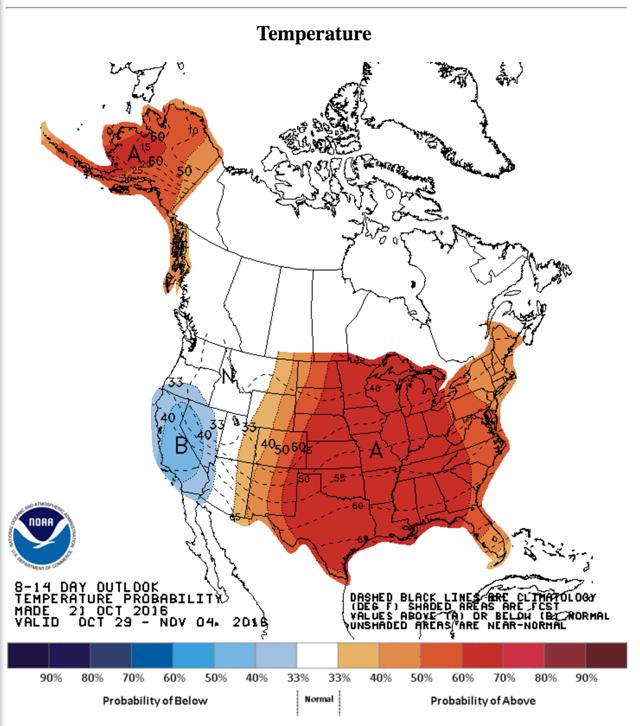 Click to enlarge
Disclosure: I/we have no positions in any stocks mentioned, and no plans to initiate any positions within the next 72 hours.
I wrote this article myself, and it expresses my own opinions. I am not receiving compensation for it (other than from Seeking Alpha). I have no business relationship with any company whose stock is mentioned in this article.