"I have not failed. I have just found 10,000 things that do not work." - Thomas Edison
Anyone that has been investing in the stock market for any length of time has come to realize how stocks play mind games with us.
They also realize that the stock market appreciates over time. The issue is that it doesn't go up every day, week, month or year. So the mind game begins. As an investor in stocks you will spend a lot of time second guessing yourself because your portfolio has fallen in value from a previously seen higher level.
History tells us that over the last 90 years or so the markets have been in a bear market almost one quarter of the time. Half the time you're down 5% or worse. It's difficult to appreciate this fact when looking at a long term stock chart that seems to only go up.
Here's the further breakdown by the size of the loss: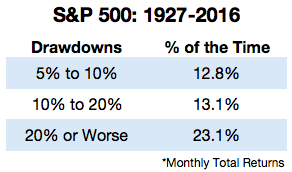 Source: S&P
The majority of your time invested in stocks could be spent thinking about how you coulda, shoulda, woulda sold at that previous high price. When the emotion and second guessing consumes an investor, there are some things that are forgotten. One fact is that the price you sold usually will get taken out to the upside eventually.
Adding to the dilemma is the environment one will find themselves in. When the equity market starts going down, you won't be surrounded with rosy headlines about stocks or the economy. Additionally we all have to realize that no one can predict what the future returns will be in the market. No one knows what the future holds for economic growth. And we certainly can't predict how the other investors will decide to price corporate earnings, cash flows at any given point in time out into the future. After all, they too are victims of their emotions as well. The mind games continue.
Market losses are the one constant that do not change over time. Seasoned investors have lived through the downturns, but I don't believe any of us get used to them. Each drawdown usually brings its own set of variables to the table. The newbies have to develop the proper mindset from the beginning if they are to survive the mind games.
That comes with time and market experience. However, one doesn't have to wait 15- 20 years to pass by so they can learn to adapt. Approaching each negative period with as little emotion as possible is paramount for all of us. As mentioned last week, investors need to work on gaining confidence that down markets can be navigated and turned into opportunity depending on their severity.
It is how an individual copes with the draw downs that is key. Handling these periods correctly can make a big difference when trying to build wealth over time. For those in the capital preservation mode it will play an important role in keeping the lion's share of the gains that have been accumulated.

While we can't predict the future, we can predict that there will always be risk out there. Markets will continue to fluctuate and experience losses on a regular basis. That is how the mind game plays out. I try not to fall prey spending a lot of time second guessing myself because the portfolio has fallen in value from a previously seen higher level. Reevaluating yes, second guessing, no, there is a difference. One should be viewed as a positive, while the other is a negative.
I bring this part of the investment picture to the table this week, because there are a more than the usual amount of crosscurrents that continue to keep the investment picture very cloudy. Or as I said in a recent missive, it is very foggy out there. I will discuss many of them later in this update.
While I view the situation as unsettled, many have declared that a bear market is upon us. HSBC is the latest to reveal how we all need to run for cover.
The other side of the coin is presented by Strategas Research;
"It rarely pays to be too negative as October matures and puts S&P 500 support in the 2,065-2,075 range, likely deep enough to mark a seasonal low over coming weeks. Much of what happens will depend on earnings."
Dudack Research reports that after a brief market respite;
"A rebound is widely expected, both for cyclical reasons and because of oil. The average performance of the S&P tends to follow a long flat trend leading to a breakout at approximately 106 months after the previous earnings peak; as of October, it's been 106 months since the last peak."
Regular readers know which way I am leaning. I'm not ready to adopt the bear market talk. The weight of the evidence remains bullish.

Economy
Latest Reuters poll of 100 economists forecast U.S. GDP growing an annualized 2.6% in Q3, up from 1.4% in Q2. Growth was seen easing to 2.3% in Q4 and then to 2.0-2.1% in each quarter next year.
Empire Manufacturing for October came in notably weaker than anticipated at -6.8. That is the third consecutive month in which manufacturing firms in New York State reported a modest decline in business activity.
Industrial Production decelerated on a year over year basis in September. Federal Reserve data showed real output of factories, utilities, and mines has now dropped versus the year before in each month since August of 2015. Durable Consumer Goods and IT Equipment lead the charge in terms of volumes produced, but most industries are down. Energy, the worst performer, should start to make a comeback. Oil drilling activity has stabilized as has drilling's weight in the overall IP index.
Philly Fed index for current manufacturing activity in the region edged down, from a reading of 12.8 in September to 9.7 this month, amidst the consensus expectation of 5.0. Manufacturing activity has now been positive for three straight months, and the internals of the report were quite positive. "New Orders" rose to its highest level since November 2014.

The pessimists gripe that Credit card borrowing jumped in the second quarter.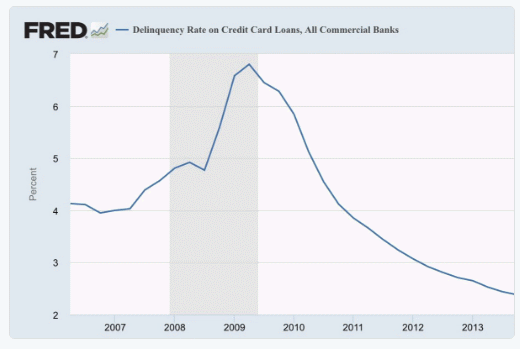 Source: Federal Reserve Economic Data
The optimists remind them that delinquency rates are at lows.
The ability for households to finance their debt is also quite easy courtesy of extremely low interest rates. The debt service ratio, as seen below, is hovering near a record low.

Click to enlarge
Source: Factset (as of June 30, 2016.)
Household service debt ratio is an estimate of ratio of required debt payments to disposable personal income. Required minimum payments of interest and principal on outstanding mortgage and consumer debt are included.
Households were forced into an unprecedented deleveraging cycle by the financial crisis, presented a different look to the economy. Consumers have become significantly more frugal as it relates to the balance between spending and saving. Perhaps that is also why the Consumer Discretionary sector has lagged for quite some time now.

Source: Gallup Poll Social Series: Economy and Personal Finance.
For an economy nearly 70% dependent on consumer spending, this helps explain the slow pace of growth since the recession ended in 2009.

Many like to drive home the fact that the consumer is fragile, and that presents dire consequences for the economy. It is best to look at this type of data and realize what is really taking place. As with any excess, once the pendulum swings back it usually overshoots in the opposite direction.
A spending spree, debt laden era just before the financial crisis has now morphed into an entirely different picture. A complete reversion to a different mindset has taken over.
Then again, maybe consumers are saving more money because they are probably reading what I have heard regarding their healthcare premiums. Aetna, UnitedHealth, and other state or regional insurers have pulled out of state or federally run healthcare exchanges. Approximately 1.4 million people in 32 states will be forced to buy insurance elsewhere, probably with higher premiums.

Some thoughts on the changing landscape regarding employment, the economy, and the impact on investing.
The unemployment rate has flattened in recent months at 4.9-5.0%. That that reflects a pickup in labor force participation. As the job market tightens, many of those on the sidelines (not officially counted as "unemployed" but willing to take a good job) are lured back into employment by a greater availability of jobs and higher wages.
History reveals that in the final four decades of the 1900s, economic growth was fueled by two significant trends. One was the arrival of the baby boom generation. The second was a rising trend in female labor force participation. Together, these two trends led to 1.8% average annual growth in the labor force from 1960-2000.
There is a change on the horizon. Job growth can remain positive, but will be slower than we experienced in previous decades.
That slower trend growth creates another set of challenges that the overall economy and investors face. At any particular growth rate, some sectors of the economy will do better than others. In a slower growth trend, some sectors are likely to contract while others expand. Something to keep in mind as we shape our portfolios.
One overall negative is that slow growth leaves the economy susceptible to negative shocks.
While that can come across as a negative outlook, don't lose sight of the positives. Over the years, the great success of the U.S. economy has been the ability to reinvent ourselves. Advances in artificial intelligence, robotics, medicine, and other fields hold a lot of promise for the future. In the years to come, labor saving technologies can help to offset much of the slowdown in labor force growth.
So it is not necessarily a bleak outlook. However, there will be winners and losers over time. That goes back to what we are already experiencing. Some industries may decline, while others improve. Investors will need to keep a watchful eye on the trends that will be unfolding.

September Housing starts fell 9%. The picture came across as mixed because Building Permits were up 6% in the same period. As cited in earlier reports, what we may be seeing is a function of constraints in available land, labor, and other factors of production.
Existing home sales were up 3.2% for the month. Expectations called for the reading to be flat. We saw the highest level of first time buyers in 4 years at 34%.

Global Economy

Global leading economic indicators are slowly gaining ground, with a growing share above their long term averages. All 6 countries and regions in the monthly Sentix sentiment survey recorded net optimism (i.e., a reading above 0) and saw expectations rise both on a monthly and y/y basis. Sentix reports;
"The only times in this indicator's 13 year history that's happened in tandem was 2013 and 2009, which in both cases denoted an end to global recession. Equity markets were profoundly stronger up to a year later after meeting this criteria, up an average 26%, with notable strength within the first 1 to 6 months."

Chinese Loan Growth for September was up 13% year over year. According to Reuters, the surge in Chinese loans continues to be driven by home mortgage demands.
The Wall Street Journal was out with a report on Chinese manufacturing;
"China, long the world's factory floor, is taking control of a bigger portion of the world's supply chains as well, causing a shift in global trade patterns by buying less from abroad."

Earnings and Valuations
It is very early in this earnings season, but the initial results are promising if you are bullish. The financial sector reported positives across the board.
I continue to point out that the forward P/E is nowhere near bubble levels, neither is the TTM P/E for that matter. The basis for my argument remains with the other factors in the investment landscape that should not be overlooked.
Average dividend yield, price to book levels, and the spread between earnings yield and investment grade bonds. Let's also not lose sight of the fact that we are in the middle of a bull market. In bull markets PEs do expand and valuations then come in above the average.
The focus now is on the "P" in the price-to-earnings ratio, but the "E" is already depressed and are expected to increase in future quarters. Even if the estimates don't come in perfectly accurate, even if they're just in the ballpark, the "E" should increase, which would make valuations look better even without a fall in prices.
Finally, we are in an investment scene where the 10 Year Treasury is only paying 1.75%. Back in 2000, it was paying 6.5%, and even in 2007, it was at 4.5%. Trying to compare the current market to the two previous major tops is comparing apples to oranges. Valuations should theoretically be able to go higher than in those markets since stocks are still attractive compared to yields.
Thomson Reuters S&P 500 earnings data:
Forward 4 quarter estimate: $129.22, down slightly from last week's $129.54.

PE ratio: 16.5(x)

S&P 500 earnings yield: 6.06%

Year-over-year growth of forward estimate: +3.26%, and the highest print since early January '15's 5% growth rate.
That is the highest print since the early January 2015 5% growth rate. Brian Gilmartin reminds us that some nice rallies have started when the SP 500 earnings yield has ended the prior week over 6%.

The Political Scene
Election year uncertainty is often cited as a negative for business investment. A lot can happen in the next few weeks, but the Electoral College map has been looking much better for Hillary Clinton. She leads in most of the key battleground states, which Donald Trump would have to sweep.
In the Senate, the Republicans are playing defense this year (defending 24 seats, vs. 10 for the Democrats). A pickup of four or more seats would give Democrats a majority, but it's very unlikely that they would achieve a 60 seat super majority (hence, the Republicans can put up roadblocks). The Democrats appear poised to gain seats in the House, but getting even close to a majority is a long shot. During Bill Clinton's administration, gridlock had some benefits. We ended up with a budget surplus, but in the current environment, the two sharply divided parties will need to come together. As they say, despair is easy, hope is hard.
Federated Research reports;
"The math remains extremely difficult for Democrats hoping to take over the House. Republicans would have to lose 30 seats; current polls show they're on track to lose 10. The Senate is a different story. The current Republican 54-to-46 majority is likely to lose between 2 and 7 seats, so the range of outcomes is 52-48 Republican to 53-47 Democratic."

" But neither would be close to the 60 votes needed to give either party "control'' of the Senate. As long as the minority party in the Senate has 41 votes, and this would be the case in either majority scenario, one party Senate control will not exist. The only exception to this legislative rule is the "budget reconciliation" process, through which tax legislation has been approved by both parties over the years."

Sentiment
Urban Carmel reports a $3.4b outflow from equity funds/ETFs this week. It has been negative 34 of past 41 weeks.
It seems these outflows have found their way to the sidelines.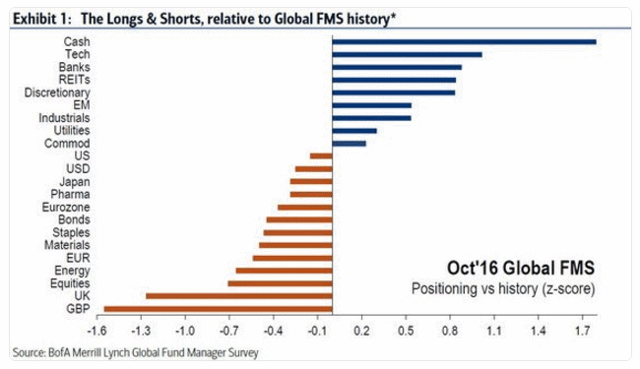 Click to enlarge
Cash is THE way managers are positioned, and that is telling.
At a level of 23.7%, bullish sentiment is the lowest it has been since the Brexit vote, even as the S&P 500 is within 2.5% of a 52-week high. This now makes it 51 straight and 85 out of the last 86 weeks where bullish sentiment has come in below 40%.
It is a broken record, but this needs to be said repeatedly. Positioning and sentiment at these levels are NOT what is seen at market tops.

Crude Oil
This past week saw WTI close above $51.23 and that represented a new 52 week closing high.
The latest government report showed U.S. stockpiles unexpectedly fell by 5.2 million barrels last week. Investors were expecting a rise of 2.1 million barrels.
WTI closed Friday at $50.94, up $0.58 for the trading week.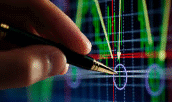 The Technical Picture
Only one third of the stocks in the S&P 500 are currently trading above their 50 day moving averages and only two thirds are trading above their 200 day moving averages. Both of those indicators peaked above 80% early in the third quarter.

What I see today represents a market in search of short term direction. The latest readings neither point to underlying strength beyond what is being seen on the index itself nor have we seen a significant washout that would suggest stocks have gotten oversold.
While near term breadth indicators have turned more uncertain, the improvement in longer term breadth trends seen over the first half of 2016 remains encouraging. This is in contrast to what transpired during rallies in 2015.
The percentage of industry groups in up trends has slipped over the past several months, but it remains above 60%. That suggests near-term weakness is likely to be limited in degree.
Back in 2012, we saw the industry group indicator pull back somewhat further. A break below 50% would represent a meaningful deterioration in the broad market.
Issues making new 52 week highs has slowed down, and that suggests that stocks overall are not poised to breakout to the upside. On the flip side, there has not been a meaningful expansion in the number of stocks making new lows.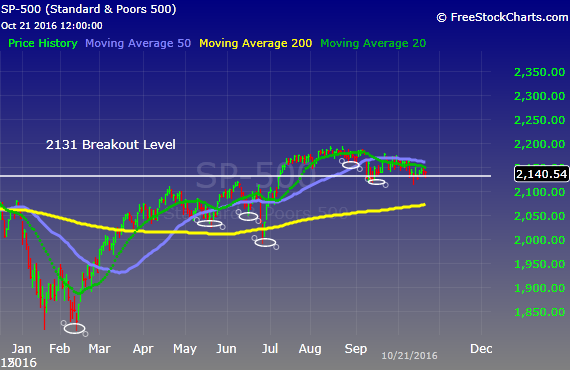 Chart courtesy of FreeStockCharts.com
What has been noticeable lately is the weakness taking place in the final hour of trading nearly every day. A sign of overall anxiety and a market in search of near term direction. Until the current pattern reverses, any upside momentum is likely to encounter headwinds. The S&P was capped on a daily basis by the short term 20 day moving average the entire week.
Support is at the 2131 and 2116 pivots. Trading in a concentrated range for two months created more overhead resistance. Short term resistance levels are now lowered to the 2160 and 2170 pivots.
The S&P either remains in a correctional pattern or it is a coiled spring ready to move back to the upside. Stay tuned, it could get interesting.

Market Skeptics
The bear chart of the month shows how some believe that today's S&P looks like it did before the 1987 crash.
I will just add one comment. Before the '87 crash, stocks rose 50% in 12 months and the bull bear sentiment levels that many say doesn't matter, showed that bulls outnumbered bears 5- 1. That was the highest reading ever.
Readers can now draw their own conclusions if this market is like the one we saw in 1987.

Individual Stocks and sectors
The S&P has been basically flat since it broke to new highs. While the broad market has been sideways, there have been large performance disparities among the eleven S&P 500 sectors as money is rotating within the market. The two overvalued sectors, Utilities and Telecom, have now come back to more reasonable levels. Technology, Energy and Financials, all three that were discussed here for a while now, have outperformed.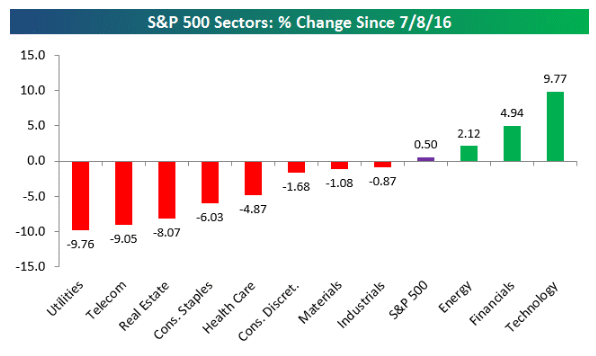 Source: Bespoke
Looking ahead to year end, Technology could be in for a respite, while I believe there is more upside for Energy and the Financials ahead. I added more Citigroup (NYSE:C). The short term chart looks constructive and appears the stock has a chance to get back to the mid - upper 50's.
Energy remains a target on any dip. If one buys into "strength begets more strength", then that is your play. I continue to like E&P companies that were highlighted back in July.
I do not believe the gains in those stocks are over, the E&P sector is where the leverage is. If WTI stabilizes and moves higher, the sell side will come rushing in to promote the sector. Continued strength will bring the chase for performance crowd into the picture by year end.
All of this sets up nicely for those already positioned. We are in the early stages of what could be an upward move well into 2017.
Cisco (NASDAQ:CSCO) got whacked in sympathy with an earnings warning from a company in the same space, Fortinet (NASDAQ:FTNT). These negative reactions are opportunities for investors to get involved in a company that has a pristine balance sheet and will grow dividends for a long time.
Oh how my biotech exposure is killing the portfolio. The market is apparently pricing in an all Democratic government after the election. That extrapolates to the drug companies being gutted by Clinton's policies. I offer no excuses and complaints as I have admittedly been bullish on the sector. That brings attention to what a reader recently pointed out to me last week.
I do my best to mesh the technical picture with a company's fundamentals. In the case of my biotech holdings, I failed to recognize that following my 20 month moving average indicator displayed many of those stocks have broken their long term trend patterns. That may have saved me some of the recent grief and should have tempered my enthusiasm in these weekly updates.
Looking back however, many comments were centered around the long term picture of growth being presented. And for the most part the calls for adding exposure to the group have come at points when the stocks were oversold and at short term support levels.
It remains to be seen whether the stocks I own and have mentioned will take another leg down. Given their strong fundamentals they may be at a stage where they stabilize and begin building a base for a move higher.
A company like Amgen (NASDAQ:AMGN) sells for a multiple less than the market and pays a 2.4% dividend. Celgene (NASDAQ:CELG) is expected to earn $7 per share in 2017. At $99, that works out to a PE of 14-15 for a company growing at 25%.
Despite the rhetoric of Clinton and others, and everyone shunning the sector, it could very well become a what were they thinking moment.
While the short term trend is not in my favor, it might be worth a look at the large cap Biotech space priced at these levels. The caveat being a long term mindset is required.

The near term economic outlook is "more of the same", mixed but moderate growth, with moderate inflation. While the presidential race appears to be less uncertain, attention has turned to down ballot contests, which could alter the composition of the House and Senate. In my opinion this represents what is ailing the market these days. It is THE most important issue that could have consequence for the bullish story.
There is a litany of investor concerns, which is why the market has drifted lower by about 2-3% over the past two months. The cherry on top of the worry list is massive fiscal policy uncertainty for next year and beyond, due to the outcome of the presidential election. Since we do not know the outcome in advance, it is watch and wait.
These concerns and others leave many pundits suggesting the market is currently in its seventh year of a bull market from the 2009 low and is about to expire. While still others suggests that the seven year bull market has ended. There is quite a mix of opinions out there, and a recent survey displayed two thirds of investors think the market is currently overvalued.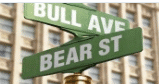 A confluence of extremes into year end is typically a great catalyst for shaking out of a range. Whether that leads to a downside break or an upside surprise is anyone's guess. A downside break which I see as being contained, doesn't necessarily lead to the end of the bull market.
While opinions do make markets, in my view if there is a bubble out there it is in money that is currently sitting on the sidelines.
There have been many periods in stock market history during which earnings growth improves, interest rates increase, PE multiples contract, and a bull market continues. They are called earnings driven bull markets. If this earnings season surprises to the upside, thus marking the end of the end of the earnings recession, we could be embarking on the next chapter of this bull market.
With that in mind my portfolio is positioned for a cyclical rebound in earnings, and an earnings driven bull market. The patient wait continues.
Best of Luck to All!
Disclosure: I am/we are long C,CELG,CSCO.
I wrote this article myself, and it expresses my own opinions. I am not receiving compensation for it (other than from Seeking Alpha). I have no business relationship with any company whose stock is mentioned in this article.
Additional disclosure: I am long E&P names as shown in the link provided in the article. The opinions rendered here, are just that – opinions – and along with positions can change at any time. As always I encourage readers to use common sense when it comes to managing any ideas that I decide to share with the community. Nowhere is it implied that any stock should be bought and put away until you die. Periodic reviews are mandatory to adjust to changes in the macro backdrop that will take place over time.