At the beginning of AMD's (NYSE:AMD) 2016 Q3 conference call, CEO Lisa Su proudly announced:
Our strong third quarter results highlight the progress we have made across AMD this past year as we improve our financial performance by delivering great products.
Yet the stock tanked after hours and went even lower the following day, finishing with a 6% decline. Perhaps investor expectations regarding AMD are becoming a little more realistic.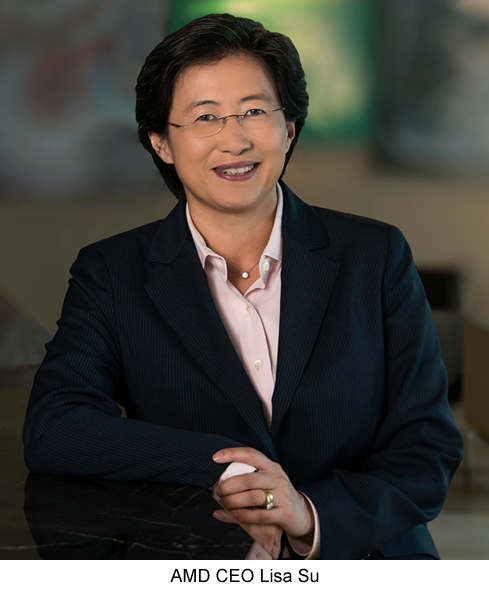 Source: AMD
Non-routine
This past year, it's become so routine for AMD's stock to pop post earnings that the market's reaction is truly startling and unexpected. Even more bizarre is the reaction of AMD fans, as exemplified by this comment by user CCA_949 to SA's transcript of the conference call:
Hoping it will swing back up in a few hours when the market comes to its senses (italics mine).
All this time that I've been criticizing AMD, the most common response on the part of AMD fans has been to point to AMD's stock market performance as invalidating my criticism. But when the market doesn't perform to the fans' expectations, then it's the market that has to come to its senses. It doesn't seem to occur to the fans that perhaps the market is coming to its senses.
What could possibly have concerned the market about AMD's Q3 earnings report? Could it have been the net loss of $406 M? Naa, that can't be it. After all, on a Non-GAAP basis, AMD had all of $27 M in net income. Non-GAAP financial metrics are wonderful, aren't they?
I would agree that there's some justification for the non-GAAP measures. Mostly it was to exclude the effect of the $340 million charge related to the latest amendment to the Wafer Supply Agreement with Global Foundries. Of that $340 million, about $240 million was a charge for stock purchase warrants issued to Mubadala. One could argue that the $240 million represents merely a paper loss.
Okay, but there was also a cash payment of about $100 million. That's not a paper loss, even though it will be spread over the next few quarters in installments. Excluding the $100 million loss in the non-GAAP accounting was financially misleading. If this had been included, then AMD's non-GAAP net loss would have been $63 million, worse than last quarter's non-GAAP loss of $40 million.
So AMD in a very real sense, is still losing money. AMD has tried to put the best spin it could on the WSA amendment and debt refinancing, but these things were necessary because AMD still isn't making money.
Pyrrhic Polaris
Another glaring problem for AMD is the fact that despite a full quarter of sales of Polaris GPUs, the Computing and Graphics segment still posted an operating loss of $66 million on revenue of $472 million. The segment revenue did represent an 11% y/y increase, but the loss tended to confirm my contention that AMD's graphics market share gains had been achieved by selling its graphics chips at a loss.
My article "AMD's GPU Market Share Gains A Pyrrhic Victory" received comments to the effect that the Polaris release on June 29 was after the end of AMD's fiscal Q2 on June 25, and therefore had no bearing on the Computing and Graphics operating loss for Q2.
This betrays a lack of understanding of AMD's business model. AMD doesn't sell its graphics chips directly to consumers. As described in AMD's 2015 SEC 10K:
We offer component-level graphics and chipset products to AIB manufacturers who in turn build and sell board-level products using our technology to system integrators (SIs), and to retail buyers.
So it doesn't really matter when the AIBs went on sale. AMD had already sold its chips to the AIB makers, and probably realized significant revenue from Polaris in Q2. AMD probably had to start shipping graphics chips months in advance of the consumer release so that AIB makers could ramp up production and build up sufficient inventory to support the launch.
Of course, there can always be a debate about how much revenue AMD was able to recognize due to Polaris in Q2, but there can't really be a debate about Q3. Despite shipping new "7th Generation" APUs and Polaris GPUs, Computing and Graphics still posted a loss. Pyrrhic victory indeed.
Waiting for the Zen
The final item that probably got AMD fan/investors concerned is the timetable that AMD management laid out for the release of Zen. AMD acknowledged that desktop Zen processors won't be available to consumers until 2017 Q1, with server processors available in Q2.
This was contrary to innumerable rumors that circulated earlier this year. For instance, Seeking Alpha contributor Anchorite stated in March:
But it is the production and delivery of Zen that will provide the rocket boost for AMD's share price. Scheduled for delivery in Q4 2016, Zen 14NM CPUs combined with AMD's advanced new graphic chips and High-Bandwidth-Memory (NYSE:HBM) will allow AMD to have a product superior to any competitor's at least for a while.
In fact, AMD never promised or "scheduled" anything of the sort. AMD's 2015 Financial Analyst Day presentation had indicated "availability in 2016", whatever that means.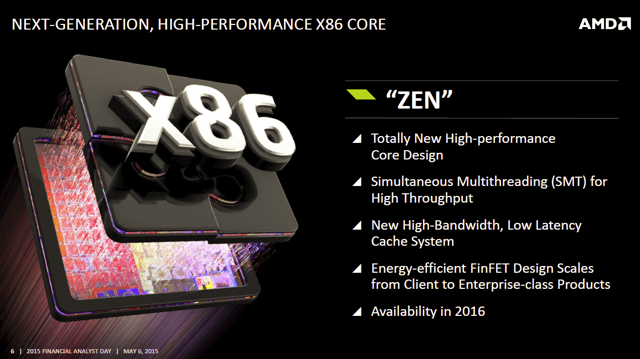 Click to enlarge
But a year later, in May 2016 at the J.P. Morgan Global Technology Conference, AMD was back peddling on the delivery time frame, indicating only "sampling" to customers by the end of 2016. This was reiterated during the Q3 conference call under questioning by Matt Ramsay of Canaccord Genuity.
A Q1 release may not allow AMD to get the drop on Intel (NASDAQ:INTC). As I pointed out, the timing of Intel's roll out of the 10 nm process is uncertain. Intel's 10 nm chips may not reach consumers until Q2 or Q3. That doesn't give AMD a lot of time, and it's not clear that AMD will field a competitive product compared to Intel's 10 nm processors.
Investor Takeaway
The earnings news was not all bad. AMD's Semi-Custom revenue grew by 31% y/y to $835 million and actually turned an operating profit of $136 million. This was on the strength of the three console wins. Q3 tends to be the biggest quarter for console sales, and the new consoles boosted that normal seasonality.
AMD has shown it can make money on consoles. What it hasn't shown is that it can make money on CPUs and GPUs, or even the combination it calls the APU (Accelerated Processing Unit, what most of us call an SOC). Until it does that, I remain rather skeptical that AMD can compete effectively against its larger, more profitable, and better capitalized rivals, Intel, and Nvidia (NASDAQ:NVDA). So far, all that AMD has proven is that it can field competing products against its rivals and lose money.
I doubt the recent pullback will do much to dampen the enthusiasm of AMD fans as they await the next round of products that they've been assured will turn around AMD's fortunes. Almost certainly, the stock will start to ratchet up again towards the end of the year. I now rate AMD a hold however, based on the greater caution of AMD investors.
Disclosure: I am/we are long NVDA.
I wrote this article myself, and it expresses my own opinions. I am not receiving compensation for it (other than from Seeking Alpha). I have no business relationship with any company whose stock is mentioned in this article.