I don't know about you, but I place a great deal of trust in government economic data. The reason behind this is not partisan in nature but is based on the fact that, from all the data I've seen across the world, US government data is the most comprehensive and transparent I've ever seen when stacked up against what is released by other nations. In this article, I intend to go back and look at how the EIA (Energy Information Administration) has performed when it comes to oil demand, stacking performance expectations for global demand up against prior forecasts and will give my thoughts on what it means for investors in companies like Memorial Production Partners (NASDAQ:MEMP), Approach Resources (NASDAQ:AREX), and Legacy Reserves (NASDAQ:LGCY), as well as for the United States Oil ETF (NYSEARCA:USO) and other oil-related ETFs moving forward.
A disclosure
In this article, I am using data from the EIA's Short-Term Energy Outlook archives. My methodology consists of taking data from the last report of each year (December data for 1997 through 2015 but quarterly data from 1991 through 1996) and applying the data shown for the prior year in that report as being total demand for that prior year, while taking the data in that year for the forecast of the then-current year. Incorporating this data, I was able to compare forecasted demand from the EIA with what actually happened.
As an example, in December of 2014, global oil demand for 2013 was calculated at 90.48 million barrels per day and forecasted demand for 2014 was 91.44 million barrels per day. In the December 2015 report, I was able to find out that demand for 2014 was actually 92.45 million barrels per day, for an error of 1.01 million barrels per day. The exception to this is for 2015 data, for which I am using the EIA's October report since it is the most recent.
A look at global oil demand
Over the past several years, global oil demand has risen at a pretty nice clip (China has been a nice contributor to increases for quite some time but so has most of the rest of the world). Between 1990 and 2015, global oil demand rose by 28.14 million barrels per day from 65.90 million to 94.04 million (for a total gain of 42.7%). This boils down to an increase of about 1.08 million barrels per day each year. If the EIA is correct in its assumptions, demand growth should be another 1.31 million barrels per day this year.
No matter how you slice that, it's a pretty nice move higher and, as you can see in the graph below, even though we saw what appeared to be trends in the data (notice the wave-type pattern), there wasn't a linear or even close to linear change. This makes estimating what global oil demand will be even one year out so difficult, even for an organization like the EIA, which is provided an annual budget so that it can analyze the energy markets not only in the US but abroad to some extent as well.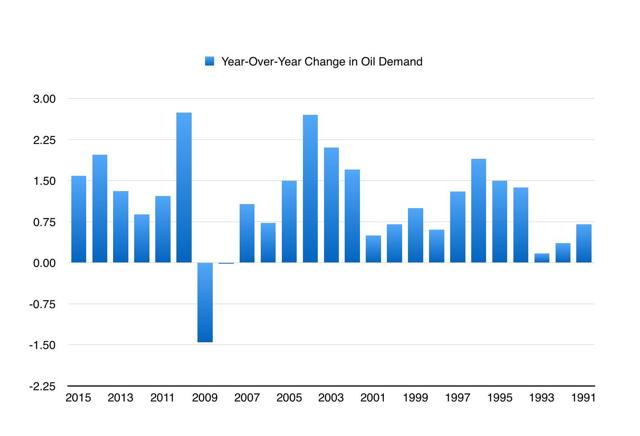 Click to enlarge
*Created by Author with EIA Data
The increase in demand over this time frame also seems to dash the hopes of many investors for a shift toward renewable fuels. In the image below, you can see that between now and 2040, global oil demand should continue to rise, with developed nations like the US and countries in Europe reporting declines in consumption, but with overall global demand rising by about 17 million barrels per day from 2015 through 2040 when it should hit about 109.8 million barrels per day. This represents an annual increase in demand of around 0.68 million barrels per day.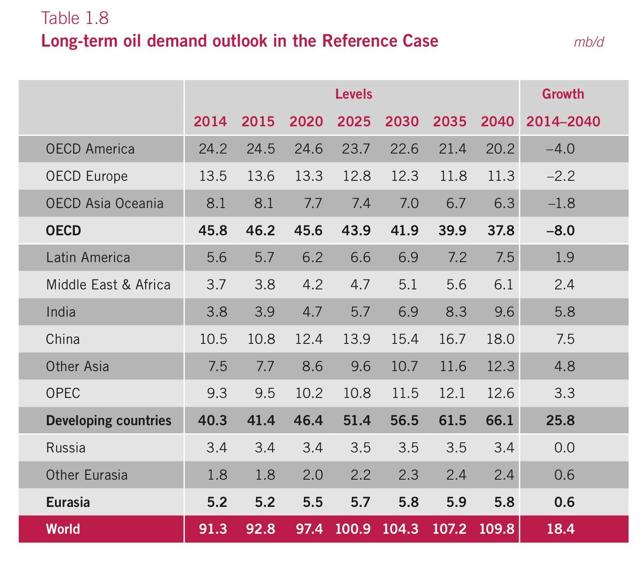 Click to enlarge
*Table Taken from EIA
So how do the EIA's projections look?
Taking what historical data I collected from the EIA, I created the graph below. In it, you can see how the EIA's forecasts for oil demand stacked up against what actually happened each year. Based on the data provided, we can calculate that from the 25-year period covered, the organization underestimated growth 19 of those years, or about 76% of the time. One of those years the organization was spot on (1999) and the other five years, or 20% of the time, they overestimated global demand.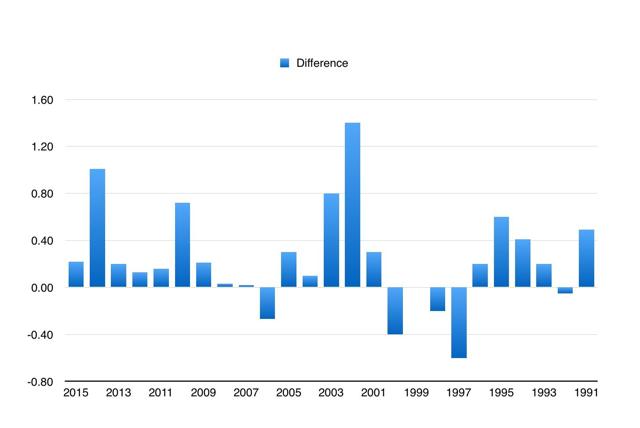 Click to enlarge
*Created by Author with EIA Data
What's interesting to note is when those five years were. One was in 2006, leading up to the global financial crisis. We also had 2000, which was around the time of the dot-com bubble bursting and a recession. 1997 and 1998 happen to coincide with the Asian financial crisis, and 1992 was just after the early 1990's recession. What this seems to indicate is that the EIA forecasts data in such a way that around the time economic downturns of a decent size take place somewhere in the world, they figure that demand will hold up higher than it actually does. The opposite has been true of all other years covered.
So, you may be asking what the significance of this data is. If you look into the EIA's forecasts and then figure out, on average, how large their margin is in any given year, you would get an error of about 240 thousand barrels per day. Of course, this varies widely, with the largest downside mistake being the 60 thousand barrels per day they forecasted in 1997 that never materialized and the largest upside (actual demand being higher than forecasted) totaling 1.40 million barrels per day in 2002.
This means that, in any given year, the EIA could miss by up to 2 million barrels per day, but what matters is how strongly this seems to shift toward the oil bulls as opposed to the oil bears. Also, when you consider that the average annual increase in oil demand each year has been around 1.08 million barrels per day, this implies a miss of around 22.2% over time.
Takeaway
This data does not mean that the EIA will be wrong this year or next, but it does mean that, over time, there's a pretty good chance they will be and that the error will be both large and tilted toward the oil bulls. As an example of what this means, if the average of 240 thousand barrels per day holds for this year, instead of having excess builds of 710 thousand barrels per day in 2016, we could see builds of just 470 thousand barrels per day. If this also carries on into 2017, then instead of seeing a build of 340 thousand barrels per day, we may see a shortfall of 100 thousand barrels per day. Sadly, we do not know what the future holds, but given this data, investors who are bullish on crude have something positive to look forward to and to keep a close eye on.
Disclosure: I am/we are long AREX, MEMP, LGCY.
I wrote this article myself, and it expresses my own opinions. I am not receiving compensation for it (other than from Seeking Alpha). I have no business relationship with any company whose stock is mentioned in this article.
Additional disclosure: I own LGCYO, not LGCY