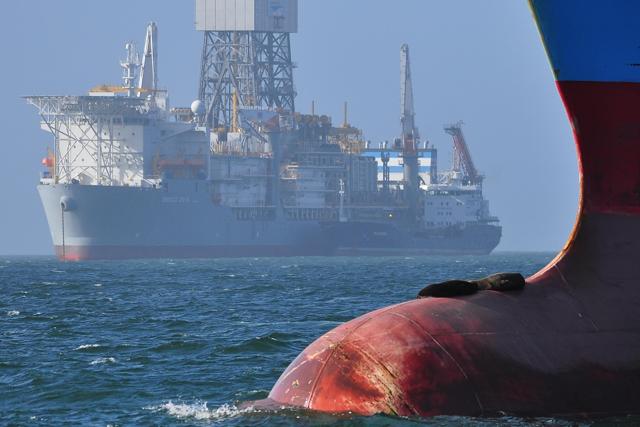 Click to enlarge
Schlumberger (NYSE:SLB) reported Q3 revenue of $7.02 billion and EPS (ex-charges) of $0.25. The company missed revenue estimates by $60 million and investors punished the shares. In afternoon trading, SLB was down over 3% to $80. I had the following takeaways on the quarter:
Cameron Stymies Schlumberger Again
Heading into the quarter, I expected a sharp rebound in North America. The rig count rose by double digits and Halliburton (NYSE:HAL) reported a 9% sequential increase in the North America revenues. Schlumberger's total revenue and revenue from North America operations were both down 2%; this appeared underwhelming on the surface.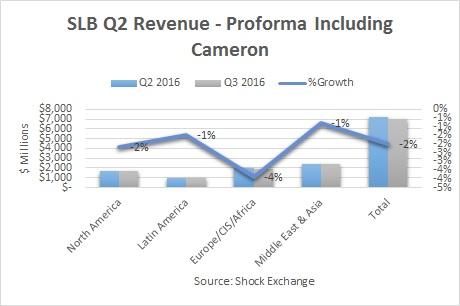 Excluding the impact of Cameron International, total revenue and revenue from North America would have been up 1% and 14%, respectively; land drilling was favorably impacted by higher drilling and fracturing activity as the average rig count also increased 17%. Pricing improvements were somewhat limited due to cut throat competition in the oil patch, however. Certain competitors remain steadfast in their willingness to compete on price.
On a product basis, Reservoir Characterization was up 6% sequentially, while Drilling and Production both fell 1%. Cameron fell 13% due to a dearth in new orders for offshore drilling. The offshore market is expected to be the last segment to rebound. Until it does, Schlumberger might slightly underperform Halliburton.
EBITDA Margins Could Fall Into The Low 20% Range
Prior to the Cameron deal (Q1 2016), revenue and EBITDA for Schlumberger were $6.5 billion and $1.7 billion, respectively. Revenue and EBITDA in Q3 were $7.0 billion and $1.6 billion, respectively. While EBITDA fell, net debt increased from $6.7 billion to $10.2 billion. In short, the Cameron deal has been a drag thus far. Schlumberger maintained its EBITDA margins in the 28%-29% range throughout the oil bust. However, margins were 23% in Q2 and Q3. Combining Cameron's 18% margins, while cost synergies were still on the come caused blended margins to fall.
If the rally in oil prices proves to be a bust, then Schlumberger could suffer falling revenues and falling margins. This does not bode well for earnings or the stock.
Conclusion
I believe a slowing China will hurt oil demand and prices. SLB remains a sell.
Disclosure: I am/we are short HAL, SLB.
I wrote this article myself, and it expresses my own opinions. I am not receiving compensation for it. I have no business relationship with any company whose stock is mentioned in this article.