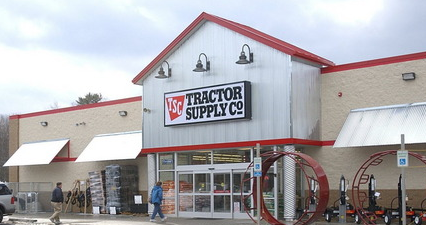 Tractor Supply (NASDAQ:TSCO) is a name I've been bearish on for a long time. I've always found this stock to be very overpriced despite the fact that the fundamentals have - at times - been pretty stellar. But TSCO trading for $90 or better was never a case of the fundamentals driving the valuation and after the ill-fated Q3 report, it seems TSCO's day of reckoning has arrived. Now that TSCO has experienced its long-overdue plunge, where does it start to represent value?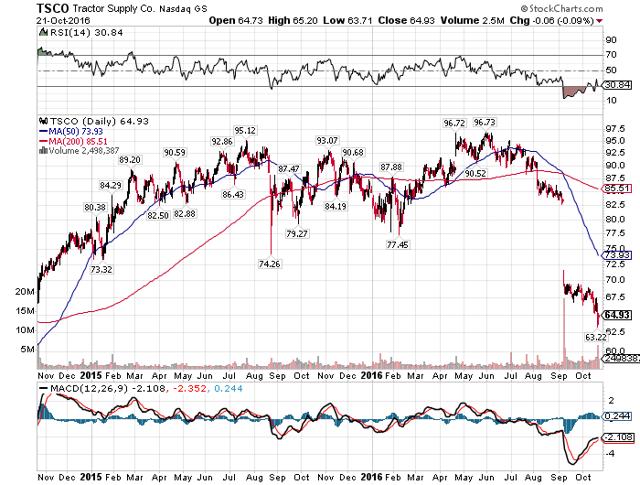 Click to enlarge
TSCO's rough third quarter began with revenue as the 4.5% total increase in sales was ignored in favor of the 60bps loss of comp sales. TSCO longs have been buying the hope that comp sales would continue to grow forever and while we have historically seen some very impressive comps, that growth has slowed materially in the past few quarters. Last year's Q3 was a +2.9% so the 350bps swing is sizable indeed and more importantly, it is yet more evidence that TSCO was priced for more growth than it could reasonably deliver. There is nothing wrong with TSCO's business but at 30+ times earnings, it simply wasn't good enough. Q3 proved once again - rather emphatically - that TSCO's best growth days are behind it and that is a big reason why the stock was hammered.
Gross margins were uneventful as they came in flat against last year's 34.7%. TSCO was able to overcome some negative mix shift but was unable to boost margins. The fact that margins were flat at a time when comps were negative is actually quite the feat and it means that if TSCO is able to rebuild its comp sales in the future, we should see some margin leverage. Of course, that is provided management avoids the urge to discount and promote to drive comp sales but TSCO has shown no evidence of that in the past.
SG&A costs were up 20bps as negative comps weighed and TSCO incurred incremental expenses related to new distribution facilities. Again, negative comps are the driver and as long as TSCO's comps are weak, its SG&A costs will be flat at best or grow at worst. We saw the latter in Q3 so the read here for Q4 is going to be huge, particularly if gross margins are flat-to-down.
Management's guidance for the full year is certainly more upbeat than Q3 was but obviously, it didn't do much of anything to assuage the fear of bulls as the stock was pummeled. The negative comp is not something management thinks will reoccur but Mr. Market doesn't quite seem convinced. Obviously, I've been bearish on TSCO not because I necessarily thought comps would go negative, but simply due to valuation. But comps have gone negative and the share price is down roughly a third; so what do we do?
Q3 was very costly as analysts took 14 cents off of this year's EPS estimate and 24 cents from next year. Sales growth is also expected to slow slightly into next year but positive comps are still implied by the 7% target as TSCO isn't opening stores at nearly that rate. The big question is whether or not TSCO can resume its low single-digit comp gains or not. With that, it could and should hit its EPS target for next year but without it, it has no chance of doing so. That is certainly easier as six cents per quarter has been shaved off of expectations but TSCO has some demand problems that are obvious.
The stock has completely broken down at this point so there is no real support near these levels. That's really a tough situation for trying to pinpoint a buy price if you want to get long because TSCO is making new multi-year lows. Of course, it won't go down forever but finding support from which a bounce can be mounted is going to be tough for a while.
TSCO is now going for 17.9 times next year's earnings, the lowest multiple I've ever personally seen for this stock. I'm used to 30+ multiples for TSCO so this is a real eye-opener but this is exactly what I've been waiting for. At this more reasonable multiple, am I turning into a TSCO bull? Right now, while I acknowledge that the valuation is pretty reasonable, I have two concerns.
First, the technical piece I mentioned is pretty alarming; I have no idea where this thing will stop going down. The report was very poorly received - with good cause - and with no support in sight, I'm hesitant to run out and try and call a bottom.
Second, a negative comp was not something I necessarily saw coming and while management thinks Q3's demand issues were transitory, I'm not convinced. A loss of 350bps' worth of comp sales Y/Y is huge and I wonder if things are worse than the commentary we heard. I'm very concerned about TSCO's negative comp because it drives not only the top line, but profitability too.
On the whole, TSCO is finally where I've been saying for two years it should be. But the way TSCO got here has me a little concerned. I'm not against owning TSCO because I think it has a sustainable moat but for now, I want to see how Q4 goes. If that means I miss a rally, so be it. But right now, I think the risk is a little higher that we don't find a bottom immediately so that's what I'm protecting against.
Disclosure: I/we have no positions in any stocks mentioned, and no plans to initiate any positions within the next 72 hours.
I wrote this article myself, and it expresses my own opinions. I am not receiving compensation for it (other than from Seeking Alpha). I have no business relationship with any company whose stock is mentioned in this article.