After earnings news and the conference call was digested, PayPal (NASDAQ:PYPL) stormed 10% higher to an all-time high of $44.15, taking out a major resistance level in the process.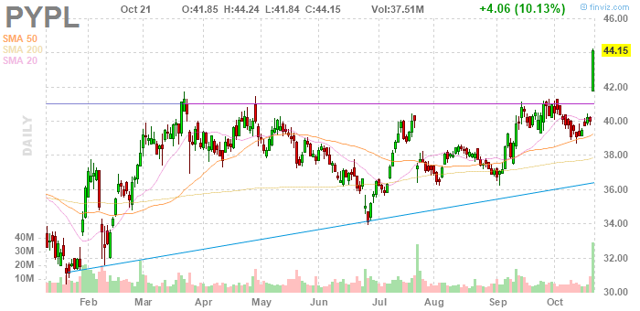 Click to enlarge
At first sight, this was somewhat surprising. Indeed, when earnings came out after hours on Thursday, the stock initially tanked as the earnings only came within expectations.
Usually meeting expectations is not enough for a rally, especially this quarter, it seems. In fact, the situation seemed even worse as there actually was a decline in margins. But the conference call soon put worried investors at ease by showing a better outlook.
We'll give you some highlights from the Q3CC:
In the third quarter, the company generated revenue of $2.67 billion, up 21% on a currency neutral basis and 18% on a spot basis.
The company reported $0.35 of non-GAAP EPS, which was at the high-end of our non-GAAP guidance of $0.33 to $0.35.
On a currency neutral-basis, total payment volume increased 28% to $87B.
U.S. payment volume grew 25% and international volume grew 30%.
The Merchant Services business grew 34% to $73 billion, primarily driven by core Braintree and Venmo. The company ended the quarter with 192M active accounts, adding 4.4 million active customer accounts in the quarter, and increasing active accounts by 11% from the third quarter last year.
Margins fell a bit (150bp) due to currency hedging, seasonality (ramping up for Q4), investments in growth, and especially Xoom (their money transfer business) and provisions for bad credit ($271M. Credit is 2% of their overall business).
The company enjoyed a 19% growth in free cash flow year-over-year. Free cash flow for the third quarter was $618M, representing $0.23 of free cash flow for every dollar of revenue.
During the quarter, the company returned approximately $50M to shareholders by buying back an additional 1.3M shares.
Year-to-date, the company has returned approximately $945M to shareholders by repurchasing 26M shares at an average price of $36.37. The company ended the quarter with cash, cash equivalents and investments of $6.4B.
A rise in engagement per account from 24 to 30 times a year (in the past two years).
Mobile payment volume rose 56% to nearly $26B from Q3 2015.
Venmo processed $4.9 billion in volume, an increase of 131% year-over-year. It is now just shy of a $20 billion annual run-rate.
For the fourth quarter, the company expects revenue in the range of $2.92B to $2.99B, or 16% to 19% growth on a currency neutral basis. Non-GAAP earnings are expected to reach $0.40 to $0.42 per share.
What explains the 10% rally?
Fears about margins subsiding somewhat
Competition not biting
The company made a good case for the opportunities ahead
While expectations where only met in the quarter, what explains the 10% share rise best is that the quarter allayed some fears that the deals with Visa and MasterCard would eat into their margins.
Why is that? Well, it's that these deals would shift PayPal from debit transactions (through the ACH network, its most profitable transactions) and steer them to credit card-based transactions with lower margins.
But as the company raised it's three year revenue growth outlook from 15% to 16%-17%, it also said that its margins would be stable to growing.
It's not a total done deal on margins. Transaction margin actually declined from 62.3% in Q3 2015 to 58.7% in the past quarter. The company blames this on "the mix shift in our business toward Braintree and increased provisions in our credit business, partially offset by Xoom.
On the other hand, excluding the acquisition of Xoom, other operating expenses increased only 9% or approximately half the rate of revenue growth. Also, even if the deals with Visa and Mastercard eat somewhat into margins, that could very well be more than offset by increasing the volume of business.
Other worries are also somewhat allayed, While there is undoubtedly a financial revolution going on, with many new fintech start-ups, for now PayPal seems to be holding its own.
Rather than slowing, the company predicts slightly faster growth with stable to growing margins even in the face of tough competition and lots of new entries into the market.
In terms of opportunities, the company has just 1% share of the addressable market ($100 trillion), that is, 10% of e-commerce, which is 10% of retail.
There are significant opportunities with merchants. At present, they have 15M merchants signed up for the PayPal platform, but with the shift towards mobile they can power the merchant apps, as well as their mobile web and in-store payments.
They are already doing that with the likes of Yandex (the leading search engine in Russia), Vodafone, America Movil (a big telecom company in Mexico and Brazil), Uber, H&M (fashion), The American Red Cross, Alibaba, Facebook and a host of others.
The merchant part of their business is growing at a faster (34%, to $73B) rate than the overall business. They are in talks with many more, and given their proven track record, and their offering as a full service solution, further significant expansion can be expected (from the Q3CC):
We basically want to power those applications with our platform. We want to do a 100% share of checkout. We want to integrate rewards capabilities through API and toolsets into our platform. We want to integrate contextual commerce into our platform, credit into our platform, so that merchants of all sizes can write the applications to get them closer to their customers and we can power that with our platform.

And then we take the extensive number of consumers we have, the 177 million consumers we have, on top of the 15 million merchants we have. And we drive those consumers in a friction-free way to be able to sign up for those merchant apps.
Paypal is amassing an ecosystem of partners like Visa, MasterCard (although they are not really expecting a considerable near-term boost in terms of either revenue or volume increase). There are in talks with more issuers and they just need to opt into the existing schemes.
The company has good cross-selling abilities through Zoom (their international money transfer business) and Venmo (digital wallet). For instance (from Q3CC):
PayPal customers can now link their PayPal and Xoom accounts, giving customers access to their PayPal funding sources within Xoom. This will allow PayPal's U.S. customers to send funds to multiple new markets and get access to new services.

As we shared at the time of the acquisition, cross-selling Xoom to our U.S. PayPal customers is a meaningful way to drive additional adoption and engagement with PayPal's 87 million active U.S. customers.
Valuation
The stock isn't cheap. We don't think next year's guidance will be increased by a whole lot. At present, analysts on average expect $1.71 per share in earnings, so the shares are selling at 26 times next year's earnings.
It's not terribly expensive either, given the 16-7% growth expectation, solid balance sheet, the increasing brand awareness, the leverage abilities of the platform and the free cash flow generation (exceeding $2.2B this year).
Conclusion
Short-time one can expect a little pullback as the shares are quite overbought. Also, the Q4 (traditionally their best quarter) guidance of $0.40-$0.42 is well within previous analyst expectations ($0.42), so it remains to be seen what new catalyst emerges in the near future.
We wouldn't chase the shares higher (although there were plenty who did just that on Friday, volume was more than four times average).
The company is delivering and allaying a considerable amount of fear about competition and margins. It has made a good case during the CC of the opportunities in front of it and how it can leverage its platform.
They feel confident enough to slightly increase the company's three year outlook so we'll keep a keen eye on it and wait for a pull-back to buy.
Do we have concerns? Well, PayPal is well established on-line but it remains to be seen how well PayPal is positioned when much of the brick-and-mortar retail payment system is moving to contactless payments.
On the one hand, the company seems well positioned with its brand recognition, platform, network of merchants and deals with the likes of Visa and MasterCard.
But there is a lot of innovation going on in this space, and surprises can't be ruled out. PayPal isn't yet so well entrenched as to be unassailable.
Disclosure: I/we have no positions in any stocks mentioned, but may initiate a long position in PYPL over the next 72 hours.
I wrote this article myself, and it expresses my own opinions. I am not receiving compensation for it (other than from Seeking Alpha). I have no business relationship with any company whose stock is mentioned in this article.