WTI (NYSEARCA:USO) finished the week up 1.35%.

Click to enlarge
Oil prices marched to $52 before falling back to earth. The EIA storage report on Wednesday surprised many as consensus expected builds across, but EIA reported a big draw in crude stock instead. As the consensus continues to believe that the oil market remains in oversupply, we have been very vocal in saying that the market is actually in deficit and we can see the effects of that largely through the global storage decline since March. We have also said that imports into the US have remained high as traders are unwinding floating storage trades, and we said that year end will be when imports start to normalize back to the 7 million b/d range. As imports fall, US storage will correct itself, and this will continue to change the current bearish sentiment.
Looking at recent position disclosures however, shorts are finished covering their positions.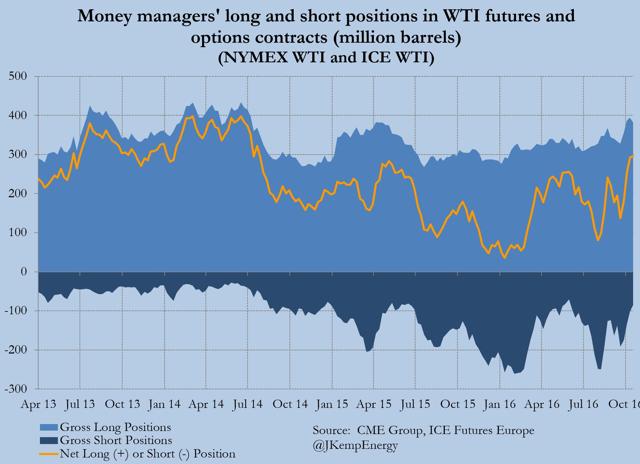 Click to enlarge
Source: John Kemp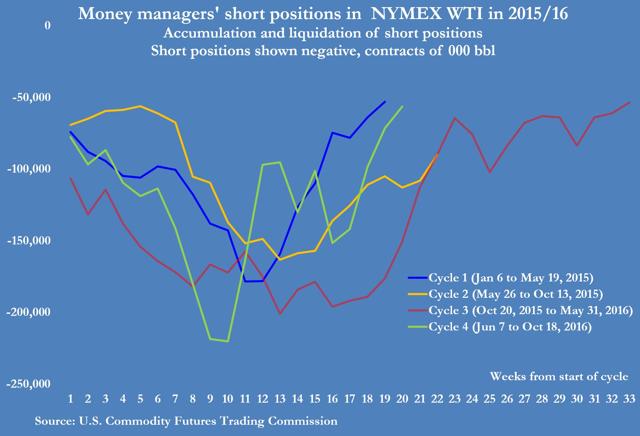 Click to enlarge
Source: John Kemp
Comparing the recent short-cycle to the other ones, we can see that it has now largely played out. Shorts won't be contributing to any meaningful rallies going forward, so what should oil bulls and bears expect?
We think a near-term price correction could be coming. We will be writing in more details to premium subscribers this Sunday in our new oil markets weekly outlook. Price action from now to the end of November won't be too volatile as WTI has recently ranged around $50. As market participants continue to pay attention to what OPEC will do, we think the EIA oil storage reports will continue to surprise. Refinery maintenance is close to finishing, and so we will start to see the pick-up in demand again.
As for expectations of the OPEC deal, no sell-side firm sees a clear outlook on the deal. Most remain skeptical and downright pessimistic saying if a deal isn't materialized, oil prices could fall to low $40s. We think given that the consensus view is bearish, we see the opposite being true. We have highlighted multiple times that Saudi's incentives are aligned for higher oil prices. Even in the case that it cuts production by up to 2 million b/d, the capex cuts from 2018-2020 will allow Saudi to grow that production back as market demand will outstrip supplies. The big driver of Saudi's 2030 vision will be the Saudi Aramco IPO, and a very positive sentiment is needed around oil companies if Aramco is to fetch for the $2 trillion valuation.
We will be writing our thoughts on what we think is next for oil prices in a new weekly outlook to premium subscribers tomorrow. If you are interested in becoming a premium subscriber, please consider signing up here. Thank you for reading Weekly Oil Markets Recap.
Disclosure: I/we have no positions in any stocks mentioned, and no plans to initiate any positions within the next 72 hours.
I wrote this article myself, and it expresses my own opinions. I am not receiving compensation for it (other than from Seeking Alpha). I have no business relationship with any company whose stock is mentioned in this article.