Some Nice Monthly Checks and Good Books
I'm of the ever-popular opinion that dividends are quite nice. And any dividend that's paid monthly is just a little bit sweeter. It doesn't really make much of a difference whether the dividend is monthly or quarterly, but having a monthly deposit in my investing account is a pleasant sight. Holding multiple monthly dividend payers (REITs or otherwise) makes it even nicer. I already hold the monthly-paying Chatham Lodging Trust (NYSE:CLDT), I'm glad to buy more as its price declines. I also like EPR Properties (NYSE:EPR), and will probably scale into a position slowly since I sadly own none yet, although it's appreciated very nicely this year. Also, anytime I think of monthly dividend paying REITs, I can't help but think of the beloved Realty Income (NYSE:O). I like that company as well (who doesn't, with such lovely dividends and capital gains this year as well!), but again would prefer to scale in slowly when its yield is above 4%, since I also currently own none.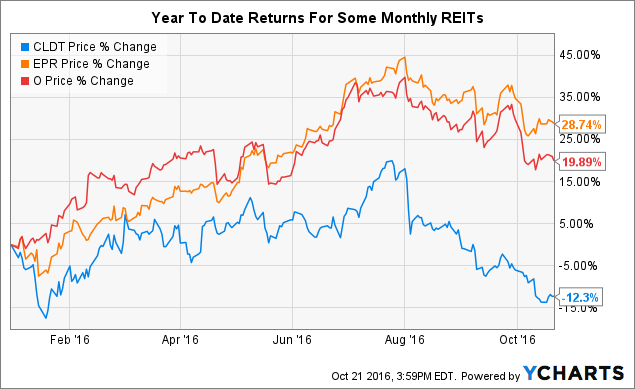 Although these are great REITs that I hope to own in the near future, for my next REIT I wanted to reach a bit for a yield that was somewhat higher. Still cautiously though, for a yield that's within the company's cash flows. I found Whitestone REIT (NYSEMKT:WSR) to be a nice candidate, with an 8.4% yield paid monthly. Of course as always, Brad Thomas is an excellent REIT resource, and has written numerous excellent articles on WSR. As an aside, I enjoyed reading his recent book, " The Intelligent REIT Investor" co-written with Stephanie Krewson-Kelly. It's well written and almost conversational in some places, while still explaining REIT terminology and technicalities in ways that are down-to-earth and easy to understand. I highly recommend it, either as a refresher for an experienced REIT investor, or as a resource for a beginning REIT investor.
Cash Flows and FFO
While WSR's dividends seem nice, I want to make sure the dividends are supported by funds from operations, FFO, or adjusted funds from operations, AFFO. WSR reports FFO in accordance with the National Association of Real Estate Investment Trusts', NAREIT, definition. This means that WSR's FFO is computed from net income, adjusting for gains or losses from property sales and extraordinary items, plus depreciation/amortization of the company's real estate assets, including adjustments for any shares of partnerships or joint ventures. This allows investors to compare WSR's FFO with all other REIT FFO's that are also computed according to NAREIT's standard. As for WSR's FFO, the past several years have brought a generally upward trend, which is somewhat positive. However if FFO is considered the most accurate measure of WSR's cash flows and dividend-paying ability, the company's FFO does not fully cover the dividends.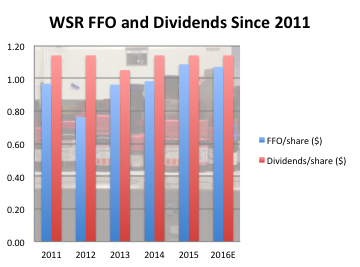 Source: WSR
To adjust FFO in order to reflect what the management considers to be the operating performance of the company, WSR excludes items that impair comparability between periods. That is, WSR defines its "FFO Core" to exclude these items, such as share-based compensation expenses or acquisition costs. Based on these considerations, FFO Core would also be an important measure to consider, and may be a more accurate measure of the company's dividend-paying ability. Using this measure, FFO Core has been improving, and has covered dividend payments over the past several years.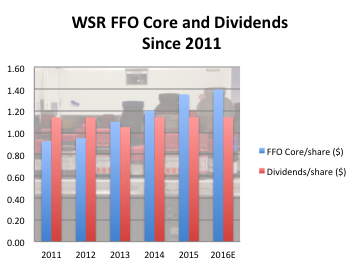 Source: WSR
I agree with WSR's management and consider FFO Core to be a good measure of operational performance, and also dividend-paying capability. Over the period where FFO Core has covered dividend payments, the payout ratio has ranged from 95% down to 80% during 2015, and will likely be roughly 80% during 2016. This is a fair payout ratio, and because of the positive trend, will likely continue to improve. Because of this positive trend, and the dividend coverage by FFO Core, I consider WSR's dividend payout to be stable.
WSR's Debts
Another important consideration after dividends and sustainability is examination of debt. The company had $502 million in outstanding debt at the end of Q2 2016, of which no great amount is due before 2019.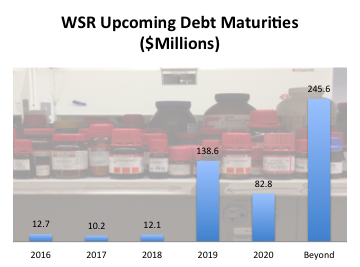 Source: WSR
During 2015, WSR generated nearly $8 million in FFO Core above what was used to pay dividends for the year. At the company's guidance for 2016 of $1.39 at the high end, with 26.8 million basic shares outstanding at the end of Q2 and assuming no changes through 2016, this would be roughly $37 million in FFO Core, outweighing the expected dividend amount by about $7 million. However unless some of the maturity dates are modified, FFO Core alone would not be enough to pay both the dividend and the 2016 maturities. The company has almost $6 million and cash and equivalents that it can use to supplement this potential shortfall for this year, so there is little immediate danger. However I'm going to carefully watch WSR's management of its debt, since that could threaten the dividend if FFO Core doesn't continue rising.
Final Thoughts
WSR's pleasant monthly payouts are covered by FFO Core, which appears to be on the rise. However unless FFO Core continues to rise, the level of debt the company holds could eventually make paying both the dividend and debt a large burden. This potential situation would be unlikely in the near future, but I'm going to watch the debt levels carefully while I hold WSR. As it's a small-cap company with a just under $400 million market cap, I'll also limit its size in my portfolio to between 2-4%. WSR has grown quite nicely this year, although fallen from its July highs. The cheapskate in me would like the company's price to fall a bit more while I accumulate and reinvest dividends, so I'll be patient and keep watching WSR's price before adding more.
For the size of the yield and the current sustainable dividend level (in terms of FFO Core payout ratio), I consider WSR worth a bit of risk for a nice monthly yield, especially while I wait to add to some other high quality REITs to my portfolio later on.
Author's Note:
I am on the lookout for high yet sustainable dividends or value opportunities with a significant margin of safety. If you're looking for the same, please hit the "Follow" button by my name at the top of the article, and hopefully you'll get some good ideas for value and income stocks.
Disclosure: I am/we are long CLDT, WSR.
I wrote this article myself, and it expresses my own opinions. I am not receiving compensation for it (other than from Seeking Alpha). I have no business relationship with any company whose stock is mentioned in this article.
Additional disclosure: I am neither a certified investment advisor nor a certified tax professional, and do not claim to be either. The data presented here is for informational purposes only and is not meant to serve as a buy or sell recommendation. Investors and potential investors should do their own research and make their own decisions. In the event that an investor or potential investor does not feel qualified to make such a buy or sell decision on their own, they should consult a certified advisor that they trust or feel comfortable with. Investing may involve losses, including potential loss of principal. The author relies on external links for some information that may have appeared on this perspective. These external links, although believed to be accurate, have not been verified independently. Therefore the author is unable to guarantee their accuracy.