By Nick Kalivas
Interest rates have influenced the performance of REITs relative to bank shares
Interest rates have a strong influence on equity REIT performance, as evidenced by the graphic below, which displays the relationship between the 10-year Treasury yield and the relative performance of the S&P 500 Banks Index to the S&P 500 Real Estate Investment Trusts REITS Industry Index. Note that banks have generally outpaced REITs when interest rates are rising, and have tended to lag when interest rates are declining. This relationship can be most clearly seen after the Great Recession (early 2009).
This pattern of relative performance may be linked to improved bank profitability in a high or rising interest rate environment and the desire of investors to own REITs for yield purposes in a falling or low rate environment. In a sense, REITs become a bond substitute. The breakout of REITs from the financial sector may better focus investors on the relationship between banks and REITs.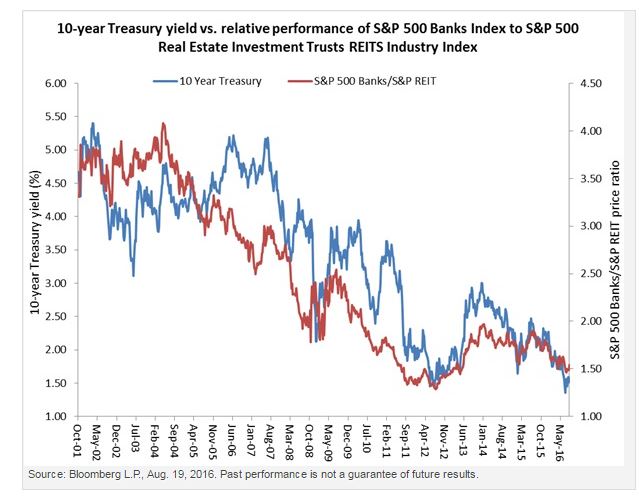 This chart also indicates that the price of bank stocks have been lagging the price of REITs for more than a decade. The price ratio of the S&P 500 Real Estate Investment Trusts REITS Industry Index to the S&P 500 Banks Index was over 4.0 in 2004 and has slumped to 1.5, although it is off the low seen in 2012.
A potential rise in rates could have ramifications for bank stocks, REITs
Banks may look cheap relative to REITs right now, but a catalyst will likely be needed to reverse that trend. Higher interest rates would be one such catalyst. Predicting the direction of the 10-year Treasury yield is always difficult. However, the pace of economic growth, the direction of inflation and interest rates overseas may help investors interpret the interest rate landscape and outlook for the relative performance of bank shares to REITs. Let's review the factors:
Economic growth has found firmer footing of late due to a more favorable inventory cycle (a decline in the growth rate of the inventory-to-sales ratio) and reduced headwinds from foreign exchange, as the US dollar has traded more sideways over the past year. Industrial production was down 0.5% year over year in July, but up from a trough of -2.0% in March. To put the current level of industrial production into context, industrial production peaked at 3.9% in July 2014. Movement of production into firmly positive growth territory could be a catalyst that lifts yields.
Inflation has shown signs of slow acceleration. The consumer price index less food and energy has risen to 2.2% on a year-over-year basis from its February 2014 low of 1.6%. However, it has not been able to breach the post-recession high of 2.3% established in April 2012 and February 2016. A rally in inflation over 2.3% could put upward pressure on the 10-year Treasury yield and focus the Treasury market more closely on inflation.
Lastly, yields remain negative in Germany and Japan and make the current Treasury yield just below 1.60% look attractive. A normalization of rates in Germany and Japan could lead to higher 10-year Treasury yields.
Disclosure: Copyright © 2016 S&P Dow Jones Indices LLC, a division of S&P Global. All rights reserved. This material is reproduced with the prior written consent of S&P DJI. For more information on S&P DJI please visit www.spdji.com. For full terms of use and disclosures please visit www.spdji.com/terms-of-use.