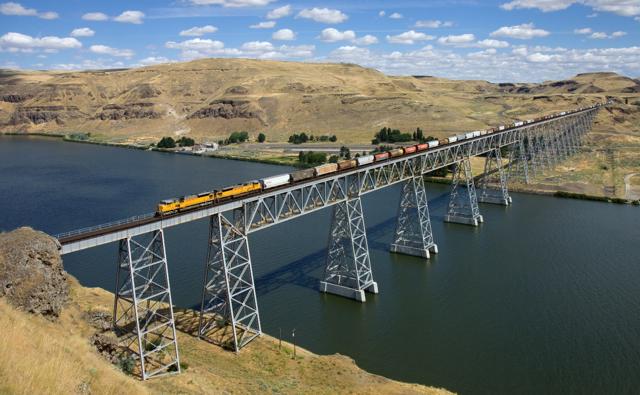 Click to enlarge
Source: Wikipedia
Despite a lackluster performance from Union Pacific's (NYSE:UNP) earnings results, transports outperformed their broader indices. Select companies were down for the week in each of the major industries, but many companies remained positive, supporting overall strength.
Macroeconomic indicators have continued to be mixed, with consumer demand leading the way to the positive side. Business investment has remained weak, as have imports. Exports have displayed some improvement of late, indicating that other nations may be spending more.
Q1 2016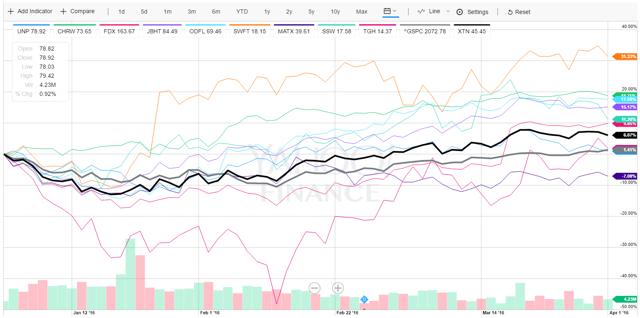 Click to enlarge
Source: Yahoo Finance
Through the first quarter of 2016, transports substantially outperformed the broader S&P 500 index, as evidenced by the SPDR S&P Transportation ETF. Transports were up over 6 percent during the quarter, while the S&P 500 was up nearly 1.5 percent. Mid-March reflected the greatest difference between the two.
Specific examples of companies reflecting major transport segments have been highlighted above for illustrative purposes. Only Union Pacific, Textainer Group Holdings (NYSE:TGH) and Matson (NYSE:MATX) lagged the SPDR S&P Transportation ETF's performance during the first quarter.
Q2 2016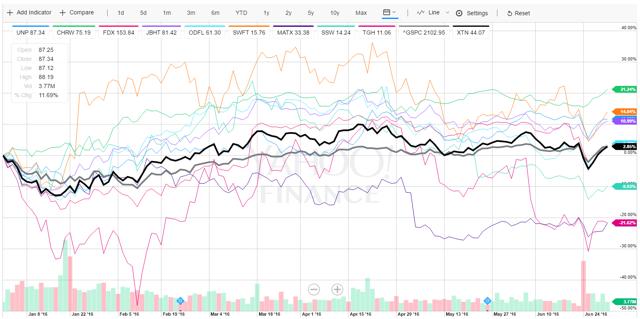 Click to enlarge
Source: Yahoo Finance
Through the second quarter of 2016, transports substantially underperformed the broader S&P 500 index, as evidenced by the SPDR S&P Transportation ETF. Both transports and the S&P 500 index were up nearly 3 percent through the second quarter.
Transports were much more affected by the perceived impacts of the Brexit vote, similar to the growth concern impacts during January and February. Only Matson and Seaspan Corporation (NYSE:SSW) lagged the SPDR S&P Transportation ETF's performance through the second quarter.
Q3 2016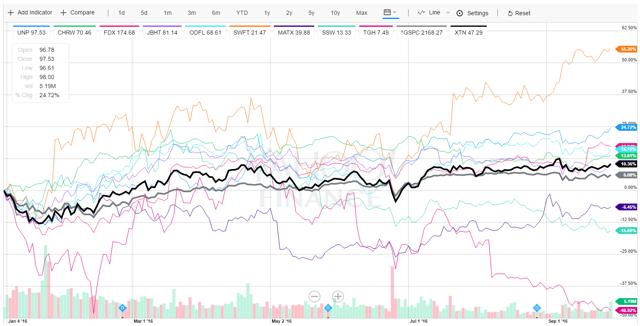 Click to enlarge
Source: Yahoo Finance
During the third quarter of 2016, transports re-established the lead versus the S&P 500, as evidenced by the SPDR S&P Transportation index. Both were up 6.1 and 10.4 percent respectively.
Major laggards included Matson, Seaspan and Textainer Group Holdings. The challenging shipping container industry and the Hanjin bankruptcy have continued to weigh on all companies with strong exposure to this industry.
YTD 2016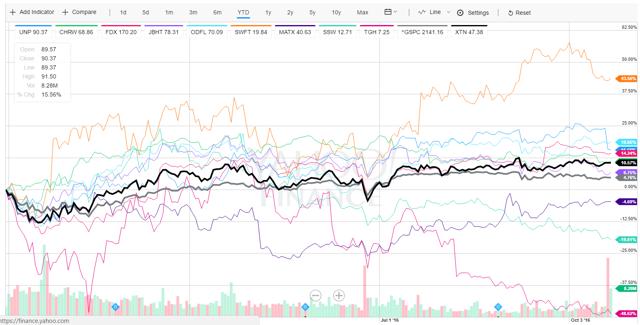 Click to enlarge
Source: Yahoo Finance
Year to date (YTD), the spread between the SPDR S&P Transportation ETF and the S&P 500 increased from last week, with transports leading by 5.8 percentage points. The S&P 500 increased by 50 basis points (bps) to 4.8 percent YTD, while the SPDR S&P Transportation ETF increased by 110 bps to 10.6 percent YTD.
The Advance Monthly Sales for Retail and Food Services, September 2016 report provided positive results. Retail sales were up 2.2 percent from last year and 0.6 percent from August. Motor vehicle and parts dealers were up 2.5 percent from last year and 1.1 percent from August. Poorly performing categories continued to be electronics and appliance stores, gasoline stations and general merchandise stores, led by department stores. Nonstore retailers, largely driven by e-commerce, continued to grow the fastest at nearly 11 percent versus last year.
The total business inventory-to-sales ratio typically has two peaks which occur in November and January/February. Since 2012, these peaks have increased as inventory levels have grown. Some have believed that this phenomenon has been the result of e-commerce supply chain impacts. It will remain to be seen whether the next peak cycle continues to grow to historically high levels.
Both U.S. rig counts and oil prices have displayed improvement recently. U.S. crude futures are at $51 per barrel, and rig counts were up by 14 from the previous week to 553. The consumer continues to carry the burden of moving the economy, while energy costs remain low. Low energy costs and other declining cost inputs for manufacturers have created a deflationary environment, most notably for the struggling industries such as electronics and grocery stores.
Rail Operators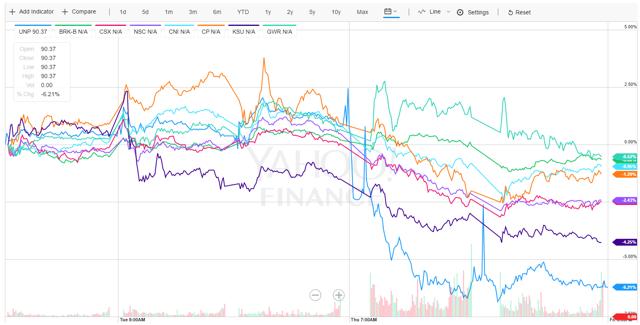 Click to enlarge
Source: Yahoo Finance
Railroad stocks were all driven lower on Thursday, directly resulting from Union Pacific's earnings miss. Union Pacific was the laggard down over six percent, while some rail stocks were only moderately down around one percent. Kansas City Southern (NYSE:KSU) also displayed some weakness, down over four percent.
Rail traffic continues to marginally improve, and it is becoming more clear that the Canadian rails will likely lead the group into positive traffic territory.
Railcar Manufacturers and Lessors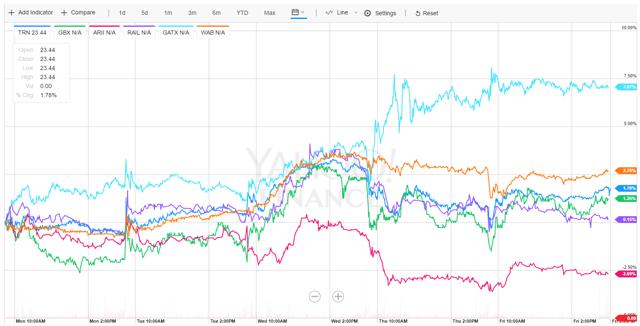 Click to enlarge
Source: Yahoo Finance
Railcar manufacturers and lessors were mixed as GATX Corp. (NYSE:GATX) witnessed strong performance buoyed by a solid earnings beat. American Railcar Industries (NASDAQ:ARII) was the laggard for the weak, while most other peers were positive.
The question for railcar manufacturers continues to be when they will begin to see improved orders. This is expected to begin to occur sometime next year.
Truckload Carriers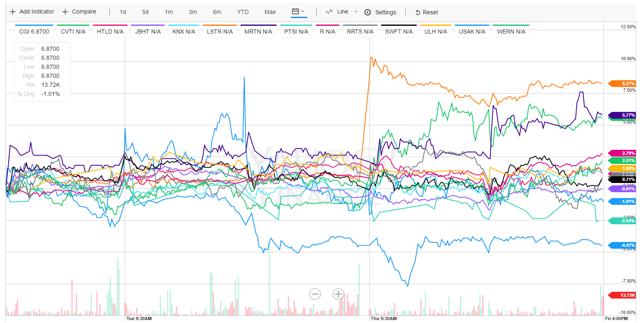 Click to enlarge
Source: Yahoo Finance
The truckload market was mostly positive led by strong results from Landstar System (NASDAQ:LSTR) and Marten Transport (NASDAQ:MRTN). Despite earnings misses, both Covenant Transportation (NASDAQ:CVTI) and Werner Enterprises (NASDAQ:WERN) displayed positive performance, with Covenant in line with Marten. USA Truck (NASDAQ:USAK) was the laggard.
The mixed results for the trucking industry so far, including J.B. Hunt Transport's (NASDAQ:JBHT) miss, have similarly as rail operators, created a phased expectation for improved performance for next year. The electronic logging device (ELD) mandate is anticipated to tighten capacity.
Less-Than-Truckload Carriers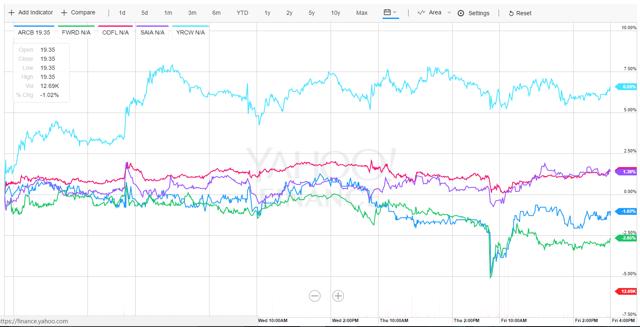 Click to enlarge
Source: Yahoo Finance
LTL carriers were mixed, with Forward Air (NASDAQ:FWRD) down from an earnings miss and YRC Worldwide (NASDAQ:YRCW) up strongly at over 6.5 percent. Discussion continues to revolve around YRC's pension risk and exposure. Despite the thought that a company with this type of exposure should trade at a discount to union-free peers, YRC has upside.
It will be interesting to see other peers report their performance, as FedEx Corporation (NYSE:FDX) witnessed improved performance from the previous quarter. Similar to truckload peers, tightening could improve pricing next year.
Air Freight, Package and Delivery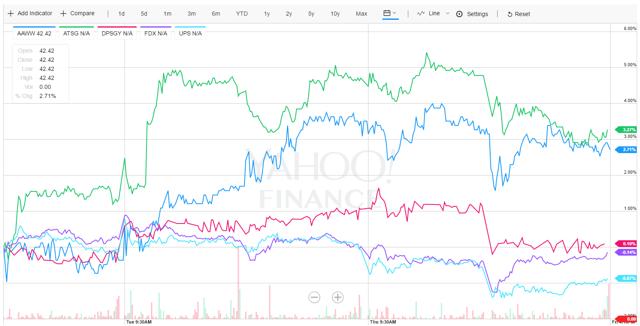 Click to enlarge
Source: Yahoo Finance
The airfreight, package and delivery industry witnessed flat-to-positive performance led by both Air Atlas Worldwide (NASDAQ:AAWW) and Air Transport Group (NASDAQ:ATSG). Not much news was impactful for this group during the week.
Expectations are for Deutsche Post DHL Group (OTCPK:DPSGY) to continue to benefit from EBIT improvement during the third quarter. Similarly, it will be important to see how United Parcel Service (NYSE:UPS) performs relative to FedEx.
Contract Logistics, Forwarding and Brokerage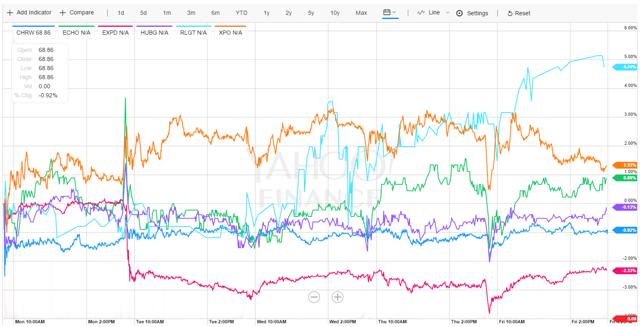 Click to enlarge
Source: Yahoo Finance
Contract logistics companies were mixed, with a range between positive five percent and negative two percent. Expeditors International (NASDAQ:EXPD) was this week's laggard, while Radiant Logistics (NYSEMKT:RLGT) was the top performer.
XPO Logistics (NYSEMKT:XPO) is expected to have another strong quarter. Upside from here may be limited, however, as investors ponder how the company will continue to grow its top line.
Container Shipping Lines, Charter Owners and Container Lessors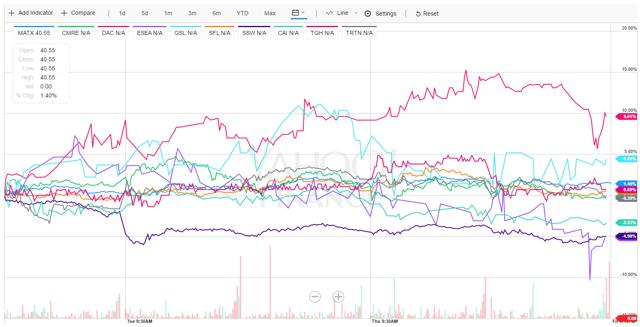 Click to enlarge
Source: Yahoo Finance
Companies exposed to the container shipping industry were mostly flat-to-negative for the week. The top performer was Danaos Corporation (NYSE:DAC), while the laggard was Euroseas (NASDAQ:ESEA), closely followed by Seaspan.
Investors should expect that these companies will remain highly volatile. Greater transparency from the Hanjin bankruptcy will come to fruition as each company reports its earnings for the quarter.
Demand Trends
Key demand-based indicators that are monitored include Class I rail traffic, trucking industry tonnage, shipments, and loads, air cargo tonnage, container shipping line twenty-foot equivalent units, TEUs, North America seaport TEUs, shipping lane port calls, North America cross-border trade, and freight rates for most of these indicators.
Class I Rail Traffic
For week 41, total traffic improved to -6.6 percent YTD, with carload traffic better by 20 bps to -9.3 percent and intermodal traffic flat at -3.4 percent. Week 41 continued to witness overall improvement compared to year-over-year (YOY) rail performance, as total traffic declines improved by 190 bps from week 40 to -2 percent.
Container traffic improved by 10 bps to -1 percent for the year. Towards the end of September, both eastbound and westbound intermodal pricing declined from last year's performance. However, eastbound traffic will witness substantially strong performance for the remainder of the year if pricing levels remain stable.
Week 41 witnessed a new record for the year with the fourteenth consecutive week of weekly coal carload traffic above 108,000 and the twelfth consecutive week at or above 112,000. Grain continued its strong performance for the fourth quarter, improving to positive 9.5 percent versus last year.
Motor vehicles and equipment carload traffic maintained its performance above 40,000 carloads with an increase of 5.4 percent versus last year. Crushed stone, gravel and sand have outperformed petroleum products now for fourteen consecutive weeks.
Trucking Industry
It's that time of the month. The American Trucking Association, ATA truck tonnage index, and the Cass Freight Index reports were out for September. Contrary to last month, these reports were more aligned in September, as the ATA truck tonnage index reported a 0.7 percent decline from last year, with YTD tonnage up 3 percent.
According to the Cass Freight Index, shipments and expenditures declined by 3.1 and 3.8 percent versus last year. Month-to-month changes were moderately better at negative 0.4 and positive 5.2 percent. Shipments continue to perform much more poorly versus tonnage. Average dry van spot rate pricing was down modestly just below three percent as of mid-October.
Air Cargo
Last week, UPS was highlighted as a result of the company's plans to invest $2 billion in Europe. It was stated that this was a direct response to the pressures created by FedEx's recent acquisition of TNT Express.
This week, as often is the case, FedEx announced its plans for a $1.5 billion investment into the Paris Charles de Gaulle distribution hub. The new facility is scheduled to open in 2019 and will boost capacity by 40 percent, making it number two after the Memphis hub. TNT Express will also soon open a ground hub just north of Paris.
Container Shipping Lines
Average freight container spot rates were up big from the previous week's GRI increases. For the Trans-Pacific trade lane, the weekly Shanghai Containerized Freight Index, SCFI, was up over 60 percent to the West Coast and nearly 20 percent to the East Coast. If rates can be sustained at these levels, container shipping lines will witness improvement for revenue and earnings. After the peak shopping season, rates will likely fall as is typical from seasonality; the question is whether they will fall below last year's levels.
For the Trans-Atlantic trade lane, average spot market rates were still down by double digits from and to Europe. For the Asia-Europe trade, lane spot market rates were up nearly 200 percent.
Rates will likely continue to fluctuate in an inconsistent manner, but the recent surge is welcome, as 2016 has been a very tough year across the board for container shipping lines.
North America Seaports
Preliminary numbers for September have been mixed for twenty-foot container unit, TEU, traffic. The Port of Los Angeles witnessed robust laden export performance and solid laden imports. But the Port of Long Beach witnessed declines for both. The delayed Hanjin ships likely impacted these numbers. The Port of Oakland witnessed robust laden exports, but a decline in imports.
On the East Coast, both the seaports of Savannah and Charleston witnessed solid positive performance for laden imports and exports. Despite some issues for West Coast imports, it appears that September may end up being a solid month for TEU traffic in North America.
North America Cross-Border Trade
Kansas City Southern's Mexico automobile-related rail business has picked up since the first half of the year. Management explained early on that there were some plant adjustments which would lead to a reduced amount of traffic. For the third quarter, traffic in Mexico was up over four percent, and it is up over 22 percent early in the fourth quarter.
Additionally, Maersk's (OTCPK:AMKAF) APM Terminals was expected to begin operations of a new terminal at the Port of Lazaro Cardenas during the second quarter of 2016. However, this has been delayed to happen sometime in the fourth quarter or first quarter of 2017, and as such, Kansas City Southern will then begin to carry more containers to and through Mexico.
Portfolio Management Strategy Update
The LLGP and LSGP portfolios were created in February/March of this year. Currently, there are 17 holdings. At the end of the week, the LLGP was up 4.9 percent, a decrease of 160 bps, and the LSGP was up 30.6 percent, representing a 580 bps increase from last week. Increases in existing positions were taken for both Cal-Maine Foods (NASDAQ:CALM) and Seaspan during the week.
LLGP top double-digit performers YTD:
The WhiteWave Foods Company (NYSE:WWAV) 54.9 percent
Amazon.com (NASDAQ:AMZN) 54.7 percent
PayPal Holdings (NASDAQ:PYPL) 18.8 percent
Canadian National (NYSE:CNI) 15.3 percent
Deutsche Post DHL Group 13.6 percent
LINE Corporation (NASDAQ:LN) 13.4 percent
Matson 11.5 percent
LLGP worst negative performers YTD:
Cal-Maine Foods -8.8 percent
Sprouts Farmers Market (NASDAQ:SFM) -7.6 percent
US Foods Holding (NYSE:USFD) -5.8 percent
Seaspan Corporation -5.7 percent
Unilever (NYSE:UL) -4.6 percent
Sanderson Farms (NASDAQ:SAFM) -3.5 percent
Autoliv (NYSE:ALV) -2.3 percent
The LLGP performance has been stuck in a rut of late. Performance underperformed broader market indices for the week, but a longer trend has been subdued performance during positive market days.
Exposure to a variety of commodity-sensitive companies has created volatility. On a weekly and monthly basis, swings between 10 percentage points are to be expected. Additionally, exposure to grocery and foodservice industries has also weighed on performance.
Despite last week's thought to wait for Cal-Maine to drop near the $36.50 per share level, which it did on Friday, action was taken just above this level at $36.87. Additional shares were added to the Seaspan position at $12.62 per share. Both holdings reflected around 10 percent of the portfolio.
LSGP Performance
Mobileye (NYSE:MBLY) 4.5 percent
XPO Logistics 31.1 percent
YRC Worldwide 40.5 percent
Contrary to last week, performance for the LSGP was much better. Mobileye increased moderately, XPO was flat and YRC displayed the strongest performance. Mobileye is intriguing at these levels, and an addition to the existing position was considered during the week. However, despite strong cash reserves, taking a selective approach has been the attempt to remain prudent.
Expectations are not for XPO to go much higher than just below $40 per share. YRC is the priority holding to be liquidated over the next 12 months. The position is up nearly 41 percent as of this week. Expectations remain for a close to 100 percent return at some point in the near term.
LLGP Holding Scorecard
Top Performer
Top performers are companies which have returned the highest results for the year. In addition, they have exhibited strong operating metric performance, leading to stock gains. These companies imbue the objective of achieving annualized double-digit returns.
Amazon.com
The Boeing Company (NYSE:BA)
Canadian National
Deutsche Post DHL Group
Line Corporation
Matson
PayPal Holdings
Neutral
Neutral holdings have returned moderately positive or negative performance for the year. Some companies may be witnessing moderate impacts to the business, driven mostly by industry-specific trends.
These companies typically will fluctuate between less than positive 9 percent to no greater than negative 5 percent during normalized market conditions. Seaspan was dropped back down to the watch list. Typically, it is not uncommon for a majority of holdings to be in this list. Ideally, the substantial majority will be in the neutral or higher lists.
Calavo Growers (NASDAQ:CVGW)
J.B. Hunt Transport Services
Republic Services (NYSE:RSG)
Sanderson Farms
Seaspan
Unilever
ULTA
US Foods
Watch List
Companies on the watch list merit a close consideration as to their sustainability for remaining within the LLGP. If a determination is made to remain, the likely result will be to aggressively defend the stock price and accumulate on weakness. If the determination is to liquidate, the holding will likely be moved to the LSGP and sold opportunistically for a realized gain.
To date, all companies on the watch list have had a determination made to remain in the LLGP. Both Cal-Maine and Seaspan will be monitored weekly as to possible further additions. Ideally, not many companies will remain on this list for a long duration.
Areas Of Interest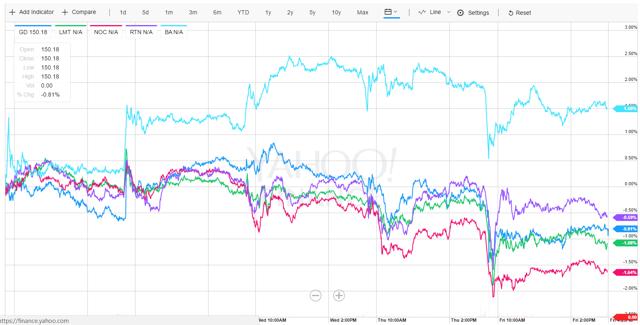 Click to enlarge
Source: Yahoo Finance
Since getting interested into defense stocks, the trend has continued, with Boeing outperforming this group this past week. My top interest remains with Northrop Grumman (NYSE:NOC). Due diligence and peer review still needs to be performed.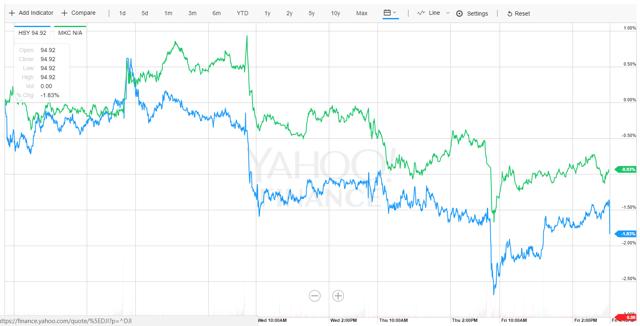 Click to enlarge
Source: Yahoo Finance
Despite worse performance during the week, McCormick & Company (NYSE:MKC) has witnessed a stronger decline of late. As was the case last week, neither of these companies warrants a consideration for addition to the portfolio. They do remain important companies to monitor, based upon future potential economic changes.
Summary
Transports performance was mixed, with rail operators weighed down by Union Pacific's sub-par results. Investors should expect Canadian rails to potentially lead the traffic recovery over the next couple of quarters.
The trucking industry was mixed but mostly positive, as certain companies beat earnings expectations. Overall shipment and expenditure trends remained weak, and demand appears to still be soft.
Pricing has improved for most modes, but the outlook is still highly uncertain, and weekly developments will likely continue to fluctuate. This should be more dramatic for rail and container shipping lines versus truck carriers in the near term.
Disclosure: I am/we are long AMZN, BA, CALM, CNI, CVGW, DPSGY, JBHT, LN, MATX, MBLY, PYPL, RSG, SAFM, SFM, SSW, UL, ULTA, USFD, XPO, YRCW.
I wrote this article myself, and it expresses my own opinions. I am not receiving compensation for it (other than from Seeking Alpha). I have no business relationship with any company whose stock is mentioned in this article.
Editor's Note: This article covers one or more stocks trading at less than $1 per share and/or with less than a $100 million market cap. Please be aware of the risks associated with these stocks.