Gold Miners (VanEck Vectors Gold Miners GDX) rallied 6.5% after my recent article about gold (SPDR Gold Shares GLD) and gold miners. However, risk remains high and could ruin the party.
Article: Gold (Miners): Catching A Falling Knife?
I mentioned that I bought Yamana Gold AUY* at 3.66 in October. The shares are still in my portfolio, but I have some doubts about the mid-term outlook of gold. In addition to that, I am getting bullish signals from other reliable indicators. The situation is getting difficult and I'd like to share my research with you.
First of all, let's look at the most positive and reliable indicator. I use treasury inflation protected securities (iShares TIPS Bonds ETF TIP). These kind of bonds are backed by the government and adjusted for inflation. In other words, these bonds display both government bond yield and inflation. Two very important aspects of gold research.
TIP bonds (blue line) have a very high correlation with the gold price and are signaling further upside potential after a short correction in September.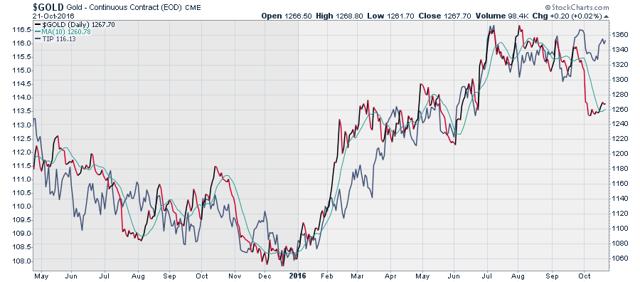 Click to enlarge
The long term picture supports the validity of this indicator. A long position in gold or gold miners would look like a no-brainer if we exclude all other variables.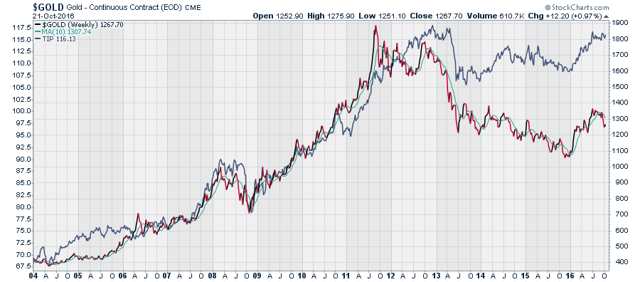 Click to enlarge
However, the bad news is that the USD has rallied almost 3.5% this month and is headed for the February highs (inverted graph).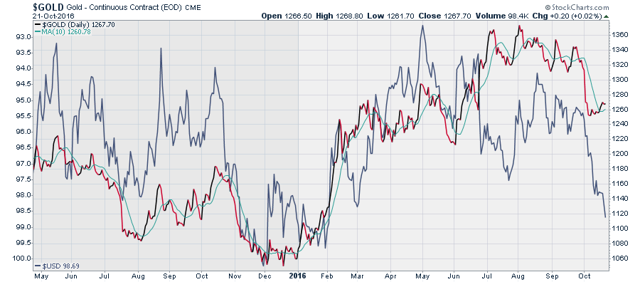 Click to enlarge
Now, let's look at the long term graph. The biggest gold bull market took place during a period of USD depreciation. Every gold bear market has been supported by the exact opposite.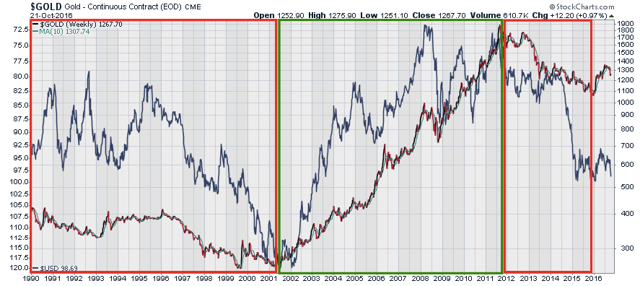 Click to enlarge
And please, don't get me wrong. I don't look back to the 90s, every time I am researching a trade with a 3-6 months horizon. It is just important to understand the long term picture and check the validity of indicators.
One big reason for the importance of the USD is the fact that gold is a hedge against inflation. In addition to that, we know that the USD is a driving factor behind commodity prices. The short explanation is: a stronger USD makes commodity prices more expensive for non-USD commodity importing countries. This drives commodity prices lower, and we are not even talking about the massive amount of USD denominated debt in foreign countries.
The graph below shows the USD and the Goldman Sachs Commodity Index (iShares S&P GSCI Commodity-Indexed Trust GSG).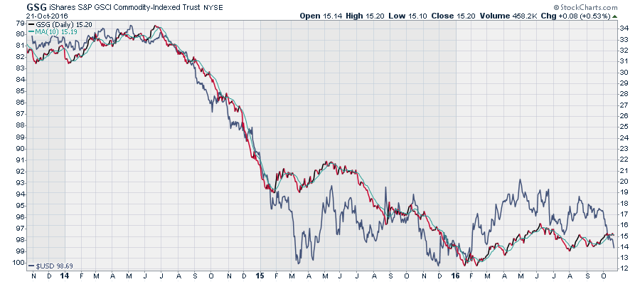 Click to enlarge
One thing is clear: the USD strength is putting tremendous pressure on commodity prices. Commodity prices are not down yet, but the odds are extremely high. The next graph supports this theory. The USD has always bottomed (inverted graph) a few months before the inflation peaked.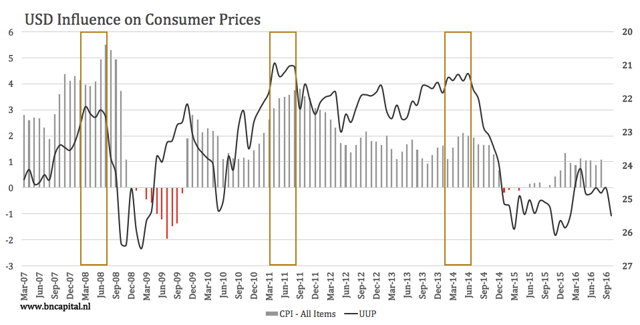 Click to enlarge
In addition to everything I just mentioned, I would like to add the fact that the economy is likely in a late-cycle stage. If you are interested in the story behind it, please read my short article about this subject.
Article: Think Piece - Late Cycle Economic Growth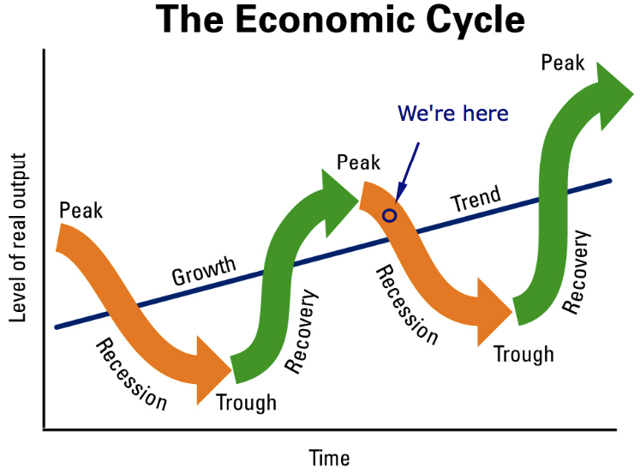 Click to enlarge
Source: mrshearingeconomics
To summarize the current situation and outlook, we can see that the pressure on lower inflation is rising because of the strong USD. This means that the real inflation numbers are very likely to go down again after rising in Q1 and Q2 of 2016. This would also mean that TIP bonds would feel the pressure. Overall, this is bad for gold prices.
The perfect bull case scenario would be a further USD appreciation along with a weaker economy and a rate hike in November or December. This would put enormous pressure on financial markets and the economy. We saw the same in 2015 when the FED hiked during an economic slow down. After this, we saw that the USD weakened a lot and gold prices exploded.
On the other hand, this would be a best-case scenario, and chances are really low that exactly this happens. I am long gold miners because I don't expect the USD to become much stronger. In addition to that, we are further in the late-cycle stage of the economy. I remain long gold miners but I am fully aware of the risk.
Thank you for reading my article. Please leave a comment if you have questions or remarks. I always appreciate a good discussion. On a side note: if you are interested in macro research and news on the economy, feel free to follow me or any Seeking Alpha writers who do the same.
* Yamana Gold is the 14th biggest holding of the GDX ETF. Everything I mentioned in this article is perfectly applicable to other big holdings like Barrick Gold ABX, Newmont Mining NEM or Goldcorp GG.
Disclosure: I/we have no positions in any stocks mentioned, and no plans to initiate any positions within the next 72 hours.
I wrote this article myself, and it expresses my own opinions. I am not receiving compensation for it (other than from Seeking Alpha). I have no business relationship with any company whose stock is mentioned in this article.