Oil prices increased slightly on Friday as Russia's Energy Minister Alexander Novak was getting ready to meet Saudi Arabia's Khalid Al-Falih for discussing possible actions to stabilize the global oil markets. The WTI and Brent were trading at $50.85 and $51.78, respectively, at the time of writing this article. However, Chief of Russia's Rosneft (OTC:RNFTF) Igor Sechin said something very interesting on Thursday. "In the next year and a half, we should see the end of surplus (on global oil markets) and the start of the process of the situation normalising. If the market needs it and there are technological and economic grounds, Russia may significantly increase oil production in the future by up to 200 million tonnes," said Igor Sechin at a forum held in Italy. Does this statement indicate that Russia is actually looking to increase its oil production in the coming time, instead of limiting it?
Will Russia really increase its production in the coming time?
Oil bulls are expecting Russia to co-operate with OPEC and reduce its production in the coming time. If Russia agrees to reduce its production along with OPEC, then a possible global production cut of around 1.5 (approximate) million barrels per day will definitely push oil prices (NYSEARCA:USO) beyond the current $50 mark. But, what will happen if Russia refuses to be a part of this production cut? When we analyze the comment made by Russia's Igor Sechin, we can see that Rosneft Chief expects the 'situation' to normalize. In my opinion, this may be an indication that Russia is now ready to end the global oil surplus by co-operating with OPEC and reducing its oil output. Although Igor Sechin says that Russia can further increase its production by almost 4 million barrels per day, he does not give any particular time frame for this increase. This means that Russia is indicating that it will support OPEC in the upcoming production cut (by either reducing or even freezing its output), but it will only do it for a certain period of time. Once oil prices are stable at $55 a barrel, Russia may decide to produce freely at its own will. In fact, Sechin also said that he expected oil prices to increase to $55 once the situation normalized.
Market Re-balancing has gained momentum
One of the biggest reasons for low oil prices was the existing crude oil and refined product glut in Asia. However, the latest report from Reuters suggests that Asia's oil markets are tightening, thanks to China. As China's crude oil imports increased to highest levels in September this year, its domestic oil production is falling at a rapid pace. China reported a 9.8% decline in its September output which is one of its largest declines till date. In fact, the Reuters data also reveals that the global refined product inventories have declined since the beginning of October and they are currently at (or below) levels that were seen the same time last year. This clearly shows that the supply-demand rebalancing has gained momentum as inventories are falling down.
Takeaway for Investors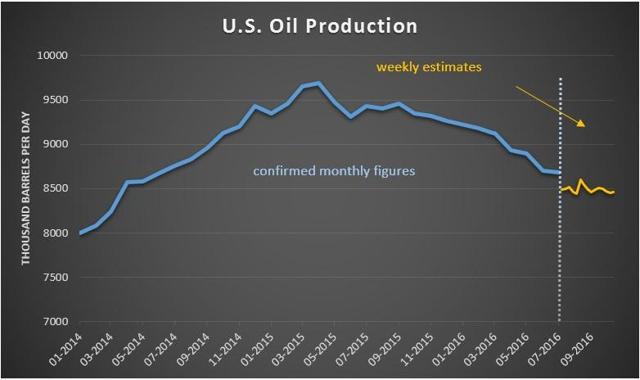 Click to enlarge
Image source : oilprice.com
In my opinion, a possible co-ordination between Russia and OPEC can increase the prices to $60 per barrel. However, it must be noted that high oil prices (beyond $55 per barrel) will also trigger a sharp recovery by U.S shale players which will again pull oil prices down. The EIA has already predicted that the U.S oil production decline is beginning to slow down with the Permian slated to add around 30,000 barrels per day. On the other hand, an improving situation in Asia suggests that oil may settle somewhere close to $55 per barrels in the coming time. Investors must note this.
Disclosure: I/we have no positions in any stocks mentioned, and no plans to initiate any positions within the next 72 hours.
I wrote this article myself, and it expresses my own opinions. I am not receiving compensation for it (other than from Seeking Alpha). I have no business relationship with any company whose stock is mentioned in this article.