The AT&T (NYSE:T) and Time Warner (NYSE:TWX) tie-up was a surprising twist heading into the weekend, and the basic details surrounding the deal likely isn't news to current shareholders. Of course, AT&T management has spun the deal in a positive light, informing shareholders that it will be in their best interests to both support and eventually vote to approve this deal. Positives pitched include the deal being accretive to AT&T earnings in the first year of close, the diversification the revenue mix, and lowering capital intensity. Given the AT&T retail investor base, however, the number one focus is likely to be on one thing: the dividend. Its safety (and its eventual growth) are paramount. Using some quick back-of-the-envelope calculations, I'll explore whether the dividend is in fact safe under this deal, and if the deal actually improves AT&T's dividend coverage, as management has indicated?
Quick Run-Through Of The Numbers
To understand the deal, we first have to analyze the terms:
" Time Warner shareholders will receive $107.50 per share under the terms of the merger, comprised of $53.75 per share in cash and $53.75 per share in AT&T stock. The stock portion will be subject to a collar such that Time Warner shareholders will receive 1.437 AT&T shares if AT&T's average stock price is below $37.411 at closing and 1.3 AT&T shares if AT&T's average stock price is above $41.349 at closing."
This deal is obviously a touch complicated because of the collar, so we'll err on the side of caution. First and foremost, we can start with the easy portion: the debt side of the acquisition. As noted above, half the deal will come in the form of new debt: $42.5B worth. Look for AT&T to look to price this debt competitively, along with setting a maturity schedule in the 2030-2035 range. There is a gap currently in this date range, and I do expect them to fill that gap. Corporate debt market appetite remains high, and I expect they will be able to price this competitively with their older offerings, despite the overall high notional amount being issued. Expect pricing in the 4.5% range, which would mean $1.9B in additional annual interest payment obligations (excluding issuance costs). Given AT&T's current run-rate in 2016 on interest costs ($5B) and Time Warner's legacy holdings ($1.4B), total interest costs should rise to $8.3B per year.
The eventual equity dilution for AT&T shareholders is a bit more complicated given the collar involved, and the best approach for current shareholders is likely to be the conservative one. Time Warner had 777.84M shares outstanding as of its last reported quarter. Assuming a worst-case scenario (1.437 AT&T shares issued per Time Warner share), AT&T will be forced to issue 1.11B shares as part of the deal, resulting in 13.8% dilution to existing shareholders. This will increase the consolidated entity's dividend obligation by roughly $2.15B annually at the current rate ($0.48/share annually). If the deal goes through, expect the dividend obligation of the combined AT&T/Time Warner entity to rise to nearly $14B annually.
Capital expenditures are another big cash flow obligation here obviously, with AT&T running through nearly $20B annually over the past several fiscal years. As noted in the purchase, Time Warner doesn't have such massive obligations to maintain its operations. Content, by comparison, is cheap compared to the pains of building out wireless infrastructure. For 2016, both companies have guided to roughly $21B in capital expenditure spending between the two.
Overall, this means key company spending obligations (interest payments, capital expenditures, dividends - in that order of importance) for the combined entity will reach near $44B annually. That is massive. It is clear that the new, larger AT&T it is going to have some big shoes to fill when it comes to what it needs to produce from operating income. Things do look okay, however, at first glance. Rough numbers (based on my own estimates) below: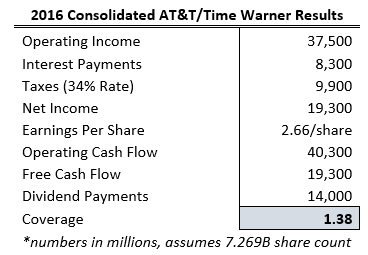 AT&T's dividend coverage (free cash flow / dividend obligation) under this worst case scenario results in coverage of 1.38x. This is worse than AT&T's current coverage of 1.44x through the first half of 2016. However, remember there are a wide variety of bearish assumptions predicated within the above model. We've gone with the worst case when it comes to dilution, and we also have not factored in any operational synergies, of which there are certainly to be a few. We'll get more details here later on when AT&T lays out its plan more deeply, but it won't take much to get back to breakeven ($500M pre-tax). In particular, look for less potential dilution (remember the acquisition collar), general corporate redundancy savings, and the refinancing of current Time Warner debt (higher weighted average interest rates).
Overall, I understand the concerns of AT&T shareholders regarding this deal. However, concerns around interest coverage, shareholder dilution, and the dividend are unwarranted at this stage - at least with what we know now. The numbers make sense, so investors are free to focus on the bigger picture. The combined company will bring together wireless phone and internet services with a vast empire of media programming and content. If the deal is approved, AT&T will have a more stable, diversified future in my opinion.
For deep dive research on asymmetric risk/reward plays in the Industrial and Basic Materials sectors (particularly small and mid-caps), consider investing alongside me and other subscribers within Industrial Insights. Get cutting-edge information with proven results.
This new offering doesn't mean I will be cutting down on quality or my allocated time towards my free offerings on Seeking Alpha. Follow me (by clicking the "Follow" button at the top of this article next to my name) to receive general stock market research and commentary, especially on under-followed small/mid-caps across a wide variety of sectors and industries.
Disclosure: I/we have no positions in any stocks mentioned, and no plans to initiate any positions within the next 72 hours.
I wrote this article myself, and it expresses my own opinions. I am not receiving compensation for it (other than from Seeking Alpha). I have no business relationship with any company whose stock is mentioned in this article.