The Canadian financial services industry is overwhelmingly concentrated in 5 companies that together have the vast majority of the market share. These companies are:
These companies also form a huge portion of Canada's overall stock market. All are ranked within the top 15 largest companies in Canada by market capitalization, according to Canadian Business, with the following numbers:
RY: $113 billion
TD: $103 billion
BNS: $75 billion
BMO: $52 billion
CIBC: $39 billion
Given their size and historical investment performance, there is an argument to be made that these companies should have a role in any investor's portfolio. The question remains: which bank(s) to buy?
This post is the first of a two-part series providing a comprehensive analysis of these five companies based on a wide array of fundamental, quantitative metrics. I will be looking at the last sixteen quarters of performance, which range from Q4 2012 to Q3 2016. This post covers the following metrics:
Revenue
Net Income
Adjusted Earnings Per Share
Return on Equity
Return on Assets
Revenue
Revenue is the total amount of money earned by these businesses before any deductions.
Because of the varying sizes of the banks (from a $39 billion market cap all the way up to a $113 billion market cap), one would suspect the nominal revenue figures of these banks are dramatically different in magnitude.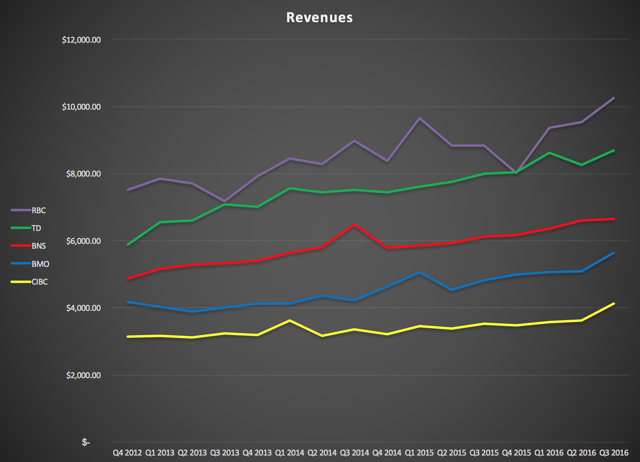 Click to enlarge
(Source: Publicly Available Financial Statements)
As we can see, this is indeed the case. As investors, what we should be more concerned about is revenue growth. Here is a presentation of the quarter-over-quarter revenue growth for these banks for each period: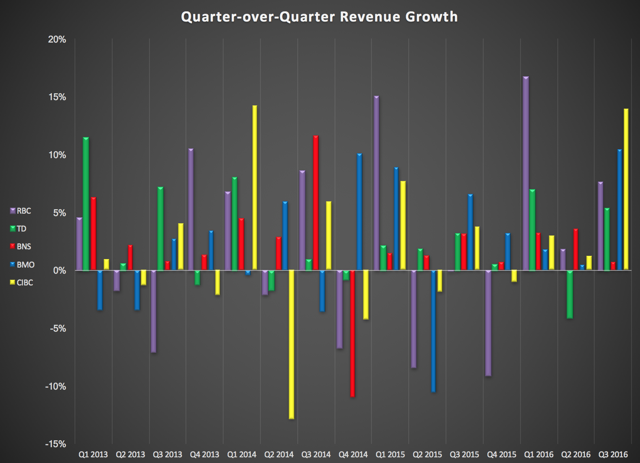 Click to enlarge
Source: Publicly Available Financial Statements
Along with the year-over-year growth in revenue presented for each quarter: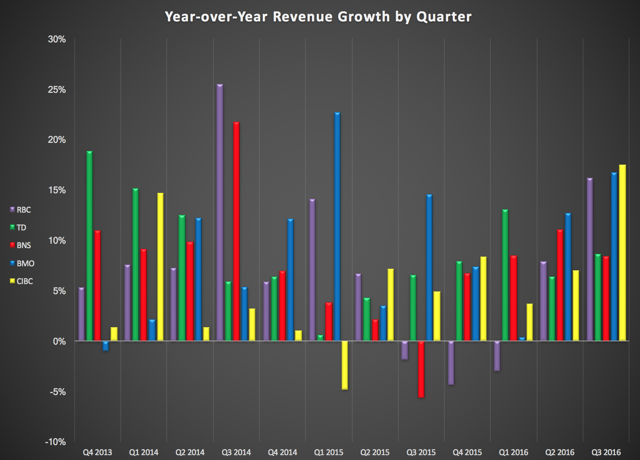 Click to enlarge
(Source: Publicly Available Financial Statements)
Admittedly, these bar graphs contain so many data points that they are a bit hard to analyze. I propose an alternative.
It is helpful to consider the "cumulative quarterly growth rate," (CQGR) which is calculated in the same was as CAGR, but with quarterly growth values. The CQGRs for revenues of the Big 5 banks over the period under examination are:
RBC: 2.09%
TD: 2.64%
BNS: 2.10%
BMO: 2.02%
CIBC: 1.86%
Results
The rankings for revenue growth, based mostly on the CQGRs shown above, are:
TD
RBC
BNS
BMO
CIBC
Net Income
Net Income is calculated by taking revenue and subtracting all deductions, including cost of goods sold (COGS), amortization, depreciation, and taxes.
Similar to revenue, net income varies significantly between banks because of their different sizes.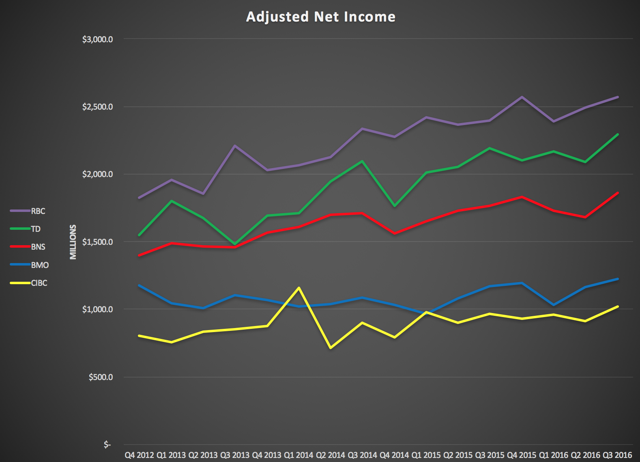 Click to enlarge
(Source: Publicly Available Financial Statements)
Thus, we need to consider growth in net income. Here is the growth in net income on a quarter-by-quarter basis: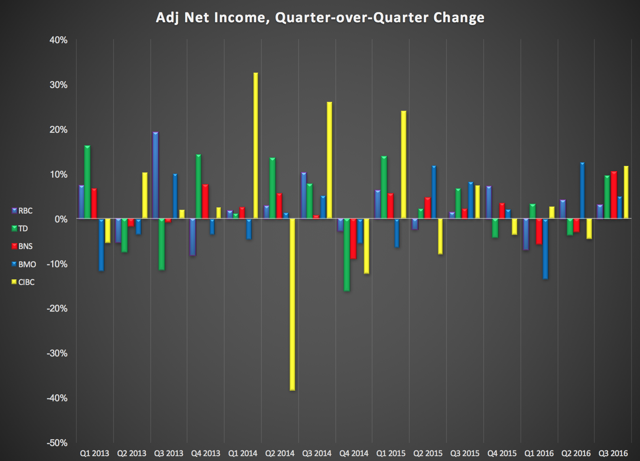 Click to enlarge
(Source: Publicly Available Financial Statements)
And similarly, the year-over-year change in net income by quarter: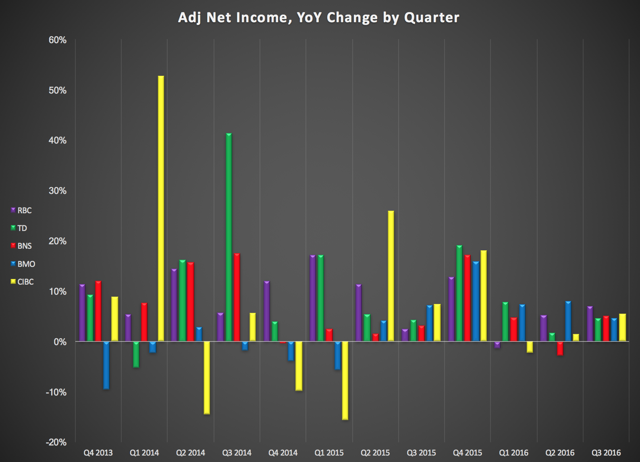 Click to enlarge
(Source: Publicly Available Financial Statements)
Just like when analyzing revenue, to simplify the ranking of these banks I will present CQGRs. For net income, the cumulative quarterly growth is:
RBC: 2.31%
TD: 2.64%
BNS: 1.92%
BMO: 0.25%
CIBC: 1.62%
A bad showing for BMO when it comes to CQGRs, but this is mostly because they had a really good quarter for the first data point in this sample (Q4 2012), hurting their performance for the rest of the time period.
Results
Again, this is mostly based on CQGRs.
TD
RBC
BNS
CIBC
BMO
Earnings Per Share
Earnings Per Share ("EPS") is calculated by dividing net income by the total amount of shares outstanding.
Nominal earnings per share will vary between these banks, but not only because of the difference in the size of their business operations (though that does play a part). Nominal EPS is effected by the share count of each of these companies, which in turn affects the price of each share. Notice that even though CIBC has the lowest market capitalization, it also has the highest stock price:
RBC $84
TD: $59
BNS: $71
BMO: $85
CIBC: $100
Note: Stock prices are rounded to the nearest dollar and accurate as on October 21, 2016.
With that in mind, here are the nominal adjusted earnings per share for each of these banks over the sample time period.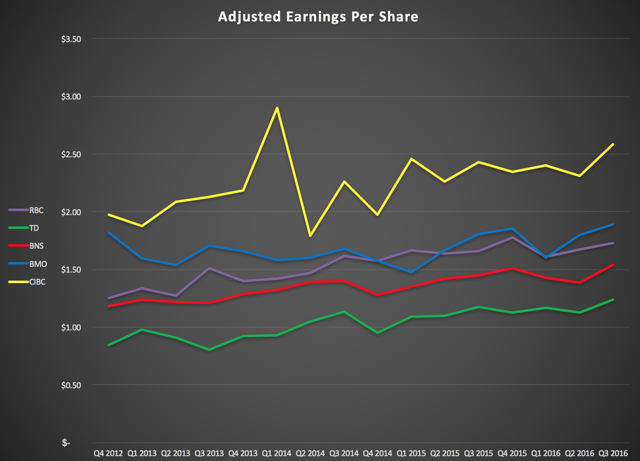 Click to enlarge
(Source: Publicly Available Financial Statements)
Again, we must consider growth. Here is the growth of the adjusted EPS of these banks on a quarter-over-quarter basis...: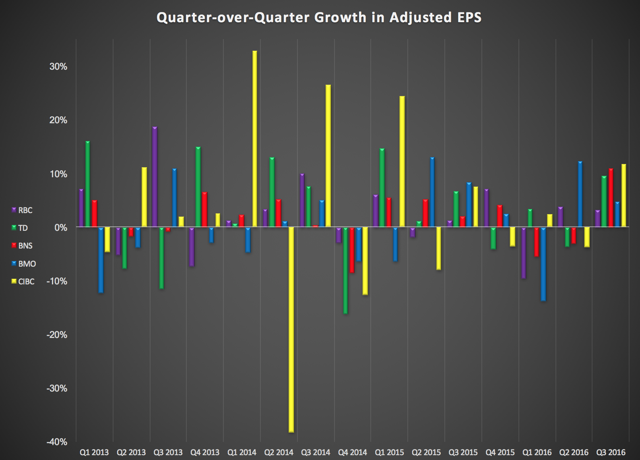 Click to enlarge
(Source: Publicly Available Financial Statements)
... and on a year-over-year basis by quarter: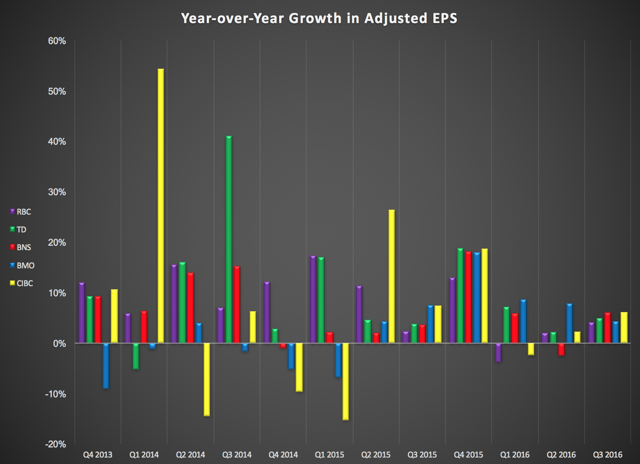 Click to enlarge
And just like for revenue and net income, here are CQGR numbers for adjusted earnings per share of these banks.
RBC: 2.19%
TD: 2.57%
BNS: 1.79%
BMO: 0.26%
CIBC: 1.81%
Results
Just like for both revenue and adjusted net income, this result is mostly based on the CQGRs.
TD
RBC
CIBC
BNS
BMO
Return on Equity
Return on Equity is a profitability metric used to determine how efficiently a company uses its shareholders' equity to generate net income.
Shareholders' equity is a common metric used to calculate the "net worth" of a company - i.e., how much would be paid out to shareholders in the event that all assets were sold and all debts were paid off. As such, comparing the nominal shareholders' equity of the banks gives a sense of the size differential of these companies.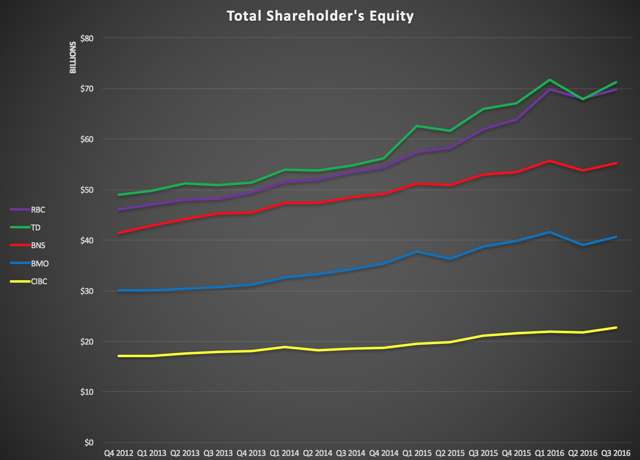 Click to enlarge
(Source: Publicly Available Financial Statements)
Note: One thing I find interesting is TD's larger shareholders' equity compared to RBC, though RBC has a bigger market capitalization and asset base.
To calculate return on equity, divide net income found on the income statement by total shareholders' equity found on the balance sheet. That calculation gives the following results: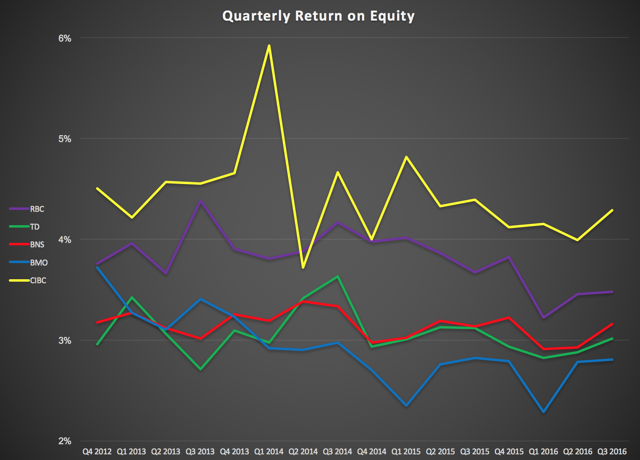 Click to enlarge
(Source: Publicly Available Financial Statements)
CIBC has the clear lead, with RBC a second, BNS and TD very close at third and fourth respectively, and BMO trailing.
Results
CIBC
RBC
BNS
TD
BMO
Return on Assets
Return on Assets ("ROA") is a good indicator of how profitable a business is relative to its asset base.
Since banks are highly leveraged by nature, they have massive asset bases, greater than $1 trillion for the two largest ones. Taking a look at the assets on the banks' balance sheets is yet another testament to the variance in these companies' sizes.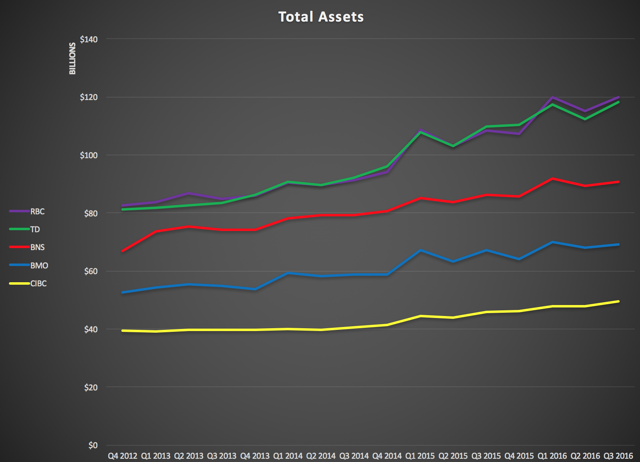 Click to enlarge
Now, which company is most capable of translating these assets into earnings?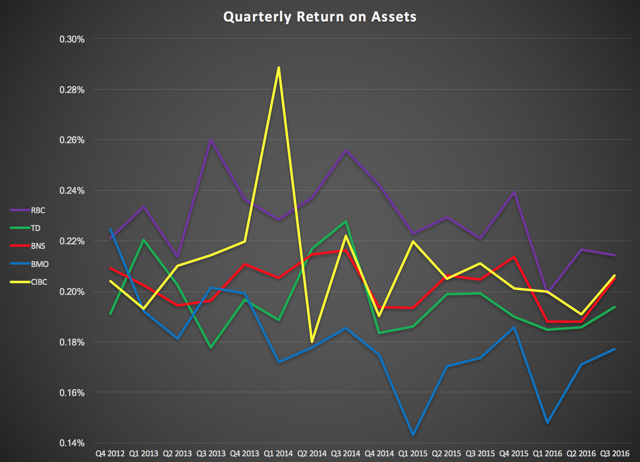 Click to enlarge
(Source: Publicly Available Financial Statements)
Other than one outstanding quarter by CIBC, RBC seems to have an edge on profitability based on assets, with BMO lagging behind and BNS, CIBC, and TD rounding out the middle.
Results
RBC
CIBC
BNS
TD
BMO
The Bottom Line
Here's how each of the banks are ranked for the metrics covered in this analysis:

Click to enlarge
As you can see, TD and RBC are the clear leaders here. RBC holds a first or second ranking in each of the categories, while TD holds a #1 position in all the metrics that I deem to be the most important (revenue, net income, and adjusted EPS). That's why TD is my #1 pick among these banks.
Stay tuned for another post in the coming week, where I cover debt metrics, dilution metrics, and dividend metrics (three critical considerations for any bank investor). I would love to have feedback from readers with regard to what to include in my next analysis, so add your input in the comments section!
Disclosure: I am/we are long TD, RBC, BNS.
Business relationship disclosure: I currently work for one of the Big 5 Banks in an entry-level position on a part-time basis while the majority of my time is spent on other endeavors. This post was intentionally written without the use of information learned while working, and the analysis is written using only properly-referenced information that is available to the public. I want to emphasize that this analysis is made using publicly-available information. All my claims are backed by evidence found in investor presentations and financial statements. Please reach out to me via email if you have any questions.