Earlier this year, I wrote an article comparing the differences between residential mortgages and commercial mortgages. As I explained, "a typical residential mortgage is 30 years, fully amortizing, 10-20% down payment, and freely pre-payable. A typical commercial mortgage is 10 years, 30-year amortization schedule with a balloon payment at maturity, 25 - 45% down payment, and not pre-payable."
As I explained, "investors in residential mortgages (such as investors who buy public residential mREIT stocks) take on substantial interest rate risk and repayment risk."
Conversely, "commercial mortgages have much less interest rate risk. The key risk is typically credit risk, so the competence of the underwriting team is very important."
As the table below illustrates, the availability of multiple types of mortgage REITs allows an investor to essentially choose what type of risk he or she is taking and to tailor investments to the market outlook.

The commercial mREIT sector can be further broken down into two categories: pure balance sheet lender and balance sheet/conduit lender.
A pure balance sheet lender originates or purchases loans for their own balance sheet and holds these loans on their balance sheet (although they may sell participation units in the loans to diversify some of the risks). Blackstone Mortgage Trust (NYSE: BXMT) and Apollo Commercial Real Estate Finance (NYSE: ARI) are examples.
A balance sheet/conduit lender originates and/or purchases loans for its own account (balance sheet) or to be sold into a securitized vehicle such as CMBS (conduit). Ares Commercial Real Estate (NYSE: ACRE), Ladder Capital (NYSE: LADR) and Starwood Property Trust (NYSE: STWD) are examples.
There are differences between these two types as well and risk can be further diversified. Balance sheet lenders originate loans with the intent of holding them on their books. Balance sheet/conduit lenders originate loans for both their own books and to sell into securitized markets such as CMBS.
The risk with balance sheet lenders is relatively straightforward - the risk that the loans don't perform as expected. Balance sheet/conduit lenders have the risk of non-performance as well as the risk that the conduit market experiences a disruption and cannot take as many loans as expected.
The bottom line is that investors in mortgage REITs have multiple options and risk profiles from which to choose. How an investor views the world and the market can be accommodated by the type of mortgage REIT they choose.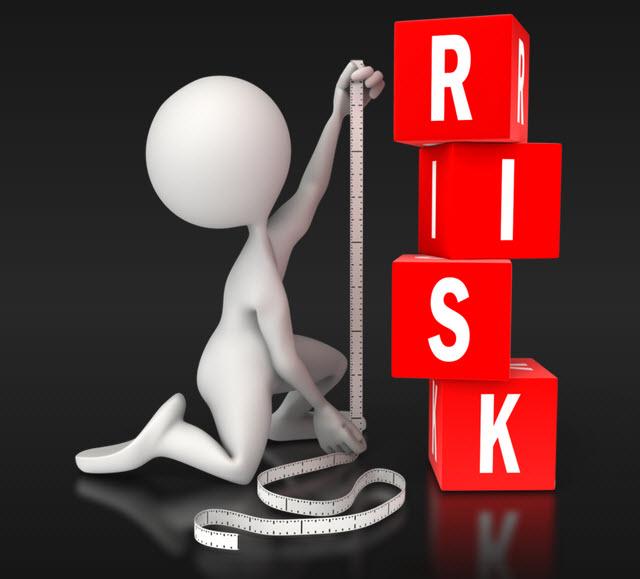 Invest In This Balance Sheet Lender That Yields 11.3%
ARI primarily originates, invests in, acquires, and manages performing commercial first mortgage loans, subordinate financings, commercial mortgage-backed securities, and other commercial real estate-related debt investments.
The REIT is externally managed and advised by ACREFI Management, LLC, an indirect subsidiary of Apollo Global Management, LLC, a leading global alternative investment manager with a contrarian and value-oriented investment approach in private equity, credit-oriented capital markets, and real estate. Apollo had total assets under management of $173 billion as of May 2016.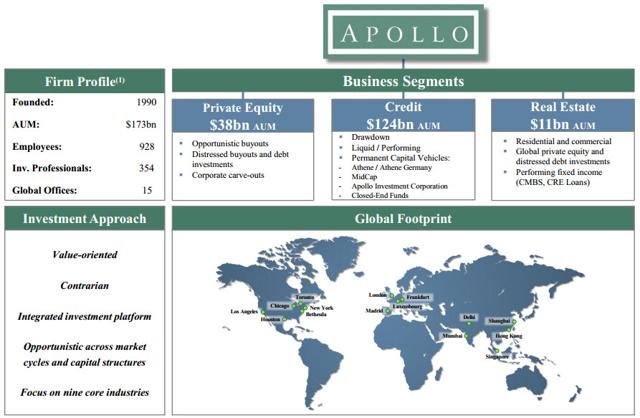 Click to enlarge
ARI offers financing across a broad spectrum of commercial property types and geographies, and at all points within a property's capital structure. As of May 2016, its equity cap was $1.4 billion. Here's a snapshot of ARI's Total Enterprise Value compared with that of the peer group:

Click to enlarge
Similar to Blackstone Mortgage (NYSE: BXMT) and Starwood Property, ARI also benefits from its close "big brother" ties with the larger Apollo investment manager. Since the company went public in 2009, the portfolio has raised over $1.1 billion of capital ($2.7 billion deployed in 2015).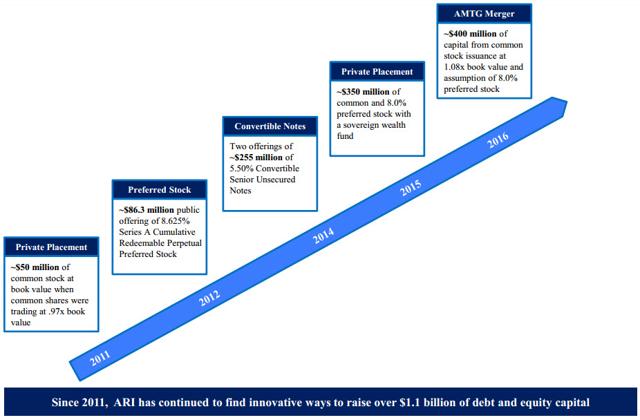 Click to enlarge
On September 1st, ARI completed the acquisition of Apollo Residential Mortgage, Inc. Under the terms of the merger, Arrow Merger Sub Inc. was merged with and into Apollo Residential, with the latter continuing as the surviving entity and a subsidiary of Apollo Commercial Real Estate.
Each Apollo Residential common share issued and outstanding immediately prior to that merger was converted into the right to receive $6.86 in cash, without interest, and 0.417571 Apollo Commercial Real Estate common shares.
After the first merger, Apollo Residential merged with and into Apollo Commercial Real Estate, with Apollo Commercial Real Estate continuing as the surviving entity. Each outstanding share of Apollo Residential's 8.00% series A cumulative redeemable perpetual preferred stock automatically converted into the right to receive one newly issued share of 8.00% series C cumulative redeemable perpetual preferred stock of Apollo Commercial Real Estate.
Under an asset purchase and sale agreement, Apollo Commercial Real Estate sold primarily non-agency residential mortgage-backed securities previously held by Apollo Residential to Athene Annuity & Life Assurance Co. for about $1.1 billion. Proceeds from the sale were used to repay approximately $804.0 million in associated financing, $175.0 million to satisfy the Athene USA loan agreement and for general corporate purposes.

Click to enlarge
ARI has a more complex and even riskier investment model that consists of subordinate loans (35%), first mortgage loans (47%), and CMBS loans (18%). As of June 30th, ARI's portfolio consisted of $2.729 billion of investments (amortized cost) with a weighted average IRR of 13.2%.

Click to enlarge
Starwood Property Trust (NYSE:STWD) is a closer peer to ARI. Although larger in size (STWD's market cap is $5 billion), STWD invests in first mortgage loans (56%), subordinate/mezz loans (29%), preferred equity (5%), and other loans (10%).
Remember that first mortgage loans are senior to all debt transactions, so ARI has the riskiest mix of investments (as compared to these three). Here's a snapshot of ARI's portfolio, based on Gross Assets: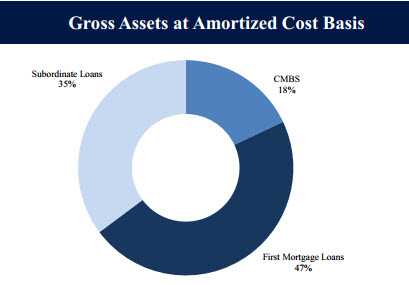 As noted, ARI is a commercial mortgage REIT, and the economic backdrop is supported by strong real estate fundamentals. Fueled by job growth and positive consumer sentiment, real estate operating fundamentals have continued to improve. Supply has been limited in most markets and asset classes; pipelines are still subdued. As you can see below, ARI has most of its investments in the US (17% International):

Click to enlarge
ARI's direct origination platform offers first mortgage and subordination loans across a broad spectrum of property types.

Click to enlarge
During the latest quarter, ARI closed on two first mortgage loans totaling $95 million and funded an additional $64 million for previously closed transactions bringing year-to-date capital commitments and deployment to just over $500 million.
On the financing front, ARI increased the borrowing capacity on its main credit facility with JP Morgan from $600 million to $800 million, which enables the company to fund incremental investment activity.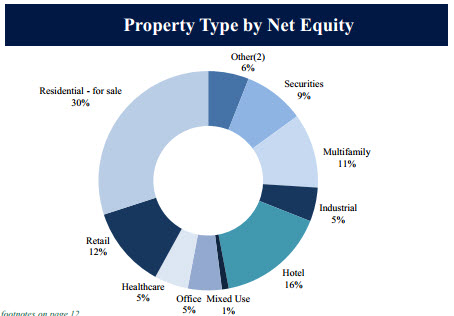 ARI's portfolio remains diversified, both geographically and across property sectors. Notably, for the second quarter in a row, ARI's asset mix has shifted to reflect an increase in floating rate first mortgage loans.
Note that ARI recorded a $15 million provision for loan loss against a $55 million first mortgage loan on a multifamily property located in Williston, North Dakota. As Stuart Rothstein (CEO of ARI) remarked on the recent earnings call,
Just to be clear at this time the loan is not in default and as such our earnings continue to reflect scheduled interest from the loan. That being said, the market has certainly changed from when we made the loan and we thought it was appropriate at this time to be conservative and take a loan loss reserve against the asset.
The collateral for ARI's loan consists of 330 multifamily units, 36 single-family home rentals and an additional land consisting of both finished and unfinished lots. Rothstein adds,
Based on my recent trip to Williston as well as ongoing dialog by myself and other members of our team with a variety of contacts that are close to the market it appears that the economy in Williston has certainly started to recover from the lows experienced during the first few months of this year.
I'll be taking a closer look at Investors Real Estate (NASDAQ:IRET) in a few days. See my latest article HERE. This REIT has substantial exposure in North Dakota and we need to take a really close look at the assets in the market.
The Latest Earnings
In Q2-16, ARI's operating earnings were $33.2 million or $0.49 per share. Excluding one-time expenses of approximately $1.3 million associated with the merger, operating earnings were $34.7 million or $0.51 per share. This is a per share increase of 13% as compared to operating earnings of $26.4 million or $0.45 per share for the June 2015 quarter.
GAAP net income for the same period was $4.5 million in 2016 or $0.06 per share as compared to $22.8 million or $0.39 per share in 2015. GAAP book value at June 30, 2016 declined 2.4% from last quarter to $15.51 a share. This decline was driven by an unrealized loss on the CMBS portfolio and loan loss provisions (referenced above) of $0.22 per share on the North Dakota loan.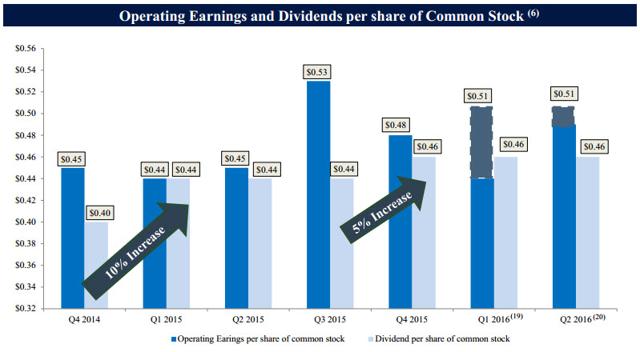 Click to enlarge
Maintaining a Slice in the Durable Income Portfolio
We maintain a fraction of commercial mortgage REIT shares in our Durable Income Portfolio. ARI represents 2% within the portfolio. We are primarily interested in ARI's above-average yield that provides us with outsized dividend income. Here's how ARI's yield compares with the peer group: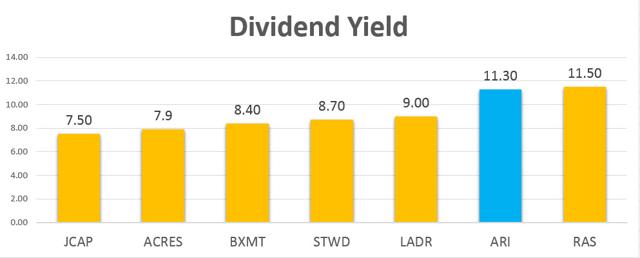 Click to enlarge
Given the strength of ARI's results to-date and the company's previously stated goals of maintaining a consistent quarterly dividend that is covered by operating earnings, we are maintaining our BUY recommendation.
As illustrated below, ARI has maintained a consistent record of earnings and dividend growth. Consensus expectations for 2017 appear sound: EPS of $2.01 and dividends per share of $1.84.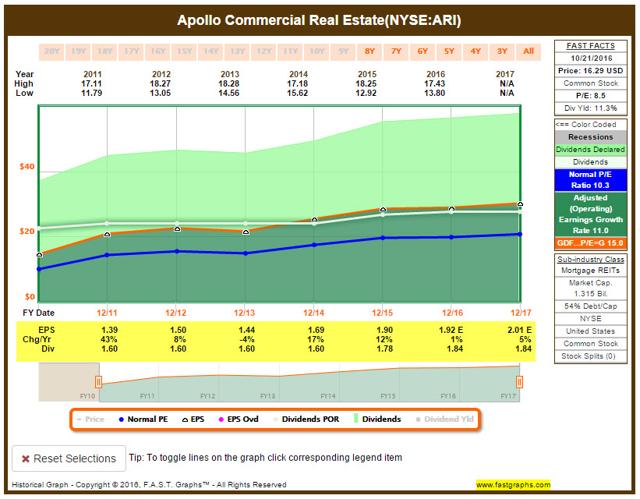 Click to enlarge
In closing, we believe ARI is well positioned for rising interest rates. 85% of the loans in the portfolio have a floating rate (based on face amount). A 50 bps point increase in LIBOR would result in approximately $.07 per diluted share of common stock increase in Operating Earnings annually. The attractive dividend yield of 11.3% provides some spice to our Durable Income Portfolio (94% dividend payout ratio in 2015) and while this is no "sleep well at night" REIT, we maintain a modest position in this balance sheet lender.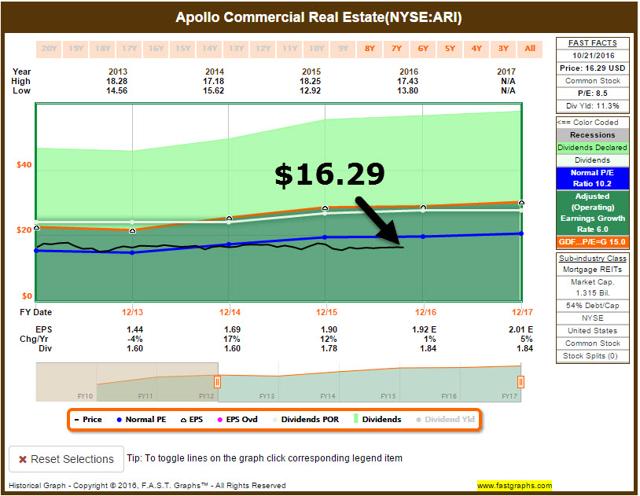 Click to enlarge
Source: S&P Global Market Intelligence, FAST Graphs, and ARI Filings.
ARI Q3 Earnings Date: October 26, 2016.
Author Note: Brad Thomas is a Wall Street writer and that means that he is not always right with his predictions or recommendations. That also applies to his grammar. Please excuse any typos and be assured that he will do his best to correct any errors if they are overlooked.
Finally, this article is free, and the sole purpose for writing it is to assist with research while also providing a forum for second-level thinking. If you have not followed him, please take five seconds and click his name above (top of the page).
Other REITs mentioned: (NYSE:JCAP), (NYSE:LADR), (NYSE:RAS), and (NYSE:ACRE).
Disclaimer: This article is intended to provide information to interested parties. As I have no knowledge of individual investor circumstances, goals, and/or portfolio concentration or diversification, readers are expected to complete their own due diligence before purchasing any stocks mentioned or recommended.
Disclosure: I am/we are long O, DLR, VTR, HTA , STAG, GPT, ROIC, HCN, OHI, LXP, KIM, WPC, DOC, EXR, MYCC, TCO, SKT, UBA, STWD, CONE, BRX, CLDT, HST, APTS, FPI, NHI, CCP, CTRE, WPG, KRG, SNR, LADR, PEB, BXMT, IRM, CIO, LTC, DEA, NSA, HASI, ARI.
I wrote this article myself, and it expresses my own opinions. I am not receiving compensation for it (other than from Seeking Alpha). I have no business relationship with any company whose stock is mentioned in this article.