Shares of Skechers (NYSE:SKX) continued their year-long tumble on Friday, 10/23, as Q3 earnings disappointed and the stock subsequently sold off more than 17%. We think the stock offers investors a compelling risk-reward profile at these levels, and think a good quarter will send shares significantly higher.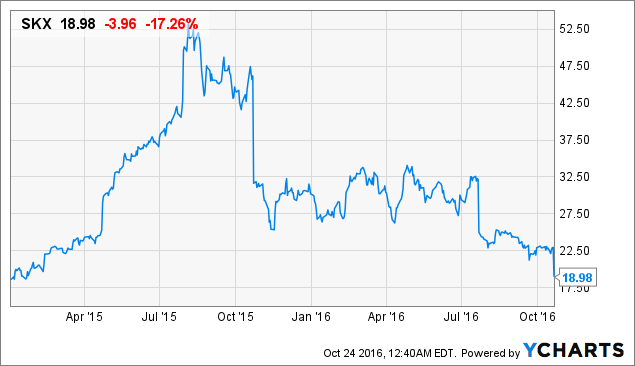 SKX data by YCharts
The biggest fear here is the slowdown of SKX's domestic business. The domestic wholesale business was growing at a low double-digit clip last year, but has reversed and is actually shrinking in the low single-digit range this year. Although international growth remains strong, investors are concerned that domestic wholesale saturation at a $1.2 billion annual sales run-rate implies that the company's global addressable market may be smaller than initially expected. In some sense, a domestic slowdown is being interpreted by the market as a warning sign that SKX will never come close to being the size of Nike (NYSE:NKE) or matching the growth of Under Armour (NYSE:UA) over an extended period of time.
That is largely true. NKE and UA are fundamentally different companies. They sell high ASP shoes that are known as much for their style as they are for the high profile names that sponsor them (think Steph Curry for UA or Kobe Bryant for NKE). Largely as a result of these high profile athlete endorsements, NKE and UA carry a brand power throughout all of athletic performance apparel that SKX noticeably lacks.
SKX, though, addresses an entirely different market that UA and NKE largely ignore. In some sense, SKX is the "clearance rack" version of UA and NKE. SKX offers lower priced shoe that are more known for their comfort than their style, and that emphasis on quality for a low price seems to attract the 12-18 and 50+ year-old demographic. That market is much smaller than NKE and UA's hardcore 18-50 year-old core demographic, but we think SKX's domestic wholesale business is extremely safe at $1 billion-plus per year in sales because of this demographic moat. Strong international growth implies this demographic moat is a global phenomena, so we see lots of upside to the international growth story.
The investment thesis here is that the stock is materially undervalued and that the company doesn't need meteoric sales growth to spark meteoric stock growth. On its face, SKX's 9.2x forward earnings multiple looks cheap, but investors should remember that the company has a huge and growing cash pile on its balance sheet to the tune of $590.8 million in net cash. That means the company is sitting on roughly $3.80 per share in net cash, putting the stock's enterprise value per share just above $15. The ex-cash forward P/E multiple, then, is a mere 7.4x.
That multiple is out of sync with the company's growth. Sales rose 10% last quarter to a set a Q3 sales record and are up 15% so far this year. Growth is slowing, but the comp is also difficult (2015 sales were up more than 30%), so sales growth should resume in a steady low-to-mid single digit CAGR next year behind continued international expansion and retail rollout. The gross profit rate is improving, and flattish operating margins YoY are a result of higher G&A spend to support long-term global growth. As the international business scales, margins should benefit from significant SG&A leverage and we see long-term operating margins somewhere around 13% (just below NKE's operating margins). Currency headwinds are weighing on earnings, and while outlook there remains bleak, earnings should improve dramatically with margin expansion and revenue scale. The company is also a cash growth machine (cash and equivalents grew 30% YoY last quarter to $665.3 million) with very little debt (total debt of $74.5 million), giving investors significant valuation protection through the balance sheet (1.8x P/B on a book value that is up 22% since December 2015).
We have modified our full financial model to account for slower-than-expected domestic growth. We have included that model below.

Click to enlarge
We see 2017 earnings at $2 per share, and believe EPS can grow at an 11.7% CAGR over the next 5 years. Given the company's strong balance sheet, sustainable business model, and international growth prospects, we think this stock should trade around a forward ex-cash PEG of 1. That puts our projected enterprise value at 11.7x our FY17 EPS of $2, or $23.40. Adding back in $3.80 in net cash, we think this stock has upside to right around $27. It will take a good quarter to get the stock back there, but SKX's Q4 guide looks very beatable so we think we could get that good ER in just a few months. The valuation is now so depressed that the stock could trade more than 20% higher on a good quarter, while the downside feels greatly limited given the near $4 per share (and growing) in net cash on the balance sheet.
Disclosure: I/we have no positions in any stocks mentioned, but may initiate a long position in SKX, NKE over the next 72 hours.
I wrote this article myself, and it expresses my own opinions. I am not receiving compensation for it (other than from Seeking Alpha). I have no business relationship with any company whose stock is mentioned in this article.