Click to enlarge
Caterpillar (NYSE:CAT) reports Q3 earnings Tuesday morning. Analysts expect revenue of $9.84 billion and EPS of $0.77. The revenue estimate implies a 5% decline sequentially. Investors should focus on the following key items:
Energy & Transportation Could Be A Mixed Bag
Caterpillar's bet on the energy segment paid off when oil prices were above $100. Since the oil price rout began in Q2 2014, Energy & Transportation has been one of the company's worst-performing segment. The problem is that at 36% of total revenue, the segment is Caterpillar's largest.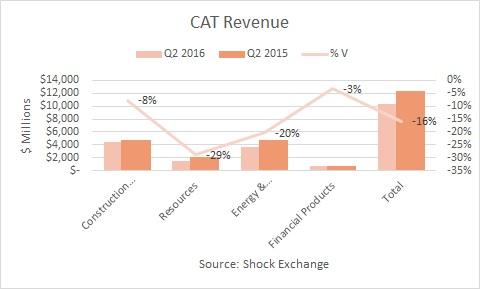 Q2 revenue fell 16% Y/Y. Energy & Transportation (down 20%) was the second-worst performer behind Resources, which fell 29%.
The North American rig count was up during the quarter and Halliburton (NYSE:HAL) previously reported a 9% sequential increase in North America revenues. Increased land drilling could help Caterpillar. However, the company also has a sizeable exposure to the offshore segment, which is expected to be the last sector of the oil services space to rebound.
Meanwhile, for the first 40 weeks of 2016, total carloads for the railcar industry in the U.S. and Canada were down Y/Y by 6.9% and 5.7%, respectively. Railroads will likely continue to cut back on transportation equipment orders when their own businesses are in decline. This could further hurt Caterpillar.
The Global Economy Is In Decline
After the decline of quantitative easing ("QE") in Q2 2014, prices for oil and other commodities diverged to the downside. Monetary stimulus from central bankers around the globe appears to have run its course. Q2 GDP in the U.S. grew by an anemic 1.1%. While consumer spending was up, business fixed investment fell 0.28% and inventories also fell 1.16%. Big oil has cut capex in order to shore up its balance sheet. Experts suggest overall industry capex might not rebound until the second half of 2017. As I mentioned earlier, the transportation industry has cut capex and other costs in response to declining rail traffic.
China's GDP was up 6.7% for the third consecutive quarter. However, after September, exports fell 10% and imports shrank more than expected, it put a damper on the country's recovery hopes. China is the world's biggest buyer of commodities, so a slowing China does not bode well for mining equipment demand or for Caterpillar. Central bankers are at their wit's end to find ways to spur the economy. Sans fiscal policy, Caterpillar's business prospects will likely be dismal for the foreseeable future.
Conclusion
Continue to avoid CAT.
Disclosure: I am/we are short HAL.
I wrote this article myself, and it expresses my own opinions. I am not receiving compensation for it. I have no business relationship with any company whose stock is mentioned in this article.