Click to enlarge
Quick Take
Biotricity (OTCQB:BTCY) has registered up to 22.9 million shares of its common stock for sale by existing shareholders, with a one year lock-up period.
The company has a novel revenue model that incentivizes physicians to utilize its monitoring device and software, which effectively operates as a "Monitoring as a Service" provider.
BTCY expects to receive final hardware 510(k) clearance from the FDA by year-end for its flagship bioflux device and is ready to launch into the market immediately thereafter, focusing its direct sales team on the four initial markets of New York, Miami, Houston and Southern California.
The monitoring market is large and growing, aided by prevention and patient outcome incentives in the Affordable Care Act.
BTCY currently enjoys a $75 million market cap with no history of sales, so when bioflux hits the market, the company will have some serious lifting to justify that valuation.
Assuming FDA clearance of the bioflux device hardware and receipt of expected upcoming financing for launch into the initial four markets, I'm positive on BTCY's prospects and recommend keeping the stock high on your long watchlist.
---
Company
Redwood City, California-based Biotricity is a medical device manufacturer that provides physicians and consumers with cardiovascular monitoring devices and data output, known in the industry as the diagnostic mobile cardiac telemetry market or MCT.
In February 2016, the predecessor company, iMedical Innovation, completed a reverse merger with Metasolutions and subsequently changed its trade name to Biotricity.
At the close of the iMedical transaction, the management of iMedical became the current management of Biotricity and the stockholders of iMedical became 90% holders of Biotricity's common stock.
I spoke recently with company CEO is Waqaas Al-Siddiq about the company's current operations, go to market approach, business model, and near future plans.
Technology
Biotricity is developing two monitoring devices that target patients with chronic medical conditions:
The bioflux ECG prescription monitoring unit which performs MCT diagnostic monitoring for up to 30 consecutive days and transmits the data via a built-in cellular radio in real-time.
The biolife is a device that monitors "respiration, calories, temperature, physical activity and other key assessments that will enable a wholesome view of the individual's health." The company is partnering with third party clinical service providers to review data and provide users with progress reports.
Below is a brief Nasdaq video interview of CEO Waqaas Al-Siddiq:
(Source: Nasdaq Small Cap Nation)
Biotricity submitted its bioflux software product for FDA 510(k) marketing clearance in June 2016 and received approval on October 14, 2016.
The company is preparing to submit the complementary hardware device for 510(k) approval 'very shortly' and expects marketing clearance from the FDA by year end.
Biotricity is also planning to sell its bioflux device service internationally in those countries that follow the same healthcare industry practices as the U.S., such as the Gulf countries, certain EU countries and others such as Singapore.
The company expects that its devices will be Class II medical devices and thus subject to more stringent FDA standards than the more consumer-oriented Class I devices which tend to have a less compelling value proposition in a clinical environment.
In my conversation with CEO Al-Siddiqi, he noted,
Cardiac monitoring is only an entry point for Biotricity. What we've really created is a horizontal monitoring platform that can monitor many types of chronic diseases: cardiac, COPD, diabetes, sleep apnea...really any disease that can benefit from real-time monitoring to reduce overall patient costs and improve outcomes.
Also of note is the company's development of a second device, the biolife. This device will operate as a long-term, real-time clinical grade monitoring unit and will take advantage of favorable recurring reimbursement rates and policies as enacted by the Affordable Care Act.
Market
A 2015 report from MarketsandMarkets forecasts the cardiac monitoring and rhythm management markets to grow to $26.6 billion by 2020, representing a CAGR of 4.7% from 2015 to 2020.
However, more specific to Biotricity's immediate market opportunity is a 2013 report from IHS on the World Market for Diagnostic Cardiology Devices and Remote Cardiac Monitoring Services, which said the U.S. market for MCT devices and services is expected to reach $867 million in 2016, up 27% from $686 million in 2011.
So, the U.S. market size for the specific use case area for Biotricity's lead product will likely reach $1 billion in the next year or so, and is growing.
In addition, growth is being fueled by Medicare reimbursements which incentivize monitoring services to reduce the high cost of emergency cardiac care.
On the other hand, Medicare is steadily exerting downward pricing pressure on per use reimbursements, so that is an important factor that will otherwise depress revenue growth.
Internationally, my estimation is that various relevant market sizes could total $1 billion as well, assuming it is some portion of the EU, the Gulf countries, and certain Asian countries as well.
Obviously, the company will need to execute first in the U.S. and take its learnings abroad to successfully expand its revenue potential further.
Competition
Biotricity has 5 direct competitors in the real-time MCT space:
What characterizes Biotricity's unique market approach is that the company gets paid on a per utilization basis, in effect a 'Monitoring as a Service' revenue model. It forecasts breaking even after only the first utilization for each issued device.
By contrast, competitors outsource their products to independent diagnostic testing facilities, reducing or eliminating physicians' ability to be reimbursed for MCT diagnostics, thereby depressing market demand.
Of course, there are existing, indirect competitors in the legacy monitoring systems, the Holter and events loop systems, but those devices have much lower reimbursement rates and require the doctor to wait until the end of the study period before receiving data, so cannot be used effectively for higher risk patients.
Financials
Biotricity's recent financials can be best summarized as:
Pre-revenue
Cash burn of $200,000 per month
Existing investors providing favorable convertible notes for bridge to launch
Below are the company's operational results for the past 2 calendar years (Audited GAAP):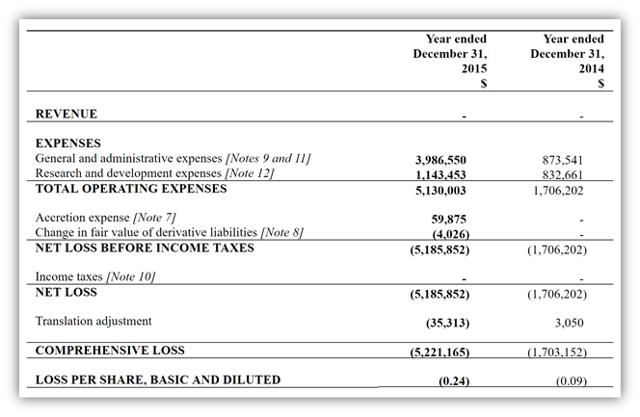 Click to enlarge
(Source: Biotricity S-1)
Revenue
H1 2016: $0
2015: $0
2014: $0
Gross Margin
H1 2016: N/A
2015: N/A
2014: N/A
Cash Flow from Operations
H1 2016: $1.1 million cash used
2015: $2 million cash used
2014: $1.4 million cash used
In my recent interview of CEO Al-Siddiq, the company's current and near-term prospects can be summarized as:
The company's current cash burn rate is $200,000/month

Biotricity expects to be generating revenues by H1 2017

Its business model is a 'solution as a service' at no cost to the physician; BTCY essentially gets a "lease" for each use, and is at breakeven after the first prescription per physician.
As of June 30, 2016, the company had $110,000 total assets and total current liabilities of $1.78 million including derivative liabilities of $561,220.
However, the bulk of the promissory note liabilities are $1.55 million secured notes with 24-month terms at 10% & 11%, issued by existing investors at favorable terms to the company such as no call options, forced conversion at company's discretion and no downside protection.
Offering Details
Per the S-1, the purpose of the current selling shareholder offering is to:
Register for resale substantially all of the approximately 22.5 million shares of common stock issued or issuable to the shareholders, in addition to an additional approximately 400,000 shares of underlying warrants that we have outstanding.

Although the 22.5 million shares are subject to a lockup agreement for a period of no more than one year from the effective date of the registration statement, a large number of shares of our common stock would become available for sale in the public market, which could harm the market price of the stock.
An additional 750,000 shares issued to iMedical stockholders are held in escrow pending Biotricity's successful completion of raising at least $6 million by November 2, 2016.
Approximately $1.55 million of this amount has already been raised and, according to CEO Al-Siddiq, the company is in process of raising the required financing which will be used to launch its flagship bioflux product into the market.
So, some or all of these shares may come on to the market in 12 months time from the effective data of the registration statement and/or release of escrow and its related registration effective date.
By that date, the company will have had presumably six to nine months of revenue stage operational results after the initial launch into the market for its flagship bioflux service.
Commentary
Biotricity is a promising chronic disease monitoring company with multiple chronic disease applications and an intriguing revenue model.
By focusing its efforts on higher reimbursement services and going to market in a way that benefits physicians, the company is well positioned to make significant inroads in the mobile cardiac telemetry market, both in the U.S. and internationally.
Assuming marketplace adoption, the revenue model will provide a recurring stream that presumably will be more predictable and ultimately more valuable to the company over time.
To that end, BTCY is gearing up for an expected Q1 2017 direct sales launch in four markets: Houston, Miami, New York and Southern California.
They're taking a page from how pharmaceutical companies launch a new product into the market, by focusing their direct sales efforts on a few high-value markets first.
As the U.S. medical delivery system shifts toward prevention, monitoring companies like Biotricity have the wind at their back.
Execution in the marketplace will be key. As CEO Al-Siddiq has stated, physicians need to be convinced that the device is accurate and the data is actionable.
Combining that conviction with an approach that partners with physicians in a win-win relationship promises to bring value to BTCY and its shareholders.
Although the company still has to jump over the hurdle of its expected 510(k) FDA marketing clearance, and assuming they successfully raise funds to power their launch into the market, I'm bullish on its prospects.
Author's note: I write about technology companies, IPOs and M&A. If you want to receive future articles automatically, click the +Follow link next to my name at the top of this article.
Disclosure: I/we have no positions in any stocks mentioned, and no plans to initiate any positions within the next 72 hours.
I wrote this article myself, and it expresses my own opinions. I am not receiving compensation for it (other than from Seeking Alpha). I have no business relationship with any company whose stock is mentioned in this article.
Editor's Note: This article covers one or more stocks trading at less than $1 per share and/or with less than a $100 million market cap. Please be aware of the risks associated with these stocks.