We look at a couple of companies whose shares have rallied deep into overbought territory to see whether there are shorting opportunities, at least temporary. Last week, we looked at Big 5 Sporting Goods (NASDAQ:BGFV), this week it's Cosan Limited (NYSE:CZZ).
Cosan Limited is a Brazilian holding company which:
together with its subsidiaries, engages in piped natural gas, Logistics service, agricultural land, lubricant, sugar and ethanol, and fuel businesses primarily in Brazil and internationally. The company's Raizen Energia segment produces and markets various products derived from sugar cane, including raw sugar, and anhydrous and hydrated ethanol. This segment is also involved in activities related to energy cogeneration from sugarcane bagasse; and holds interests in companies involved in research and development on new technology.
Much of it is a play on sugar and ethanol (widely used as a fuel for cars in Brazil), but smaller parts are in fuel retail distribution, gas distribution, and railway operator.
The shares are surely overbought: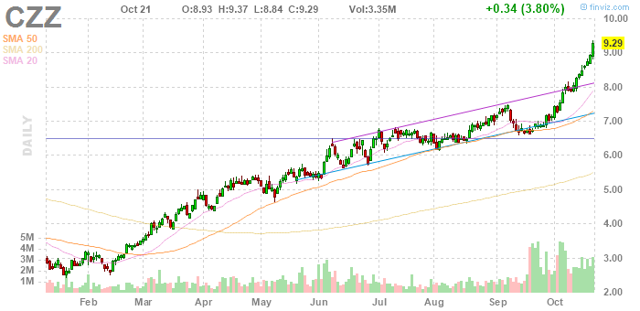 That's a mighty rally, which took a breather last month but then powered ahead still further. The stock more than tripled this year. Much of this is a reflection of the trajectory of the Brazilian economy though, as the longer-term chart shows: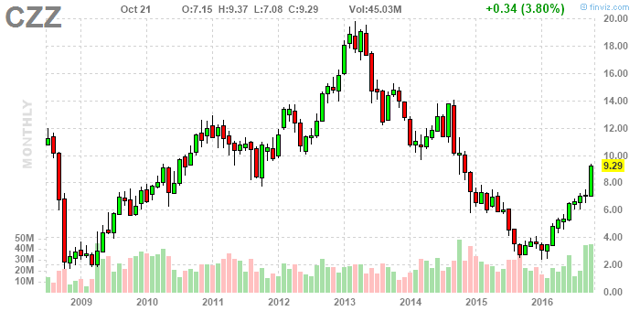 The Brazilian economy is probably bottoming, some even argue it's recovering. But it's still far from booming like in the years up to 2013. Here is CNN:
About 12 million Brazilians are now out of work, up from 8.8 million a year ago, recent government figures show. On Tuesday, officials announced that Brazil's industrial production declined so much in August, it wiped out the gains from the past five months. The International Monetary Fund gave a rough assessment of Brazil as well on Tuesday.

"Confidence appears to have bottomed out in Brazil," IMF economists wrote in their World Economic Outlook. "Policy credibility has been severely dented by events leading up to the regime change." Brazil is mired in its longest recession since the 1930s and the IMF estimates meager growth next year. Latin America's largest economy shrank 3.8% last year and the IMF now forecasts it will fall another 3.3% this year.
The stock market index (the Bovespa index) has risen to a three-year high on recovery hopes that have yet to materialize. As you can see, the Bovespa has been on a tear: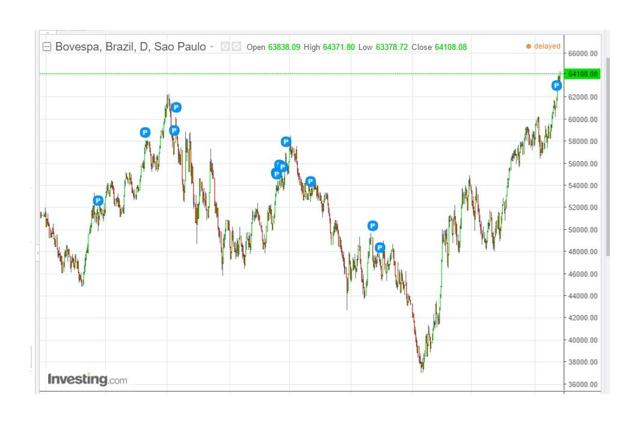 The smart money bought early, like Seeking Alpha contributor Stephen Simpson, who did much of the legwork on the company (we refer to his excellent articles for a more in-depth description of Cosan's businesses).
We give you a few things to ponder though:
The balance sheet is stretched, $1.37B in cash but $5.87B in debt, most of it long-term debt.
Not surprising, performance is increasing (here are the Q2 results). Revenues increased by 13.1% versus Q2 2015 and by 1.2% versus Q1 2016.
EBITDA increased by 26.3% versus Q2 2015 and 7.2% versus Q1 2016
On October 7, Standpoint Research lowered its rating from buy to hold.
Stephen Simpson sees fair value at $11 but warns of volatility, arguing Cosan is a high beta stock on Brazil and the real.
Part of the stock price rise of the ADRs is also related to the recovery of the real against the dollar: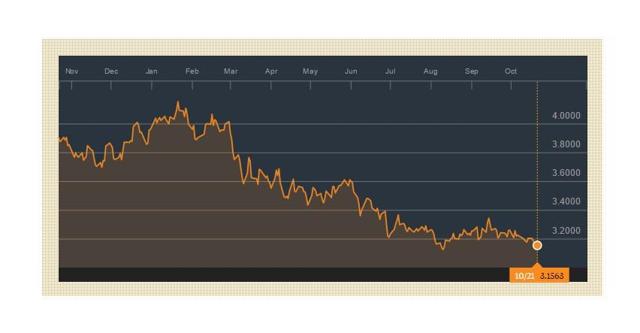 There are good reasons behind the strengthening real, like:
Interest rates being much higher than in many other countries and the central bank's reluctance to reduce these.
Capital inflows due to an amnesty program which could amount to the repatriation of some 50B real.
But this has already run for quite some time. Back in April, there were already those who argued that the real was overvalued by 8%. It has only strengthened more since.
Conclusion
While we think that the upside in the stock is limited, at least for now. It has rallied massively, it's approaching fair value, tailwinds from the resurgence of ethanol prices, and the rallies in Brazilian stocks and currency have already discounted much of an economic recovery that has yet to materialize.
The stock is also massively overbought (RSI is in the mid 80s!), we think it's likely that we see considerable consolidation. Writing out of the money calls could be a good way to profit from this, although needless to say, this is much safer if you actually own the shares.
Disclosure: I/we have no positions in any stocks mentioned, but may initiate a short position in CZZ over the next 72 hours.
I wrote this article myself, and it expresses my own opinions. I am not receiving compensation for it (other than from Seeking Alpha). I have no business relationship with any company whose stock is mentioned in this article.