On October 21, 2016, Honeywell (NYSE:HON) reported Q3 2016 earnings that were in line with analyst estimates but the company's overall operating results showed that this industrial conglomerate is indeed contending with several different headwinds. The lackluster results should have been expected by the financial community because earlier in the month management provided revised (lowered) Q3 2016 guidance, which was largely a result of the sluggish economy and the downturn in the oil and gas industry. However, Honeywell's management team also tried to communicate to the investor base that the company is in a position to deliver improving results over the next five quarters.
On another positive note, Honeywell reported quarterly revenue of $9.8b (2% YoY growth) and in line EPS of $1.60 ($1.67 ex restructuring costs), which is impressive results when considering the challenging operating environment. On the other hand, Honeywell's Q3 2016 margins were negatively impacted by restructuring costs, among other factors.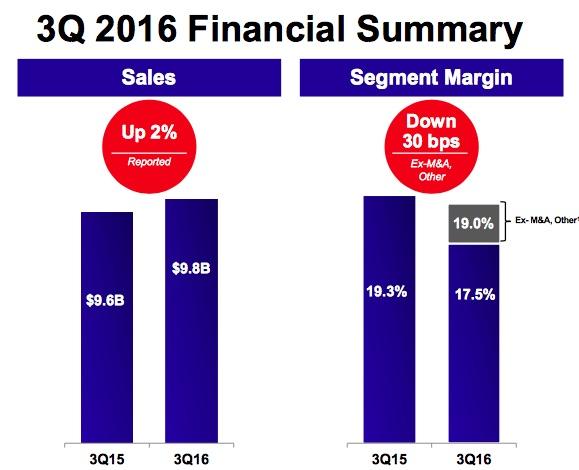 (Source: Q3 2016 Earnings Presentation)
Honeywell's Q3 2016 results were nothing to write home about, but, in my opinion, I agree with management in that the company's future appears extremely bright.
The Results By Segment, Poor For Now
After reviewing the Q3 2016 results, the biggest takeaway that I had was that Honeywell's entire business is contending with significant headwinds, which is shown by the fact that only two operating segments reported increases in both quarterly sales and profit.
$ - in millions
Q3 2016
Q3 2015
% Chg
Aerospace
Sales
$3,601
$3,820
-6%
Profit
$663
$833
-20%
Margin
18.4%
21.8%
-16%
Home & Building Tech.
Sales
$2,701
$2,313
17%
Profit
$441
$408
8%
Margin
16.3%
17.6%
-7%
Performance Materials & Tech.
Sales
$2,329
$2,279
2%
Profit
$503
$474
6%
Margin
21.6%
20.8%
4%
Safety & Productivity Solutions
Sales
$1,173
$1,199
-2%
Profit
$172
$193
-11%
Margin
14.7%
16.1%
-9%
Consolidated Results
Sales
$9,804
$9,611
2%
Profit*
$1,779
$1,908
-7%
Margin
18.1%
19.9%
-9%
(Source: Data from Q3 2016 Earnings Presentation; table created by W.G. Investment Research)
*Excludes other corporate activity
The numbers across the board were less-than-stellar but the standout segment was Home and Building Technologies ("HBT"), which reported double-digit sales growth and high single-digit profit growth. Management mentioned that the segment's China and distribution businesses contributed to the quarterly sales and profit growth, and that these businesses are expected to experience growth through the remainder of 2016. Moreover, management expects for the HBT segment to benefit from several other factors (i.e. new product introductions, connected offerings, & installed base expansion) over the next five quarters.
More importantly, management is projecting for significantly better results for the upcoming quarter. For Q4 2016, management guided for EPS to be in the range of $1.74-$1.78, which would translate into a 10%-13% YoY increase from the EPS reported in the same period of the prior year.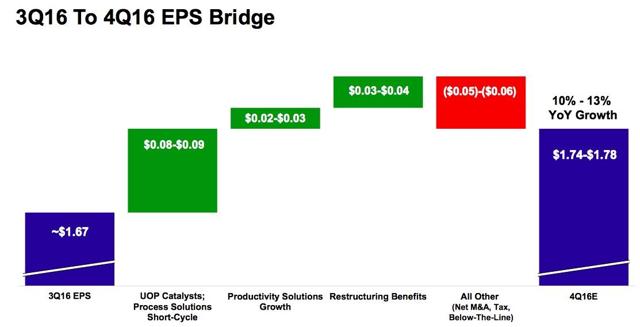 Click to enlarge
(Source: Q3 2016 Earnings Presentation)
From a long-term investor's perspective, it is encouraging that management expects for the company to turn the corner in such a short period of time, but, in my opinion, what is even more important is the fact that management expects solid results through the end of the next fiscal year.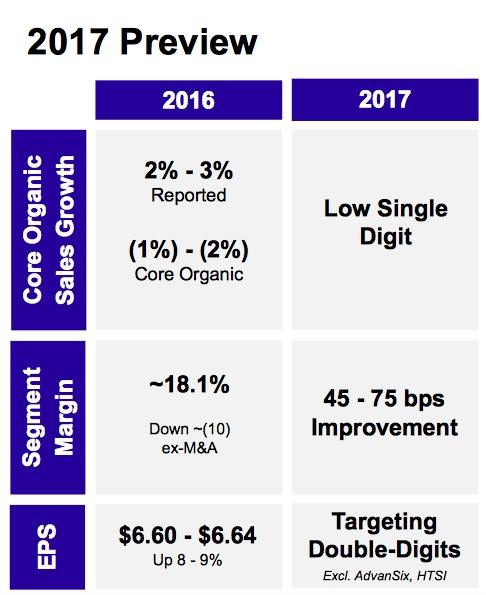 (Source: Q3 2016 Earnings Presentation)
EPS is expected to grow by almost double-digits in 2017, even in an environment that will result in low top-line revenue growth. If the 2017 EPS target is achieved, shareholders are able to purchase HON shares today at an attractive valuation.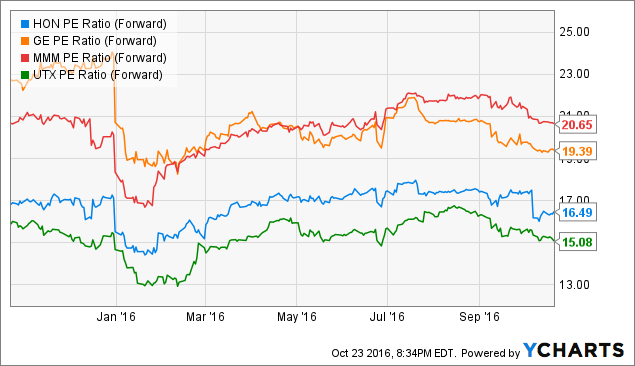 HON PE Ratio (Forward) data by YCharts
Based on forward earnings, only United Technologies (NYSE:UTX) is trading at a lower P/E ratio. In addition, not only is Honeywell trading at an attractive valuation but management also appears to be committed to maintaining the trend of returning substantial capital to shareholders.
A Shareholder-Friendly Company
Honeywell has been committed to returning capital to shareholders over the past few years, and this will likely continue through fiscal 2017. Honeywell pays an ~2% dividend and the company has spent ~$1.9b so far in 2016 repurchasing shares.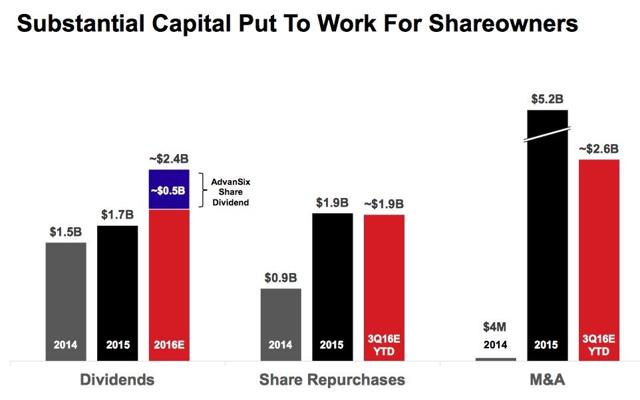 Click to enlarge
(Source: Q3 2016 Earnings Presentation)
Honeywell is also putting a great deal of capital to work by making small tuck-in acquisitions, which is a trend that will likely continue in the years ahead. In this type of operating environment, Honeywell has been (and will continue to be) focused on M&A and I believe that long-term investors should be excited about this because management is sticking to their long-term strategy of positioning this company for 2017/2018 instead of trying to just meet the next quarterly earnings estimate.
Bottom Line
There is no denying the fact that Honeywell's Q3 2016 results left the company's investor base wanting more, but these results do not change the company's long-term "story". Honeywell is still a well-positioned industrial company that has operations in industries that will be relevant for many years to come. In my opinion, long-term investors are being given an opportunity to accumulate HON shares at an attractive valuation in a time that the company is contending with several different headwinds.
Honeywell has great long-term business prospects, so investors should consider starting a position in this industrial conglomerate whiles shares are under $110 because the company's future looks bright from here.
Full Disclosure: I recently started a small HON position in my R.I.P. Portfolio.
If you found this article to be informative and would like to hear more about this company or any other company that I analyze, please consider hitting the "Follow" button above.
Disclaimer: This article is not a recommendation to buy or sell any stock mentioned. These are only my personal opinions. Every investor must do his/her own due diligence before making any investment decision.
Disclosure: I am/we are long HON.
I wrote this article myself, and it expresses my own opinions. I am not receiving compensation for it (other than from Seeking Alpha). I have no business relationship with any company whose stock is mentioned in this article.