"Time is the coin of your life. It is the only coin you have, and only you can determine how it will be spent. Be careful lest you let other people spend it for you." - Carl Sandburg

"Bull markets are born on pessimism, grow on skepticism, mature on optimism, and die on euphoria." - Sir John Templeton

"Life and investing are long ballgames." - Julian Robertson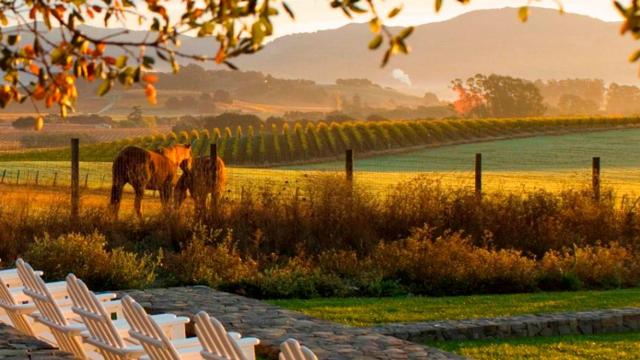 Click to enlarge
Introduction
This is my third entry in a series of articles that I have authored on a concentrated, options-focused portfolio strategy, which I like to call the "Bet The Farm" Portfolio.
For the first two entries in this series, please click on the following links:
Why It Makes Sense To 'Bet The Farm' With a Portion Of Your Portfolio
Betting The Farm With A Portion Of Your Portfolio - Part II
Throughout my writing history on Seeking Alpha, I have articulated the merits of taking concentrated investment positions.
Hammering in on this narrative, in an investment world of uniformity, dominated by fund flows into passive index strategies and dividend growth strategies, the rewards for being different have never been greater, in my opinion.
The reason for this is that stocks and bonds, specifically U.S. stocks and bonds, have melted up together from 2011 to 2015, creating a twin, highly correlated valuation bubble in the foundational assets of many investors' portfolios.
With traditional investment choices, meaning bonds and stocks, offering future returns that are projected to be negative in real terms for the next decade, the risk of being different for a portion of an investor's portfolio is not as great as it was in 2009, or 1990, or 1980.
Being different today could simply mean having a significantly larger cash allocation, as the opportunity cost of not being in traditional stocks and bonds may actually be a benefit if projections of future negative real returns prove accurate.
Alternatively, being different today could mean overweighting the contrarian, undervalued stocks, sectors, and asset classes that have underperformed.
Building on this thought, to maximize upside potential and limit downside risk, options can be used to enhance the asymmetric return characteristics of these out-of-favor investment opportunities.
With that premise in mind, we are going to take an updated look at how the "Bet The Farm" Model Portfolio in The Contrarian, my premium research service on Seeking Alpha, has played out in 2016.
Thesis
A concentrated options focused portfolio that comprises an appropriately sized position in an investor's overall portfolio could enhance overall returns while adding acceptable levels of risk, given the prevailing return expectations.
Low Or Negative Real Returns Are A Problem
In my writing on Seeking Alpha, I have consistently used a table that I have put together showing projected future "real returns" for asset classes, using data from Grantham, Mayo, Van Otterloo & Co., LLC, who are better known in the investment world as GMO. This updated projection of real returns is presented below:
Click to enlarge
The forecasted asset class returns are startling, especially compared to the previous Bad Starting Points For An Investor, which are shown in the table above.
The forecasted negative real returns today should give most investors, both professional and do-it-yourself investors, a huge, flashing warning sign that should not be ignored.
Some might question the effectiveness of GMO's asset class forecasts, and that is a fair question.
From my 20-plus-year career in the investment industry, and from the tens of thousands of hours of market research that I have accumulated, I believe that GMO's research group is the preeminent asset class forecaster.
Adding to its credentials, GMO is widely regarded as a premier, value investment manager, and this is validated by the fact that it has over $100 billion in assets under management.
Thus, it has won a significant number of sizeable clients via its long-term investment views and results. Building on this point, it has weathered many out-of-favor periods, including during the late 1990s when it lost a majority of its clients.
The takeaway for me is that real returns for the next seven years are broadly expected to be negative; particularly in U.S. stocks, U.S. bonds, and developed sovereign market debt. GMO's views are corroborated by a number of other asset class forecasting methods, including the market capitalization to GDP ratio, and the Schiller P/E ratio, which all suggest a difficult return environment for the next decade.
Achieving Return Objectives In A Low Return Environment
If real U.S. stock and bond returns are expected to be negative for the next seven years, how can market participants achieve their return objectives?
There are three clear answers in my opinion, and they all involve thinking outside the box with regard to portfolio construction.
Investors can build and hold significantly overweight cash positions, waiting to deploy cash until projected returns for stocks and bonds improve. In this scenario, lower stock and bond prices would be viewed favorably.
Investors should consider making a long/short equity portfolio, such as The Contrarian's "All Weather" Portfolio, the core of an investor's asset allocation. The goal of a long/short equity portfolio is to protect downside in a broad market sell-off while seeking true alpha from the outperformance of the long positions versus the short positions.
An investor should consider concentrated positions in out-of-favor asset classes with higher return potential. Commodities, commodity stocks, and emerging market equities, all out of favor from 2011 to 2015, are all examples of where an investor should be looking for opportunity, in my opinion.
Where Are The Opportunities Today?
Commodities, commodity stocks, and emerging market equities have had a tremendous reversal and rally in 2016. Over the past two months, they have generally pulled back as a group, though not all stocks have corrected. For example, Teck Resources Limited (NYSE:TCK) has made new highs, as metallurgical coal prices have continued to surge. With regard to the out-of-favor reflationary stocks that have pulled back, this pullback should be bought, in my opinion.
Looking at the bigger picture, commodities, commodity stocks, and emerging markets have underperformed their developed market peers, particularly the U.S., by a material amount over the past five years, the past eight years, and the past 10 years.
The 10-year performance graph of the SPDR S&P Metals & Mining ETF (NYSEARCA:XME), the VanEck Vectors Gold Miners ETF (NYSEARCA:GDX), the Energy Select Sector SPDR Fund ETF (NYSEARCA:XLE), and the iShares MSCI Emerging Markets ETF (NYSEARCA:EEM), relative to the S&P 500 index, as measured by the SPDR S&P 500 Index ETF (NYSEARCA:SPY), and relative to the iShares 20+ Year Treasury Bond ETF (NYSEARCA:TLT), shows an amazing contrast in results.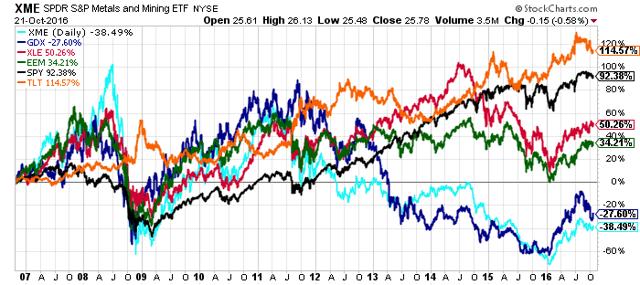 Click to enlarge
Long-duration U.S. Treasury bonds, as measured by TLT, have been the number one performer over the past decade, and the broader U.S. stock market, as measured by SPY, has been the number two performer.
The returns of U.S. sovereign bonds and U.S. stocks have trounced the return of commodities, commodity stocks, and emerging market equities.
Believe it or not, based on the above, all of these out-of-favor sectors are having a terrific 2016, as the reversion to the mean has kicked in with a vengeance, though admittedly, there has been a recent pullback, as described in the opening of this section.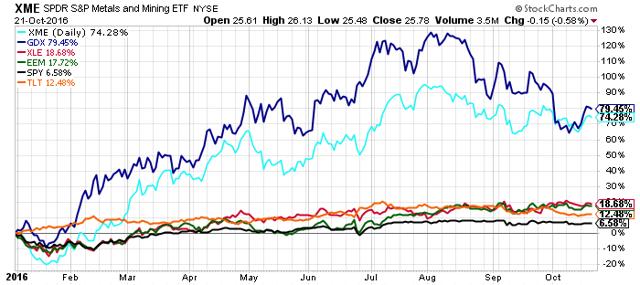 Click to enlarge
Gold stocks, as measured by the GDX, are up 79% year-to-date in 2016, and the steel heavy XME is up 74%.
Even the energy markets have shown impressive returns, as both crude oil (NYSEARCA:USO), and natural gas (NYSEARCA:UNG) have bounced back. Crude oil is up 37% YTD in 2016, and natural gas is up 27%. The absolute returns understate the bounce-back, as both oil and gas have roughly doubled at their recent peaks from their 2016 lows.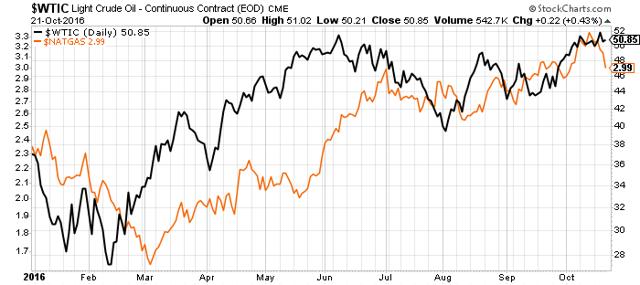 Click to enlarge
XLE is up 19%, as large-cap energy companies like Exxon Mobil (NYSE:XOM), up 14% YTD, Chevron (NYSE:CVX), up 16% YTD, have trended higher, but the impressive price action is in formerly out-of-favor names like Chesapeake Energy (NYSE:CHK) and Unit Corporation (NYSE:UNT), now up 48% and 60% respectively YTD, Kinder Morgan (NYSE:KMI), up 45% in 2016, and Williams Companies (NYSE:WMB), up 27%, recovering from a more than a 50% loss earlier in the year.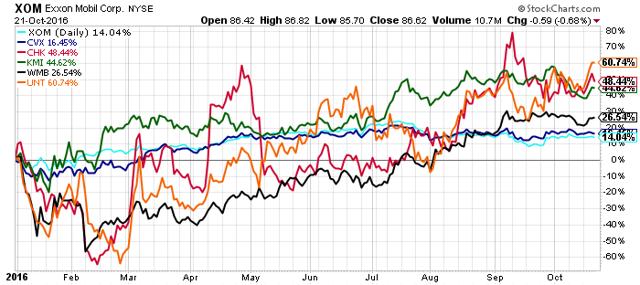 Click to enlarge
Looking at the bigger picture, commodities, commodity stocks, and emerging market equities are staging an impressive rebound after being out of favor for a majority of 2011-2015.
Betting The Farm On Out-Of-Favor Assets
On December 7th, 2015, I founded The Contrarian, a premium research service on Seeking Alpha.
At the heart of The Contrarian are four model portfolios, including the "Bet The Farm" Portfolio, an options focused portfolio, the "Best Ideas" Portfolio, a concentrated equity portfolio, the "90/10" Portfolio, a 90% cash portfolio that I believe will outperform a traditional 60% stock/40% bond portfolio over the next decade, and a long/short portfolio that I call the "Contrarian All Weather" Portfolio.
In 2016, through October 21st, these portfolios were up 514.4%, 85.7%, 9.7%, and 21.4%, respectively, all comparing favorably to the S&P 500 Index's 6.6% gain, as measured by SPY.
For perspective, the last article in this series was published on August 22nd, 2016, and the returns at that time for The Contrarian's four model portfolios through August 15th were 312.2%, 58.0%, 7.0%, and 19.2%, respectively, so there has been a considerable increase in performance during 2016, and this trend has continued over the past two months, even with the earlier mentioned pullback in some reflationary equities.
How did these portfolios achieve their impressive absolute and relative performance? The answer is simple, they were overweight undervalued, and out-of-favor stocks.
To provide a previous, noncurrent snapshot of the "Bet The Farm" Portfolio, I have copied and pasted the portfolio snapshot that I sent to subscribers on 7/18/2016.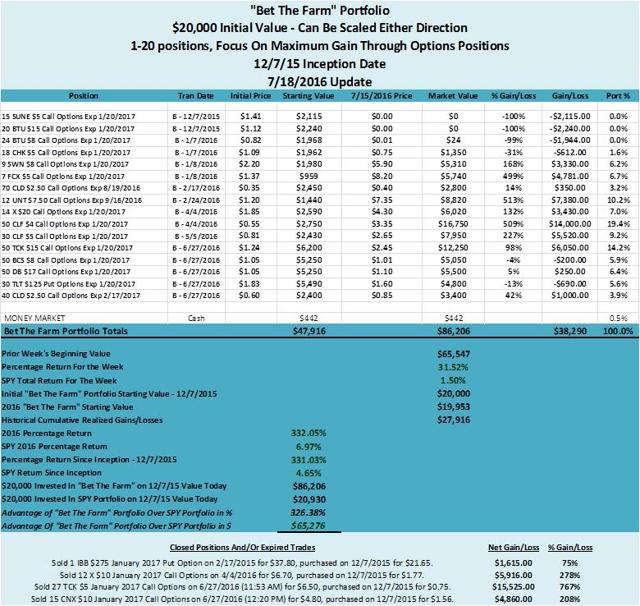 Click to enlarge
From examining the positions in the portfolio, you will notice that nearly all of the portfolio positions were held in strongly out-of-favor stocks at the time they were purchased. Now, with the benefit of hindsight, certainly some of these positions did not work out, including SunEdison (OTCPK:SUNEQ).
Peabody Energy (OTCPK:BTUUQ) was another struggling position that had been written off by most investors, as recently as two weeks ago. However, a massive surge in metallurgical and thermal coal prices in 2016 has forced investors, speculators, and traders to reevaluate Peabody's potential valuation, as the company's Chapter 11 restructuring continues.
A 500% plus surge in Peabody's stock last week is indicative of something interesting going on, and it goes without saying that this development was not anticipated by market participants.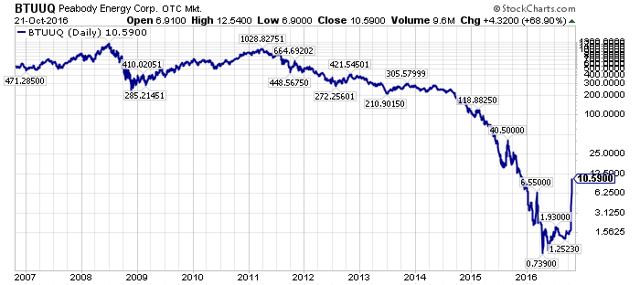 Click to enlarge
The recent good fortune in Peabody is a bit of good luck, though I did write it up as my top idea for 2016, and this good luck could still turn sour, given the considerable risk of owning equity or options of a company that is in restructuring. While there is tremendous risk, the past restructurings of General Growth Properties (NYSE:GGP), which I participated in, and of American Airlines (NASDAQ:AAL) offer a glimmer of optimism.
While there have been roller coasters like Peabody and risks that did not pan out like SunEdison, generally holding a basket of undervalued, out-of-favor stocks has led to big gains in 2016, with the options of these companies doing even better, as Teck Resources, CONSOL Energy (NYSE:CNX), Chesapeake Energy, Southwestern Energy (NYSE:SWN), Freeport-McMoRan (NYSE:FCX), Cloud Peak Energy (NYSE:CLD), Unit Corporation, U.S. Steel (NYSE:X), and Cliffs Natural Resources (NYSE:CLF) have all bounced back strongly in 2016.
From looking at the portfolio transactions in the above table, you will notice that positions were added in Barclays (NYSE:BCS) and Deutsche Bank (NYSE:DB) shortly after the much-hyped "Brexit", which I offered my public opinion on at the time, and you will also notice a bearish bet on the iShares 20+ Year Treasury Bond ETF. These more recent positions are still playing out, but I remain constructive on their return potential.
Market prices of stocks, bonds, and commodities are inherently dynamic and subject to human emotions, so they can go to extremes, both bullish and bearish, much more frequently than any mathematical statistical model would suggest. In The Contrarian, we try to take advantage of these mispricings.
Portfolio Construction & Risk
If simply buying value stocks, which are out of favor by nature, has proven to be the best performing investment strategy over time, and it has according to Ibbotson data, Warren Buffett in his now famous May 17th, 1984, white paper, The Superinvestors of Graham-and-Doddsville, and nearly all long-term historic market research, then why doesn't everyone do it? And, taking this concept a step further, why doesn't everyone invest in long-term options in out-of-favor, deep value stocks?
The answer, of course, is that it is not that simple. Typically, in the investment markets, when a higher degree of return is anticipated, a higher degree of risk accompanies these enhanced return opportunities, and deep value investing, particularly with options, carries its own set of unique risks, including the potential of a total loss of investment, as options could and do expire worthless if the underlying security does not revalue in your designated time parameter.
The positive aspects of using options to implement a portfolio of deep value securities is that they define risk, leverage upside, providing the often discussed, but rarely achieved asymmetrical risk profile.
Further, option investing provides a definitive time window for your thesis to play out. Finally, an options portfolio can be a relatively small percentage of your total portfolio, but have a positive outsized impact if market developments play out according to the investor's range of probabilities and expectations.
If options are not your cup of tea, I understand that, and I can sympathize, but the same core principle applies in that having a portion of an investor's portfolio, say 10%, which is an arbitrary number and this percentage ultimately needs to be decided on by an investor, allocated to an undervalued, out-of-favor basket of securities can provide a differentiated source of potential portfolio return.
Practitioners of deep value investing, and using options to invest in out-of-favor equities, both specialized types of investment analysis and implementation, including your humble author, usually have the scars to show from their years of learning experiences.
That is why it is imperative for each investor to consider their overall portfolio allocations and know what to expect from their specific portfolio strategies.
The Takeaway - Think Outside-The-Box
With stock and bond valuations both residing at historic highs, now is a good time for investors to revisit their portfolio allocations, investment strategies, and individual stock positions.
A review might yield some surprising conclusions, including a preponderance of overvalued securities, and a relative lack of the underperforming, value-oriented investments.
Investors, speculators, and traders should remedy this condition by considering alternative, non-correlated investments and investment strategies.
In summary, with today's historically high valuations, it is a considerable risk for market participants not to think out of the box in regard to their own portfolio construction and strategy, and have at least a few, concentrated, contrarian positions in their investment line-up.
To close, the investment landscape is changing, and if you are interested in joining a unique, growing community of contrarian, value investors, and would like to see all of the historical trades and current positioning of the "Bet The Farm," and the "Best Ideas" Portfolios, please consider signing up for my premium research service, "The Contrarian". Reviews of the service can provide another perspective, so check out the reviews. To receive my future public articles on Seeking Alpha, please click the "Follow" button above. Thank you for your readership.
Disclosure: I am/we are long AAL, BCS, BTUUQ, CHK, CLD, CLF, CHK, DB, FCX, KMI, SUNEQ, SWN, TCK, WMB, X, AND SHORT TLT VIA PUT OPTIONS, AND SHORT SPY AS A HEDGE, AND LONG ADDITIONAL POSITIONS IN "THE CONTRARIAN" PORTFOLIOS.
I wrote this article myself, and it expresses my own opinions. I am not receiving compensation for it (other than from Seeking Alpha). I have no business relationship with any company whose stock is mentioned in this article.
Additional disclosure: Every investor's situation is different. Positions can change at any time without warning. Please do your own due diligence and consult with your financial advisor, if you have one, before making any investment decisions. The author is not acting in an investment adviser capacity. The author's opinions expressed herein address only select aspects of potential investment in securities of the companies mentioned and cannot be a substitute for comprehensive investment analysis. The author recommends that potential and existing investors conduct thorough investment research of their own, including detailed review of the companies' SEC filings. Any opinions or estimates constitute the author's best judgment as of the date of publication, and are subject to change without notice.
Editor's Note: This article covers one or more stocks trading at less than $1 per share and/or with less than a $100 million market cap. Please be aware of the risks associated with these stocks.