GameStop (NYSE:GME) is the world's largest retailer of hardware, software, and accessories for gaming, albeit the only "pure play" business within the industry. Currently, the company touts a PowerUp Rewards membership base exceeding 35 million, more than 10% of the US population.
Why The Stock Is Down
The investment community is concerned with two things: the shift to digital and stiff competition. GameStop continues to report negative same-store sales and most believe management's long term guidance is too optimistic: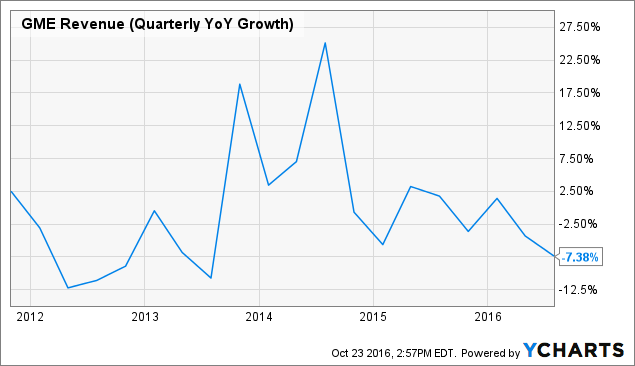 Clearly the shift to digital is a problem and accelerating more recently. The primary question remains if the existing enterprise can not only survive but adapt to this environment. We are taking a bet on the long side.
Addressing Market Risks
One indicator the bears are using is same-store sales, and as they decline, the assumption is that the end is neigh. However, we think that QoQ and even YoY comps can be misleading for a company that derives sales from content that is provided semi-cyclically. One common example people can related to is the Call of Duty series that is released once a year during November. If we apply that timeline across all content, one could understand how sales can become uneven and choppy. In other words, we should see a reversion.
Following that, another "risk" is that consoles are increasingly irrelevant to consumers as other technologies become more integrated. This issue would pose a huge problem for GameStop as hardware and software is heavily reliant on console and associated devices. To put it simply, we don't believe that story at all. Looking at the general market, consoles are in fact experiencing a decline overtime, however a very modest one. Newzoo provides a useful visualization below: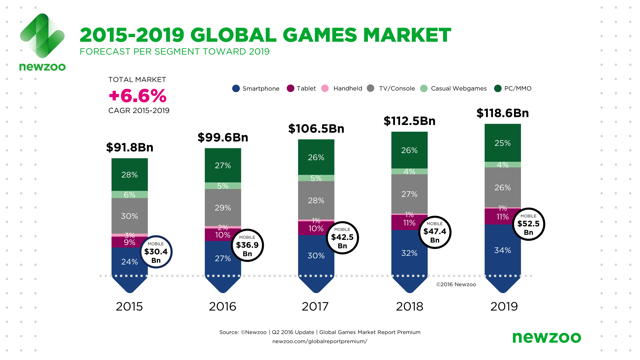 Click to enlarge
Moving onto a third "risk" is the growth in smart-phones. But in our view, the GameStop customer base realistically has no interest in playing gaming applications. Why? Phone, tablet, etc all possess extremely simplistic interfaces that do not attract the typical casual gamer.
Readers should know that GameStop has actually increased reported market share up from 25% to 35%, a full 10 percentage points increase, over the last five years. In a way, that fact simply negates the idea that this brand is failing.
Diversification
We also think the company's expansion into collectibles and mobile has been a great move, and will undoubtedly show continued growth. Management has stated that these two lines have been contributed meaningful gross margin expansion, as we can see below: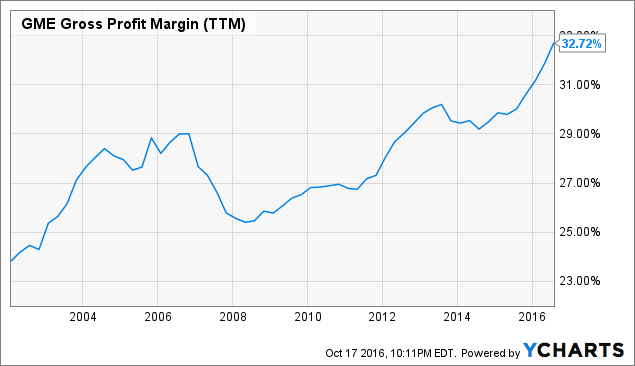 Product Segments
Over the last decade, GameStop has generated an average free cash flow figure of 440 million per year. The sustainability of GameStop's performance practically assumes that management can extend its brand equity, adjust to digital, and continue finding other areas for reinvestment. For a general summary, we have provided our forecast for each product segment: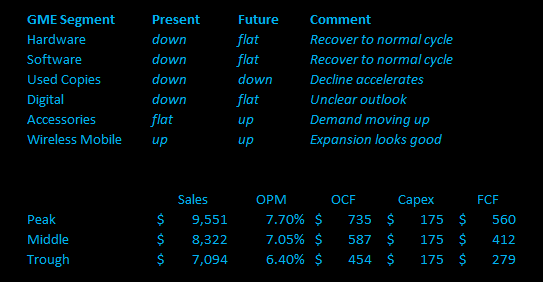 Our Estimates
We also find it comforting that sales have been fairly consistent in the range of 7 to 9.5 billion for many years now, while operating margins haven't shifted at all, consistently clocking between 6.5-7.5%. As shown by our comments, we do not expect to see a prolonged decline in any category other than physical/trade-ins.
Dividend Sustainability
Shares outstanding is approximately 105 million. If we take today's price of $25, we reach a market capitalization of 2.63 billion. Below we have provided a scenario analysis, say we flip a coin three times, for what investors could expect in the coming years:


Our estimates
From a conservative standpoint, even if earnings cut in half from today, investors could still expect a "normal" market rate of return. The future dividend arguably looks pretty good across the board as well.
Bottom Line
GameStop is an outstanding risk-adjusted market opportunity. Today we are looking at a company that is capitally-light and generates, for the most part, recurring cash flow. Management is competent, brand-equity appears strong, and the stock is fairly cheap. Unless investors believe in the doomsday scenario, one should happily marry a stock such as this one. We rate this stock a buy with a 12 month price target of $28.
Disclosure: I am/we are long GME.
I wrote this article myself, and it expresses my own opinions. I am not receiving compensation for it (other than from Seeking Alpha). I have no business relationship with any company whose stock is mentioned in this article.