Click to enlarge
Despite having a very good quarter with a +22% Y/Y rise in revenue, and +27% rise in Q/Q revenue, Advance Micro Devices (NYSE:AMD) fell about 6% in after hours trading after earnings were announced. The culprit seems to be guidance, that was softer than what the market expected.
But hold on there, the market was modeling $1.057 billion in revenue for the next quarter, when the company expects a decline of about 18%, which comes to about $1.072 billion. Τhat is a little above what the market was looking for. So even if the headlines called for α guidance disappointment, that was probably not it.
If you want my advice, I think the market was expecting (hoping for) a positive guidance surprise. And when it didn't get it, everyone took profits. Remember, AMD has had a great run over the past year and not everyone has booked profits yet. Ανδ since analysts didn't expect much for next quarter, then nothing out of the ordinary happened except profit taking.
The most important part of the conference call
The most important part of the conference call, was the part that President and CEO Dr. Lisa Su said:
Our third quarter financial results highlight the progress we are making across our business. We now expect to deliver higher 2016 annual revenue based on stronger demand for AMD semi-custom solutions and Polaris GPUs. This positions us well to accelerate our growth in 2017 as we introduce new high-performance computing and graphics products.
Please note very carefully what she said. She expects 2016 revenue to be higher on semi-custom solutions and GPUs only. The other higher performing stuff like Zen, Summit Ridge, graphic cards and server chips, will be coming along in 2017.
So in other words, not only did AMD do great during the past couple of quarters, but AMD are playing ball with one hand behind its back. This because, most of what everyone is expecting to really lift revenue and profitability will be coming along in 2017.
The second most important thing to remember
Now a lot of S.A. writers are taking both sides of the AMD argument, either being very positive or very negative on the stock. And you know what, everyone has a point to make and they are right.
However there is another point to take notice. And that is, AMD has been trading at depressed levels for years because the market thought it would go out of business.
As you probably know by now, that probability has been off the table for several quarters now. With $1.3 billion in cash, AMD is not in danger of going under anymore.
What this means is that, irrespective of revenue growth, profitability and so forth, the stock has appreciated by a lot, by virtue of the fact that the company is not in danger of going out of business anymore. This I think is something that many analysts have missed.
So while many commentators are right about the many problems AMD may still have, at the same time they forget that the main reason AMD was trading for scrap for several years now, was because of the possibility of bankruptcy.
Since that is off the table, the company's valuation has been upgraded in the eyes of the market, irrespective of growth and profitability. Which is why the current and last quarters did not matter much. So trying to justify AMD's rally over the past several months based on revenue and profitability, is wrong as I see it.
The third thing to look at is valuation potential
As those who follow me know, I place a lot of emphasis on the valuation of a stock. As I said in the above paragraph, the first phase of AMD's rally had to do with the fact that it is no longer a company that is going out of business.
From here on end however, in order for AMD to rise to the next level, it has to prove itself. Among other things, AMD has to show consistent revenue growth and profitability, to reach the $10 mark and beyond. Because if profitability and revenue growth do not consistently improve, then it will simply linger around the $5 - $7 range for a very long time.
Now since AMD does not have the profitability of Nvidia (NASDAQ:NVDA) yet, I use another ratio to try to figure out where AMD might go, if at some point in the future it becomes as profitable as NVDA.
Please note I am not telling you AMD will become as profitable as NVDA, I am simply telling you that it might. And if it does, then we can estimate where the stock might go in the future.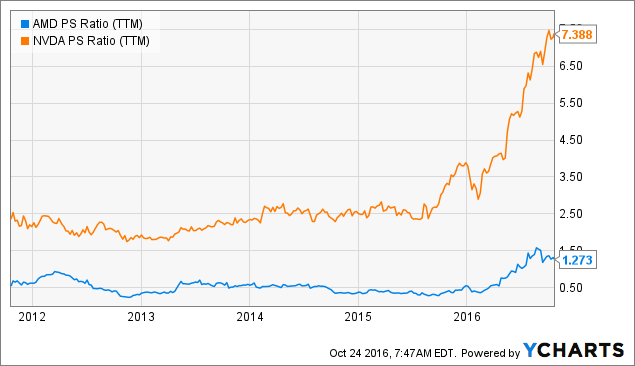 AMD PS Ratio (NYSE:TTM) data by YCharts
Like I have said in a previous article (please consider: Revisiting The Nvidia And AMD Trade), I consider NVDA a bubble, and AMD cheap when looking at the above metric.
NVDA is trading at almost 7.5X revenue at the moment. I don't care what all the analysts in the world say, it is not going much further than this (if it does not crash at some point).
On the other hand, AMD has a lot of room to grow. In fact, I am not even telling you AMD will reach a Price/Sales ratio of 7. What I am telling you that even if it goes to 2.5, that is at least a 100% rise from current prices.
And what has to happen in order for AMD to reach a Price/Sales ratio of 2.5? Well it has to become more profitable and show consistent revenue increases. And when will this happen in the eyes of the market? My guess is in 2017.
Bottom line
The correction after AMD announced its recent quarter does not mean much to me. Maybe the market was expecting even better guidance, or maybe it was a simply a case of profit taking. To be honest, I do not know.
However, nothing has really changed about what I think about AMD over the longer term. The thesis we have been discussing over the past year is still intact. More so than ever, now that the fear of bankruptcy is off the table.
I expect revenue and profitability of AMD to improve by a lot in 2017. And if it does, I think that a price target of $12 - $13 a share till the end of 2017 is not unreasonable.
Disclosure: I/we have no positions in any stocks mentioned, and no plans to initiate any positions within the next 72 hours.
I wrote this article myself, and it expresses my own opinions. I am not receiving compensation for it (other than from Seeking Alpha). I have no business relationship with any company whose stock is mentioned in this article.