Facebook (NASDAQ:FB) investors who bought the stock at its May IPO in 2012 were the butt end of jokes for over a year. They were made fun of for overpaying for shares, and many investors even questioned whether they would get their money back. Despite a rocky first year for their investment, the stock has now tripled from the initial IPO price of $42.05. Facebook has been one of the strongest stocks on the U.S. market, posting a return of over 154% over the past 3 years. This is larger than Amazon's (NASDAQ:AMZN) return of 125%, and only overshadowed by that of Netflix (NASDAQ:NFLX) which has seen a 170% return over the same period. Facebook stock has seen an amazing run, and is one of very few stocks that has closed above its 40-week moving average for 3 consecutive years. The same cannot be said for any of the other FANG members.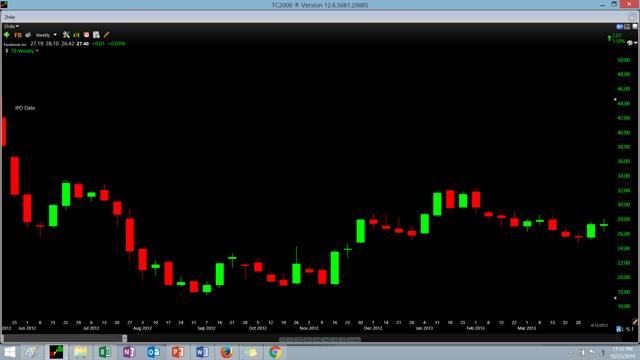 Click to enlarge
Source: TC2000.com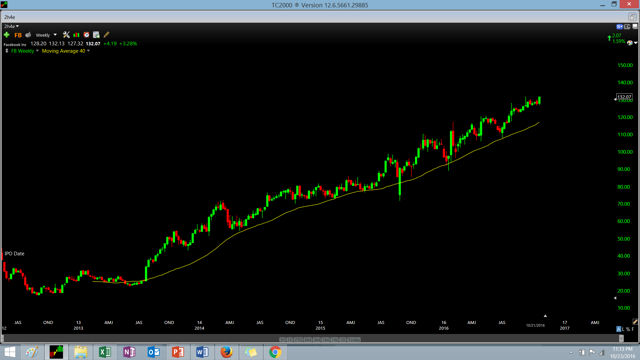 Click to enlarge
Source: TC2000.com
Despite the stock being the strongest technically of nearly all tech companies, it has attracted several skeptics along the way. Just this year Citron's Andrew Left announced he was short Facebook on June 13th, and Harvard Associate Professor Ben Edelman has recommended to be short since late 2013. Both short positions are now significantly underwater as the stock is up over 26% for the year, quadrupling the performance of the S&P-500 (NYSEARCA:SPY). Andrew Left's short position was disclosed on June 13th and is now down 16%, while Ben Edelman's short position is down over 140% as the stock has more than doubled since. Edelman recommended shorting Facebook while it sat at new all-time highs of $55 per share.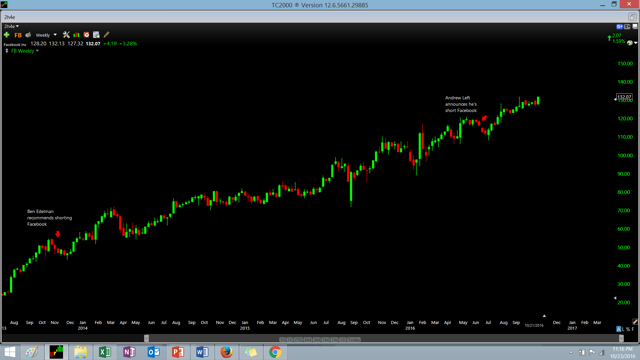 Click to enlarge
Source: TC2000.com
While have prominent names have been short Facebook, there are many bloggers that have also been short the stock. Alex Pitti of Seeking Alpha has been bearish Facebook all year, and most recently began shorting the stock again at $113.40. His most recent article stated that he believes Facebook is worth $67 a share, which prompted this article.
The biggest mistakes being made by those shorting Facebook shares are the two cardinal rules of investing they are breaking. The first rule is that you don't short a stock that is seeing strong earnings growth on an annual and quarterly basis. William O'Neil's stock screener CANSLIM only bought stocks that were seeing growth in earnings on a quarterly and annually over a year over year basis. His most powerful strategy for finding winning stocks was to find those that had consistently strong earnings growth over the past 3 or more years. Those recommending shorting Facebook here are doing the exact opposite of what William O'Neil's CANSLIM system taught. The second rule is that you don't fight the market. Facebook stock has been in a clear uptrend for over 3 years, and continues to make all time highs. As legendary Paul Tudor Jones stated:
"If there is a sudden range expansion in a market that has been trading narrowly, human nature is to try and fade that price move. When you get a range expansion, the market is sending you a very loud, clear signal that the market is getting ready to move in the direction of that expansion."
This quote is very relevant to Facebook as it has been trading in a narrow range between $122 and $131 for the past 3 months. The range expansion came on Friday as the stock made new all-time highs and cleared the upper end of its range.
My investment strategy is built around trend following and the strategy enters stocks making new 3-month highs. The strategy is supplemented by William O'Neil's CANSLIM method as new positions must also meet his criteria before a position can be entered. However, I place the most importance on the "CAN" portion of O'Neil's CANSLIM method. For those that are shorting Facebook, this goes against two of the most important rules for my system.
Putting Facebook To The "CAN" Test
The CAN portion of CANSLIM stands for the following:
C - Current Earnings: O'Neil pointed out the importance of choosing stocks whose earnings per share (NYSEARCA:EPS) in their most recent quarter had grown from the previous year.

Click to enlarge
Source: YCharts.com
As we can see from the above table, Facebook is absolutely smashing its prior year's earnings. The company reported $0.25 cents per share in the second quarter of last year, and followed it up with $0.71 cents per share in earnings this year. For the first quarter of this year, the stock posted earnings of $0.52 cents per share, which was almost triple the amount that was reported over the same period in 2015. This type of growth is absolutely unheard of, and is very rare to see in a stock with a market cap as large as Facebook's.
A - Annual Earnings: O'Neil also believed annual earnings growth to be very important. Companies being selected for investments according to O'Neil should have steady annual earnings growth over the past 5 years. As William stated "Who wants to own part of an establishment showing no growth?". Due to this, William recommended buying stocks with annual earnings growth of at least 25%.

Click to enlarge
Source: YCharts.com
In terms of annual earnings growth, the company is just as impressive. The stock has seen its annual diluted EPS go from $0.01 in 2012, to $1.29 last year. Once again this type of growth is unrivaled for other publicly traded company, let alone ones in the large-cap space. Thus far this year the stock has reported earnings of $1.23 which is over 90% of last year's total earnings. It is very clear to see that the company's 2016 annual diluted EPS will dwarf that of last year's as we approach their Q3 report. Based on the Facebook's Q1 and Q2 earnings, the company is on track to report annual diluted EPS of over $2.00 for the year. This would represent annual earnings growth of over 50% for the year.
N - New: The N in O'Neil's CANSLIM stock selection approach stood for new, which meant the company recently underwent a change of some type. Whether it be a new product, entering a new market, or a new high in price. In my application of this method, I place the most emphasis on a new high in price as this confirms my primary trading strategy.
In the final category of the CAN screener, Facebook just met this criteria. The stock broke to new all-time highs on Friday, and all systems are now a go for an entry based upon my trading system. While many will criticize the fact that I am just getting in Facebook now, I have only opened a U.S. account as of September of this year. This is the first time that my system has seen all green lights for Facebook to generate a buy signal for the stock since the account's inception. The majority of my investments are on the Canadian market, but I have since began dabbling in the U.S. market.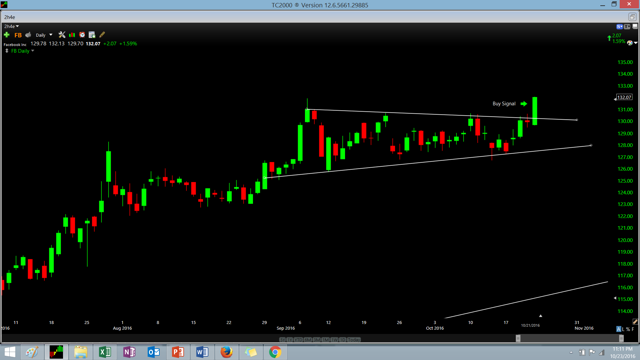 Click to enlarge
Source: TC2000.com
While many are uncomfortable buying stocks at new 3-month highs (or all-time highs), this is exactly how my trend following strategy operates. Most people would call this chasing a stock, but I believe new highs beget more new highs. I have no problem paying the most ever for a stock if it has broke to a new all-time high and simultaneously meets my CAN criteria. My year to date performance is 36% thus far for the year, and below I have shown what trend following accounts often look like for full transparency. All of the below positions were bought when the stock made new 3-month highs. My goal is to ride my winners as long as possible, and to cut my losers when they invalidate their uptrend.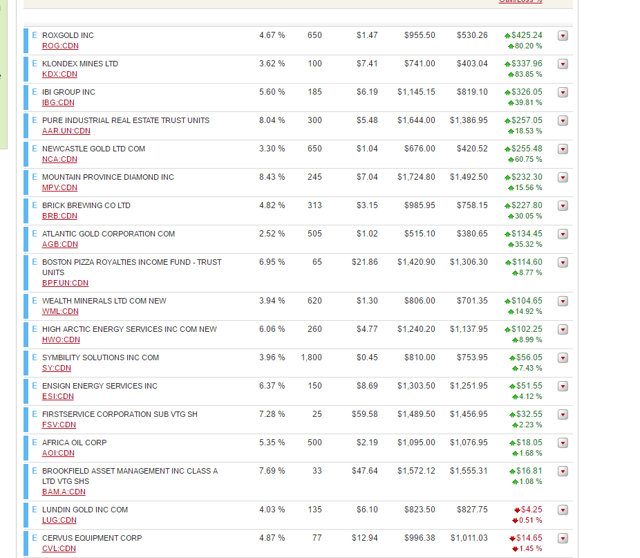 Click to enlarge
Source: CIBC Investors Edge Account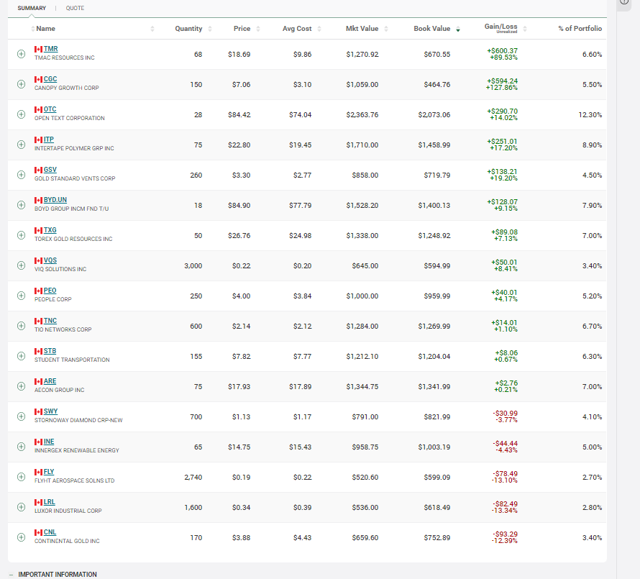 Click to enlarge
Source: TD WebBroker Account
Technical Outlook & Summary
The first thing I do when entering a new position is find out where I want to place my stop incase my thesis is wrong. The reason this is the first thing I do is because my stop determines my position size on the stock I am entering. Due to the risk profile on my system, my system only allows me to risk 1.0 - 1.25% of my portfolio on any one trade. This means I need to find the difference between my entry price and my stop price, and size the position so that only 1.25% of my portfolio is at risk if I am wrong.
I entered Facebook Friday afternoon once the stock broke to new all-time highs. This generated a buy signal based on my trend following system, and I already knew that the stock met my CAN criteria. I entered Facebook at $131.78, and decided that my stop on the position would be at $115.47 on a closing basis. This means that if the stock ever closed below $115.47, I will exit the stock on the following open. This trade has a risk of $16.31, or roughly 12.4% from my entry to my stop level. This means that in order to size it to risk 1% of my account, I need to use no more than 8.5% of my portfolio for the trade. I entered Facebook with 8.5% of my portfolio, which represents a total portfolio risk of 1.05%. This is calculated by multiplying the position risk by the position size in the portfolio (8.5 x 0.124).
What if I am wrong on Facebook?
If I am wrong on this long position in Facebook, my stop will protect my account as only 1.05% of my account is at risk. You might be asking why I chose the $115.47 to place my stop?
I believe the $115.47 level is significant as I am looking for a level that jeopardizes the uptrend in Facebook. By looking at a long term chart of the stock, I believe the uptrend in Facebook would move to neutral at the $115.47 level. I have no interest in holding stocks unless they have momentum behind them, and Facebook would lose the majority of its momentum if it closes below the 200-day moving average and below $115.47.
Below are the 3 reasons I believe a close below $115.47 to be significant:
1) The stock has spent the last 15 months above its 200-day moving average, I do not want to be long the stock if it closes below this level. This does not mean Facebook is a short, it simply means it does not fit my investment strategy below $115.47. The 200-day moving average currently sits at $116.43, therefore $115.47 represents a clean break of the 200-day moving average.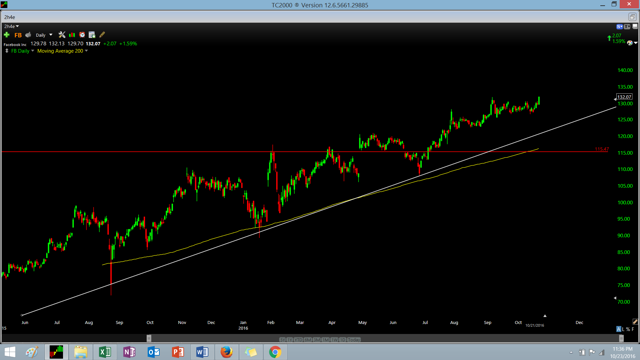 Click to enlarge
Source: TC2000.com
2) The stock has an uptrend line that has been in place for over 15 months which currently sits at the $122 level. This uptrend line is made by drawing a line from the August 2015 lows to the higher low in January of this year. Stocks often test their uptrend lines and this is perfectly normal in a bull market. What is also normal in bull markets is for stocks to overshoot their trend lines briefly to scare out longs in the stock. I have no interest in being shaken out by a marginal break of Facebook's trend line. This is why I have placed my stop 5% below the uptrend line as I want to see a clean break of the uptrend to make me exit the stock.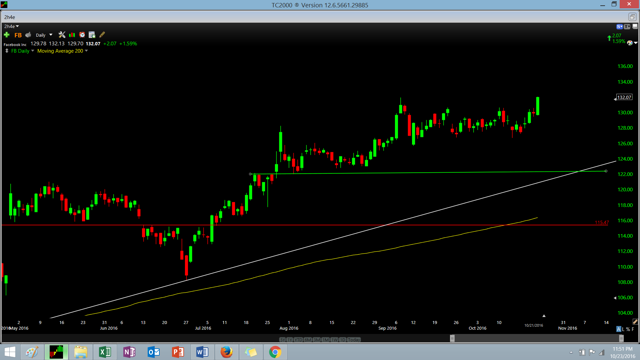 Click to enlarge
Source: TC2000.com
3) The stock has built strong support up at the $122 level. This level was resistance for the stock before its all-time highs on the last earnings release, and has since become support for the stock. The $122 level was tested 4 times between July and September and the stock found strong buyers at this level on all occasions. Since the stock continues to make higher lows above the $122 level which is a very positive sign. I would not want to see the stock break this $122 level, as it has provided support for the past 3 months.
If all of the above levels are broken, my trend following entry for the stock will be invalidated. This does not mean the stock won't go much higher long term, or that it won't shake me out of the stock and then go to $150. It simply means that my investment thesis will be weakened based on my trend following strategy.
Facebook is the strongest stock fundamentally I have ever entered based on my system, and believe it to be an excellent long candidate. For value investors looking to get in the stock or buy a dip, I believe $122 is the most logical level for the stock to find support going forward. I have no interest in waiting for a dip to $122, as the stock could potentially go to $180 before ever touching $122. Given the stock's earnings growth and the recent new high, this is my top pick for 2017. For those shorting the stock, I believe they are overlooking two very important rules that many billionaire traders swore by. Don't short growth stocks and don't fight the dominant trend. Not only are those short Facebook fighting the dominant price trend, they're also short the earnings growth trend. Facebook has given shorts no reason to bet against it, yet many want to be heroes and pull out their crystal ball in hopes they'll be the one that called "the top". Unfortunately, many people would rather be right than make money. I suspect these are the people currently shorting Facebook.
Disclosure: I am/we are long FB.
I wrote this article myself, and it expresses my own opinions. I am not receiving compensation for it (other than from Seeking Alpha). I have no business relationship with any company whose stock is mentioned in this article.
Additional disclosure: If you liked this article and found it useful, please feel free to follow me by clicking on my name next to my avatar at the top of this article. I also invite you to check my performance at TipRanks.com where I am ranked in the Top 100 Contributors for performance with an average return this year of 65% on new long positions