Kinder Morgan (NYSE:KMI) shares have spiked over the past week even though the company posted woeful third-quarter results last Wednesday. In fact, Kinder Morgan had missed analysts' bottom line estimate by a huge margin of $0.26 per share as it posted a loss as compared to expectations of a profit.
What gives?
This surprise loss in the third quarter was a result of weakness in oil and gas volumes transported through its pipelines. More specifically, Kinder Morgan saw a 1% decline in transported volumes of natural gas last quarter. This drop in the volume transported was the result of a decline in Eagle Ford shale production, which impacted transport of oil and gas through the Texas Intrastate Natural Gas Pipelines.
Additionally, lower production in the Fayetteville shale impacted Kinder Morgan's transport volumes through the Ruby Pipeline and the Fayetteville Express Pipeline. In all, Kinder Morgan witnessed a decline of 17% on a year-over-year basis in the gathered volume of natural gas from the Eagle Ford shale and the KinderHawk system.
As a result of these weak volumes, Kinder Morgan's overall revenue fell more than 10% on a year-over-year basis. Now, the recent weakness in Kinder Morgan's transport volumes of natural gas does not come across as a surprise since the production of dry shale gas in the U.S. has been on the decline this year in order to counter the oversupply situation in the industry. This is evident from the chart given below: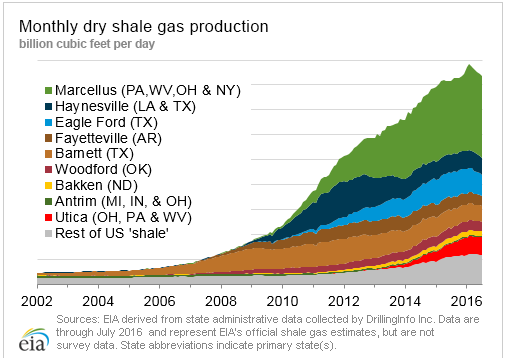 Source: EIA
As natural gas pipelines account for 57% of Kinder Morgan's overall earnings before depreciation and amortization, weak production in this segment has had a negative impact on the company's financials. However, in my opinion, the recent weakness in natural gas transport volumes is not sustainable as an eventual deficit of natural gas in the end-market in the long run will lead to an increase in transportation demand.
Looking past the short-term weakness
Natural gas production in the U.S. has taken a hit on account of the oversupply in the industry as producers look to bring down inventory levels. However, at the same time, the demand for natural gas in the U.S. has remained strong, which is why lower production levels won't be sustainable in the long run.
In fact, according to BTU Analytics, there will be a deficit of 4.4 Bcf/day in natural gas supply in the next six years. This level of deficit in the end-market will be driven by higher demand. For instance, the consumption of natural gas in the U.S. will rise by 3.2 Bcf/day in 2020 as against the average witnessed in the last three years.
This improvement in natural gas consumption in the U.S. will be a result of increased usage by the industrial and electric sectors. In fact, Kinder Morgan itself expects an impressive rise in natural gas demand and supply in the U.S. over the next decade, as shown in the chart given below: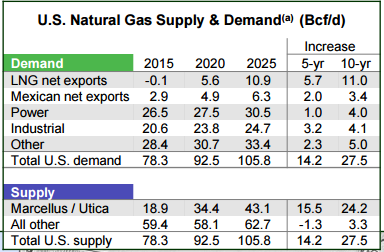 Source: Kinder Morgan
As seen above, natural gas demand and supply in the U.S. will rise by more than 35% in the next 10 years. Thus, the end-market of Kinder Morgan can be expected to pick up pace in the future as demand for natural gas rises, which will also lead to an increase in both supply and transportation volumes.
More importantly, Kinder Morgan has been positioning itself in order to benefit from a rise in end-market demand in the long run. For instance, within the last three years, Kinder Morgan's new and pending transport capacity commitments have increased to the tune of 8.2 Bcf/day. In simple terms, this means that Kinder Morgan has enhanced its contract backlog by entering into new agreements for transporting natural gas in the long run.
This is good news for Kinder Morgan investors since the company's widespread natural gas pipeline network will enable it to benefit from end-market growth going forward. More specifically, 72% of its natural gas pipelines are engaged in interstate transport, while another 20% are engaged in gathering, processing, and treating.
More importantly, the interstate pipelines, which account for the majority of Kinder Morgan's infrastructure as stated above, are based on take-or-pay contracts. Now, under a take-or-pay contract, Kinder Morgan's customers will either transport the agreed volumes through its pipelines or pay it a penalty, which ensures predictable cash flow going forward.
What's more, the average contract life of Kinder Morgan's interstate transport agreements is 6.3 years and this segment does not have any direct exposure to commodity pricing. As a result, the company should witness an improvement in its finances as transportation volumes rise going forward on account of higher demand, which will lead to an increase in its fee-based cash flow.
Conclusion
In my opinion, investors should look beyond the recent weakness in the transport volumes at Kinder Morgan. The company is well-placed to benefit from a rise in natural gas demand and supply in the long run as the end-market scenario improves. So, despite a weak quarterly performance, it will be a good idea to stick to Kinder Morgan shares from a long-term point of view.
Disclosure: I/we have no positions in any stocks mentioned, and no plans to initiate any positions within the next 72 hours.
I wrote this article myself, and it expresses my own opinions. I am not receiving compensation for it (other than from Seeking Alpha). I have no business relationship with any company whose stock is mentioned in this article.