"Sell in May and go away…" Then come back in November and buy stocks, right? And when stocks are bought, gold falls, right? So we should sell our gold, right?
What's that I hear? A choir of gold investors -- probably the majority of readers of this article -- yelling "no"? Oh, that's right: Gold investors care little for what the market does.
And they shouldn't care, as gold has lost much of its inverse correlation with the general market. These days, despite gold still being treated as a hedge, the metal is perceived in its purest form: a commodity.
The seemingly "common sense" idea that a May-to-November gold hedge should be sold or scaled down in November fails in terms of seasonality. Today, we look at the seasonality of gold in November and the four main gold ETFs available to you. Hopefully, this article can give you a fundamental factor in your decision to buy/hold/sell gold over November.
Gold ETF Choices
Let's put aside the seasonality for a minute and look at the most popular ETF choices for gold. Now, the purists can probably skip this part because "gold ETFs aren't real gold -- they're just paper!"
I've already addressed this in a past article, "Gold 101: Which Is The Best Gold ETF?" You can still find ETFs that entitle you to physical gold. Everything here is about your level of trust. The most hardcore gold investors will not even deal with the Sprott Physical Gold Trust (NYSEARCA:PHYS) because maybe the company will take the gold and run in the event of an economic meltdown, leaving investors with no gold and only layers upon layers of tin, in the form of foil, on their heads. Yes, that was a jab at your lack of faith in this system we all play.
Anyway, for those of us who want to hold gold without diving into the futures market, we can choose from four highly liquid gold ETFs. The first is the SPDR Gold Trust (NYSEARCA:GLD), which is the most popular of these ETFs. Essentially, it tracks the price of gold, allowing you exposure to the gold market without having to meet the margin requirements of the futures market or deal with shipping and handling, required in the case of physical gold purchases.
For those of us who want a slightly different risk/reward profile, we have the Vectors Gold Miner's ETF (NYSEARCA:GDX), which tracks the value of a basket of gold miners, as the name suggests. In this ETF, you gain a few advantages, one of which is the tax advantage of owning companies instead of a collectable (NASDAQ:GOLD). In addition, my backtests show GDX to move slightly faster and stronger than GLD when the general market or economy hears of bullish/bearish/rate news.
Then there's the Gold Miner's 3x Bull ETF (NYSEARCA:NUGT), which I've made a good profit swing trading. But swing trading profitability does not equate to investment profitability, as you will see in a moment. The main idea of this leveraged ETF is to mimic the GDX's percentage movements, multiplied by 3x at the end of the day.
Finally, we have the Junior Gold Miner's 3x Bull ETF (NYSEARCA:JNUG), which is the NUGT equivalent of the small-cap equivalent of GDX, the Vectors Junior Gold Miner's ETF (NYSEARCA:GDXJ). I'm not too familiar with this one, to be quite honest, and will refer to you the check out the details here. Just remember that, in general, small caps move further during a rally but also see money leave more quickly during a selloff.
November Performance
So now we move onto the practical information as we move into November. You've got a thesis on gold, hopefully a bullish one, as that's the conclusion from historical data. Maybe you are cautious going into the election, but I say don't worry too much, as election impacts are overblown.
Let's start with GLD, which essentially follows the true price of gold: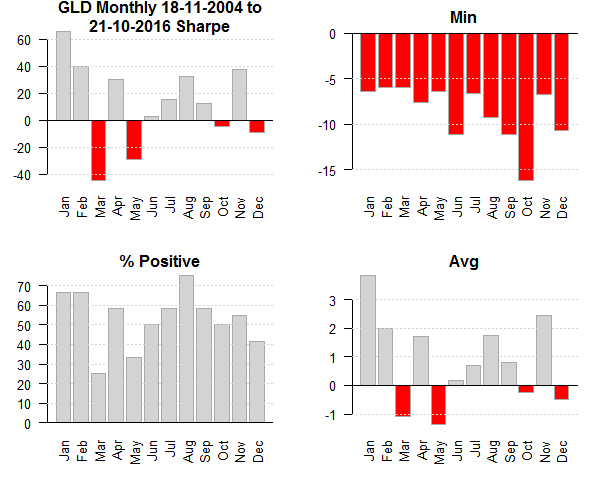 Source: Created by author using data pulled from Yahoo and ADVN.
The data over the past 12 years, much of which has been occupied by a bearish gold market, show November to be one of gold's best months. Perhaps the return to the market after the "sell in May" phenomenon leads many investors to pile into gold as a hedge. Or maybe gold, which trades more like a commodity than a hedge these days, is simply subject to speculation as is any other stock in November, the market's second- or third-best month of the year.
If gold does well, then shouldn't too the companies that "create" gold and sell it as a product? Indeed they do. GDX offers a different risk/reward profile than GLD in November: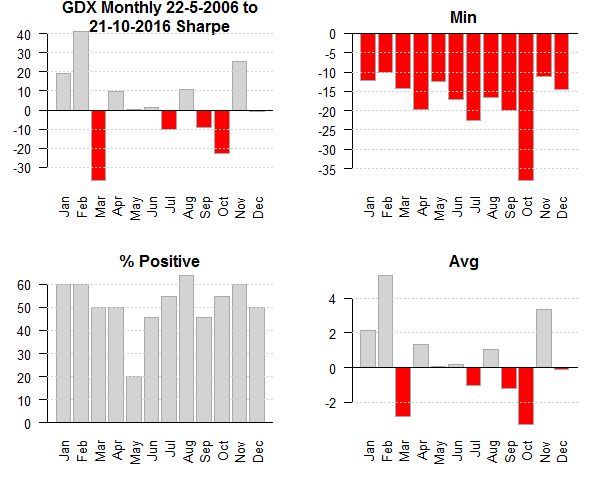 Source: Created by author using data pulled from Yahoo and ADVN.
Clearly, GDX is a higher risk play but with better rewards. This is the ETF for speculators, whereas GLD is better for a steady hedge or investment (if you are willing to call gold an investment). Naturally, the best speculative play would be to leverage GDX by, say, 300%, right?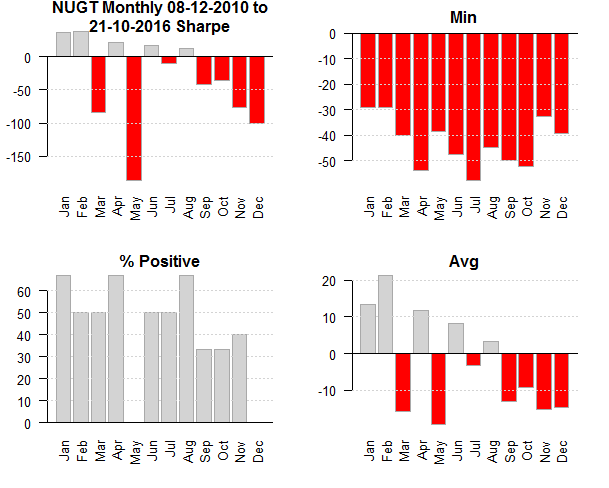 Source: Created by author using data pulled from Yahoo and ADVN.
Apparently not. NUGT is down in November while GDX is up. The reasons are twofold: different data sets (six years of data vs. 10 years of data) and the leveraging methodology.
NUGT's 3x leverage is computed at the end of the day. Error fees eat into the investor's profits ( but can ironically be the profits of a trader). NUGT is fit for day trading and swing trading, but not so much for investing, at least in the long direction.
JNUG acts the same: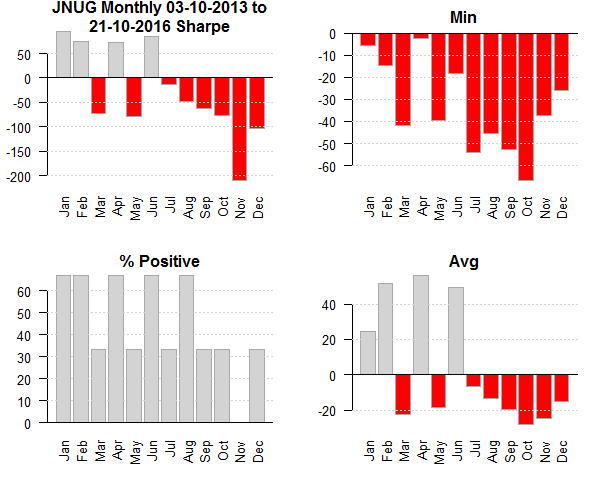 Source: Created by author using data pulled from Yahoo and ADVN.
I hope the above seasonal analysis has given you an idea of which ETFs to use in any upcoming play on gold you might be planning. As for me, I'm staying out until NUGT gets back to what I consider profitable swing-trading and day-trading levels. Nothing against goldbugs, but I'd rather stick to options for hedges.
Author Note: Get my articles as soon as they are published by clicking the big orange "Follow" button at the top of this page. Make sure you choose "real-time alerts."
Learn More About Earnings
My earnings prediction newsletter, Exposing Earnings, is now live here on Seeking Alpha. In this newsletter, I employ both fundamental and pattern analyses to predict price movements of specific companies after specific earnings. I offer specific strategies for playing those earnings reports. To date, the newsletter has a 94% accuracy rate in earnings report predictions.
Disclosure: I/we have no positions in any stocks mentioned, and no plans to initiate any positions within the next 72 hours.
I wrote this article myself, and it expresses my own opinions. I am not receiving compensation for it (other than from Seeking Alpha). I have no business relationship with any company whose stock is mentioned in this article.