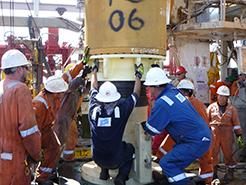 Dril-Quip (NYSE:DRQ) reports Q3 earnings on November 3rd. Analysts expect revenue of $120.29 million and eps of $0.39. The revenue estimate implies a 15% sequential decline compared to the $142.4 million generated last quarter. Investors should focus on the following key items:
Free Falling Revenue
Dril-Quip's revenue is currently in free fall. Q2 revenue was off 14% sequentially and 34% Y/Y. If Q3 revenue falls then it will mark the company's third consecutive quarterly revenue decline. Even more damning its that subsea equipment -- the company's bread and butter -- is also falling sharply. Subsea represents over 70% of total revenue, and it fell 17% Q/Q. With its longer-term contracts, subsea was once considered a more stable revenue stream than land drilling. That's partly what drove Schlumberger's (NYSE:SLB) acquisition of Cameron International last year. After its Q3 revenue fell 13% Q/Q Cameron has now been a laggard for Schlumberger.
That said, Dril-quip's revenue decline could worsen. Industry insiders believe deepwater will be the last segment of the oil services space to recover.
Declining Backlog
The contract backlog is expected to sustain oil services companies during an industry downturn. Dril-Quip's backlog of $460 million is less than one year's worth of revenue. It is down 33% from $685 million at year-end 2015; over the past two quarters the company's book-to-bill ratio is less than 30%. Given the dearth of new orders in the subsea space Dril-Quip's backlog will likely continue to fall. At some point it could drive negative sentiment for DRQ.
DRQ bulls point to the company's $1 billion in working capital, no debt and 38% EBITDA margins. However, its falling top line and backlog could eventually weigh.
Conclusion
Until DRQ's revenue slide subsides investors should avoid the stock.
Disclosure: I am/we are short SLB.
I wrote this article myself, and it expresses my own opinions. I am not receiving compensation for it. I have no business relationship with any company whose stock is mentioned in this article.