Momentum Failure Can Be Positive
It is counterintuitive to think a "momentum failure" set-up in stocks (NYSEARCA:VTI) could have bullish implications. In this case, the description from stockcharts.com is helpful:
Momentum Failure: The failure to move back into overbought or oversold territory signals a change in momentum that can foreshadow a significant price move. The ability to consistently move above -20 is a show of strength. After all, it takes buying pressure to push %R into overbought territory. Once a security shows strength by pushing into overbought territory more than once, a subsequent failure to exceed this level shows weakening momentum that can foreshadow a decline.
The present day weekly chart of the S&P 500 (NYSEARCA:SPY) below shows an example of the case where momentum fails "to move back into oversold territory" (below -80). It is important to understand the difference between a set-up and a confirmed set-up. The chart below illustrates the first step or a set-up. In order for the set-up to be confirmed, the momentum indicator (Wm%R) needs to experience a weekly close above the center line (-50).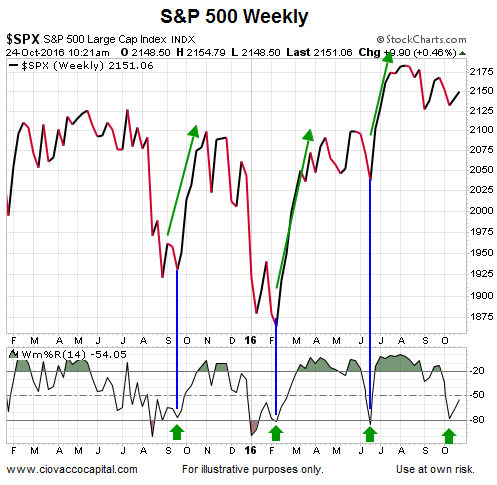 A similar set-up can be found on the chart of the NYSE Composite (NYSEARCA:SCHB), telling us if the set-up is confirmed, it may have broad implications above and beyond the S&P 500.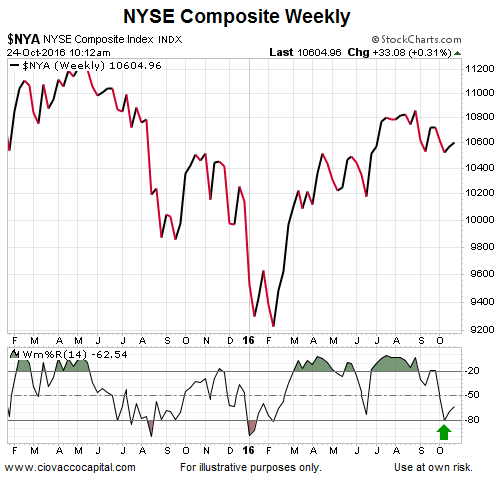 Have Numerous ETFs Broken Below Important Retracements?
This week's video puts some context around recent weakness in numerous ETFs, including technology (NASDAQ:QQQ), metals (NYSEARCA:DBB), REITS (NYSEARCA:IYR), emerging markets (NYSEARCA:EEM), oil (NYSEARCA:USO), mid-caps (NYSEARCA:MDY), and dividend stocks (NYSEARCA:DVY).


Although the industrial sector (NYSEARCA:DIA) has been lagging the S&P 500 (NYSEARCA:IVV) for several months, the same potentially bullish set-up appears on the chart of the Dow Jones Industrial Average.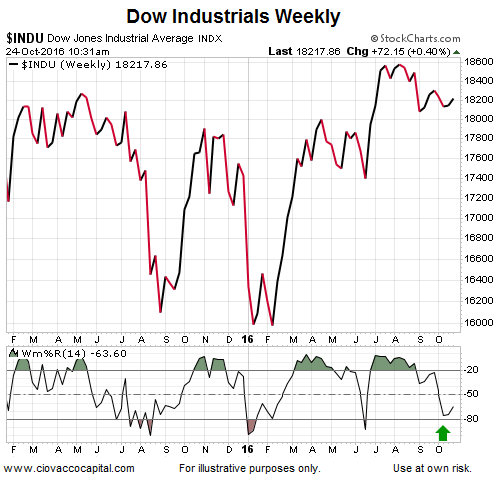 The set-up is broad and extends outside the United States, as illustrated with the weekly chart of global stocks (NYSEARCA:VT) below.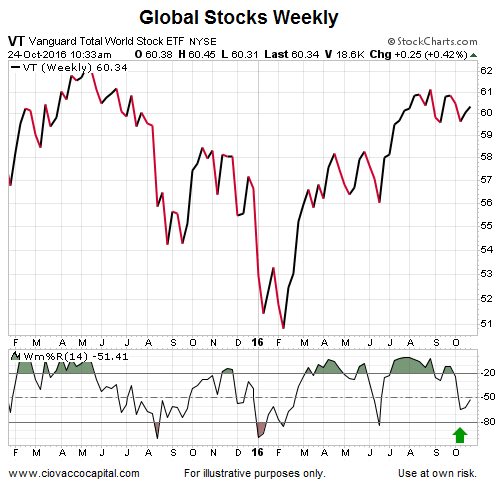 Set-ups mean very little until a confirmation is in place, something that may happen on either Friday, October 28 or Friday, November 4. However, this set-up aligns with information covered on October 10, September 6, and August 20.
Disclosure: I am/we are long SPY.
I wrote this article myself, and it expresses my own opinions. I am not receiving compensation for it. I have no business relationship with any company whose stock is mentioned in this article.