This week Apple (NASDAQ:AAPL) will report its fiscal Q4 (September quarter) results, but this will be largely overshadowed by guidance it gives for the all-important December quarter. I believe Apple will guide to significant revenue growth compared to last year based on strong demand for iPhone 7, Apple Watch Series 2, as well as refreshed Mac and iPad models that will be unveiled at the Thursday event.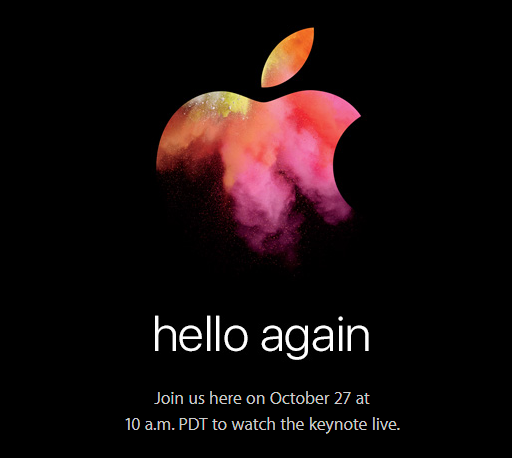 Source: Apple
Being Conservative
Although the iPhone 7 was released mid-September, during the quarter, iPhones were selling at a rate well below the previous year. When Apple was still enjoying the continued strength of the iPhone 6. Furthermore, particular iP7 models that proved very popular such as Jet Black and the Plus were in short supply.
Even now, shipping time for a Jet Black iP7 is 3-4 weeks, and the same for any color of iP7 Plus, except Jet Black, which is 6-8 weeks. Supply constraints have probably kept Apple from exceeding last year's 48 million unit sales.
Sales of Macs languished as the lack of refreshes for key product lines such as MacBook Pro took its toll on sales. IDC reported 5 million Macs shipped in the September quarter. IDC's numbers lately have been coming out a little high compared to what Apple has been reporting, so I've derated this number slightly in my forecast.
iPads also are in need of a refresh to the new generation A10 Fusion series SOCs, so I don't expect great results for the iPad for last quarter.
I expect a major uptick in Apple Watch sales due to the release of the new Series 2. According to a poll of analysts by Philip Elmer-DeWitt, the average unit sales estimate for the quarter was only 2.4 million units. I believe this is way too low.
Series 2 provided key upgrades in the form of a faster processor, built-in GPS, and true waterproofing. The market has responded very favorably, and Series 2 Watches are typically on backorder 3-4 weeks. I'm booking about 3.5 million unit sales in my model.
All told, these estimates yield total revenue only slightly higher than the mid-point of Apple's guidance range of $45.5-47.5 million in revenue, as summarized in the table below.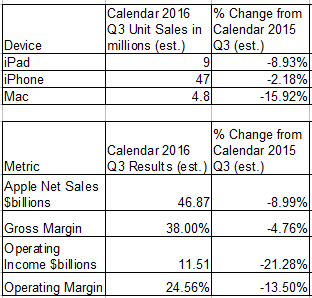 December Quarter Outlook
Perhaps I'm being overly conservative, and Apple will beat the top end of their guidance range. If Apple does, I doubt it will be by much, although any surprise will be welcome. The really critical numbers will be the guidance for the December quarter. Based on continued strength in iPhone and Watch, plus the Mac and iPad model refreshes that I expect, I think Apple will easily exceed last year's revenue of $75.9 billion.
I also expect iPhone and Watch unit sales to exceed last year's numbers. For the iPhone, the number to beat is 74.779 million, and I think 77 million is looking almost certain. For the Watch, the estimate for last year (also according to PED) was 5.8 million. Watch sales for this December may not exceed that number by much, however. Of course, estimating Watch sales is always more problematic since Apple doesn't report unit sales for the Watch.
The Special Event
I've already discussed what I expect for the event on the 27th in terms of a Mac hardware refresh. Let me just reiterate that I expect MacBook Pros to follow the form-factor lead of the Retina MacBook, which will require eliminating cooling fans.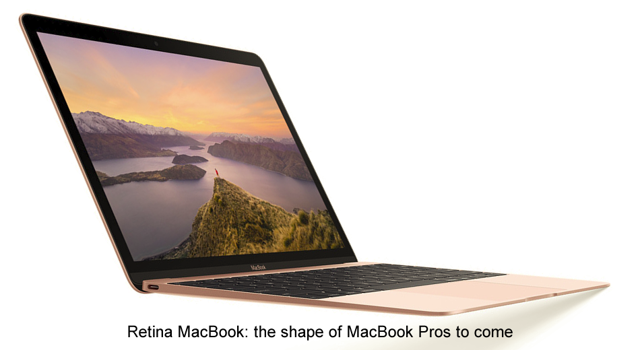 Click to enlarge
Apple touted the Retina MacBook as the future of the notebook computer when it was released, and I expect Apple to follow through with a very similar design for the Pros. This is part of the reason for the long wait for the refreshed Pros, in my opinion. Apple had to wait until Intel (NASDAQ:INTC) could provide 7th Generation Kaby Lake processors sufficiently powerful to run the Pros while not needing cooling fans.
The new fanless design for the Pros also anticipates the advent of Intel 10 nm processors next year. For the new Pros, I don't expect there to be any discrete GPU option.
In addition to upgrades for Mac models, I also expect a major refresh of the iPad. I expect the larger iPad Pro to receive a faster A10x processor as well as the wide-color gamut display that debuted with the 9.7 inch Pro. We will probably see processor bumps across much of the iPad line and could also see an iPad Mini Pro with the key features of the Pro series.
Apple could also throw in some surprises such as a processor bump for Apple TV and even a home automation device based on Siri similar to Amazon (NASDAQ:AMZN) Echo.
Investor Takeaway
Strong sales of iPhone and Watch, combined with Samsung's (OTC:SSNLF) self-immolation, should yield a very bullish quarter for Apple. That Apple will exceed fiscal 2016 Q1 revenue is in my view a done deal. The only question is by how much.
We'll find out based on Apple's guidance. Market reaction will probably be fairly muted if Apple only guides by a small percentage above last year. Frankly, I expect much better, upwards of 10% y/y revenue growth.
Whatever Apple guides to, my expectations for Apple have probably already been fulfilled. Apple has proven the doubters wrong about the "lack of innovation" of the iPhone 7, especially Ming-Chi Kuo of KGI Securities.
Since April, Kuo had been bashing the iPhone 7 for its lack of "attractive selling points" while pushing technically ridiculous predictions of an "all glass" iPhone for 2017. For some reason, he thought this was more "innovative."
Apple has proven its leadership in mobile devices by innovating in mobile processors and operating systems and by combining the two into devices that "just work" (and don't blow up). The last thing Apple needs is a fragile, breakage prone glass "makeover" to satisfy some analyst's concept of innovation. I remain long Apple and recommend it as a buy.
Disclosure: I am/we are long AAPL.
I wrote this article myself, and it expresses my own opinions. I am not receiving compensation for it (other than from Seeking Alpha). I have no business relationship with any company whose stock is mentioned in this article.
Editor's Note: This article discusses one or more securities that do not trade on a major U.S. exchange. Please be aware of the risks associated with these stocks.