It didn't surprise me that General Electric (NYSE:GE) cut its outlook for organic sales growth in 2016. The company had a slow start in terms of organic growth in the first two quarters of this year and was always going to be playing catch-up in the back end of this year despite the latter two quarters usually shipping more product. However, after a brief sell-off on Friday when the company reported its earnings the stock recovered well and almost made it back to its Thursday's close price. I still see long-term value in General Electric especially when you consider how its balance sheet has improved, the cash flows it is generating at present and earnings expectations for the next few years. Furthermore, I don't believe these possible fundamental metrics are priced into the stock at present.
If we look at the oil and gas division where revenues dropped by 25% in the third quarter (compared to Q3 in 2015), I just feel that this division has been totally written off by the market in terms of growth going forward. Remember this division is still a core division of General Electric, which still brought in almost $3 billion in the third quarter. However, this is the division damaging the stock price at present because the market can't foresee any growth here in the near term. (Third Quarter numbers below)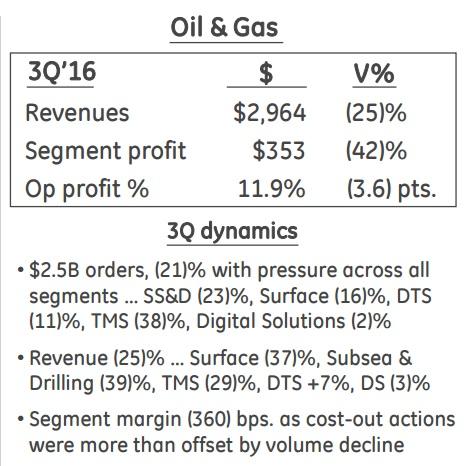 Source: GE Website
However, if we look at an integrated oil major such as Chevron (NYSE:CVX) for example, its share price has skyrocketed recently due to the strong surge in oil prices since February this year. In fact, Chevron is now trading at a similar share price to 2013 when crude oil was up around $100 a barrel (double the present price). Therefore, the market is obviously pricing in higher prices for company's selling the commodity but for a company like GE, which provides services and technology, nothing has changed as of yet that is.
You see, if we look at the chart below, we can see that the 200-week average for crude oil is $72 a barrel. This is essentially the long-term average price for crude. Now since February, there is nothing to suggest that we are going back to these prices. We have been making higher highs since February and although a short-term pullback may be on the cards, I see crude oil going higher. This has to in turn lead to companies in this space spending again on capex. All the market wants to see here is first a stabilization in revenues in this division. In the second quarter, revenues fell by 22% and this time round 25% so the bottom is obviously not on the horizon yet. However, make no mistake about it, GE's revenues in this division will stabilize as the price of oil grinds higher.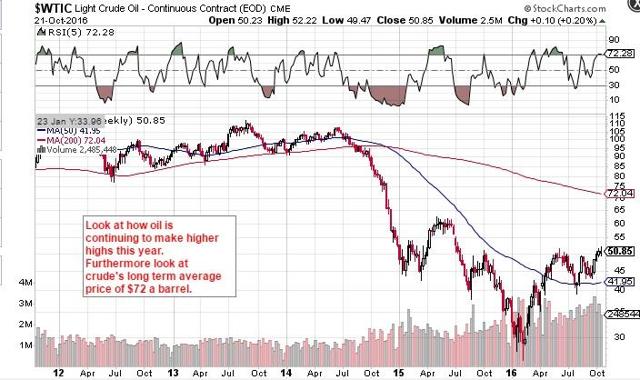 Click to enlarge
The real question is whether one believes that the company can make good on its target of $2 in earnings per share in 2018. The last time General Electric achieved these types of earnings was in 2006 when the share price was over $35 a share. This was when the dividend was well over $1 per share per year and revenues were well over $150 billion. However, fast forward to 2018 and we will be looking at a company with lower revenues but higher on average earnings being produced from these revenues. Furthermore, with the announcement that an extra $4 billion is going to be pumped into share buybacks, we also are looking at a company 12 years later, which will have a substantially lower share count.
The balance sheet is in a far better position today than in 2006 as the company's debt to equity ratio has never been lower at 80%. Moreover, we're talking about a company with an approximate share price of $29. So based off next year's earnings projection, its forward price to earnings ratio is around 17 and based off 2018 earnings projections its price to earnings ratio would be under 15. These numbers are just too low when compared to the company's average earnings multiples especially earnings of industrial revenues with growing service contracts embedded in there.
Furthermore, we are finally beginning to see the Alstom acquisition bear fruit. Alstom's lower margin products have been adversely affecting margins to date so it was encouraging to see gross margins improving by 120 basis points on a rolling-quarter business in the third quarter. Although Alstom barely contributed to earnings in the third quarter, astute investors will have noticed the increasing backlog and orders, which will eventually increase earnings meaningfully once GE can suck more cost out of the system. Over time, the bigger backlog and new clients will result in higher service revenue, which is beneficial from a margin point of view.
To sum up, I know there are a lot of disgruntled GE investors out there who are probably still under water on their positions. However, I see a strong dividend increase coming this along with ongoing buybacks and bullish fundamentals illustrates to me that this stock is going higher.
Disclosure: I am/we are long GE.
I wrote this article myself, and it expresses my own opinions. I am not receiving compensation for it (other than from Seeking Alpha). I have no business relationship with any company whose stock is mentioned in this article.