After suffering a brutal bear market decline from June 2014 until February 2016 crude oil has been climbing higher for the better part of 2016. During the last 18 months a head & shoulders bottom pattern has formed in the weekly chart of WTI crude: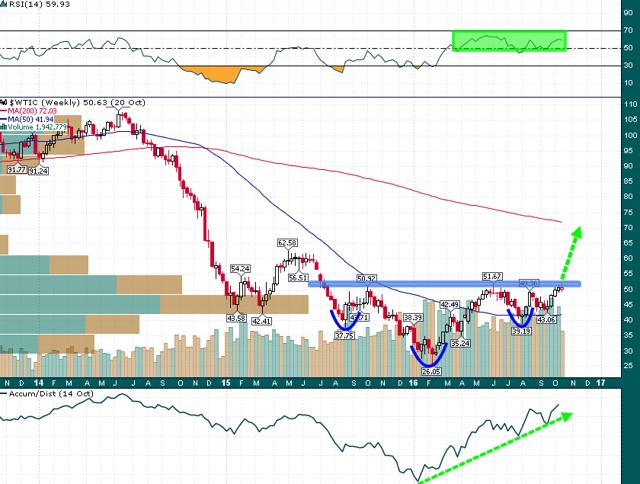 Click to enlarge
Source: Stockcharts.com
A breakout above ~$52 in WTI will target $70+ as global oil market supply & demand moves back into deficit beginning this quarter: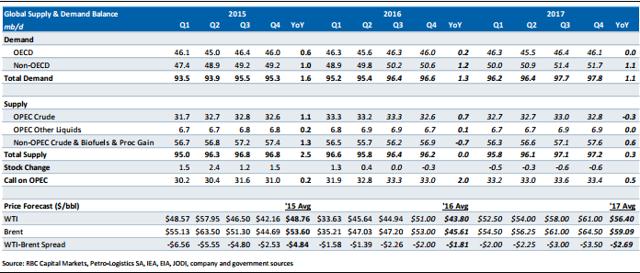 Click to enlarge
Meanwhile the World Bank forecasts crude oil prices to continue a steady climb to north of $80/barrel over the next decade: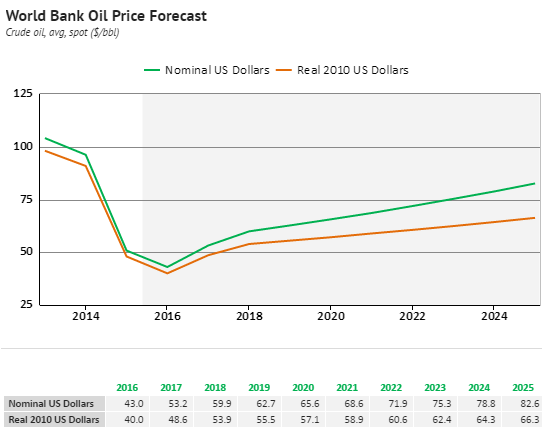 The shock & awe of the 2014 oil crash planted the seeds for a steady, long term recovery in the price of crude oil. In addition, the dearth of oil exploration activity and investment in the last couple of years has presented an attractive investment opportunity for astute investors who are able to separate the wheat from the chaff in the oil sector.
Oil E&P companies who have little or no debt, increasing production, and a low cost structure stand to reap windfall profits over the coming years as the oil price recovers. We have carefully selected our five top oil picks of various market cap sizes ranging from mega-cap to micro-cap which we believe stand to deliver significant performance to shareholders over the coming years:
1. Schlumberger (NYSE:SLB) - The premier global oil services firm. SLB is meticulous and ruthless in cost cutting which has served the firm well during the last couple of years. As prices recover further above $60/barrel we can expect drilling activity to resume and profits in the oil services sector to also recover. While most oil services companies have seen margins shrink in recent years, SLB has actually increased its free cash flow margins: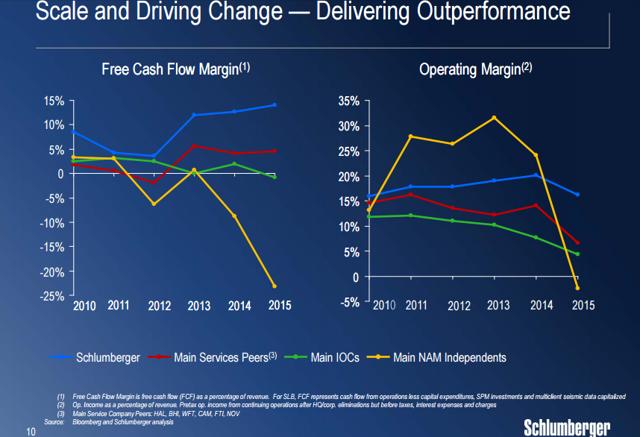 Click to enlarge
Source: Schlumberger
2. Oasis Petroleum (NYSE:OAS) - Low cost U.S. shale oil operator focused on the Williston Basin in the north-central U.S. Oasis has continue to cut costs with its basin leading completion designs (horizontal wells).
OAS shares have experienced a series of higher highs and higher lows since August and even the recent pullback found support above its rising 50-day moving average and price remains in a steady uptrend: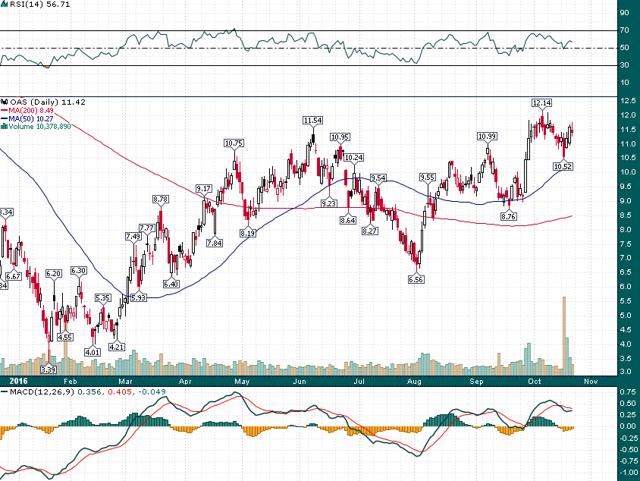 Click to enlarge
Source: Stockcharts.com
3. Parsley Energy (NYSE:PE) - Parsley has one of the best charts of any oil e&p company out there: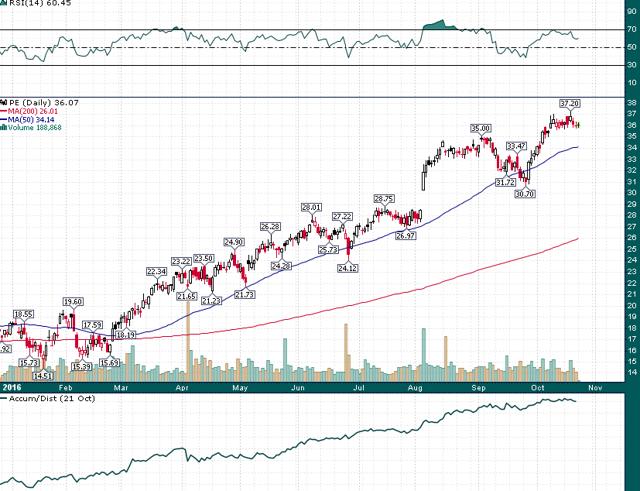 Click to enlarge
Source: Stockcharts.com
Since PE began breaking higher in February pullbacks have been relatively shallow and they have consistently found support near the rising 50-day moving average.
PE has one of the most impressive production growth profiles of any mid/large cap shale oil producer: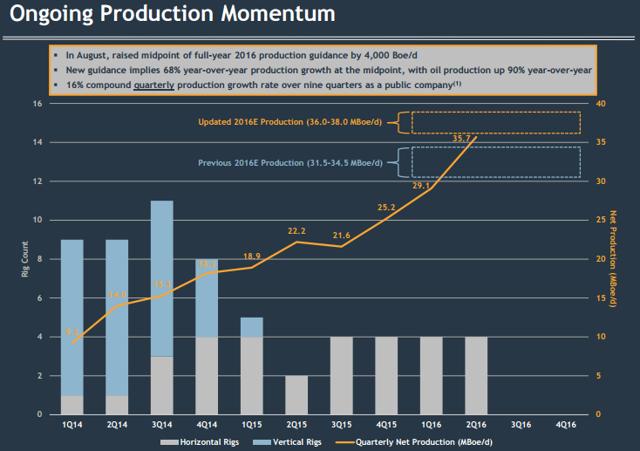 Click to enlarge
Source: Parsley Energy
And perhaps more importantly Parsley has managed to reduce operating costs by roughly 40% in the last year to $10.62/boe in the most recent quarter.
4. Gran Tierra Energy (NYSEMKT:GTE) - South American oil exploration & production company with proved undeveloped reserves of 7.6 million barrels. Gran Tierra has solid production of more than 25,000 barrels of oil equivalent per day in the last quarter, however, GTE is primarily an exploration play; GTE has 1.1 million gross acres (.8 million net) in the highly prospective and underexplored Putumayo Basin in Colombia. In addition, Gran Tierra expects to fund its exploration programs through free cash flow from producing assets.
5. Jericho Oil [(OTCPK:JROOF) - Market Cap: ~US$25 million] - A small Oklahoma focused oil exploration & production company that has been snapping up producing assets with existing reserves on the cheap. Jericho's strategy has been to grow production at low cost while accumulating a portfolio of assets that can be drilled in a higher oil price environment (above $60/barrel):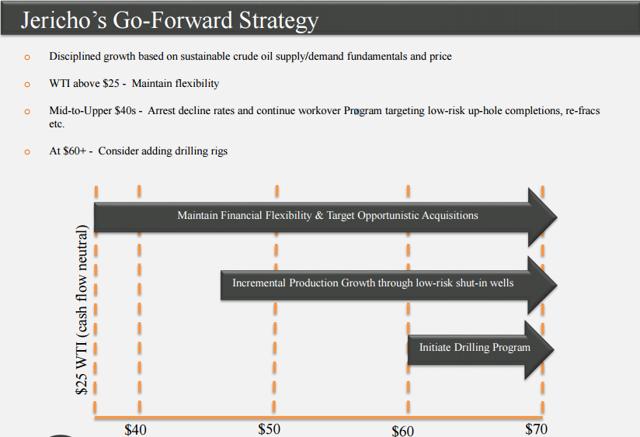 Click to enlarge
Source: Jericho Oil
Investors should always be mindful of the potential volatility and risk which an equity investment could contain. For example, to maintain the same level of portfolio beta a position in Jericho Oil should be considerably smaller than a position in Schlumberger. While Jericho is considerably riskier due to its small size, JCO also has a much better chance of experiencing a huge rally on the order of 300%+ than a massive market cap stock such as Schlumberger. As is usually the case more risk equals more potential reward. As always please do your own due diligence, it's your money and your responsibility.
Disclosure: I/we have no positions in any stocks mentioned, and no plans to initiate any positions within the next 72 hours.
I wrote this article myself, and it expresses my own opinions. I am not receiving compensation for it (other than from Seeking Alpha). I have no business relationship with any company whose stock is mentioned in this article.
Editor's Note: This article covers one or more stocks trading at less than $1 per share and/or with less than a $100 million market cap. Please be aware of the risks associated with these stocks.