In an excellently worded recent article, DoctoRx argued, basically, that 21-year old Amazon (NASDAQ:AMZN) needs to do more to show profits instead of focusing almost exclusively on gaining market share by sacrificing profits. (In this article, I am going to use profits and earnings interchangeably, although, as an accountant, I'm keenly aware that they are neither similar, nor, in most cases, are they the same. ) DoctoRx argues that AMZN, at $818 right now, is overvalued by about 8x, and should be priced at around $100, to reflect a realistic PE of 25x and not its current 200x PE. He says that given the business risks typical for the thin-margin sector, and the fact that it keeps focusing away from profits (which DoctoRx appears to take to be the key target for any business), that Amazon is drastically overvalued.
This graph from an excellent article (must read) captures the scenario well: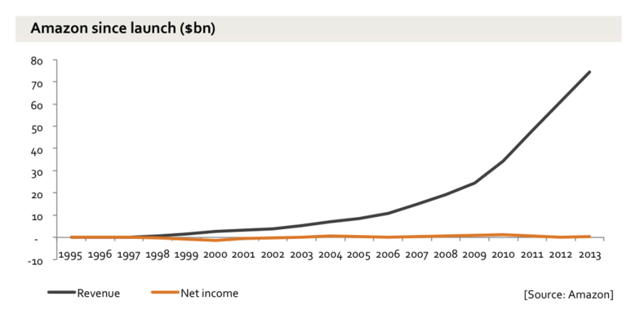 Click to enlarge
Almost a generation ago, I recall sitting in a small, dark classroom in a large public college in India listening to a professor presciently discuss this exact theme in an Economics 101 class: is profit the goal or brand value/market share/goodwill? He used the last three terms interchangeably, although for unlucky companies, they are not the same. Luckily for Amazon - the e-commerce company with perhaps the highest "first-click status… on the Internet" to borrow DoctoRx's words - those terms mean the same thing.
In response to the DoctoRx article, some commenters defended his thesis, while another pointed out another great article that argues more or less what my old professor said so many years ago - that for generational, dynastic companies, profit at any cost isn't the goal. This article, published on Bloomberg by Brad Stone, is available here. This article's entire argument is summed up by this quote from Amazon Chief Executive Officer Jeff Bezos in a Harvard Business Review interview.
"Percentage margins are not one of the things we are seeking to optimize," Bezos said, employing some Wall Street jargon to make the counter-intuitive point that he does not particularly care about making money. "It's the absolute dollar free cash flow per share that you want to maximize. If you can do that by lowering margins, we would do that. Free cash flow, that's something investors can spend."
What Bezos is doing with this strategy, according to Mr Stone, is making the market unpalatable for competitors. If he is selling products at less than 2% margin, says Stone, then the likes of Target (NYSE:TGT) and others, in order to stop the so-called showrooming (people checking out things offline, then buying online) have to try and undercut Amazon. That is the same story for true e-commerce retailers as well. Amazon is bringing down margins in the entire globally $1 trillion sector, and according to analysis by Morgan Stanley, is capturing a quarter of that market in terms of unit sales.
Mr Stone makes a long list of all the goodies and freebies offered by Amazon, and this was in 2013. I am not going to quote or add to that list. Between DoctoRx and Brad Stone, people will generally know what these things are. Suffice it to say that Amazon is to online retail what Google is to the Internet in terms of the freebies offered by them both. Google makes more money and more profit because, luckily for it, it is in a higher-margin business. However, the approach for both is the same.
Brad Stone concludes his article by saying:
"That will be hugely expensive for Amazon. Is it a good business? Here's where the Bezos Doctrine proves powerful. It doesn't have to be good. It just has to appeal to customers. As long as consumers are consuming and shareholders are buying what Bezos is selling, Amazon looks fairly unbeatable."
This is the part where DoctoRx seems not to, or not to want to, understand. He seems to minimize the Amazon appeal - which, in e-retail, mimics Apple's irrational mass appeal. DoctoRx says:
"Wal-Mart (NYSE:WMT) has purchased Jet.com. COST is responding. Macy's is enhancing its e-commerce capabilities further. Alibaba.com (NYSE:BABA) and other Chinese players are expanding."
As a Western-world garden variety buyer, I don't care about WMT and its unappealing business ethics. I don't care about COST and its unglamorous stores. I don't care about Macy's stunted product line or Alibaba's alien marketplace.
I like Amazon, its low-margin but quality products, its diverse offerings, much of them free, and that makes me loyal to the company. This loyalty is money in the bank for the discerning shareholder. A generation later, this appeal will keep this company alive where other companies will be lost in the fibrous, nebulous, uncompromising technology sector where brands that aren't well-built do not last five years.
A more recent New York Times article seems to concur. The article points out that "for the second quarter, which ended June 30, Amazon reported net income of $857 million, or $1.78 a share, up from $92 million, or 19 cents a share, a year ago." It says that this is the first time AMZN has come up with this kind of profit spike, and this is from AWS, its cloud computing business. The article starts by saying that Jeff Bezos has never focused on profit, instead aiming for long-term growth, and the author implies that with these AWS numbers, that approach is finally paying off. This despite the fact that "Amazon has not suddenly become stingy about making investments." It is opening 18 new fulfilment centers across the country. According to well-known Piper Jaffray analyst Gene Munster, "They are defying the laws of gravity."
While I do not necessarily agree that AWS already is proving what my old professor and these other people - and Jeff Bezos - has been saying about market share being more important than profit - no I think these numbers are too small and AWS has a-ways to go yet - I do agree with the basic premise of the NYT article. Amazon is building a brand the long, hard way, and if marketshare is anything to go by, it has been hugely successful. Just last week I wrote about Amazon's success in the Indian market, beating the strong local competition using the same tactic it has used everywhere else - market share before profit. Buyers find it appealing, and investors have faith on that approach, which is why the stock sells at 200 times its earnings, and continues to grow.
Here's what an old article on Seeking Alpha had to say, with charts, about this: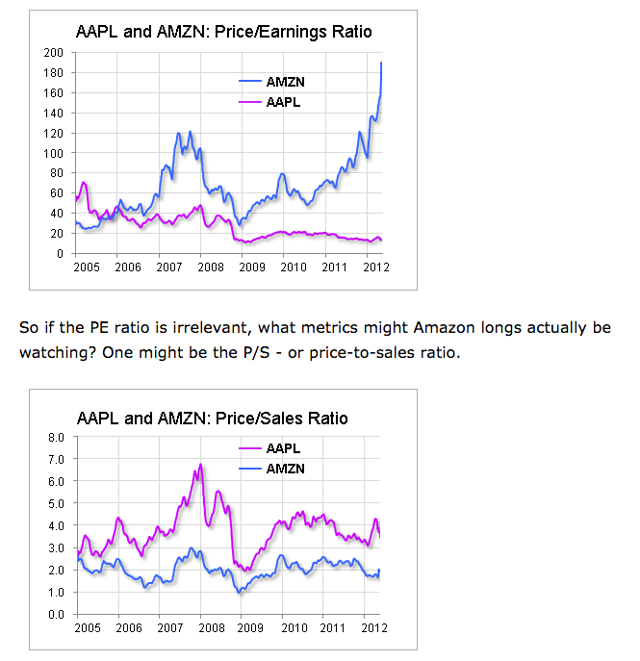 Click to enlarge
On the other hand, there is, indeed, some truth to DoctoRx, and in the opinion of other impatient investors - or rather, long suffering investors - who want to tell Amazon to go make some money already. This is common sense, this is Business School 101 - one must strike a fine balance between profit making and brand making. Whether that fine balance is reflected in the current PE ratio of AMZN is part of the debate. However, since believers are not complaining, and since AMZN keeps giving other giant retailers of all formats the fear of death by grabbing market share - land grabbing, in the words of Brad Stone - it is my belief (and hope) as an AMZN long, that all is fine with Amazon. As long as an active leader like Bezos is at the helm of the company, his doctrine should be investable.
Disclosure: I am/we are long AMZN.
I wrote this article myself, and it expresses my own opinions. I am not receiving compensation for it (other than from Seeking Alpha). I have no business relationship with any company whose stock is mentioned in this article.