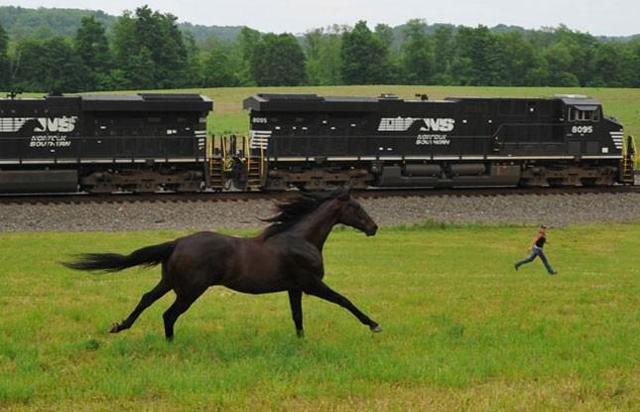 Norfolk Southern (NYSE:NSC) reports Q3 earnings on Wednesday. Analysts expect revenue of $2.53 billion and eps of $1.45. The revenue estimate implies flat growth sequentially. Investors should focus on the following key items:
NSC Replacing Lost Traffic With Intermodal
U.S. rail traffic is in the doldrums. For the first 40 weeks of 2016 total carloads for the U.S. and Canada were down Y/Y by 6.9% and 5.7%, respectively. In turn, Norfolk Southern's top line has also been punished. Q2 revenue freight revenue fell 15% Y/Y.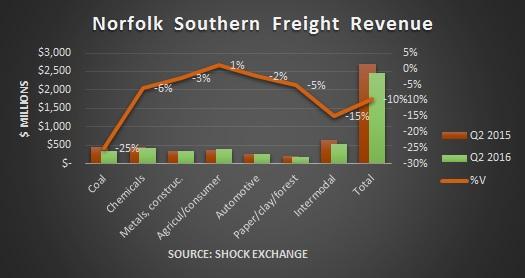 Six of its seven product lines experienced revenue declines; only Agricultural/Consumer, which grew 1% Y/Y, showed an increase. Coal was again the company's worst performer, down 25%. It has to compete with low natural gas prices and a shift to cleaner energy.
Both volume (down 7%) and average prices (down 3%) fell. Another alarming trend is a downward spiral in the company's mix of business. In Q2 2014 Coal and Intermodal represented 18% and 49% of total volume, respectively; last quarter Coal was 12% of total volume and Intermodal 53%. The problem is that Intermodal commands lower prices. The average sales price ("asp") for Intermodal was $565 versus $1,614 for Coal in Q2 2016. In effect, volume declines and a mix shift to lower quality Intermodal has exacerbated Norfolk Southern's pain.
EBITDA Margins
Through cost cutting Norfolk Southern has vowed to generate productivity gains of $650 million over five years; $130 million are expected to be realized in 2016. The company improved its EBITDA margin to 42% in Q2 2016, up from 39% in the year earlier period. Those productivity gains could be harder to come by with Norfolk Southern's top line in decline. Secondly, with its product mix becoming of lower quality management will have to work harder to keep its overall EBITDA from falling in lockstep with revenue.
Conclusion
Headwinds from a declining global economy will likely prove too stiff for NSC to overcome. Continue to avoid the stock.
Disclosure: I/we have no positions in any stocks mentioned, and no plans to initiate any positions within the next 72 hours.
I wrote this article myself, and it expresses my own opinions. I am not receiving compensation for it. I have no business relationship with any company whose stock is mentioned in this article.