Stocks are up a reasonable amount to open the week. They're up, it's said, on enthusiasm that we're getting more merger and acquisition activity.
Which leads to one of those delicious ironies that tends to come toward the end of bull markets: Investors don't seem to like the proposed mergers, but they like the idea that more similar deals could happen regardless.
AT&T's (NYSE:T) shares continue to move lower, following on last week's sell-off. The stock has now dropped from 39.50 to under 37 in just three trading sessions: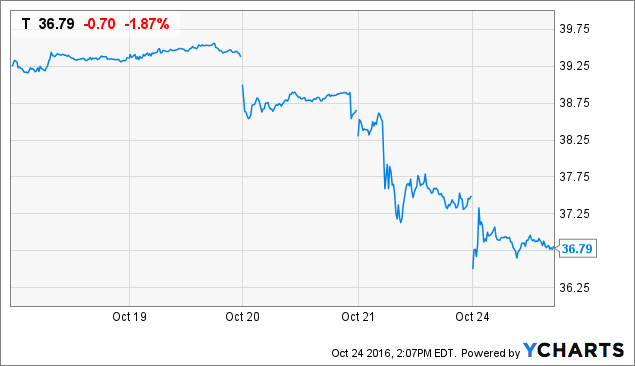 And let me tell you, that's the right call. AT&T is overpaying for Time Warner (NYSE:TWX). At a more than 20x P/E ratio, AT&T is paying a price beyond what the market has ever viewed as reasonable - for more than a decade, Time Warner has virtually always traded under 20x earnings and often well under 15x.
After its questionable Mexican moves and overpaying for DirecTV, one can guess AT&T felt compelled to make an even bigger splash to satisfy growth-orientated investors. But this deal is going to be a big miss.
Not only is the price tag excessive, there are also few deal synergies. And AT&T's cash flow at all costs model necessary to pay the dividend would hamper Time Warner's ability to take risks on the content side. To the extent there's a winner in this deal, it's probably Netflix (NASDAQ:NFLX), which has to love the idea of presently strong competitor HBO getting neutered.
I get that AT&T has a nice dividend. But what else, if anything, do you like if you own the stock? Management shows consistently questionable judgment, and the stock offers little upside. In return for the yield, you take considerable risk in the form of potential management actions, such as this one, that cause the stock to tank overnight.
As it is, there's a decent chance regulators kill this merger. Time Warner stock is still trading far below the supposed takeout price, and TWX stock is in fact red today against all expectations despite the definitive offer coming in. However, the fact that this was proposed, even if it doesn't go through, speaks badly for T's strategic thinking.
The other large merger in play, British American Tobacco (NYSEMKT:BTI) and Reynolds American (NYSE:RAI), has gotten a lukewarm reception. Reynolds is up big, as you'd expect, but British American has sold off sharply. These sorts of mergers are the sorts of "add to your business empire at any cost" types of deals, rather the true strategic maneuvers you get earlier in the business cycle.
The stock market likes the idea that there is merger enthusiasm in the air. But when the actual deals getting announced are mediocre, I'm not sure the deal frenzy will last for long. For what it's worth, the S&P 500 (NYSEARCA:SPY), despite the day's rally, finds itself just back to 2,150, where it feels it has taken up permanent residency.
Most of us had expected more volatility for the month of October - instead it's been a drowsy slumber. Unless something unexpected occurs with the election, bears are running out of time to make something happen before the holiday quiet period sets in.
Not surprisingly, volatility has taken another hit, with leading long volatility products including VXX and UVXY diving to new all-time lows - VXX, amazingly, is down more than 3% today, on top of last week's large losses despite the market only being up modestly: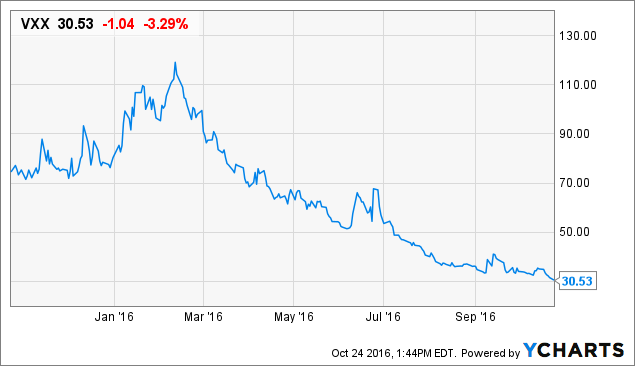 I may sound like a broken record, but it's worth repeating: There's no reason to own these long volatility ETFs. Ever. You can get market insurance cheaper elsewhere.
Return of the Zombie Stocks
Normally when a company files for bankruptcy, that's the end of the line for stockholders. Generally, if a company files, you should sell your stock as soon as possible, collect whatever residual value you can, and never look back.
I haven't seen more recent data, however, for 2009 and 2010 publicly-traded companies that filed bankruptcy, fewer than 10% returned any value (generally in shares of the reorganized company) to shareholders. For every American Airlines (NASDAQ:AAL) where the equity survives bankruptcy and gives shareholders a return, ten firms see their equity go all the way to zero.
Yet, hopes don't die quickly. There's been an increasing interest lately in shares of already bankrupt firms.
GT Advanced (formerly GTATQ) was one such example. Shares continued brisk trading for more than a year after going bust, and at one point soared a full year after going bankrupt on rumors before eventually going to absolute zero.
With the collapse of oil companies, we've gotten a new round of zombie stocks. Shares of Breitburn (OTCPK:BBEPQ) and Linn Energy (NASDAQ:LINEQ) have soared almost 1,000% each in recent weeks as some speculators assume (wrongly) that the recent rally in oil makes it likely that shareholders will recover something from these bankrupt equities.
Even SunEdison (OTCPK:SUNEQ), which fizzled out months ago, is suddenly on a tear again - up 50% today on top of recent gains: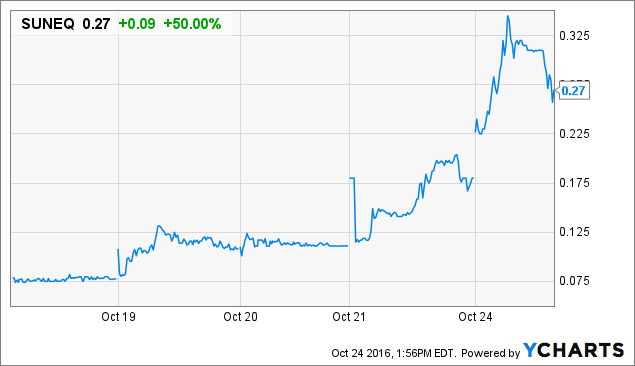 SUNEQ Price data by YCharts
I'd be utterly stunned if that equity isn't completely worthless given its horrific cash flow profile, however speculators aren't willing to throw in the towel quite yet.
However, the most shocking example, by far, has been the rebirth of Peabody Energy's (OTCPK:BTUUQ) bankrupt equity: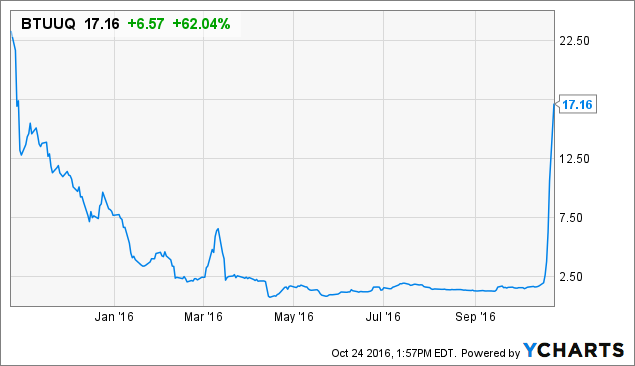 You're seeing that right - Peabody stock is up from the $1s to $17 over the past couple weeks.
Now, there's a reason - however tenuous - for the rebound. Coal prices have rebounded globally following drastic Chinese measures to cut domestic output. But an artificial cut in supply will do little to aid the long-term picture for coal; demand is the problem, and there's little sign anything has been resolved on that front.
Even if the rebound in coal prices and sentiment is durable, it's highly unclear that Peabody equity would have any value - it was pretty far under zero in terms of liquidation value; you'd need a drastic reversal of fortunes to make the equity worthwhile, given how quickly legal fees and other running costs eat up assets in bankruptcy.
The more likely explanation is that, with a heavy short position and a dramatic amount of stock options out, there simply isn't enough stock available with which an efficient market can be made. This allows manipulators to push the price of Peabody around in the short run.
If you want another example where expert stock maneuvering led to a dramatic move in the price of a dead equity, think back to Martin Shkreli's infamous run on KaloBios (NASDAQ:KBIO):
A lot of otherwise reasonably smart short sellers got stuck in KBIO stock as it soared from $2 to $40 late last year. It was clear to most players involved - both stock owners and short sellers - that the stock was nearly worthless. However, short-run supply/demand imbalances in KBIO stock allowed clever owners to dump the stock at absurd heights.
I expect a similar event is occurring in Peabody's stock now. There's a (miniscule) chance that the equity is worth something. But, on the whole, buying stock in a bankrupt equity is no more reasonable than buying a lottery ticket or going to the slots. Only bet money you'd be happy to lose 100% of, and don't pretend that you're investing. Most bankrupt companies end up with shareholders hearing the winds ripping through an abandoned ghost town (source):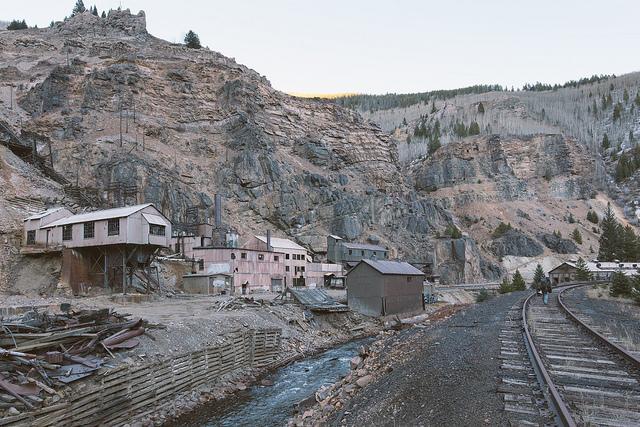 Disclosure: I am/we are short UVXY.
I wrote this article myself, and it expresses my own opinions. I am not receiving compensation for it (other than from Seeking Alpha). I have no business relationship with any company whose stock is mentioned in this article.
Additional disclosure: The commentary on T/TWX is a condensed excerpt from Ian's Insider Corner's Weekend Digest. To read it all and not miss out on other coverage, please join us there.
Editor's Note: This article covers one or more stocks trading at less than $1 per share and/or with less than a $100 million market cap. Please be aware of the risks associated with these stocks.