It is time for investors to take a closer look and the risk/reward prospects for investing in U.S listed healthcare stocks in 2016 and onward. This industry has become a short seller's dream and a long-term investor's nightmare.
Ariad (NASDAQ:ARIA) is one of the best examples of the unique risks faced by investors in the healthcare sector.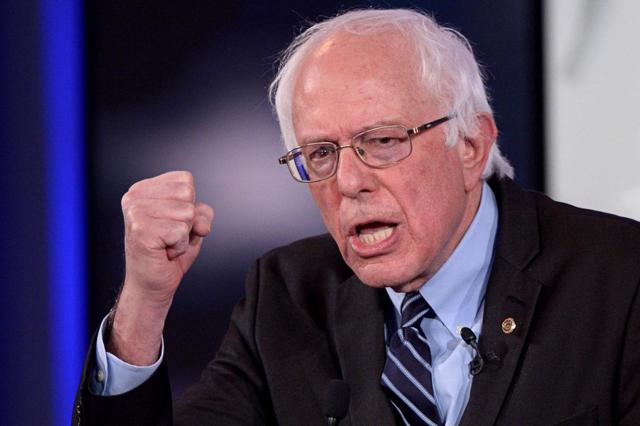 Click to enlarge
Source: newyorker.comClick to enlarge
Last Sunday, Vermont Senator Bernie Sanders single-handedly caused the destruction of $387 million in Ariad shareholder value with a single tweet:
Drug corporations' greed is unbelievable. Ariad has raised the price of a leukemia drug to almost $199,000 a year.
According to Statnews.com, Ariad - despite the pressure falling on its peers (Valeant (NYSE:VRX), Mylan (NASDAQ:MYL) and Turing Pharmaceuticals) - has raised the price of its Leukemia drug, Iclusig, four times, a total of 27 percent, in the year of 2016 alone.
The list price of the medication is now $16,560 per month.
In response to these concerns, the company issued a statement amounting to what could derisively be called 'the Martin Shrekli defense' - alluding to the arguments made by the former CEO of Turing Pharmaceuticals.
We have substantial clinical data highlighting the benefits of Iclusig, as you know, which addresses an area of high unmet medical need in an ultra-orphan patient population of around 1,000 to 2,000 patients per year. We believe that our pricing actions also consistently reflect our significant investment in R&D and our ongoing commitment to the patient population we serve through our medicines.
Ariad is in a perilous financial situation. The firm is deep in the red and the extra income from its high-priced orphan drugs can help it bear the onerous expense needed to pass FDA regulations and bring its pipeline to market.
This company is hardly the profit machine Sanders makes it out to be.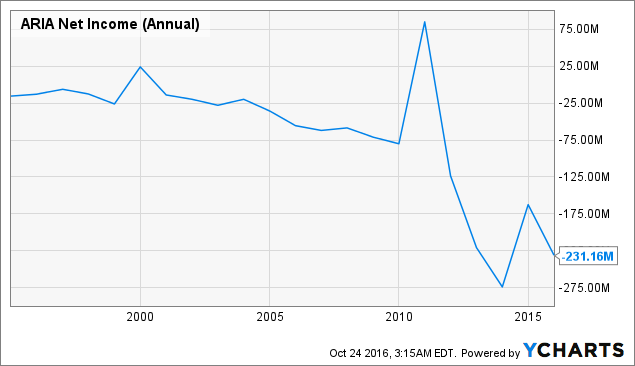 ARIA Net Income (Annual) data by YCharts
Ariad far surpasses its peers when you look at R&D expenditure compared to revenue.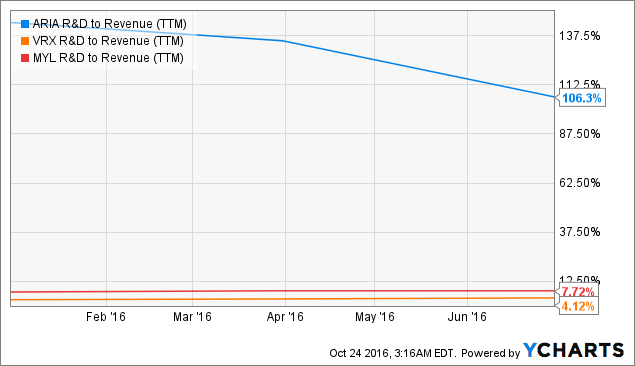 ARIA R&D to Revenue (TTM) data by YCharts
While his heart is in the right place, Sanders might be demonizing a firm that doesn't deserve the attacks.
Bernie Sanders Continues To Push The Issue.
Whether or not Ariad's justifications for its prices are reasonable, the judgment of its actions will fall on the, sometimes irrational, court of public opinion. It does not look like the firm will escape this problem easily.
Leukemia is an emotionally-charged condition that is often associated with children's health. Senator Bernie Sanders refuses to let the issue rest.
Both Sanders and Rep. Elijah Cummings have written a public letter to Ariad requesting more information. The lawmakers intend to investigate the pharma company for supposedly altering dosages while raising prices to further gauge consumers - there seems to be a suggestion of illegality in these accusations. The lawmakers seem to be looking for something to prosecute.
There is a trend here. It is the same thing we saw with Valeant, Mylan and Turing - Lawmakers will leave no stone unturned in order to discover prosecutable actions they can use to punish healthcare companies seen as exploiting the market.
If there are skeletons in Ariad's closet, they will be discovered and exploited to the detriment of shareholders.
Catalysts For concern.
1. The competence of Ariad's management must be questioned. The decision to raise prices may be justified, but it seems like an undue risk at a time when so much political attention is falling on the sector.
Is management trying to squeeze out as much money from the system as it can before regulation destroys its pricing power?
2. Why is Ariad so desperate? The company seems to be struggling to continue as a going concern. If price hikes are the only way for the firm to grow revenue, it raises serious questions about the strength of the business model.
3. Government intervention. Regulation and the possibility of prosecutable actions being found by the Sanders/Cummings investigation could be catastrophic for a firm like Ariad, which is in such dire straits already.
Conclusion
Healthcare investing has become a minefield, and it is better to be short rather than long in this sector. The eyes of lawmakers are keenly watching drug companies, ready to pounce on any indiscretion and prosecute to the fullest extent, regardless of the financial condition of the firm in question.
In the midst of this dangerous playing field, firms like Ariad continue to blatantly hike prices ignoring the harm this behavior can do to their shareholders and brands.
The financial condition of companies like Ariad may be weaker than the market anticipates and price hikes may be the only way to meet guidance targets. Healthcare management teams continue to play a game of Russian Roulette; Ariad may be turning into the next Mylan or Valeant.
Disclosure: I/we have no positions in any stocks mentioned, and no plans to initiate any positions within the next 72 hours.
I wrote this article myself, and it expresses my own opinions. I am not receiving compensation for it (other than from Seeking Alpha). I have no business relationship with any company whose stock is mentioned in this article.