This article is an update of the previously published "Cheap Stocks Vs. Value Traps - October Cases" (link to the article). I updated my view on some stocks I have already written about, and I added a new case and a watchlist for investors interested in this theme.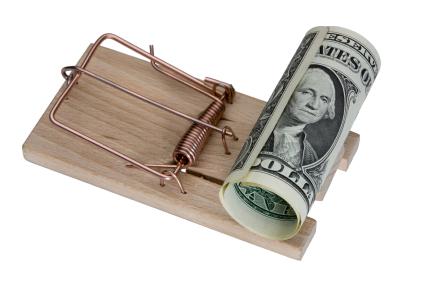 Many great investment ideas can be found in some stocks that are avoided or even shorted by many investors who are concerned about some issues these companies are facing. Sometimes they get it right and the fundamentals of the company deteriorate with the stock price spiraling down. Other times their thesis is wrong, or the company puts in place some actions that change the picture. Sometimes the issues fade away, thanks to external events.
I usually focus on stocks with a good market capitalization and that look cheap according to valuation multiples such as P/E and P/FCF.
Macy's (NYSE:M) - New Case
TTM P/E =14.96
TTM P/FCF =10.52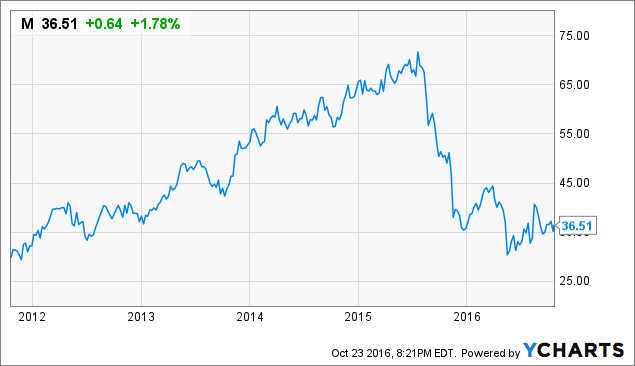 This stock has been affected by the general weakness in the retail sector that resulted from several macro and industry-specific factors. I would say that the main negative factors that have weighed on the company's recent performance are:
1) Weak tourist spending resulting from recessionary environments in the emerging markets and a strong dollar.
2) Increasing competition from e-commerce players like Amazon (NASDAQ:AMZN).
Both problems are common to basically all the retailers. Weak tourist spending heavily affects retailers that sell apparel and fashion items since these products account for the lion's share of tourist spending. On the other side, the aggressive pricing strategies by Amazon (and the e-commerce giant's efficiency as well) is transforming some physical stores in showrooms for the virtual competitors. While this is particularly evident with retailers like Best Buy (NYSE:BBY) and Bed Bath & Beyond (NASDAQ:BBBY), the issue has begun to expand to other sectors in the recent past, involving retailers that heavily depend on sales of apparel and fashion items, like Macy's.
From the table below, we can see that the company has experienced a fast decline in sales and margins, fueling a short case that describes Macy's as a value trap. On one side, bears are pessimist about the future prospects of the company and expect Macy's to keep losing market share because of competition from Amazon. On the other side, the general shift to e-commerce is expected to weigh on profits due to the lower marginality of the online channels in comparison to brick-and-mortar stores.

Click to enlarge
Morgan Stanley expects department stores to decline further, estimating that they will account for only 7% of the apparel market in 2020, while they had 26% of the market share in 2005.
There is a clear shift towards online shopping. Retailers such as Macy's, Kohl's (NYSE:KSS), J.C. Penney (NYSE:JCP) and Nordstrom (NYSE:JWN) have to spare no effort to build their online presence if they want to prosper in the new environment. Macy's stopped reporting online sales growth a few years ago, but Credit Suisse estimates that online sales account for about 20% of total sales. The company is constantly closing bad-performing stores and it's trying to develop a winning omni-channel presence through e-commerce websites and a few apps.
My view on Macy's is positive. While a significant number of stores could close in the future, I see the market evolving towards a multi-channel structure and Macy's still has the advantages of large store base and a famous, iconic brand to exploit (especially with tourists).
Bed Bath & Beyond - The membership program might be a catalyst
TTM P/E = 8.29
TTM P/FCF = 8.83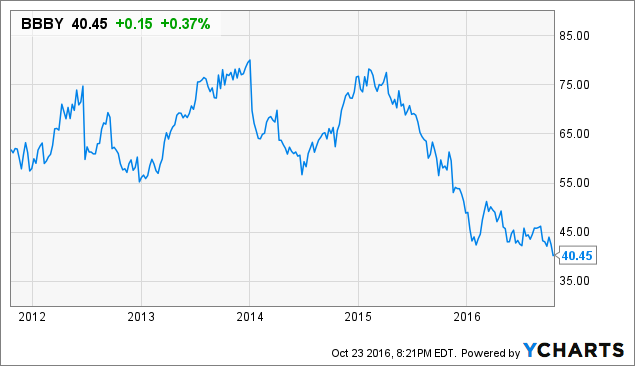 BBBY data by YCharts
Bed Bath & Beyond is another retailer that has been suffering because of competition from Amazon. The company's margins have started to decline sooner than Macy's, and the stock price has posted a big correction from the top reached in January 2014.

Click to enlarge
Source: Morningstar
The problem with the company's business is that an increasing number of people have started to buy online due to the more attractive prices in this channel. At the same time, the company is relying on discounts to avoid further market share loss that would benefit Amazon. The discounts are necessary to avoid that BBBY's stores become showrooms for the virtual competitor, but margins are being hurt.
Despite the lower marginality of the e-commerce channel, BBBY has to develop a strong online business to adapt to the underlying changes in the industry. I estimate that the company's sales from the non-store segment account for almost 10% of the total while we know they are growing in excess of 20% a year.
The company has recently started to test a new membership program that for $29 per year offers 20% discount on all purchases and free shipping on online purchases. I think that despite the short-term negative effects on margins, this move can improve customer retention and, in part, improve the company's competitive position against Amazon in the long term. There is still a lot to be done, but I am positive about the future prospects of the company for the following reasons:
- Non-store sales, despite still low compared to the total, are growing at a good pace, showing that the company is adapting to the changes in the industry (a partial shift to e-commerce).
- Success in the membership program could help monetize on the customers that don't buy everything online through an improvement in customer retention.
Moreover we have to consider that as of August 27, the company has a buyback program with a remaining balance of about $2.0 billion, which is expected to be completed in the latter half of fiscal 2019 or in fiscal 2020. With a market cap of $6.2 billion, $2.0 billion translates into 32% of the outstanding shares.
Michael Kors Holdings (NYSE:KORS) - A takeover target?
TTM P/E =11.1
TTM P/FCF = 8.8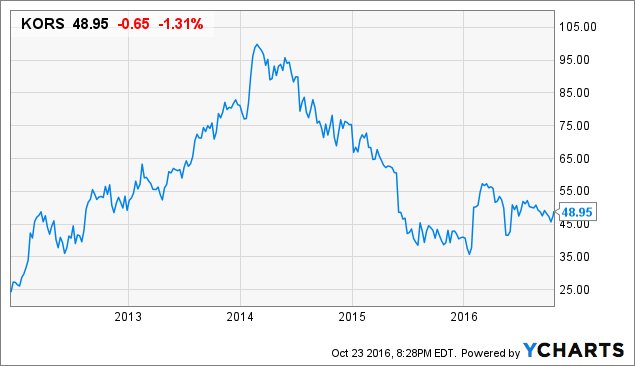 KORS data by YCharts
Michael Kors Holdings is a famous name in the fashion industry. After a few very good years, the company's revenue growth has started to slow down. The stock price has fallen to $35 from the top reached in early 2014 and it's now close to $49. Bears believe that Michael Kors's success is the result of a fad, and that the brand will lose its status and attractiveness due to excessive commercialization. The fact that the brand is one of the most discounted brands in department stores is a sign that could support their thesis.
Nevertheless, KORS is a free cash flow-generating machine, trading at depressed multiples, with a very strong balance sheet. The company is trying to expand its product offerings in footwear and accessories, mainly through new licensing agreements.
A few days ago, the stock climbed by 5% after rumors of a possible takeover by an unknown bidder. The rumors give me the chance to list a few characteristics that make KORS a good takeover target, which include a clean capital structure, low debt, good cash reserves and low relative valuation in comparison to peers like Coach (NYSE:COH) and Kate Spade (NYSE:KATE). For a group that could help MK solve its growth issues, i.e. a company with a good position in emerging markets, buying the company could actually be a very good deal.
I am positive about KORS for a few simple reasons. While the market is discounting a future of declining sales and profitability, the company is trying to expand its product offerings and has recently started to develop its business in China.
A modest decline in handbag sales (the main problem) could be offset by a combination of:
- Additional sales in footwear, apparel and other accessories.
- Growth in China and hopefully other emerging markets.
At the same time, the company might actually be a takeover target thanks to its financial characteristics.
We have to monitor the company's performance closely since a significant further decline in North America could be difficult to offset in the short term.
Fossil, Inc. (NASDAQ:FOSL) - The wearables battle
TTM P/E = 9.86
TTM P/FCF = 7.53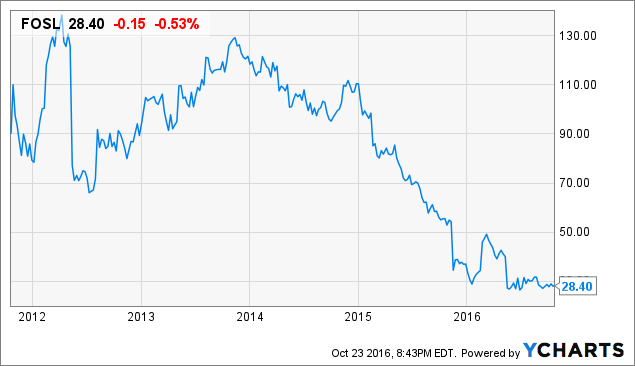 FOSL data by YCharts
Fossil has been suffering because of several factors. First, weak consumer spending in the fashion industry due to a strong dollar, recessions in Russia and Brazil, the slowdown in China, and rising concerns about terrorism. These factors determined a decline in tourism and tourist spending in North America (and Europe as well). Second, a boom and bust in sales of Michael Kors branded products, which account for about 25% of total sales. Third, rising competition from smartwatches, which cannibalized part of the classic watch sales.
The current low valuation is due to increased pessimism resulting from a significant decline in sales and a sharp drop in profitability triggered by the factors listed above. Bears believe that the classic watch industry is in secular decline and that smart watches produced by tech giants such as Apple (NASDAQ:AAPL), Samsung (OTC:SSNLF) (OTC:SSNNF) and Huawei will determine shrinking sales for Fossil, Citizen (OTCPK:CHCLY) (OTC:CHCLF) and other players in the classic watch industry.
I think the particular nature of the wearables produced by Fossil (hybrids between fashion and tech) and the limited number of functions that customers expect from wearables (checking notifications, monitoring steps, heart rate etc.) have a positive consequence for the company. Fossil can exploit the underpenetrated segment of fashionable tech where tech giants are not able to exploit their technological knowledge as a competitive advantage.
The company has announced the launch of more than 100 wearables under eight brands, and sales of smartwatches and fitness trackers recently launched through the Fossil and MK brands could help unlock the stock price.
I am positive about the future prospects of the company, and I think the stock offers an asymmetric risk/reward for buyers. If you want to know more about this stock, I suggest that you read my bull case on Fossil at this link.
Watchlist
I have started to write down a list of stocks involved in "Cheap Vs. Value Trap" debates. I have chosen only the ones that I think are interesting to follow. I indicated the main reasons behind the low valuation in the "Main threats" column, but there might be other reasons not listed. I will extend this list in the future as I extend my coverage of this kind of stocks.
| | | | | | |
| --- | --- | --- | --- | --- | --- |
| | TTM P/E | TTM P/FCF | Market Cap $Bil | Disclosure | Main threats (or supposed threats) |
| | | | | | |
| U.S. | | | | | |
| Bed Bath & Beyond | 8.29 | 8.83 | 6.2 | Long | Online competition |
| Apple Inc. | 13.57 | 13.00 | 628.3 | Long | Declining iPhone sales |
| Fossil, Inc. | 9.86 | 7.53 | 1.4 | Long | Smartwatches |
| Gilead Sciences (NASDAQ:GILD) | 6.55 | 6.28 | 98.0 | Long | Substitute drugs for HCV, Price regulation |
| Michael Kors Holdings | 11.10 | 8.80 | 8.3 | Long | Heavy discounts in dep. stores, slow growth |
| Macy's | 14.96 | 10.52 | 11.3 | No Position | Online competition |
| Harley-Davidson, Inc. (NYSE:HOG) | 14.49 | 16.24 | 10.1 | No Position | Declining brand attractiveness, cyclical weakness |
| Westlake Chemical Corporation (NYSE:WLK) | 13.05 | 15.62 | 6.7 | No Position | Low oil prices |
| Harman International Ind., Inc. (NYSE:HAR) | 16.03 | 23.53 | 5.6 | Long | Expected weakness in auto sales |
| GameStop Corp. (NYSE:GME) | 6.65 | 32.91 | 2.6 | No Position | Shift to digital downloads of video games |
| Best Buy Co. | 12.94 | 7.92 | 12.5 | No Position | Online competition |
| | | | | | |
| Europe | | | | | |
| | | | | | |
| Hugo Boss AG (OTCPK:BOSSY) | 17.03 | 19.86 | €Bil 3.8 | Long | Cyclical weakness in affordable luxury |
| Dialog Semiconductor (OTC:DLGNF) | 12.57 | 15.33 | €Bil 2.9 | No Position | Declining iPhone sales |
| AerCap Holdings N.V. (NYSE:AER) | 7.92 | 6.87 | 7.6 | No Position | Aircraft leasing glut, weak emerging markets |
| easyJet Plc (OTC:EJTTF) (OTCQX:ESYJY) | 7.78 | / | £Bil 3.65 | No Position | Brexit, cyclical weakness |
Thanks for taking the time to read the article. If you liked it, click on the follow button at the top of the page. You will get the next updates as soon as they are published.
Disclosure: I am/we are long BBBY, AAPL, FOSL, GILD, KORS, HAR, BOSSY.
I wrote this article myself, and it expresses my own opinions. I am not receiving compensation for it (other than from Seeking Alpha). I have no business relationship with any company whose stock is mentioned in this article.
Editor's Note: This article discusses one or more securities that do not trade on a major U.S. exchange. Please be aware of the risks associated with these stocks.