Abraxas Petroleum (NASDAQ:AXAS) was identified previously as a good speculative stock. Right now there has been just enough good news coming out to wet the appetite of the market. Rampant speculation about what is to follow has begun. Volume and price action to follow so traders are about to have a field day. Momentum anyone?
But there has also been some decent fundamental news also. The NDIC website is hard to navigate and harder still to obtain information until you get used to it. But it is the source of the following information. Richard Tremblay (as Richard Clovis) does a fantastic job of navigating that website and summarizing the information, so I will take the easy way out.
"Reported today...(October 13, 2016 by Richard Tremblay)

Note...BOE based on 6 MCF to 1 Brl ratio...

STENEHJEM 10H...Three Forks
Month..File.. .Oil.. .Gas....BOE...Days
Aug...31162..5733..10266...7444....9
Completion Date 8/24/2016
Cum Oil..Cum Gas..Last Prod Date
5733....10266....08/01/2016

STENEHJEM 11H...Middle Bakken
Month..File......Oil.......Gas....BOE...Days
Aug...31163..5652..10108...7337....8
Completion Date 8/23/2016
Cum Oil..Cum Gas..Last Prod Date
5652....10108....08/01/2016

STENEHJEM 12H...Three Forks
Month..File......Oil.......Gas....BOE...Days
Aug...31164..5641..10898...7457...12
Completion Date 8/21/2016
Cum Oil..Cum Gas..Last Prod Date
5641....10898....08/01/2016

STENEHJEM 13H...Middle Bakken
Month..File.......Oil.......Gas....BOE...Days
Aug...31165..11113..20547..14537..15
Completion Date 8/17/2016
Cum Oil..Cum Gas..Last Prod Date
11113....20547....08/01/2016

STENEHJEM 14H...Three Forks
Month..File.......Oil.......Gas.....BOE...Days
Aug...31166..10772..16554..13531..16
Completion Date 8/14/2016
Cum Oil..Cum Gas..Last Prod Date
10772....16654....08/01/2016

STENEHJEM 15H...Middle Bakken
Month..File......Oil........Gas.....BOE...Days
Aug...31167..11435..23050..15277..17
Completion Date 8/13/2016
Cum Oil..Cum Gas..Last Prod Date
11435....23050....08/01/2016"
These are just the kind of results to get some decent price action and speculative comments about future results going. The results above represent the promised completions of the North Dakota wells. These are not bad initial results. However, clearly Abraxas has a ways to go to obtain the results that were recently projected by Oasis Petroleum (NYSE:OAS).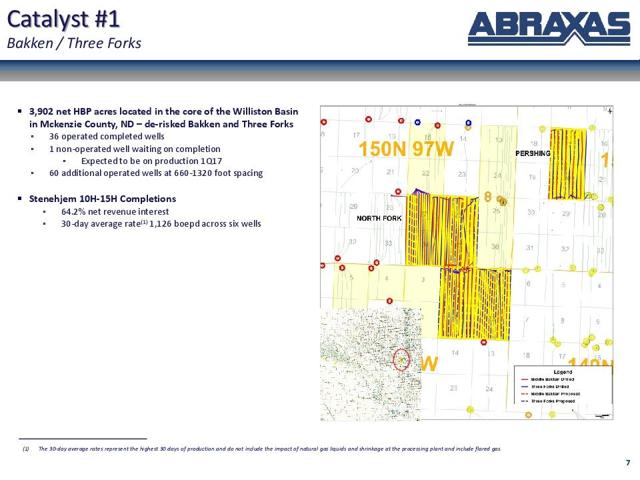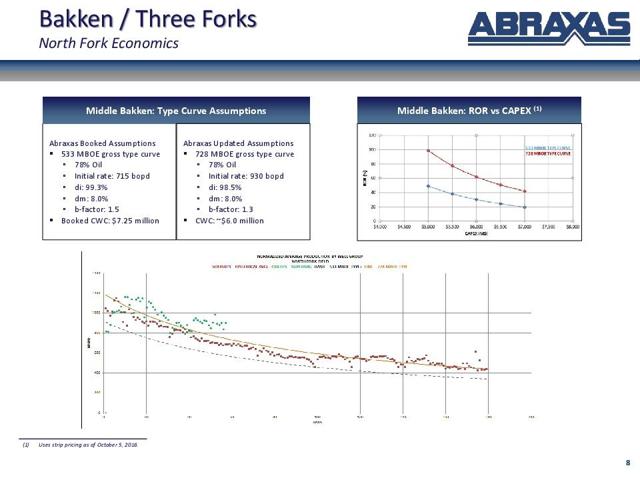 Source: Abraxas Petroleum, October 2016 Corporate Presentation
A previous article noted that the projected results clearly indicated that management should complete these wells rather than allow them to remain idle. But that calculation is very different from the projections needed to use precious capital to drill new wells. So while Oasis is on the verge of competing with the lower cost geological areas, this company is not. Therefore management has bet its future much further South because the superior returns are on the Southern leases.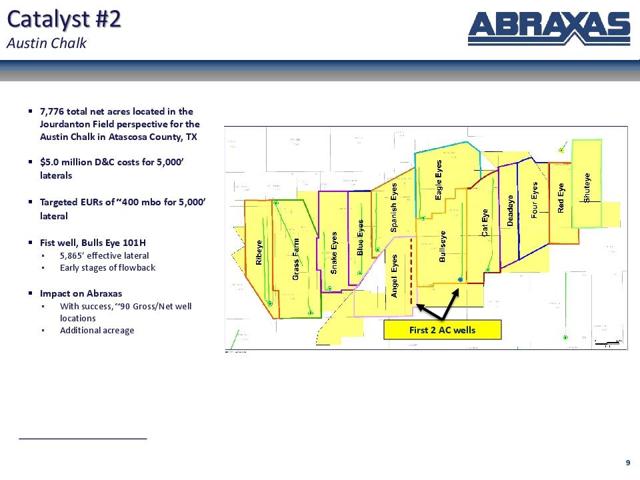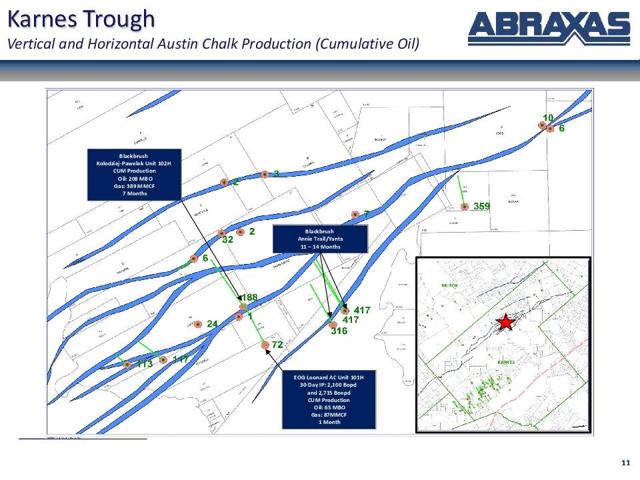 Source: Abraxas Petroleum, October 2016 Corporate Presentation
The results of the Austin Chalk well are due any day now. The market is just getting giddy with anticipation. As Richard Tremblay and others have noted, market forecasts of the future of this stock are now changing. This is "group think" in action. So while the long term shareholders are benefiting from this market attitude change, would be speculators are piling on. After all there is now an imagined ride into the future successful investment world beyond anyone's previous imagination.
However, the market cap is now about $254 million along with some long term debt. There is a very good chance that after the announcement the stock will come back down at least 50%. So while this is potentially a very profitable well and a game changer, the market is already pricing in some of that news. Unless this well is an extremely huge surprise it may be better for current investors to hold until after the news, and would be speculators to wait for the news. Geologists and petroleum engineers may be far better prepared for the announcement than the average investor.
This stock has now nearly tripled from its low. Investors need to remember that this is a company that had to sell stock to obtain about $10 million or so to fund drilling in the capital program. So it will take time and a few wells for the cash flow to justify the current price. This is a small company so it cannot simply have a four rig drilling program just because the first well results are good. Furthermore this new well will have to establish a track record. So there is every chance that there will be some delay starting the second well. The company needs cash flow of about $40 million from operations to justify the current share price. That will probably take at least $100 million of wells to achieve, maybe more once declines are factored in.
New well completion techniques have revolutionized the Austin Chalk. Old profitability projections have now gone out the window. Still, the play needs to establish a history with these new completion techniques. Management may decide that the risks are worth drilling a second well without delay. But that is far from certain. Probabilities favor the balance sheet improving as a result of the North Dakota completions and the coming Austin Chalk announcements. But the market has a history of over-playing these results only to back-track at a later date.
So while this stock is probably still a buy, there may be better opportunities in the near future. The only way that will not happen is if the announcement is such a fantastic blow-away great news. That rarely happens in the real world. Most likely this company will show good improvement year over year. So those investors that are doing dollar cost averaging should probably continue to do so.
The company has a very good possibility of still being priced at one times its cash flow five years from now. So future appreciation is still considerable even at these elevated prices. However, there are still a lot of "ifs" in the picture. That is what makes this stock speculative. There is a lot of unknowns and a lot of possibilities. The right way to do this will not be known until some years into the future. That is what makes dollar cost averaging so appealing in this case. Some of the neighboring operators that have posted very good Austin Chalk results have lowered the risk in the coming announcement. But the announcement has still not yet been made. Expect Mr. Market to sell on the news.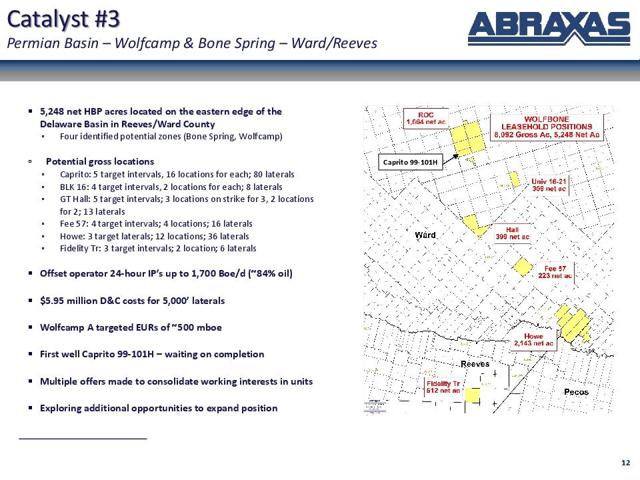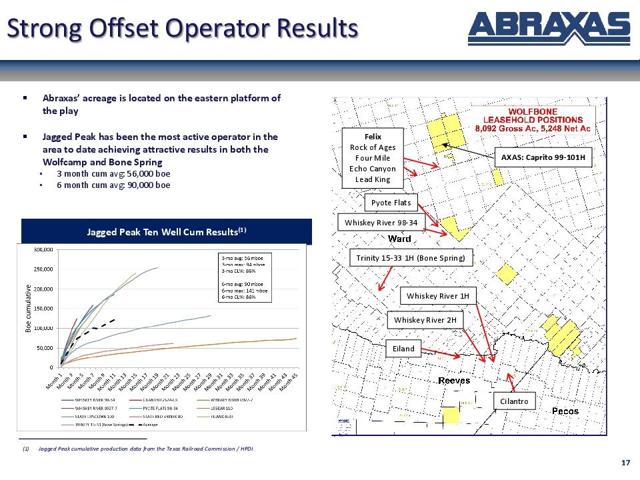 Source: Abraxas Petroleum, October 2016 Corporate Presentation
There are still more announcements to come after this one that could provide a further lift to the stock in the future. Plus neighboring operator results will affect this stock. More than one play is currently being explored. So the good announcements are not yet over. But trying to time this announcement may be a mistake whether it is good or bad. So conservative investors beware. This stock will probably be very volatile in the future for at least a year or so.
Disclaimer: I am not an investment advisor, and this article is not meant to be a recommendation of the purchase or sale of stock. Investors are advised to review all company documents, and press releases to see if the company fits their own investment qualifications.
Disclosure: I/we have no positions in any stocks mentioned, and no plans to initiate any positions within the next 72 hours.
I wrote this article myself, and it expresses my own opinions. I am not receiving compensation for it (other than from Seeking Alpha). I have no business relationship with any company whose stock is mentioned in this article.