AT&T (NYSE: T) has officially announced the buyout of media and entertainment behemoth Time Warner (NYSE: TWX). The rumors had been weighing on AT&T's stock for the past couple of sessions as the stock accelerated its down-move, now off 15.8 percent from its multi-year peak of $43.89 as it hit a low of $36.96 in Friday's session.
Investors have several concerns with AT&T going for this huge $85.4 billion purchase, with each share of Time Warner valued at $107.50, at a 20% premium to TWX's Friday close of $89.48. AT&T shareholders are worried on several fronts:
The company's own debt load is already high, and should have been pared first instead of ratcheting up more debt to finance the deal. Post-transaction, Time Warner shareholders will own between 14.4%-15.7% of AT&T's shares on a fully-diluted basis based on the number of AT&T shares outstanding today. $85.4 billion is the equity valuation of TWX. If we bring TWX's debt into the equation, the total transaction value grows to $108.7 billion. The management is making a big mistake by making this expensive purchase even as it is still digesting the $48.5 billion takeover of DirecTV, completed last year.
The transaction is expected to close before year-end 2017. AT&T Chairman and CEO Randall Stephenson will head the new juggernaut. Jeff Bewkes, CEO of Time Warner, will stay with the company for an undefined transition period.
The deal will have to be reviewed by the U.S. Department of Justice. From the official press release:
"AT&T and Time Warner are currently determining which FCC licenses, if any, will be transferred to AT&T in connection with the transaction. To the extent that one or more licenses are to be transferred, those transfers are subject to FCC review."
AT&T Is Grossly Overpaying For Time Warner
I am in that camp which believes that AT&T is unnecessarily, out of fear or desperation of losing out to higher bidders, is grossly overpaying for Time Warner. Time Warner is a good business but the purchase price is too high. That also is what is indicated by the initial market reaction. But, it's the shareholders who will suffer the most, while the executives will probably give themselves a raise soon, for a "job well done."
I have pulled the financial details of Time Warner for the last 10 years, and we will see if AT&T is really making a sensible purchase. Unfortunately, the data from 2006-end to 2007-end has not been recast for the impact of Time Warner Cable spin-off announced in 2008 and completed in March 2009. So I will be focusing more on the period 2008 to date. Fortunately, the data to be considered has been recast for Time Warner's Time Inc. spin-off announced in March 2013 and completed in June 2014.
Time Warner as a business has had flat-to-slightly positive revenue growth since 2008. The business has a sustainable gross margin of above 40%. The company's net income has been steadily rising since the Great Recession. The dividend payout ratio is not very attractive, but the company has been growing its dividends for the past six years. The free cash flow, a crucial metric for financial sustainability, has been treading higher although it is yet to see pre-recession highs.
All of these points have been marked clearly in the chart below.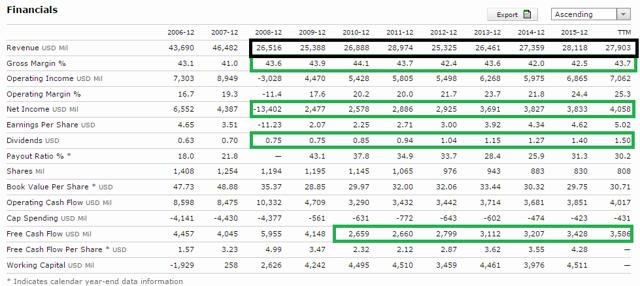 Click to enlarge
Source: Morningstar.com
So, one can easily agree that Time Warner is definitely a good business to buy, but only at a convincing price.
Important: More often than the shareholders would like, managements tend to overpay for businesses, justifying their destructive decisions with synergy talks and possible growth avenues, but some years down line, the companies record heavy goodwill impairment charges since the target acquired could not display financial results that were expected from it.
As of TWX's Friday close of $89.48, the current valuation stood as follows:

Source: Morningstar.com
TWX's current price to book value is 2.9, which is lesser than the industry's average of 3.4 and significantly higher than its own five-year average of 1.8. However, if we add the 20 percent premium, T is buying TWX for a P/B of 3.48.
TWX's price/cash flow five-year average stands at 17.2. The current ratio value is 18, significantly higher than the industry's 12.7, thanks to the recent bump in the stock price following the acquisition rumors. The 20% premium which T is fervently willing to offer catapults the ratio to 21.6. This is extremely expensive by every angle.
To help this understand better, please consider this for once: Would you, as an investor, have paid such an outrageous sum for Time Warner stock, had there been no talks of merger and taking into account all the growth possibilities?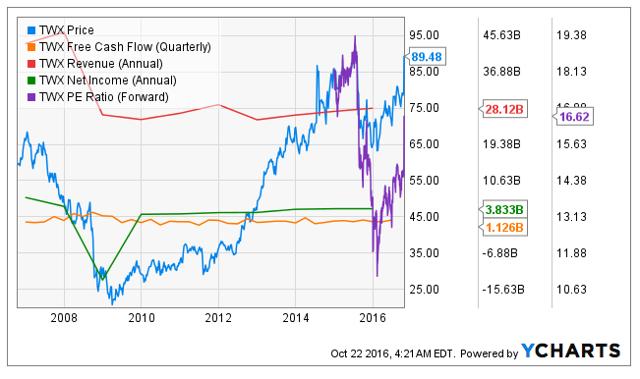 Click to enlarge
The dataset from YCharts details TWX's FCF (quarterly), net income (annual), and PE (fwd). TWX is trading at a forward PE of 16.62. The premium offered puts the PE (fwd) at 19.94, which is not really an intelligent price.
Additionally, my concern is that the U.S. economy may head toward a recession in the next year or so. I may be wrong but if that so happens, then AT&T will probably realize that they should have made a better (less expensive) offer.
AT&T's business is incredibly strong. The numbers below speak for themselves. Even during the recessionary phase, the company reported strong earnings, increased its dividends, improved its payout ratio, grew its free cash flow and book value per share.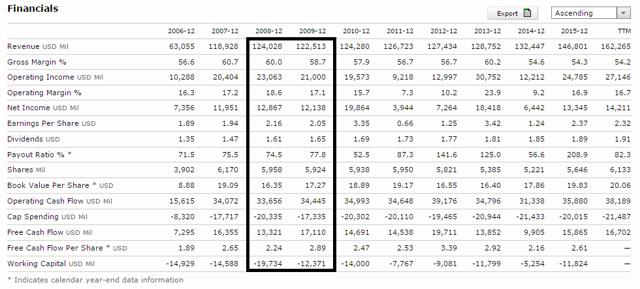 Click to enlarge
Source: Morningstar.com
This mistake will probably pinch AT&T a lot when the next economic downturn hits since Time Warner will then represent about 15% of the combined company's revenues, if the deal gets approved by regulatory authorities. There are fears that regulators might saddle the new combined company with so many conditions that whatever chances of synergy were there, they seem unattractive to achieve.
So, When Should I Buy AT&T?
As AT&T continues to skid lower investors are looking for good investing levels to enter or add to their existing AT&T positions. It is not an easy job to quantify the disappointment of investors, which could push the stock even lower.
But let us discuss what the technical price charts are telling us. Is the sell-off about to end or is there more downside? To possibly answer these questions, I will use the Daily, Weekly and Monthly AT&T technical price charts.
In Friday's session, investors traded AT&T with a strong bearish bias on huge volume as the stock ended 3% lower at $37.49. The 14-day RSI has dropped into the oversold territory with a value of 24.4620 while the 14-day MFI is fast approaching the same with a value of 24.3080. For MFI, value(s) at or below 20 is(are) considered oversold.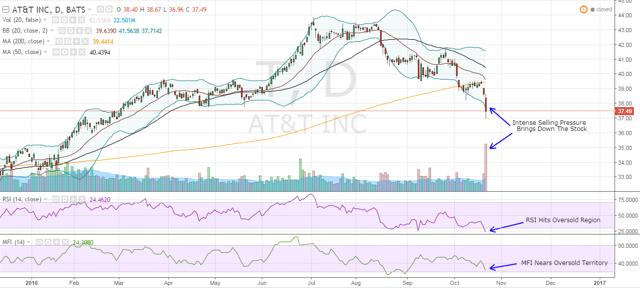 Click to enlarge
Source: TradingView
From the daily chart above it can be seen that the stock also is trading below its 200-day SMA of $39.44 and is repeatedly testing the lower range of the Bollinger Bands. The lower range of BB tends to provide cushion for the short term. The chart structure is clearly bearish: a lower top, a lower bottom pattern.
In the weekly price chart spanning the period from pre-2013-to-date, it is evident that AT&T has entered the technically important price zone for investors. AT&T recently leapfrogged to its multi-year peak after consolidating for a while in this range in April-May. See the yellow rectangle marked below.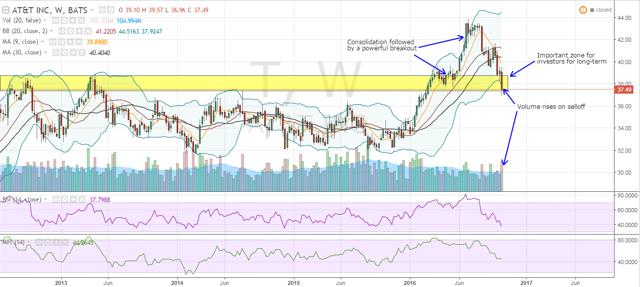 Click to enlarge
Source: TradingView
On a weekly basis as well, the stock has slumped to the lower range of BB. Technical indicators RSI and MFI are also deteriorating fast however, none has reached oversold levels.
Now, if we take a longer-term perspective, we see that since 2009, the stock has been on a consistent, confident advance rewarding the investors every time they bought on dips near the strong support trendline, marked in light green. As of this moment, this important support level comes near $34, almost 10 percent down from the current price. Please check this out in the chart submitted below.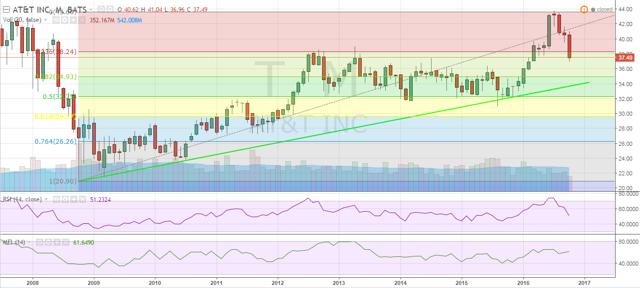 Click to enlarge
Source: TradingView
Even though the monthly RSI reading is heading down, the monthly MFI reading is, in stark divergence, staying strong at 61.6490.
I have also employed the Fibonacci Retracement to the rally beginning from the bottom of 2008 to the peak of 2016, and found that the stock has pierced the 23.6% Fibonacci retracement level of $38.24. The next important support levels according to Fibonacci retracements are $34.93 (38.2%) and $32.25 (50%).
So investors are best advised to initiate long positions around $32.50-$35.00 for low-risk levels.
Conclusion
I think the negative undercurrent in AT&T will drive it to $35 in the near term, which would be a very safe investing level from a long-term perspective. The company is definitely overpaying for Time Warner considering the total transaction value is close to $110 billion, including TWX's debt.
AT&T is attempting to create a one-stop media and entertainment shop for its consumers as its sees video on mobile as the next big trigger for growth. It is creating a double-sided business opportunity, subscription and advertising, and this may or may not pay off as expected. But the price being paid is definitely too high, and this will pinch AT&T in the coming years.
It is definitely a win-win for TWX shareholders and there could not have been a better way for Time Warner CEO Jeff Bewkes to hand over the reign.
The market's negative reaction is justified and the onus is now on AT&T management to prove that the target acquired will indeed be as resourceful as they are making it out to be.
Disclosure: I/we have no positions in any stocks mentioned, but may initiate a long position in T over the next 72 hours.
I wrote this article myself, and it expresses my own opinions. I am not receiving compensation for it (other than from Seeking Alpha). I have no business relationship with any company whose stock is mentioned in this article.