Injection estimates for the first two weeks of November have been revised higher on the back of more "certain" bearish weather forecasts. Injection revisions total to over 40 Bcf, and we just published our estimates to premium subscribers today.
Cheniere Energy's (NYSEMKT:LNG) Sabine Pass gas flow volume ticked up over the weekend and is now flowing around 0.2 Bcf/d. This is still far lower than the 1.2 Bcf/d flow, but we expect to see that pick up over the coming days. Overall, U.S. gas production over the weekend picked up modestly by 0.3 Bcf/d, and Canadian imports into the U.S. reached 6.5 Bcf/d. Canadian gas storage saw a draw for the week of Oct. 14, and current storage sits at 97.8% full.
Over the weekend, we published a new natural gas weekly outlook to premium subscribers detailing where we see natural gas prices going. The bulk of the selloff continued today, with November contracts plunging below $2.90/MMBtu while December contracts shrugged off bearish weather estimates.
Some of you may wonder why UNG, DGAZ or UGAZ aren't responding to the prompt month selloff. That's because these ETFs have already rolled into the December contracts. For those who are using these ETFs as speculative trading vehicles, be mindful that December contracts are still trading around $3.323/MMBtu.
Looking at injection estimates over the coming weeks, EOS by Nov. 4 should be very close to 4 Tcf. The increase from 3.89 Tcf we had forecast originally largely stemmed from the very bearish weather patterns. Warmer temperatures are expected throughout Canada and the U.S. over the coming weeks, and beginning of November is looking very warm as well. This has led some of the traders we spoke to today to be wary of the winter outlook. "What if winter is warm again?" was one of the questions we get asked repeatedly. We can tell you right now that the probability of a repeat winter of 2015-16 is very low.
Nonetheless, the market is filled with eternal bears and hopeful optimists, and natural gas bulls can't deny how bearish weather forecasts are until mid-November. Natural gas bears should also look at the injection forecasts for the next four weeks and compare it to the five-year average. Despite weather being so bearish, why is it that injections are still coming in around five-year average? What happens if weather turns remotely bullish by the end of November?
What prompted us to write the article "Natural Gas Bears Grasping At Straws" is the fact that we believe that this winter will be slightly colder than average on the whole. As we've seen with recent injection updates, even in the case of very bearish weather forecasts, injections are holding near the five-year average. When weather turns bullish as we expect, the magnitude of the draws will surprise many. So natural gas bears should weigh the current scenarios: bearish weather = normal injections, normal weather = below average injections, and bullish weather = very low injections. It's worth a moment to reflect on your current stance.
Eight-to-14-Day Outlook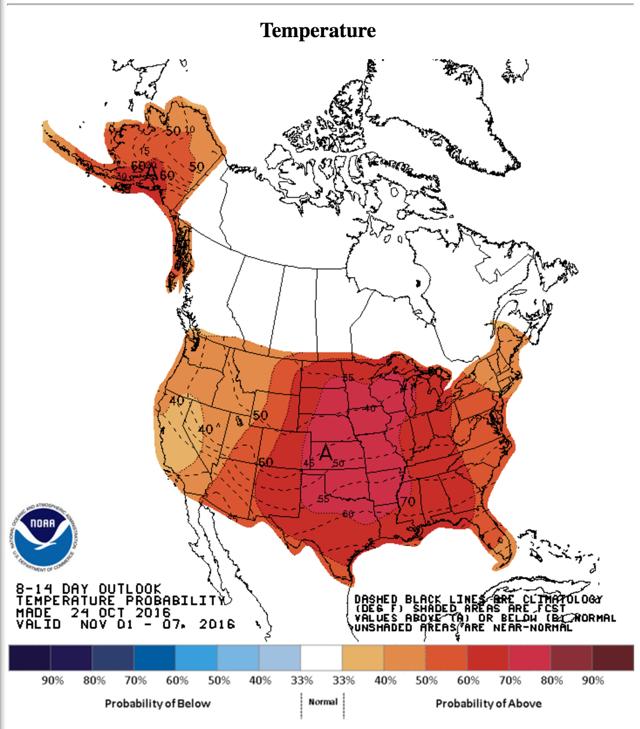 Click to enlarge
Canadian Natural Gas Prices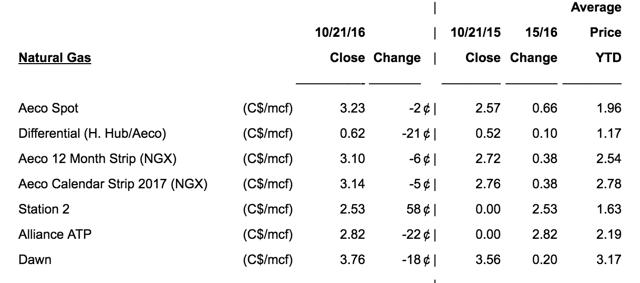 Click to enlarge
HFI Premium Research releases four weeks in advance injection forecasts and weekly natural gas outlooks. If you are interested in becoming a premium subscriber, please sign up here. Thank you for reading our Natural Gas Daily.
Disclosure: I/we have no positions in any stocks mentioned, and no plans to initiate any positions within the next 72 hours.
I wrote this article myself, and it expresses my own opinions. I am not receiving compensation for it (other than from Seeking Alpha). I have no business relationship with any company whose stock is mentioned in this article.