Summary
Harley-Davidson (NYSE:HOG) is a US-based motorcycle manufacturer with a solid, iconic brand dating back to 1903. With a market capitalisation of circa $10.4bn, the company is the leading producer in the US market (around 50% market share) and a significant player in the slightly larger European market (11% market share).
The company consists of two main segments - Motorcycles and Related Products and Financial Services. The Motorcycles and Related Products side of the business is the bigger of the two, with annual sales last year of circa US$5.3bn. This figure breaks down into motorcycle sales ($4,128m), parts and accessories ($863m) and general merchandise ($292m). Last year, operating margins for this segment were 16.5% with the company shipping some 266,382 vehicles and its independent dealers selling some 264,627 vehicles. The company's tendency to produce and ship more vehicles than the dealerships can sell is a trend that has continued for over two years now and has led to a bloated inventory of some 10,000 vehicles currently, but more on this later.
Like many auto makers, HOG also provides financing to its independent dealerships and to its customers looking to finance a bike. It does this through its Financial Services segment. Often this side of the business can be very lucrative, however, in a period of economic uncertainty, it can quickly become loss-making as bad loans weigh on group profitability. Like many auto makers, HOG has seen a steady rise in loan delinquencies in recent years, which continues to be another worrying trend.

Click to enlarge
Source: HOG
HOG's share price has been quite volatile over the course of the last 12 months. What began as a significant cut in shipment guidance this time last year led to a sharp sell-off over the ensuing months. The stock hit a 52-week low of $36 in late January before recovering and, off the back of rumored interest from PE firm KKR (NYSE:KKR) in late June, leapt to $57.
My current view continues to be that there is little likelihood that anyone will bid for HOG anytime soon. I wrote a piece on this at the time KKR's interest was first rumored in late June. You can find it here if interested.

Click to enlarge
Source: Google Finance
Today, the stock is close once more the 52-week high levels off the back, presumably, of management's expectations for its new engine (the "Milwaukee 8") and its cost cutting program - a few details of which it shared during the conference call on its earnings last week.
On the latter, the company has said it will incur a charge of $25-30m this quarter in order to save some $30-35m in costs next year. Worrying though, the company went on to say that these $30-35m in savings will be "deployed to protect our margins as we look to move into 2017 in a more uncertain US industry growth profile". To me, this suggests that management expects NO margin improvement off the back of these cost savings and this concerns me too for two reasons. Firstly, it implies to me that management expects continued margin pressure over the foreseeable future. Secondly, it suggests to me that management expects the present woeful industry conditions to persist over the medium term.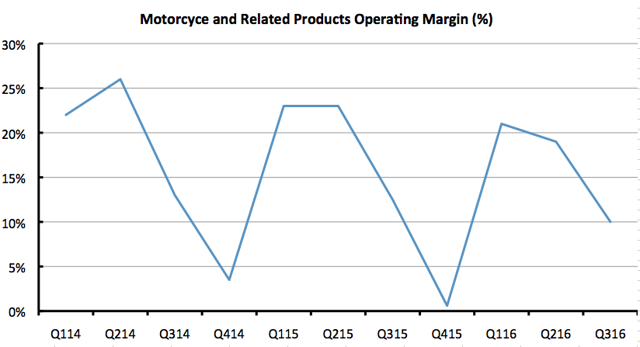 Click to enlarge
Source: HOG, Author
A Lackluster Quarter
Whilst HOG's third quarter revenue and earnings were both in line with consensus expectations, margins were significantly reduced. The firm's gross margin was down 100 bps to 33.6% whilst operating margin was down some 250 bps to 10.0% compared to the same point last year leading to a fall in EBIT of 24%.
The reasons for the fall year on year were many and all too familiar to HOG: falling volumes on industry weakness and competition (worldwide sales down 4.5%, US down 7.1%) higher SG&A costs as the company attempts to revive brand awareness and penetrate new markets and higher loan delinquency provisions (an additional $31m in provisions year to date vs last year).

Click to enlarge
Source: HOG
A Possible Source of Optimism, Albeit Overstated
The one possible source of optimism - perhaps the only one - in the results was management's expectations for its newly released engine - the Milwaukee 8. Whilst quarterly retail sales volumes US were down 7.1% on last year, management said volumes in September were actually up 5% and lifted US market share for the month by some 3%. This seems astonishing as 1) it means sales in August and July were significantly worse than 7.1% down on last year and 2) it would mark a major turnaround in the fortunes of the company; arresting what has been a steady slide in market share and sales volume in the US for many quarters now. I'm more inclined at this stage to be more fearful of 1) than to take solace in 2) given how entrenched the decline in sales has been over recent years, which can be seen in the quarterly yoy US retails sales below. As can be seen, HOG hasn't registered any quarterly growth in US sales in over two years.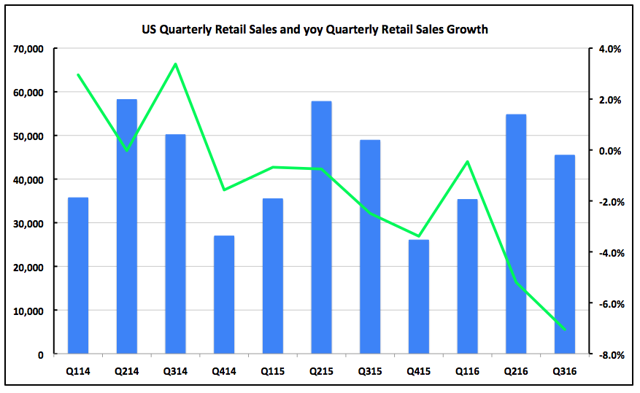 Click to enlarge
Source: Author, HOG
Motorcycle sales in the US have been on a downward trajectory for many years now - it's not just HOG that faces challenges on that score. For HOG though, the trend has been even worse as it has found its product progressively more out of favor with a new generation of young bike riders (increasingly women) who see its product as something either their grizzled old grandfather or some retired fat cat banker would ride. Thus, as industry-wide sales have fallen, HOG has also lost market share. This is especially the case in the US and although the company has been making some inroads into Asian markets, if it can't fix the US then it is in big trouble given the US accounts for over 2/3 of its retail sales.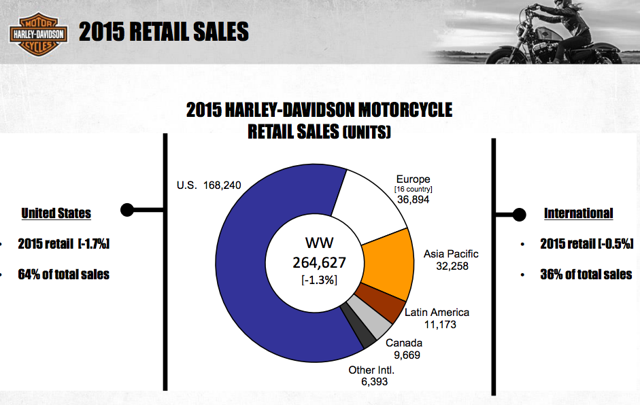 Click to enlarge
Source: HOG
If true, September's sales would mark a major turnaround for HOG. According to management, its new engine launch this year and the rider awareness initiatives it has been executing for the past year or so (this year it will spend $70m on marketing initiatives and product development) are starting to bear fruit.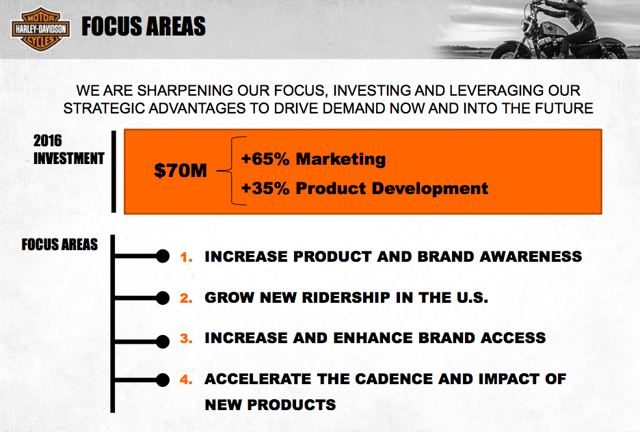 Click to enlarge
Source: HOG
However, I'm not entirely convinced. Whilst I think the marketing campaign is perhaps a step in the right direction, I'm doubtful that adding a new engine to the mix will suddenly drive new sales. Perhaps it might encourage some existing HOG riders to upgrade but this would hardly be a large enough dynamic to arrest what has become a longer-term decline.
Fully Valued BEFORE the Results Re-Rating
HOG has rallied impressively off the back of its quarterly results, with the stock up over 13% for the week. At these levels, it is trading at 15.1x 12 months trailing PE and 14.5x 2016 PE, based on consensus earnings estimate of $3.87/share.
At over 15x PE, my sense is that HOG's valuation is looking a bit excessive in view of the headwinds it still faces. For most of this year, its PE has hovered around 13x and given the lack of any guidance increase from management, I see no reason why it should trade any higher. Sure, management said it had a good September in terms of US retail sales, but this is just one month and I think it's too early for investors to believe that two years' worth of entrenched sales decline have come to an end.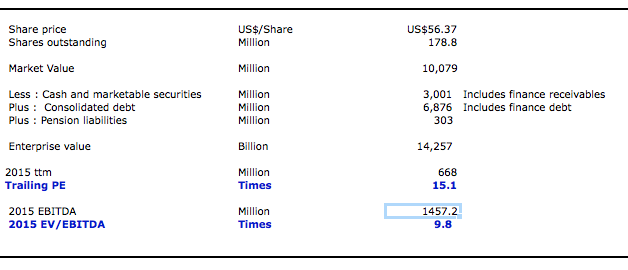 Source: Author, HOG, Yahoo Finance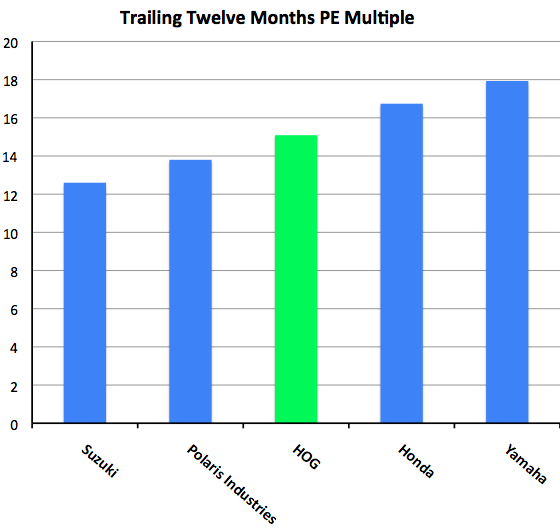 Source: Yahoo Finance
Cracks Continue to Grow in HDFS
Another source of growing concern with HOG's business is the size and quality of its loan book contained within the Finance Services segment.
As I mentioned earlier, HOG is also in the business of providing finance to its customers and its independent dealers, in a similar way that many auto makers do. And just like many of these auto makers are finding themselves increasingly exposed to delinquent loans, so too is HOG.
As at 30 September, the Financial Services segment had net finance receivables (i.e. the loans it makes to customers) of $7.3bn, $6.2bn of which was to retail customers. Over 2016, HOG made an additional $30m in provisions for losses on these loans.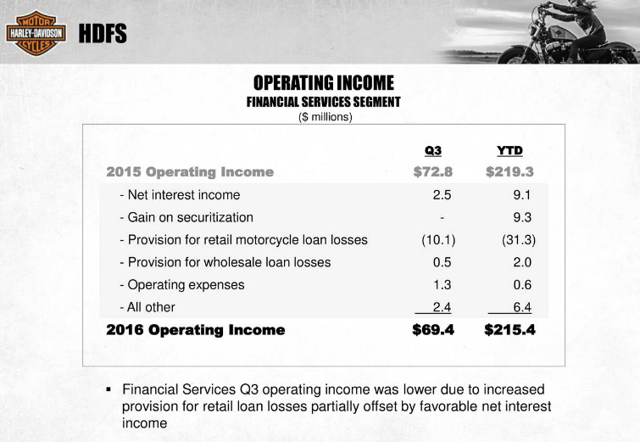 Click to enlarge
Auto loans are often cited as one of the most at risk forms of financing and most prone to credit issues. Going into an environment of tightening interest rates (albeit slowly) this represents an increasing risk for HOG. In fact, over the past 2+ years, loan delinquencies have been accelerating at HOG as a percentage of its total loan book, with losses on the loan book per year now almost three times higher than they were in 2012.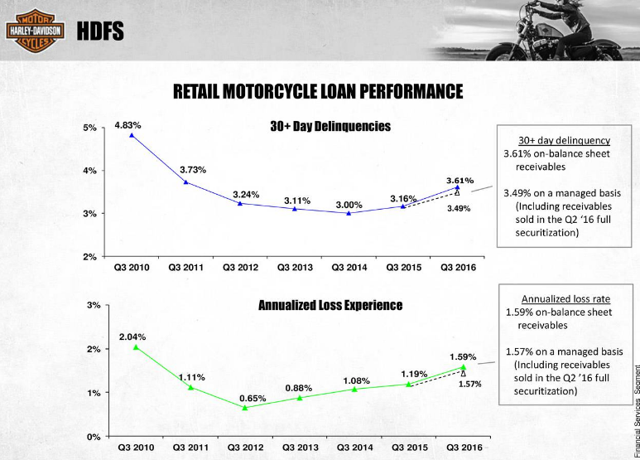 Click to enlarge
A Resurgent USD
Over the last few months, confidence in the US economy has continued to rise, prompting rising expectations that the US Fed will begin normalizing interest rates. This, of course, is bad news for HOG's international business. To understand just how exposed HOG is here, consider the relationship between its Japan sales and the relative strength of the Yen. I took a look at this below. It's very clear that there is a distinct correlation between the growth in HOG Japanese retail sales and the movement in the value of the Yen Vs USD over the previous 12 months. As the Yen strengthens (i.e. as the Yen/USD rate falls, meaning fewer Yen required per 1 USD), Japanese retail sales improve.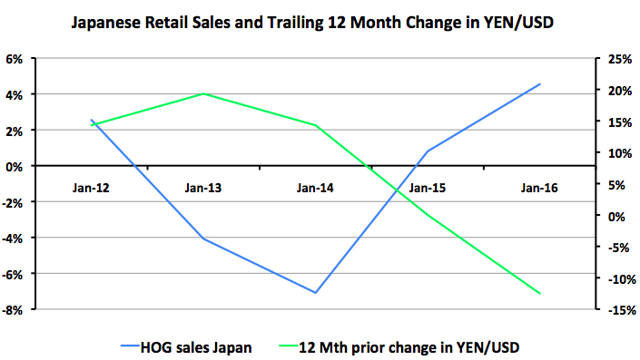 Click to enlarge
The reason I decided to 'pick' on Japanese sales was because it was one of the markets (Australia being the other) that management specifically cited as one in which its retail sales growth was a result of its marketing and brand awareness drive. My thesis, however, is that the recent uptick in Japanese sales has more to do with the much greater strength of the Yen Vs USD over the past 12 months than anything management is doing (over the last 12 months, the Yen has slid from 120/USD to 104 currently). This makes HOG's products that much cheaper for Japanese buyers relative to its Japanese competitors and hence drives demand. As the USD strengthens relative to the Yen though (i.e. increasing value of the USD/Yen rate), as it is expected to do the next few years, this pricing advantage HOG has enjoyed relative to its Japanese competitors in Japan will disappear. Further, it will also add pressure to HOG's US business as it will mean Japanese imports will be cheaper for buyers in the US.
This last point is especially an issue for HOG in that it continues to refuse to entertain any form of price discounting to compete with cheaper imported bikes.
Bloated Dealer Inventories - Another Cut to Shipment Guidance Coming?
Perhaps one of the biggest potential sources of confusion in evaluating HOG is the relationship between revenue, retail sales and shipments. Because its dealer network is independent, HOG books revenue when it ships its bikes. This is often times very different to when the dealer actually sells them. As a result, there is a disconnect between HOG's retail sales and its shipments.
Since 2014, HOG has continued to ship more bikes than its dealers can sell, which can be seen from the chart of sales and shipments below. Note this chart only includes nine months of the present year - hence the sharp dropoff.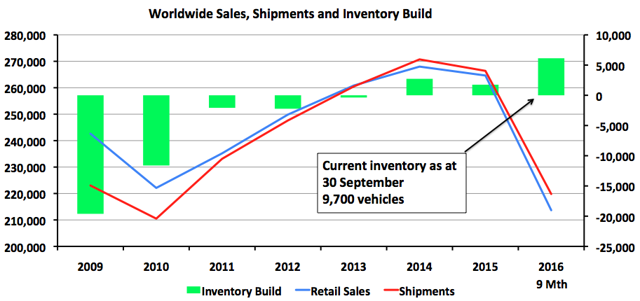 Click to enlarge Source : Author
This has led to a bloated level of inventory which, today stands at some 9,700 bikes in the US alone. At the end of the second quarter, the US inventory figure stood at 8,600 and management then pledged to burn this off during the third quarter. Instead, HOG increased it and now pledges to return the business to a more normalized level of inventory by year end.
This suggests to me that management will struggle to hit its full year shipment guidance of 264,000-269,000. Given retail sales year to date have been 213,679, that leaves another 50,321-55,321 bikes to sell in the fourth quarter just to maintain the current inventory levels if HOG is to meet its shipment guidance.
If, say, HOG plans to cut the recent inventory build of 9,700 bikes, that would require a lift in fourth quarter sales to 60,021-65,021. Given last year's fourth quarter sales of 46,857, that would mean an increase in sales this quarter of 28% to 39%. I realize that this is a somewhat simplistic assessment (HOG doesn't release quarterly inventory levels as far as I can tell and, as management said, some of the recent inventory build will be swallowed up by its new dealerships), but it does paint an uncertain outlook for this year. Even if HOG's September sales were 5% above last year's, that's still a long way short of what's needed. This could well lead to a cut in 2016 shipment guidance before the year is out.
Conclusion and Takeaway
HOG is an iconic brand that has been around a long time. Over the past couple of years, its brand has become less relevant for a new generation of riders and although the company says it is taking steps to remedy this, the jury is still out on whether these measures will be successful in turning the tide.
HOG still faces a number of formidable headwinds, including likely unfavorable currency movements (strengthening USD) and associated competition from Japanese competitors, continued risk in its Financial Services business, and a troubling habit of over shipping vehicles to dealers (which I fear may lead to a cut in its 2016 shipment guidance).
Despite the headwinds, HOG's share price has increased 33% since late June which, given its outlook, I believe is excessive. HOG remains a short.
Disclosure: I am/we are short HOG.
I wrote this article myself, and it expresses my own opinions. I am not receiving compensation for it (other than from Seeking Alpha). I have no business relationship with any company whose stock is mentioned in this article.